Dana needs help pressure washing the outside of her house. She knows there are some power washing companies in her area, but she isn't familiar with any of them. So, she goes on Google to do a quick search — and the first result she sees is right from your company's website.
The above example demonstrates the power of search engine optimization (SEO), a digital marketing strategy where you optimize your web content to rank high for relevant keywords in Google search results.
But what does it take to drive results with power washing SEO? What can you do to make your SEO campaigns more successful? We'll look at several answers to that question below, so keep reading to learn more.
Then partner with WebFX — the agency with over 1020 client testimonials — for our SEO services. Just call 888-601-5359 or contact us online today to get started!
Independent research from Clutch has named WebFX the
top SEO company in the United States.
Clutch has personally interviewed more than 250 WebFX clients to discuss their experience partnering with us.
Read More Clutch Reviews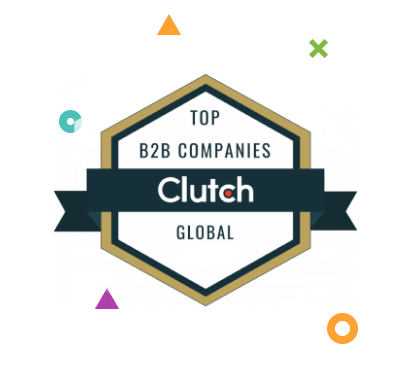 7 expert pressure washing SEO tips
Unsure how to drive the best results for SEO for power washing companies? Don't worry — we've got you covered.
Here are seven pro tips to apply to all your power washing SEO campaigns!
1. Focus on search intent
One of the first things to get right in any pressure washing SEO campaign is to focus on search intent. Search intent describes a user's reason for searching a particular keyword. Addressing search intent means addressing whatever a user hopes to find in that search.
So, for instance, let's say a user looks up the term "pressure washing tips." One website targets that keyword with a list of pressure washing tactics. Another site targets it with an article promoting their services. Between the two, which better targeted search intent?
Likely, the answer is the first website. That means the first site is the one users will click on more often because it matches the information they're seeking. You should aim to do the same with your pages.
If you're unsure about the search intent for a particular keyword, just look at a few of the highest-ranking pages in search results and aim for the common search intent elements they seem to target.
2. Earn backlinks
One of the best things you can do for your website is to make it seem reputable to Google. That's because when Google considers a site to be authoritative, it ranks it higher in search results. And the best way build authority is to earn backlinks.
Backlinks are links to your content from third-party websites. You can earn backlinks by scrolling through other sites to find broken, missing, or outdated links and recommending that the site replace them with new links to your content.
Don't aim to earn backlinks from just anywhere, though. You should try to gain links from reputable sites in the power washing industry. That's because if you earn backlinks from reputable sites, Google will assume you're reputable as well, so it will rank you higher.
3. Optimize your page speeds
Page load speed is one of the biggest make-or-break elements of your website. A slow-loading page will deter users, but a fast-loading one will maintain more traffic and ultimately allow you to generate more customers.
Ideally, your pages should load in three seconds or less.
There are several ways you can speed up your page load time, including:
Caching web pages

Minifying code

Compressing images
When you implement each of the above tactics, your website will load faster and users will get information quicker.
4. Use responsive design
Another of the most vital factors in SEO for pressure washing companies is mobile-friendliness. A site that isn't mobile-friendly will drive away all mobile traffic. But furthermore, Google uses a mobile-first index, meaning a non-mobile-friendly site won't rank high even on desktop searches.
For that reason, spend some time optimizing your site for mobile. More specifically, try to implement responsive design. Responsive design is a form of web design where your pages restructure themselves automatically to fit the screen where they appear.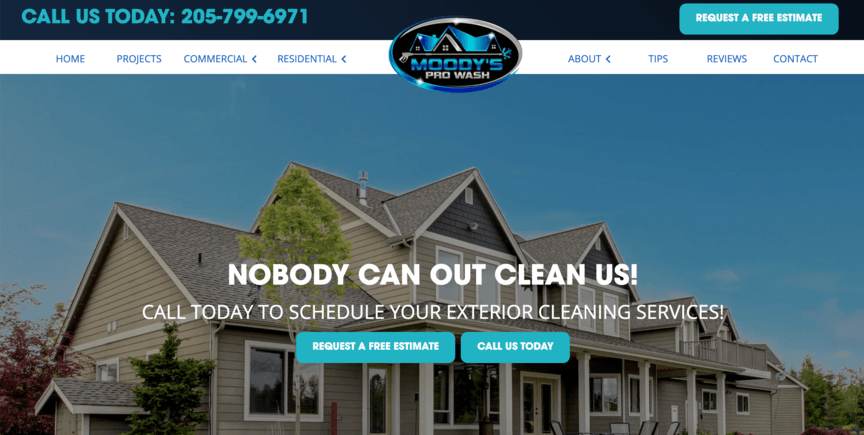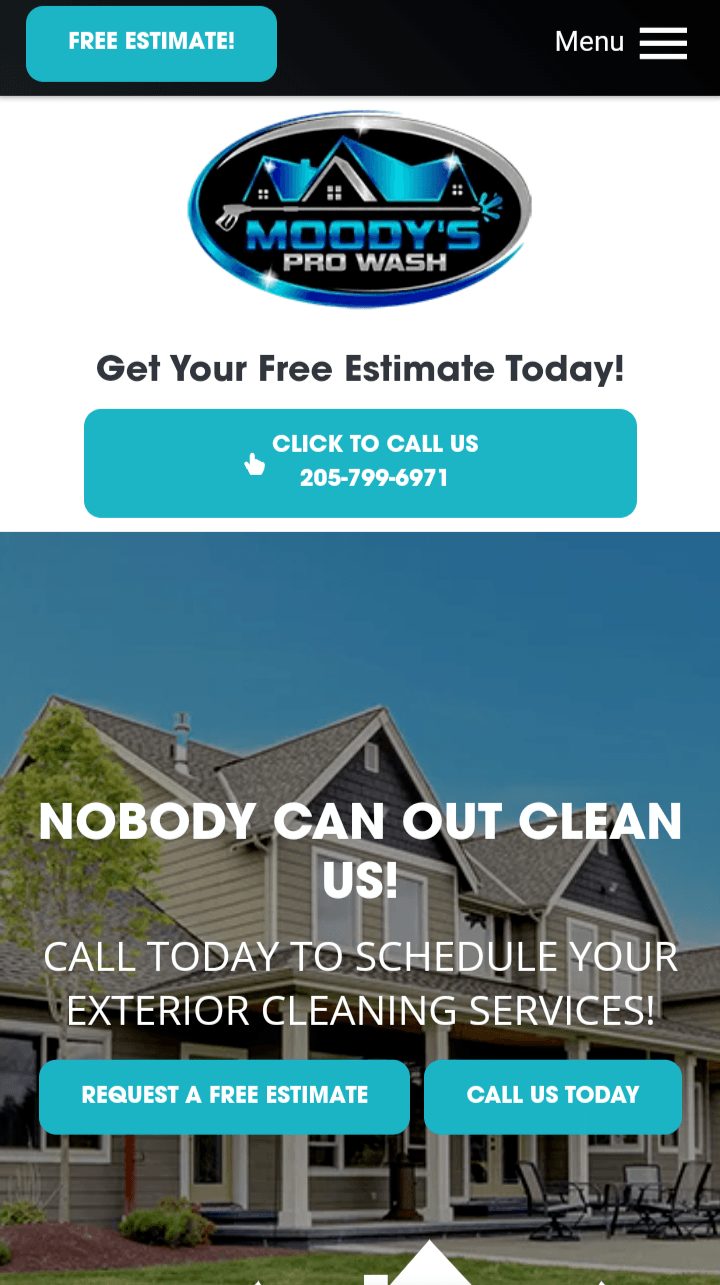 That means a page may look slightly different on desktop than on mobile. However, that makes for a more mobile-friendly experience that will allow you to attract and retain more traffic.
5. Optimize site images
Your website shouldn't rely purely on text to attract users. After all, having pages upon pages of raw text content isn't very appealing. Instead, you should try to intersperse some multimedia like images. But don't just stick images in haphazardly — you need to optimize them.
There are two main ways you can optimize images. The first is to compress your image files. If an image is only going to take up a certain amount of space on a page, the file size should reflect that — you don't want to use massive file sizes for small images, because they'll slow down your page speeds.
The other way to optimize images is to give them alt tags. Alt tags are pieces of text that describe what's happening in the images. Alt tags help people with visual impairments to understand the images, and they do the same for Google's algorithms.
Compressed images will allow your pages to load faster, while alt tags will help Google understand them so they can contribute to your rankings.
6. Set up a Google Business Profile
One of the most important types of Google searches to target are local searches since you likely operate within a specific geographical area. And of course, you can use regular SEO tactics to appear in those searches. But you can also try creating a Google Business Profile.
With a Google Business Profile, you can upload information about your business such as:
Business name

Phone number

Location

Hours

And more!
When users conduct local searches for businesses, Google will often display Business Profiles in local 3-packs. If you create and optimize your own profile, you can appear in those 3-packs for power washing company searches in your region!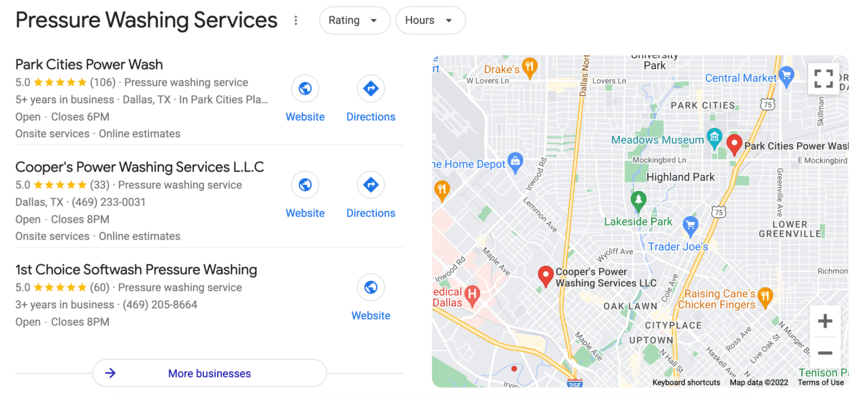 7. Use HTTPS
The final pressure washing SEO tip on this list is to use HTTPS. Many websites use a basic HTTP protocol, but that protocol isn't particularly secure. That's why there's HTTPS — to keep your site secure from data breaches and other hacking attempts.
The benefits of using HTTPS are twofold. One benefit is that it attracts more traffic. Users don't want to visit websites where they don't feel secure, but they'll feel very comfortable going to an HTTPS website.
The other benefit is that Google directly rewards sites that use HTTPS. So, by using it on your website, you can rank higher in search results.
93% of WebFX customers are extremely satisfied with their digital marketing results.
"Working with WebFX, everything is very organized and strategic. We're only a year into our partnership, and our expectations have definitely been met."
View More Client Testimonials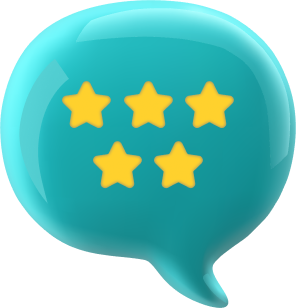 WebFX knows SEO for power washing companies
Want a hand with your SEO campaigns? Don't worry, we've got you covered! At WebFX, we have over 25 years of experience in the marketing industry, so we know SEO for pressure washing companies.
When you partner with us for our SEO services, you'll get help optimizing your campaigns for all the tips listed above and more. You'll even receive a dedicated account representative to keep you informed and involved in everything we do for you.
To get started with us, just call 888-601-5359 or contact us online today!
Earn a 20% greater ROI with WebFX