As a roofing contractor, you know there will always be people who need help laying or repairing their roof. That's good, as it means you'll never have any shortage of potential customers.
But for those potential customers to find you, you need to have a fully optimized marketing campaign.
Part of that involves taking advantage of social media. The average user spends 28% of their Internet time on social media, making it a goldmine of sorts for digital marketing. You don't want to miss out on that kind of opportunity.
But how do you make the most of social media for roofing companies? Here are eight roofing marketing ideas to drive results for your company through social media.
Read on to learn more, and then consider partnering with WebFX — the digital marketing agency with over 25 years of experience — for more help with your social media campaign! Just call us at 888-601-5359 or contact us online to get started.
1. Post photos and videos
People tend to scroll through their social media feeds quickly, so if you want to capture their attention, you have to harness the power of compelling visuals. And nothing does that better than photos and videos.
Try to feature a photo or video in as many of your roofing posts as you can. But don't just use them as fluff. Take pictures of your past and current projects to show off your handiwork, where users can see just how proficient you are.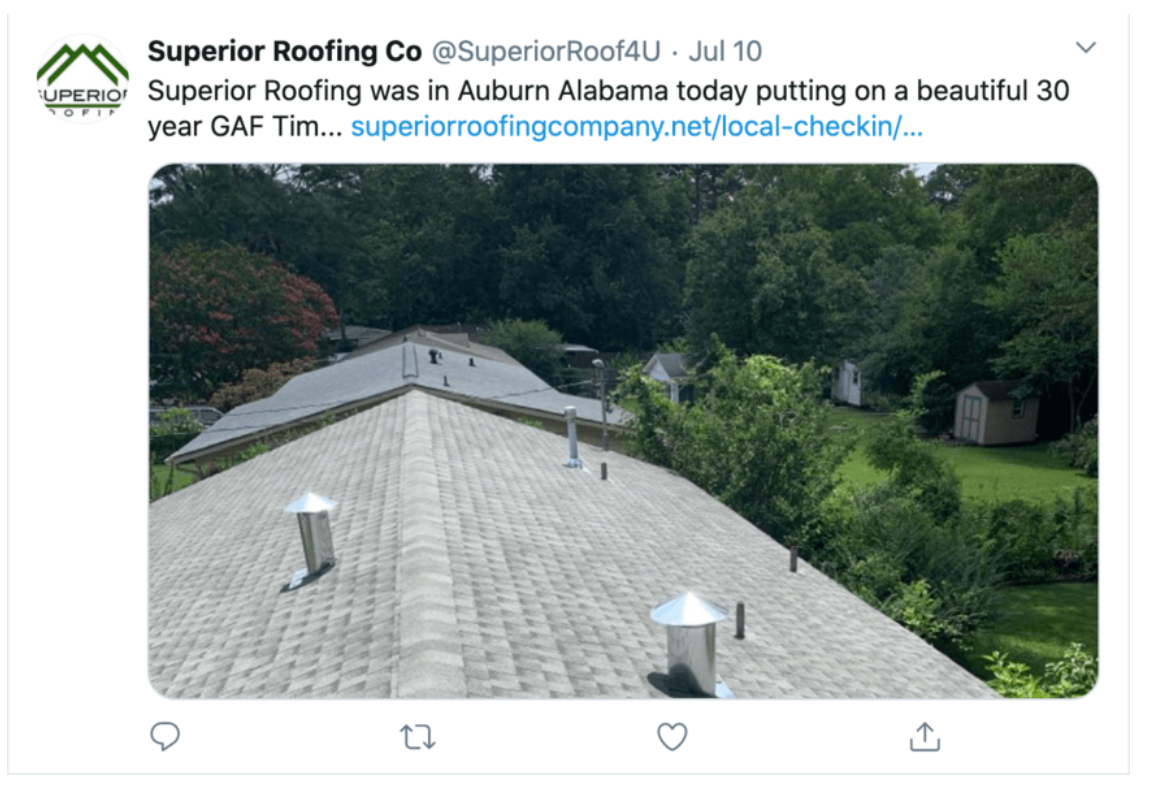 As for videos, they have a wide range of potential uses, but one example would be introducing users to your team through them. Every so often, you could post a video where someone from your company shows users how to complete a simple do-it-yourself roofing task.

Hear What It's Like to Work With WebFX!

"We came from a marketing company that was horrible. We are extremely happy that we chose WebFX and so far has met or exceeded our expectations. Keep up the great work!"
Roofing Company
2. Use hashtags and mentions
Photos and videos are great for getting people to notice you as they scroll through their feed, but how do you get into their feed to start with? A good way to put yourself in front of users who haven't encountered you before is to use hashtags and mentions.
When you use a hashtag that people are searching for, it can draw their attention to you. For example, you might link to a new blog post on your website about home improvement tips and use the Twitter hashtag #homeimprovementtips.
At that point, anyone looking for that hashtag on Twitter will likely see your latest post. Not only might they follow you on social media, but they might also visit your website!
3. Interact with users
The previous two roofing marketing ideas are fantastic, but only if you're actually engaging users. It's called social media, after all — if you don't make an effort to be social, you're sort of missing the point.
That's why it's important to interact with users on all the platforms you market through. If someone says something about your company or roofing in general, leave a comment. If someone asks you a question, be sure to provide an answer.
When you respond to people in a timely fashion and make them feel heard, it can do a lot to boost your company's public image.
4. Respond to reviews
On a similar note to the previous point, sometimes people will leave reviews for your company on social media. These may not be formal reviews with star ratings and whatnot, but at the very least, you're bound to see some people posting about their experience with you.
Hopefully, some of these reviews will be glowing recommendations. When you see those, don't just sit back and enjoy the feeling — take the time to respond and tell them you appreciate their kind words.
And when reviews aren't so glowing, it's even more important to respond. Leave public comments on negative reviews, offering to fix whatever problem the person had, and then message them privately to resolve the issue. It will look great for your customer service!
5. Schedule posts
As important as social media for roofing companies is, you can't afford to dedicate all your time to it. Even so, you still need to post content regularly to keep users engaged. So, what do you do?
The answer is, you schedule your posts. Rather than having to be logged in every time you want to post something, you can create your posts in advance and then schedule them to release at designated times.
Some platforms, like Facebook, enable you to do this through the platform itself. For other networks, you can use a social media management platform to accomplish the same function.
6. Hold contests and giveaways
People can ignore your hashtags and photos if they want, but it's hard for anyone to resist a good giveaway. When you give people the chance to win something, they're bound to turn up.
You can harness this mentality when you run contests on your social media pages. The prize can be anything from a gift basket to a free roofing job, so long as it spreads awareness about your brand.
If enough people see it, you can hopefully gain some new followers. When that happens, then no matter who takes home the prize, you'll end up being the biggest winner of the contest.
7. Promote local events
Unless your roofing company services an exceptionally wide area, your customer base is probably limited to a particular geographical region, maybe just a single town. While this may mean fewer customers, it also provides a valuable marketing opportunity.
Being limited to a particular area means your business is a part of that community, a status you can use to your advantage. Whenever a local event such as a festival or fair takes place — particularly if you're involved with it somehow — you can use your social media to promote it.
The more people view you as being engaged in the community, the more likable your business will seem, and the more likely people will be to work with you.
8. Use sponsored posts
So far, all the roofing marketing ideas have dealt with things you can include in your organic posts, but organic posts aren't your only option for roofing social media marketing. You can also use social media ads, and in particular, sponsored posts, to attract users.
Sponsored posts essentially involve you paying a fee to have some of your organic posts promoted to the top of people's social media feeds. They ensure that people have a chance to see posts from you that they might not otherwise encounter.
Though they do cost money, social media ads often prove effective enough in the long run that they generate a significant return on investment (ROI), making them well worth it.
Get help with your roofing social media marketing from WebFX
Even once you've done everything listed above, social media for roofing companies isn't always easy to manage. It can be time-consuming to juggle accounts on multiple platforms, and challenging to come up with ideas for fresh content.
Thankfully, it doesn't have to be that way. When you partner with WebFX, our team of over 500 digital marketing experts will work with you to make your social media campaign the best it can be and generate more leads.
To learn more about our social media services or to start a partnership with us, just give us a call at 888-601-5359 or contact us online today!
Earn a 20% greater ROI with WebFX