Pay-per-click (PPC) advertising is one of the top strategies for earning qualified leads that convert. These ads appear at the top of the search results, which helps you increase brand recognition and drive more clicks to your company's website.
On this page, we'll provide you with five reasons to invest in PPC for telecommunications and provide you with tips on how to find the best PPC company for your telecom PPC strategy.
If you want to get the latest tips and tricks for marketing your business on channels like PPC, join 150,000 marketers by subscribing to Revenue Weekly!
5 reasons to invest in PPC for telecommunications
So, are you wondering if PPC is the right investment for your business? Check out these five reasons to invest in PPC ads for telecommunications.
1. You appear at the top of search results
With PPC ads, one of the biggest benefits you'll receive is that ads appear at the top of the search results. When users search, they'll see PPC ads first, followed by the organic listings.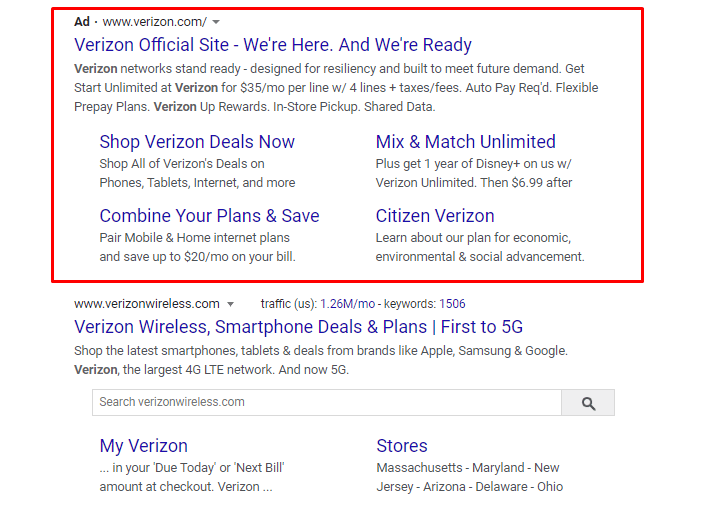 Since users see these listings first, they're more likely to click on them. In fact, 46% of clicks go to the top three PPC ads. As a result, you're more likely to earn clicks and visits from leads.
Additionally, it helps with your brand recognition, too. Even if someone doesn't click on your ad, they'll still see it and become familiar with your business. There is even potential for them to remember your business later when they're closer to conversion.
2. You only pay when users click
One of the most significant selling points of PPC advertising is that you only pay when users click on your ad. This pay model is favorable because you're paying for interested leads instead of leads that never intend to convert.
PPC is an extremely budget-friendly method. You set your maximum bid, which is the most you're willing to pay when someone clicks on your ad. This model enables you to set a limit for your business so that you can stay within your budget.
Additionally, you decide how much you're willing to spend on a PPC campaign. There's no minimum amount, which means you can set a budget that works best for your business. It's critical to note, however, it's likely that the more you spend, the better results you'll have.
So, for example, opting to spend $500 won't drive as good of results as investing $2,000 into your campaign.
3. You attract leads that convert
As a telecommunications business, you want to attract users that are ready to convert. With PPC ads, you help drive more qualified leads that convert.
PPC visitors are 50% more likely to convert than organic visitors. These leads know what they want and just need to find the right business to provide them with telecommunication services. Running a PPC ad helps you drive those leads to your business.
So, why are PPC ads so effective at driving qualified leads?
When you run a PPC ad, you target specific keywords. These keywords, known as long-tail keywords, help your ads appear in front of leads most interested in your services. So, if you optimize your ad for the keywords "cell phone carrier," people who search for a cell phone carrier will see your relevant ad in search results.
4. You see immediate results
One of the biggest reasons to invest in PPC advertising for telecom is the ability to track results. When you invest money into a marketing campaign, you want to know that it's working and driving results. With PPC, you can track your campaign results in real-time.
As soon as you launch your campaign, you can track metrics of your campaign's performance like:
Clicks
Cost per click
Conversions
And more
By monitoring your campaign's performance, you stay on top of your campaign and can make changes to improve it as you need.
5. You compete with larger telecommunications companies
PPC ads for telecommunication are critical to your company's growth because they help you compete with larger telecommunications companies. When you're up against big names like Verizon or AT&T, it can be hard to compete without a strong marketing campaign.
With PPC, you level the playing field.
First, if these competitors aren't running ads for specific keywords but appear in the organic results, you can "outrank" them by running a PPC ad. You'll appear higher in the search results, which will help you drive more traffic to your page.
Second, you can outrank your competition that runs PPC ads by having more relevant ad content. Even if you're going up against a company like Verizon, it may feel impossible to outrank them because they're so well-known and established. But if you have more relevant ad content than them, you'll earn a higher PPC ad spot.
Take this example from Mint Mobile and AT&T. Mint Mobile is a newer telecommunications company, established in 2016, but they outranked AT&T in the search for "prepaid cell phone providers" because their ad content was more relevant.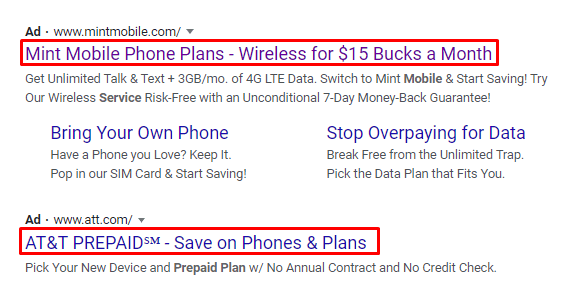 So, as you can see, PPC provides you with the opportunity to get a leg up on your competition.
Our digital marketing campaigns impact the metrics that improve your bottom line.
See More Results

WebFX has driven the following results for clients:

$3 billion
In client revenue

7.8 million
Leads for our clients

5.2 million
Client phone calls
Hear What It's Like to Work With WebFX!

"I've trusted WebFX with our SEO and SEM management as I've moved through several companies, each time they've done an outstanding job. Highly recommended (just not to our competitors)."
Technology Services
How to find the best PPC company for telecom
Now that you know the benefits of running PPC ads for telecommunication, you might feel ready to launch a campaign. But if you're busy running your business, you may not have the time to build a strategy or figure out how to run a successful PPC campaign.
But with the help of a PPC company, you can reap the benefits of running a campaign while you worry about running your business.
Here's how you can find the best company to help you with PPC advertising for telecom:
1. Look for pricing
First, you'll want to see if a telecom PPC company fits with your budget. When you know your budget, you can start looking at companies to see if they fit.
This process may be challenging because many companies don't publish their prices online. It makes it challenging for you to know if they work with your budget.
To make the process easier on yourself, focus on companies that publish their prices online. You'll feel more confident choosing a company when you know exactly what you're getting and how much it costs.
2. Check out their results
When you look at marketing companies that do PPC for telecommunications companies, be sure to check out the results they drive. You want to work with a company that knows how to drive effective results for your business.
Look for statistics or other telling information that provides you with insight on how they help clients grow their business. At WebFX, for example, we've driven over $3 billion in sales and over 7.8 million leads for our clients in the past five years.
Seeing this kind of data can help you determine if a PPC company will drive results for your telecommunication business, too.
3. Look for qualifications
When you're hiring a telecom PPC company, you want to ensure you're hiring one that's experienced and qualified to run campaigns for your company.
To help you find the most qualified companies, look for indications that they're experienced with running PPC campaigns.
One qualification you can look for is a Google Premier Partner badge. This badge indicates that a PPC company is up-to-date with the latest PPC knowledge and know how to run successful campaigns.

Qualifications like this will help you find the best PPC company for your telecommunications business.
Get started with PPC advertising for telecom today
PPC ads are an excellent way for you to reach more qualified leads and earn more conversions. But if you want to drive success with your campaign, you need to partner with the right PPC company.
At WebFX, we have over 25 years of experience in running PPC campaigns. We've run over 650 campaigns for our clients and know how to drive successful results.
If you want to dive into PPC advertising for telecom, contact us online or call us today at 888-601-5359 to speak with a strategist about our PPC services!