Local SEO for Ecommerce: How to Optimize Your Store
Local search engine optimization (SEO) has become an essential strategy for local businesses to increase their visibility and revenue. With consumers increasingly turning to online shopping instead of physical stores, it's important for local businesses to create an ecommerce site and optimize their Google Business Profile if they want to keep up.
In particular, you'll want to focus your ecommerce toward the audience in your local area, since those are the people you're trying to reach. That means you need to engage in local ecommerce SEO. But what is local SEO for ecommerce sites? Read on to find out.
Then partner with WebFX's team of over 500 experts for our local SEO services. Just call 888-601-5359 or contact us online to get started today!
What is local ecommerce SEO?
Local ecommerce SEO focuses on boosting the performance of your business listings in online search results, specifically for customers who are located close to your business.
You've almost certainly searched for a broad term on Google like "Mexican restaurants" and gotten Google's local SEO 3-pack results.
That's because you, like most consumers, expect Google to infer that you want to see Mexican restaurants near your current location, not on the other side of the country. Since we reward Google for finding relevant local results, it only makes sense that Google would make that a key part of its algorithm.
At this point, if you're not using local SEO to its full potential, you're almost certainly missing out on a lot of customers, both online and in person. The goal of local SEO for ecommerce is to achieve top rankings in Google's local search results in order to drive more people to find, contact and buy from your business.
How to optimize for local SEO for ecommerce stores
There are several steps you can take to boost your visibility in local search rankings. Read on to learn more:
Claim your Google Business Profile listing
Google Business Profile is an essential part of local SEO, and that makes it a great first step for your local ecommerce business. By setting up your Google Business Profile, you can correctly input your business' address, hours of operation, website link, phone number, pictures, and more.
All of this information can then show up in Google's local search results and increase your visibility to customers in your area. If your business has multiple locations, you should create a Google Business Profile for each location.
Google Business Profile also allows you to create posts, which are a great way to communicate with your customers about upcoming events or sales.
Build local citations
Business directories used to be huge books printed and left in your mailbox, but just like everything else, they've migrated online. There are countless directories on the Internet that have information on your business.
It's important to find as many as you can and check that the information is correct and links back to your website. Not all directories will give links, but the ones that do should point to the right website.
By building up your citations in local listings, you can earn listings on sites like Yelp, Bing, Facebook, and more. Many of these sites need you to claim your listing.
Citations show search engines like Google that you are a popular and credible source in your area, so it will be more likely to display your business in its top local results.
Make sure your NAP information is consistent across the Internet
Hand in hand with local citations is your company's NAP information — name, address, and phone number. The goal is to have this information be consistent across the Internet.
It's confusing for both Google and your customers if your address is listed as North A Street in one place, N. A Street in a second, and N. A St. in a third. Your customers are probably smart enough to realize it's the same address, but it's better to have consistency.
Add schema markup to your website
Schema markup is a handy way to be absolutely certain that Google understands the information on your website.
Using local business schema markup helps Google to understand, for example, that your NAP information is a business name, address, and phone number and not just another collection of words and numbers.
Ecommerce websites can also add product schema to help Google recognize that you're selling something. Each piece of schema markup has required and optional fields that specify important information about your product.
Make sure your customers post reviews
When customers look at purchasing a product online, they treat reviews as personal endorsements and sources of extra information that will inform their buying decision. Customers trust reviews to tell them information about the product that they think the company won't want them to know.
For example, people check tech reviews for experiential information about battery life and durability. Restaurant reviews often tell customers more about service than the food. Online clothing retailers see reviews about if the sizing runs large or small, how well the clothing holds up to washing, and more.
Ecommerce businesses that regularly respond to reviews and encourage customers to leave comments show potential customers that the business cares about their satisfaction. This encourages more people to give your products a try because they have built more trust in your brand without even realizing it.
Make sure that you have easy-to-see links to leave reviews on your website or your Google Business Profile. The more reviews you have, the more positive reviews you'll have.
Even negative reviews can be helpful — if people see you constructively engaging with these customers, they can be assured of your dedication to your customers' satisfaction with your business.
Build links from other local businesses and websites
Backlinks are one of the most important ranking factors on Google. Earning links from other reputable local businesses and organizations can provide a great boost to your website in the local rankings.
To earn links, you need to create content that targets local keywords related to your business and its products. Great content inspires people to link back to your website. Some quick wins include local news outlets and charities your business supports.
Optimize for mobile devices
Mobile devices are one of the biggest sources of traffic to local business websites. Since people have their phones with them wherever they go, it's only natural that they will search for things close by.
That means that your website needs to be responsive no matter what kind of device your customers are searching from. If your website isn't optimized for mobile use, you will lose important business opportunities due to slow response times, clunky navigation, and small text.
Current mobile best practices are to design a responsive website that automatically detects the size of a user's screen and resizes your content to fit their screen and capabilities. For example, it will remove any hover navigation from mobile-sized screens and display buttons instead.
Improve your on-page SEO strategy
Local SEO uses many similar tactics to regular SEO, and any normal SEO techniques you make use of will only help your local efforts.
Since you're targeting local audiences and search queries, you'll want to perform keyword research to help you find the optimal keywords to include in your page titles, meta descriptions, URLs, and content. Local keywords often have specific location keywords like "kettle corn near me" or "best hats in Philadelphia".
Build out content on your website that your local audience will find relevant. The goal of on-page local SEO strategy is to become an authority on your industry in your area. People tend to buy from companies they trust, so taking these steps will improve your standing with local consumers.
What does a successful ecommerce website need to drive sales?
We wrote you an ecommerce essentials checklist.
Read the Blog Post & Watch the Video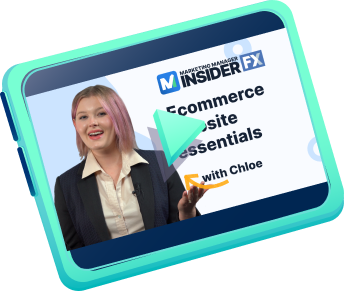 Optimize your ecommerce store's local search presence
WebFX offers expert local SEO services for ecommerce that will help your business grow and reach more local customers. Request a free quote today or check out more information about our local SEO plans!