Have you ever traveled to a new city for a vacation and wanted to find the best restaurants in the vicinity? Chances are, you've done a local search for your restaurant quest.
Tourist attractions and restaurants aren't the only businesses that benefit from being on top of local search results. Whether you own a brick-and-mortar store or a firm that provides home improvement services in different cities, being on top of local search rankings will give your business a boost.
Wondering how your business can dominate local search results? You're in the right place! In this blog post, we'll cover these topics:
You can also sign up for our Revenue Weekly newsletter to get the latest digital marketing tips, including local SEO advice, delivered straight to your inbox.
What is local search ranking?
Local search ranking refers to a website's spot on the local search engine results page (SERPs). If you have done some local searches, you've probably noticed that local SERPs look slightly different from non-local SERPs.
For example, let's say you're traveling to Barcelona and you want to try the best churros in the city. In this restaurant marketing example, Google's local SERPs show you a local pack or a 3-pack at the top of the results. These businesses are also shown on the map on the right.
The local 3-pack is placed above the local search results and right below the ads, if there are any.
These results were only generated because you searched for a local churro places in Barcelona. This local 3-pack serves as a way to help searchers find relevant places fast, so they can visit them.
3 factors that impact local search ranking
If you own a churros shop in Barcelona, wouldn't it be nice to be in the local 3-pack or in the top local search results? The good news is that Google has shared how it determines local search ranking.
Here are the three prominent factors it considers:
Let's dive more into what these factors are and what they mean:
Relevance
For your business to rank in local searches, your brand should be relevant to the keyword term someone was searching. How does Google determine if you're relevant to a particular keyword? It matches information from your local Google Business Profile to what a person searches.
Add categories to your Google Business Profile. By indicating the nature of your business through Google business categories, you are helping Google identify which searches are relevant to your company, so it shows your business in these SERPs. You can add one primary category and up to nine other categories to describe your business.
Distance
Another local search ranking factor in 2023 is distance, which examines how far a business and potential local result is from the location term used by a searcher. Google estimates the distance based on a searcher's location if no location was specified by the searcher.
Prominence
Google also considers how well-known your business is as a local ranking factor. Information about your business's prominence is gathered from the web through links, articles, and directories.
Your business's Google review count and review score also affect your local search ranking.
Why is local search ranking important?
If you have an ongoing SEO campaign, you're probably wondering if you should also invest time and resources in improving your local search ranking. Well, 46% of Google searches are for local businesses, so it makes sense to kickstart your local SEO efforts now and get ahead of your competitors.
A prominent local search ranking offers these additional benefits:
You increase in site traffic
You help customers easily find details about your business
You increase in foot traffic to your physical store
You stay ahead of the competition
How do you improve your local search rankings?
Now that you know why ranking on local search results is important, here's a list of action items to help your business dominate local search rankings:
Let's go through each action item:
1. Optimize your Google Business Profile listing
Let's start with the basics. One of the easiest ways to improve your local search ranking and make it to the local 3-pack is to optimize your Google Business Profile.
Claim your Google Business Profile listing, and fill it out. Add in your address, contact information, and operating hours. Having your operating hours in your listing is important, so people know when they can visit your physical store.
Choose a primary category for your business, and add photos. Photos add credibility and interest to your business.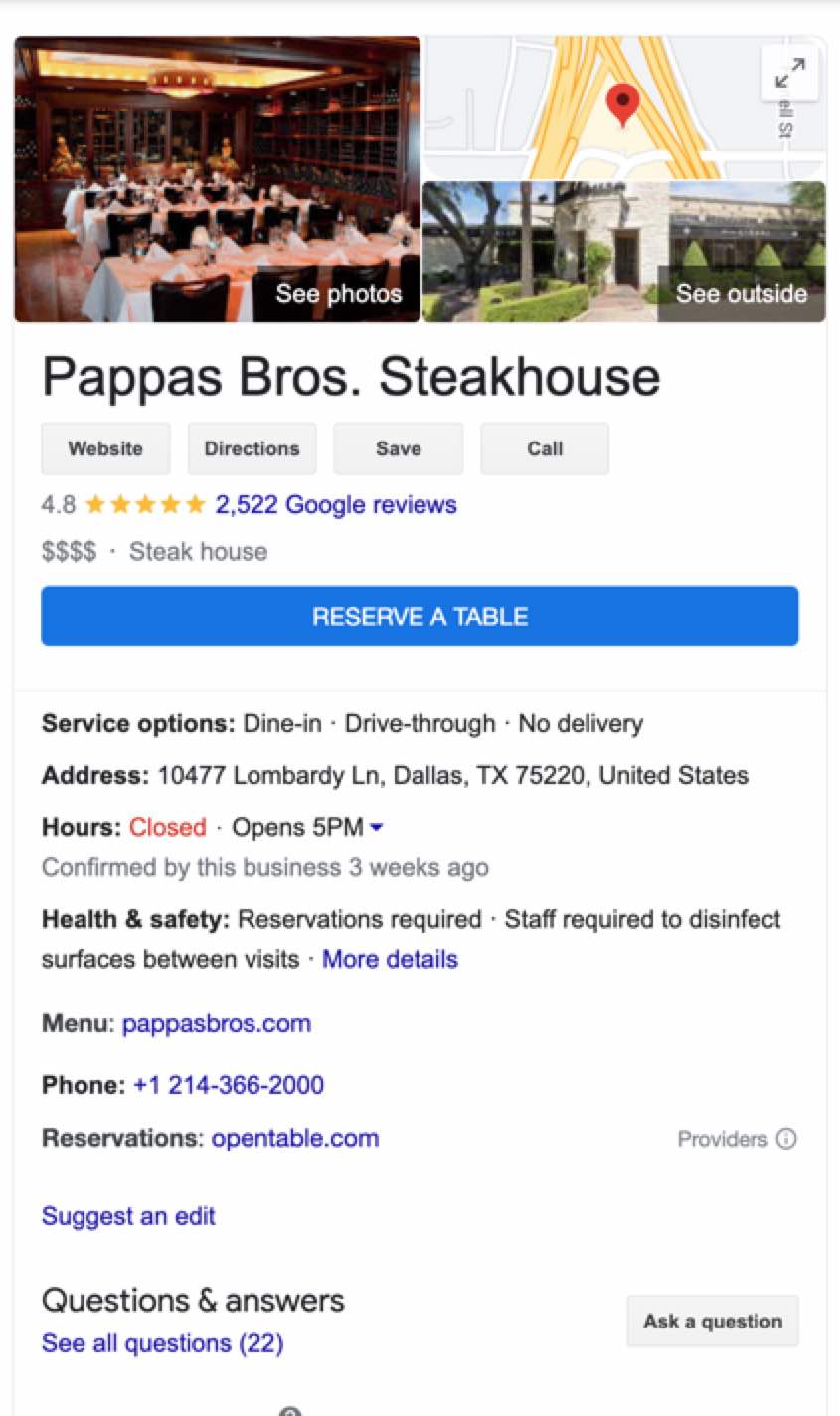 2. Build local citations
Claim your business's local citation in directories like Yellow Pages, Trip Advisor, and Apple Maps. Having your business listed on these directories helps your local search rankings because these citations tell search engines that your business is legitimate.
Make sure your business name, address, and phone number are consistent across the directories and your Google Business Profile. Tools like LocalFX can help you manage your local citations and keep information across all directories consistent and updated.
3. Get listed on review sites
Did you know that 80% of consumers trust online reviews as much as personal recommendations? Get an extra boost of credibility by having your business listed on review sites like Yelp and Glassdoor.
4. Monitor your business's ratings and reviews
Be the brand that engages with your customers. Doing so allows your customers and prospects to know that you care about them. Google has revealed that business owners' replies to reviews are important, because they build customer trust.
Respond to positive reviews by thanking your customer. There will be negative reviews, and you can show them that you care by acknowledging their comment and addressing their concerns.
5. Make your website mobile-friendly
Google does mobile-first indexing, which means Google's crawlers index your mobile site first.
Making your website mobile-friendly is also important for your human audience, because people spend 70% of their Internet time on mobile.
6. Get local inbound links
Earning backlinks from reputable local businesses gives your brand's reputation a vote of confidence. In addition, your website will enjoy referral traffic from your target audience in your geographic area.
Excited to reach the top of local search rankings?
Now that you know the local search ranking factors in 2023, are you ready to launch your local SEO campaigns? If you'd like to work with an expert on local search rankings, look no further than WebFX.
Our team of 500+ digital marketing experts will be glad to help you improve your rank in local search. We've helped 1000+ clients reach their digital marketing goals.
Contact us online or call 888-601-5359 to speak with a strategist today!
How is your website's SEO?
Use our free tool to get your score calculated in under 60 seconds.
WebFX Careers
Join our mission to provide industry-leading digital marketing services to businesses around the globe - all while building your personal knowledge and growing as an individual.