The B2B SEO Agency Trusted by Companies Worldwide: WebFX
More than 70% of business-to-business (B2B) buyers start their product research online. If you want them to find you and not a competitor, then you need to make search engine optimization (SEO) a part of your online marketing strategy. With WebFX, a trusted B2B SEO agency, you get access to an expert SEO team, world-class technology, custom SEO strategies, and all the benefits of SEO. Our SEO firm focuses on taking your revenue to the next level.
Ready to earn more revenue from the web? Our B2B SEO agency can help.
Developing, launching, and managing a B2B search engine optimization strategy isn't easy. It not only requires expertise but also a continuous investment of your time and resources. That's why many businesses decide to partner with a B2B SEO company, like WebFX.
With our decades of experience, as well as advanced artificial intelligence technology, our award-winning team can help your business. Our 500+ SEO specialists can build a competitive, results-focused strategy that accomplishes what your company wants, from traffic to leads to sales.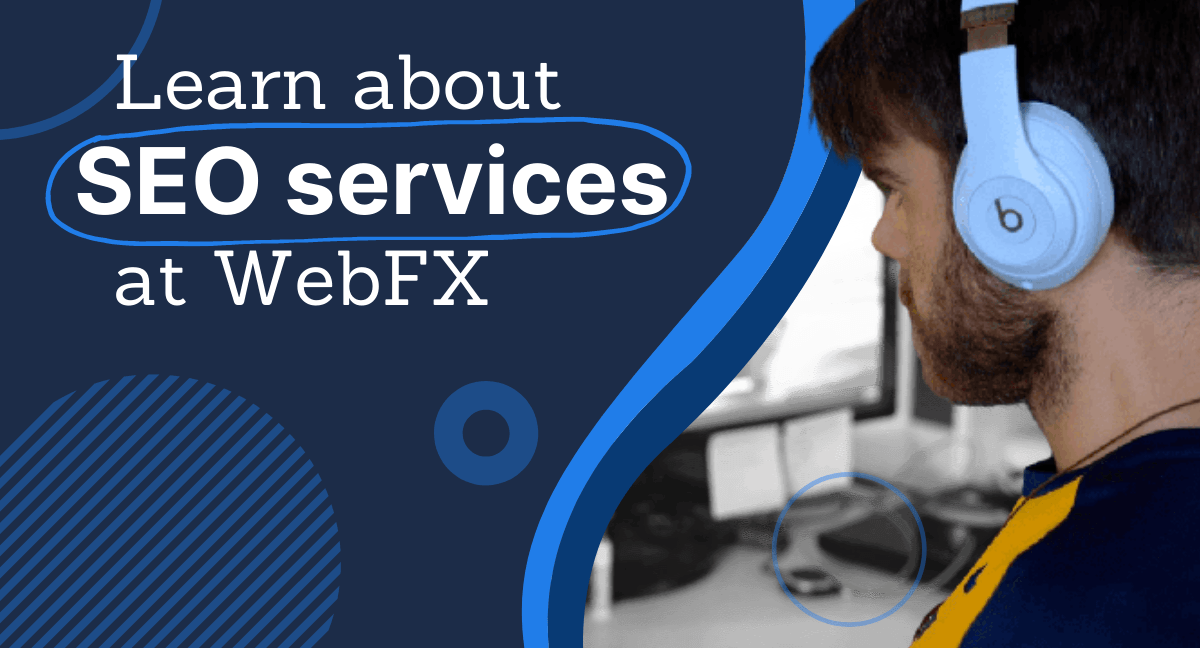 Already, we've helped our clients earn more than $3 billion in revenue, as well as 5.2 million phone calls and 7.8 million leads — and that's in only the last five years. Are you ready to learn how our B2B SEO agency can help your organization achieve similar growth?
Contact us online or call us at 888-601-5359 to get started with our B2B SEO services!
Accomplish your company's goals with our B2B SEO company
With WebFX as your B2B SEO company, your business can achieve high-impact goals like improving:
Website traffic
Search rankings
Qualified leads
Online sales
Industry thought leadership
And more
What do our B2B SEO services include?
With WebFX as your B2B SEO firm, your business receives an all-in-one solution to B2B SEO.
Our SEO services for B2B organizations cover all the main elements of SEO, including:
With our dedicated teams of SEOs, as well as designers, developers, and copywriters, you get a turn-key SEO solution. Your team doesn't have to worry about taking on additional responsibilities because we take care of it for you.
Learn more about our SEO deliverables in each of these categories below:
General SEO deliverables
We provide SEO services that are crucial to every B2B SEO strategy, from strategy planning to results reporting. Some of these general SEO deliverables include:
Dedicated account manager
Competitor analysis and monitoring
Search experience analysis
Initial visitor profile report
Earned media assets
Monthly traffic, ROI, and goal reporting
Phone call tracking and transcription
And more
On-page SEO deliverables
On-page SEO focuses on optimizations on your website itself and makes your pages easier for search engines and users to understand. On-page SEO also helps your site provide more value to users.
On-page SEO services are essential to ranking well in search. Here are some of the on-page SEO deliverables we provide:
Keyword research
Keyword optimization
Meta tag optimization
Image optimization
Web design analysis
New content development
Existing content updates
Duplicate content checks
And more
Off-page SEO deliverables
Off-page SEO is the other side of the coin. These optimizations occur outside your website and include earning links to your website from other sites.
Google uses information such as the quality and quantity of links to your site to evaluate its authoritativeness, which influences how well you rank.
Link baiting and content development
Competitor search rankings monitoring
Competitor ad spend monitoring
And more
Technical SEO deliverables
Technical SEO involves backend optimizations that benefit your rankings and traffic from search. These optimizations help search engines access and understand your site and improve user experience.
Our B2B SEO company offers technical SEO deliverables such as:
Technical SEO audit
Robots.txt optimization
XML sitemap creation and submission
Information architecture audit
Schema implementation
And more
Local SEO deliverables
Local SEO helps you reach nearby searchers and show up for search queries with a locational element. These SEO services are valuable for B2B companies who want to reach users in specific locations, such as companies with physical business locations.
Our B2B local SEO services include techniques such as:
Google Business Profile optimization
Local search optimization
New review notifications
And more
If you'd like to see everything our SEO services include, browse our SEO plans now.
Our B2B SEO process
Before you partner with a B2B SEO company, it's helpful to learn about their process. With additional insight into how they approach SEO, as well as how they measure results, you can determine if they match your company's needs.
At WebFX, we use our exclusive R.O.C.K.E.T. process to drive revenue for our clients. Our strategy includes six main elements:
Research
Research is a critical part of our B2B SEO company's strategy.
That's why our team dedicates a significant amount of time to learning about your industry, business, and products. We also take an in-depth look at your competitors. All this research helps us develop a campaign built for success.
Analysis of more than 300 on-site SEO ranking factors
Study of direct and indirect competitors in your industry and search results
Assessment of your site and server according to SEO best practices
Optimize
Without an optimized website, it's almost impossible for your site to top search results, especially competitive ones.
As a part of our services, our B2B SEO agency optimizes your website for SEO and search intent. This level of optimization helps your site not only rank, but also engage your audience.
Launch usability and site architecture improvements
Wordsmith informative, yet attention-grabbing title and meta tags
Optimize existing content, as well as images for search intent and select keywords
Content
More than 60% of users prefer businesses that create custom content.
With original content, business buyers can learn about your company and products, as well as get answers to their biggest questions. That's why our B2B SEO company develops and writes new, fresh content for your site.
Update existing pages to maintain freshness
Develop original, industry- and audience-specific content ideas
Produce optimized content ranging from blog posts to in-depth online guides
Keywords
Keywords are a core component to SEO and often serve as your strategy's foundation.
Our B2B SEO firm helps your business take advantage of the most valuable keywords for your industry, audience, and products or services. Targeting short- and long-tail keywords, we can help your company generate leads and sales throughout the year.
Compile a keyword mapping report
Complete a competitor keyword analysis
Set up advanced rank tracking to monitor keyword and content performance
Earned media & links
Earned media and links play a critical role in off-page SEO.
A mention, shout-out, or link from another website to your site sends a positive signal to search engines that people trust you and your content. That kind of trust is invaluable, which is why we help you earn genuine links from sites in your industry.
Promote your content to industry sites
Earn your website relevant mentions from blogs, news sites, and more
Help your business launch viral content or marketing campaigns that earn links fast
Testing
SEO is a long-term, ongoing strategy.
If your company wants to maintain its rankings, as well as stay atop of search trends, then you need to look at SEO as a permanent part of your marketing strategy. Our B2B SEO company helps your business do that by taking the lead on testing and improving your site.
Assess the conversion path of different audiences
Develop and test improvements to calls-to-action (CTAs) and more
Use ROI-tracking data from MarketingCloudFX to improve messaging, site design, and more
Do you have questions about our process for B2B search engine optimization?
Chat with our experienced strategists by contacting us online or calling us at 888-601-5359!
View our B2B SEO agency's deliverables and pricing
When researching a B2B SEO agency, price matters.
While other agencies may require your business to contact them for rates, we make ours available online. Publishing our SEO service prices allows your company to do the research and see if our agency aligns with your business and SEO budget.
View our pricing and plans below:
Features
Silver
Gold
Platinum
Diamond
Enterprise
Number of keyphrases optimized (Keyphrases with less than 1M results)
Up to 150
Up to 200
Up to 250
Up to 300
Custom
Pages Optimized
Up to 30
Up to 40
Up to 50
Up to 60
Custom
Technical Website Analysis & Opportunity Report
Custom
Keyword research & selection
Custom
Keyword mapping to target pages
Custom
Title Tags & Meta descriptions
Custom
Robots.txt optimization
Custom
XML sitemap creation & submission
Custom
Quarterly Earned Media Content Assets – Content, Linkbuilding, Consulting, or CRO Assets
6 Content, Outreach, UX, or CRO Assets
12 Content, Outreach, UX, or CRO Assets
15 Content, Outreach, UX, or CRO Assets
24 Content, Outreach, UX, or CRO Assets
Custom
Google Business Profile optimization (if needed)
Custom
Information architecture audit
Custom
Canonicalization analysis
Custom
Initial external link analysis and disavow
Custom
Link redirect audit
Custom
Internal linking restructuring & optimization
Custom
Duplicate content analysis
Custom
Header Tags Optimized (Ex. H1s)
Custom
Setup of website sitemap
Custom
Image optimization
Custom
Custom 404 error page setup and optimization
Custom
Schema Implementation (JSON-LD)
Custom
Google Analytics setup w/ conversion tracking
Custom
Google Analytics traffic analysis
Custom
Google Data Studio Reporting Dashboard Setup
8 dashboards
8 dashboards
10 dashboards
10 dashboards
Custom
Initial visitor profile report
Custom
Ongoing quarterly keyword ranking reporting
Custom
Ongoing monthly traffic, goal & CPL reporting
Custom
Ongoing user experience reporting (bounce rate, device category, etc.)
Custom
Ongoing quarterly competitor conquest reports
Custom
Keyword rank checker access with weekly updates (if requested)
Custom
Ability to check location data accuracy across 40+ local directories
Custom
A/B Testing of SERP title & description to improve clickthrough
Custom
Notification of new reviews (major review platforms)
Custom
CalltrackerFX access
Learn more
Leverages

Leverages

Leverages

Leverages

Custom
Analyze your leads to project the # of leads competitors receive on a monthly basis
Custom
Predict your and your competitors' market share on a monthly basis
Custom
Competitor intelligence login to view competitor data
Custom
LeadManagerFX access
Learn more
Leverages

Leverages

Leverages

Leverages

Custom
CompanyTrackerFX access
Learn more
Leverages

Leverages

Leverages

Leverages

Custom
ContentAnalyticsFX access
Learn more
Leverages

Leverages

Leverages

Leverages

Custom
Dedicated Internet Marketer
Custom
Online Project Management Platform
Custom
450+ SMEs behind campaign driving results
Custom
Website conversion analysis implementation
Custom
Custom
Custom
Custom
Custom
Initial campaign investment:(Two month duration)
$7,750
$12,750
$15,750
$18,750
Get Quote
Progressive monthly optimization:(6 month commitment – Subsequent 4 months)
$2,500
$5,000
$6,500
$8,000
Get Quote
GET STARTED
GET STARTED
GET STARTED
GET STARTED
GET STARTED
Additional B2B SEO services
Browse our case studies to see how our B2B SEO company can grow your business
At WebFX, we measure our success by our clients' successes.
That's why we've compiled several case studies that demonstrate how our B2B SEO company helped companies in the B2B sector grow.
Take a look, and get a preview of what we can do for you:
Reynolds Building Solutions: Learn how we helped this full-service building solutions provider increase its year-over-year (YoY) organic traffic by 43% and boost its YoY organic contact form submissions by 74%.
York Saw and Knife: Discover how our B2B SEO firm helped this industry-leading industrial blade manufacturer improve YoY organic sessions increases by almost 140%. Plus, learn how we maximized the result and cost of their pay-per-click (PPC) campaigns.
Why choose WebFX as your B2B SEO firm?
Competing in today's market requires the best SEO strategy.
A second-page ranking on Google, for example, won't help your business meet its quarterly sales goals. You need a first-page ranking because that's where 75% of users find what they're looking for, whether it's a wholesale supplier or software provider.
Your business can develop a top-notch SEO strategy with a leading B2B SEO firm: WebFX.
Billions in client results
Like your company, we measure success by the numbers.
Whether you're focusing on generating higher-quality leads with SEO or securing more website sales, we will tailor your SEO strategy to your goals, and measure our performance by the metrics that matter to your business.
With this client-focused approach, we've helped our clients (in the last five years) earn more than:
$3 billion in revenue
7.8 million leads
5.2 million phone calls
Results like these demonstrate not only the expertise of our B2B SEO company but also reliability. We continually deliver results for our B2B clients, whether they operate in the manufacturing, healthcare, service, or software industry.
Hundreds of satisfied clients
Like your business, we want to deliver on our clients' expectations, and we do.
Across our more than 25 years of history, we've partnered with hundreds of businesses in the B2B sector. Our dedication to delivering results, as well as our commitment to a client-focused approach, is why our client recommendation score exceeds the industry average by 488%.
Browse our testimonials (or even reviews on sites like Clutch), and you can see the WebFX difference.
That difference is why our client retention rate is 91%.
Our ability to deliver results, provide a client-first experience, and adapt to industry changes, makes it easy for clients to stick with our B2B SEO company and make our team their long-term partner for not only SEO but also other digital marketing strategies.
Decades of SEO experience
SEO is a fast-paced industry.
If agencies fail to adapt to algorithm updates and stick to dated strategies, they don't become a top-rated agency like WebFX. Instead, they go out of business. That's why our B2B SEO agency's 25-plus years of history and experience stand out.
Since our start in the 1990s, we've adapted to industry changes, helping our clients' companies grow.
When you decide to invest in SEO services from a third party, like WebFX, it's essential to choose a reliable partner. If you select an agency with less experience, it can result in a strategy that underperforms and doesn't drive the leads and sales your company needs.
With WebFX, your business receives peace of mind.
You can trust our team and our agency because of our results, experience, and passion for SEO. Plus, with our 1,020 testimonials, you know that our B2B SEO company comes with a proven track record for achieving client goals and providing the best possible client experience.
Ready to Grow? Get your FREE Quote Today!
"We measure our success by how much we WOW our clients."

Bill Craig
WebFX President
FAQs about our B2B SEO agency and SEO services
Do you have additional questions about our B2B SEO agency or services? Browse our FAQ!
Why hire a B2B SEO firm?
Hiring a B2B SEO company can help your business solve several challenges, like increasing your:
Leads, sales, and revenue numbers
Lead quality and sale value
Organic traffic
Rankings in relevant search results
And more
Partnering with a B2B SEO company can also alleviate the problems that come with in-house SEO management. Whether your team doesn't have the time, resources, or background to manage your strategy, an agency like WebFX can help.
How can a B2B SEO firm help my business?
At WebFX, we can help your business use and benefit from SEO by:
Leveraging 25-plus years of experience
Creating a custom and scalable strategy
Gaining actionable takeaways from competitor strategies
Targeting high-value, low-competition keywords
Providing a dedicated account manager for a consistent experience
Offering access to an easy-to-use reporting dashboard
And more
With our B2B SEO company, your organization receives not only a competitive strategy but also a seamless experience. You don't have to worry about ignored emails, unanswered questions, or delayed reports. Our team provides everything you need.
What markets in the B2B sector do you work with?
In the B2B sector, our agency has worked in several markets, including:
Manufacturing
Industrial
Finance
Insurance
Legal
Property management
Healthcare
Service
Software as a Service (SaaS)
And more
If you're curious about our specific experience in your market, contact us online to learn more.
What do your B2B SEO agency's services include?
Our B2B search engine optimization services offer a turn-key solution to SEO, and include:
SEO audit
Competitor analysis
Keyword research and optimization
Content development and launching
On-page and off-page optimization
Continuous conversion rate optimization (CRO) testing
Website call tracking and transcription
Monthly reporting
And more
If you have questions about what our B2B SEO company's services include, feel free to contact us online.
How much do your B2B SEO company's services cost?
Our monthly rates for B2B marketing depend on your plan and goals. You can browse our SEO pricing at any time, though.
As you compare agency pricing, it's critical to mention the correlation between cost and quality in SEO.
Factors like agency experience, package features, and strategy complexity can all influence SEO rates. It's not unusual, however, for agencies to promote low-cost rates, like $99 per month. Prices like these often hint at a lack of experience and, worse, the use of black-hat SEO tactics.
For reference, black-hat tactics describe the use of unethical SEO practices.
As an example, someone may add white text stuffed with keywords to a white page. While crawlers from search engines can see this content, users can't, which goes against the purpose of SEO: to create search- and user-friendly content.
If you encounter agencies like this, it's best to avoid them.
Not only can they trash your SEO strategy, but they can also damage your search engine standing. Google, for instance, will sometimes ban websites using black-hat SEO practices from their index. That means your site cannot appear in Google search results.
As Google claims more than 90% of the search engine market, you don't want that to happen.
Why make WebFX my company's B2B SEO firm?
As your B2B SEO company, WebFX would offer several advantages, including:
Custom SEO strategy
Turn-key SEO solution
Advanced AI and machine learning SEO software
Transparent pricing
Monthly reporting
Dedicated account manager
Decades of experience
Proven results
Hundreds of testimonials and reviews
With our unique benefits, your business can do (and earn) more from SEO.
Start your SEO strategy with a trusted B2B SEO agency
Search engines like Google and Bing offer your business an immense opportunity. With top rankings in relevant search results, your company can reach valuable leads, drive impressive sales, and achieve ambitious goals for growth — and our B2B SEO agency can help you do it.
Learn how our B2B SEO company can help your business benefit from SEO by contacting us online today.
If you'd like to chat with a strategist one-on-one, contact us online or call us at 888-601-5359 to chat now!