How to Construct a Winning Social Media Strategy Plan in 8 Steps
With the potential to reach your audience in a unique way, you want to embrace social media marketing. Like any area of marketing, preparation is essential.
But how do you build an effective social media strategy plan to get started?
Constructing a winning strategy means you need to get the lay of the land — with social media platforms, social media marketing resources, and your audience's social habits.
Before you gain a following, generate qualified leads, and raise brand awareness, it's important to nail down a data-backed strategy to direct your efforts. Keep reading for our eight-step plan to master social media.
Do you need professional social media services right now? WebFX is a prominent social media management agency ready to achieve real results for your business. Call us at 888-601-5359 today to speak with our team.
74% of people use social media when making a purchasing decision.
Make their decision easy with a stellar social media presence. See how your brand can level up by requesting a no-obligation proposal today.
One of our experts will be in touch within 24 hours!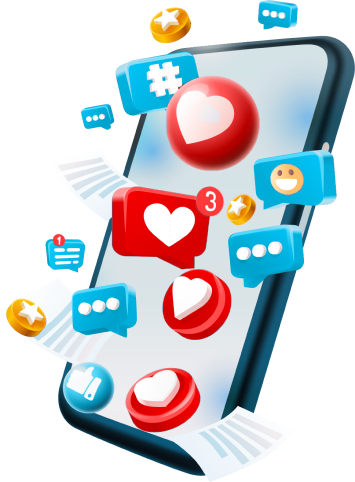 1. Decide on business-driven goals
Your business objectives drive your actions on social media. What do you expect or hope to accomplish through posting, sharing, and engaging an audience?
S.M.A.R.T. goals — the go-to goal structure for business plans — can set your social media plan up with purpose and establish a practical trajectory.
Produce social media marketing goals with the following components:
Specific
Measurable
Attainable
Relevant
Time-limited
For example, if your business goal is to strengthen brand awareness, you can set a social goal for gathering followers. The final goal might end up as, "By October, our Twitter following will increase by 25% due to posting six tweets per day instead of two."
2. Get to know your audience
Participating on social media has the distinct benefit of connecting your business with individuals where they spend a lot of time online. But it takes thorough research to understand what your ideal audience wants and responds to on social outlets.
With numerous social media platforms available, you can't tackle them all — and you shouldn't. If you're a B2B company, LinkedIn and Twitter users offer viable partnership candidates, while Pinterest probably isn't a wise investment of your time. Familiarity with your audience allows you to choose the right networks to target.
Each social media platform has a large number of a particular demographic, but the leading groups for platforms may surprise you. For instance, Facebook is most popular with users aged 25 to 29, despite the notion that young adults don't favor Facebook.
Audience research also lets you outline the most lucrative ways to share your content, display ads, and build customer relationships.
3. Find inspiration from your competitors
As you're forming a social media content strategy, you can lean on your competitors for ideas and insight.
Since others in your industry have gone before you, it's sensible to go over their posting frequency, caption styles, topics, and visuals. Don't replicate their plan, but investigate what you're up against and learn from their abilities.
For example, two brands, KeVita and Humm Kombucha, both sell the same kind of beverage. But Humm Kombucha chooses to emphasize video content on their Instagram platform, while KeVita focuses on photos.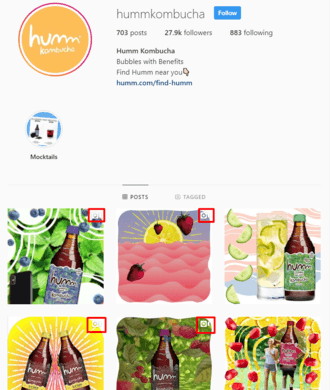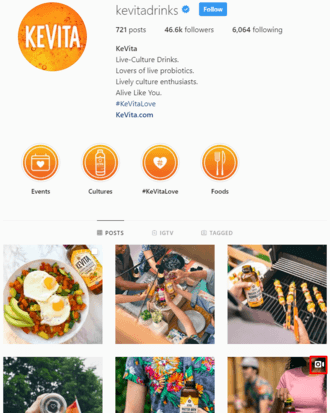 In many respects, their brands have common ground, but these slight differences in strategy set them apart.
Look at those in your industry who you attract significant followings and earn the attention of buyers. This kind of competitive analysis can help you fill in your social media strategy plan with greater intel.
4. Choose and track relevant metrics
If you want to watch your social media plan steadily develop, use pertinent metrics to follow the success of your campaign.
For social media, the metrics or key performance indicators (KPIs) don't just boil down to like, comments, shares, and followers — those remain "vanity metrics" if they don't lead to conversions and sales.
KPIs for social media include tracking social media "sentiment," which gauges whether the audience reaction is positive or negative. Here are additional metrics to track:
Engagement through social interactions: Compare the interactions to the content impressions (how many times someone sees a post)
Conversions from call-to-actions (CTAs): Record the journey from platforms to actions on your site
Clicks and traffic from social: See the number of visitors that navigate to your site through social media referrals
5. Create a variety of rich content
High-quality content is the crux of social media marketing. Posting interesting material pleases and pulls in your audience, leading to a high volume of interest and surges in revenue.
The good news is you have a myriad of options to choose from. Here are a handful of content types for social media:
Videos
Photos
GIFs
Infographics
Text statuses
Articles
Polls
Giveaways
Matching the content type to the platform is vital. While some channels like Facebook and Twitter have a mixture of prominent content, certain content types perform better. Video content is continually on the rise for Internet users, so leave room in your social media content for how-to videos, promotional clips, or Q&A videos.
As you sort through your content categories, start piecing together an identifiable theme, complete with characteristic visuals and a branded voice. You want customers to recognize which posts are yours.
Infusing your social media messaging with personality works for many companies, whether they concentrate on warmth, authority, or humor.

A content theme keeps your company consistent and reinforces your brand.
Also, consider out-of-the-box content ideas like sharing your customers' content or testimonies. Transparency through real stories can resonate with your audience, and it's a tactic that doesn't take professional photography, videography, or hours of editing.
6. Follow a posting schedule
When you don't have a routine content schedule, your following can lose interest and think you've fallen off the face of the earth. Long spurts in between posts can leave them wondering, "Is this account worth following?"
Timing your posts and readily supplying your audience with content puts you in their line of sight and drives revenue. A social media content calendar regulates your activity and keeps your brand present.
There's also a trick to posting your content at the right time on social media. For example, business posts on Facebook get the most clicks to their websites around 3 p.m. If you publish content when no one's looking, your insightful status or compelling image can't get the action it deserves.
Along with the subject of timeliness, your response time is also crucial for prime social engagement. When can you set aside time to reply to comments and questions from your posts? Include consideration for responses to fully discuss with your audience.
Your social media marketing time frame for posting can differ due to your industry, business size, and goals, but it's necessary to remain consistent.
7. Select useful management tools
Posting separately on social media channels is difficult, and management tools cut down on the time you waste bouncing back and forth to platforms.
Social media management tools like Buffer or Hootsuite allow you to schedule posts for publishing across multiple platforms. Curating and releasing content is effortless with applications that compile your content on a centralized front.
If you need other team members to have access and roles, you can obtain a management tool that hosts individual assignments and responsibilities.
8. Analyze, rinse, and repeat
Social media marketing is a long-haul effort. The metrics you selected for your campaign before come in handy throughout your campaign to show room for improvement.
Analytics from the individual social media platforms are useful for evaluating your online presence. Facebook Analytics, Twitter Analytics, LinkedIn Page Analytics, and Instagram Insights show how you're performing.
However, you can use additional analytic resources to inspect your success. The point is to gather intel about your social media marketing strategy plan, so you can tweak it.
Data to inform your campaign won't be available until you've been immersed in social media for a decent period of time. After a reasonable time frame, you can check based on your audience's behavior, what's working and what isn't.
Continue to advance your social media content strategy plan as you go to hone a winning plan.
Build your online presence with WebFX
Whether you're covering a bundle of platforms or just a smattering, strategic social media marketing can secure a wide base of prospective customers and increase brand awareness. As a flourishing source for marketing, it's beneficial for your business.
ORGANIC OR PAID SOCIAL MEDIA MARKETING? SEE WHAT
THE EXPERTS SAY
You can enact your plan and generate revenue, but the help of an established social media marketing team can take your campaign to new heights. WebFX is an industry leader in social media management and marketing.
With the latest techniques and a dedicated team of professionals, our social media management services are unmatched. Just ask our clients — go read their 1000+ testimonials to hear what they think.
Get a free quote today to see how much our social media services cost! We'd also love if you called us at 888-601-5359 or contact us online today.