For us, April Showers arrived in the form of abundant virtual events, and we're not complaining. Our team has been working from home amidst COVID-19 concerns, but it hasn't slowed our roll. We're still finding ways to take lunch breaks together, have happy hour after hours, and celebrate all the holidays – big and small.
We love being surrounded by supportive, encouraging, and excited team members who make any event oh so much fun!
April Fools
What's typically a fun day of silly pranks around the office turned into a fun day of both silly & sweet pranks around our virtual spaces. Team members hid funny memes in their co-worker's to-do lists, sent jib jabs full of #FXFamily faces, and rick-rolled leading to some eye-rolling 😉 If there's one thing our team loves, it's finding ways to make our team smile and this Aprils Fools was full of just that.
#FXPepRally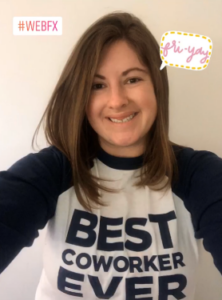 We dialed our work from home spaces up a bit and sported our favorite FXer gear from home. I think the saying goes …
you can take the FXers out of the office, but you can't take the office out of the FXers .. or something like that! From vintage swag symbolizing our early days, to our latest 2020 must-haves, our team looked extra chic!
What we loved most about our virtual #FXPepRally was how awesome it felt to all be so ~in-sync~ for the day!
#FXTalks With Jon Gordon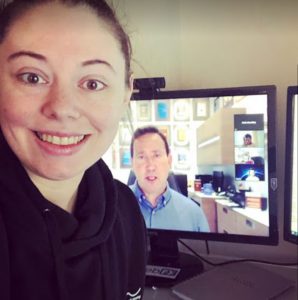 To be an FXer is to know and love Jon Gordon. We welcomed one of our favorite authors in for a virtual #FXTalks event where we had the privilege of hearing him speak on some of our favorite topics, like positivity in the workplace, grit, and what it means to embrace change. Our team walked away with pages filled with notes and excitement to apply what he spoke on.
Bring Your Pet To Lunch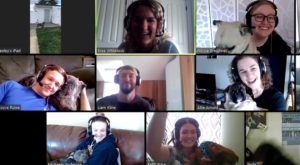 We hopped on Zoom over lunch to hang out with our co-workers and their furry friends – like our one co-worker's new puppy named Hammy and another's pet pig (you heard that right!).
We love having our pets work so closely with us from home, that we've even started to think of them as co-workers too!
Movie Night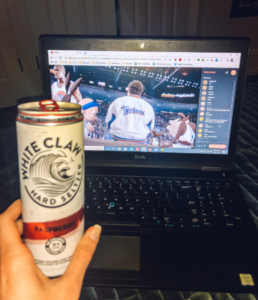 Our team grabbed blankets, popcorn, & our laptops to tune in for virtual movie night from our couches. Thanks to a nifty Chrome extension, we tuned in to all watch Space Jam (a classic) at the same time. Unlike going to the movies, we were also able to maintain a group chat throughout the movie to share reactions and memories for those seeing it for the first or fifteenth time.
#CheersFX
If there's one thing our co-workers love to do, it's cheering each other on!
We all received blank #CheersFX cards in the mail during the month of April that we then filled out and dropped back in the mail for another co-worker to receive. Talk about spreading some cheer! There's nothing quite like receiving some handwritten love in your mailbox.
Trivia Night
Since we couldn't get out for a round of trivia at one of our favorite local Harrisburg spots, we took trivia into our own hands and hosted it virtually.
Our team takes trivia pretty seriously, and with Duck Donuts on the line for the winning team, people Came. To. Play.
We loved seeing our team's competitive spirits shine, random trivia knowledge take the stage, and having our team laughing together for the evening.
Earth Day – Plant Propagation
Around the office, we love doing our part to care for the Earth on a regular basis – like our fully solar-charged company Tesla, composted coffee grounds, and other #GreenFX initiatives. Many of us do our parts at home as well, like propagating our own plants! One of our office plant gurus shared her green thumb and best practices with us as she walked us through the steps of plant propagation.
Some of us even earned ourselves one of her freshly propagated plants – #BestCoworker much?!
Follow-Along Baking Demo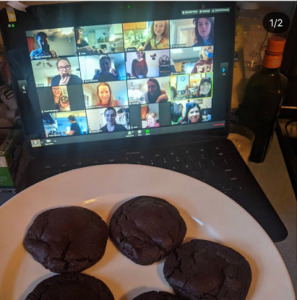 We're lucky enough to have an in-house baking extraordinaire who doubles as a social media expert by day. One thing we miss about being in the office is having her leftover treats waiting for us in the kitchen, so we found a solution to that problem! We hosted a virtual follow-along baking demo that resulted in each of us having our very own full batch of choco-chip cookies to devour from the comforts of home!
Onto the Next Month!
We're already diving into new virtual events for the month ahead, and can't wait to share them with you!
Tune back in to see what we find ourselves up to in the coming weeks.
How is your website's SEO?
Use our free tool to get your score calculated in under 60 seconds.
Work With Us
Continue Reading
Get posts by email
Join 200,000 marketing managers and subscribe to Revenue Weekly!
"*" indicates required fields
WebFX Careers
Join our mission to provide industry-leading digital marketing services to businesses around the globe - all while building your personal knowledge and growing as an individual.