The end of summer really flew by for us as we rounded out August and September at the FXCampus – in-person & virtually! I think you'll see from our recap below that the team kicked it into gear for our clients while finding time outside of work hours to kick back with the team.
We've been busy making the most of our lingering warm days where we can safely social distance outside with the #BestCoworkers in PA! We recently launched the official fall season, but before we share all our fall secrets, let's take a rewind to look at the past two month's events.
Speaker: Liz Jazwiec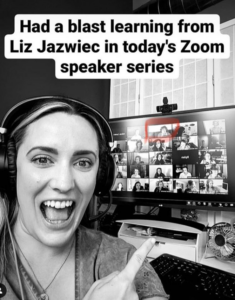 We welcomed Liz Jazwiec, renowned author of "Eat that Cookie," "Service Excellence is as Easy as PIE," & other bestsellers, to speak for our team as we worked through the next phase of our 2020 recovery game plan.
With over 30 years in healthcare leadership, Liz is an authority on leadership, employee engagement, and service excellence. She's one of our top recommended authors in our FXLearns program, and a fan favorite of many FXers, including our co-founders!
Liz spoke to our team on WOW Client Service & Results as it pertains to our industry and our work toward reclaiming our year's trajectory. During this virtual discussion, our team listened in on Liz's story and how we can use WOW to drive results.
We left with so many notes and a newfound appreciation for using WOW in the workplace.
FeastFX Food Trucks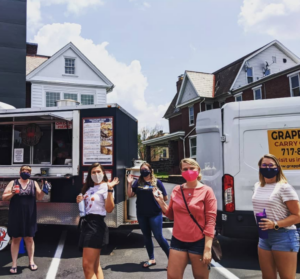 We're never short on hungry FXers or food trucks to keep us happy during the workday. Our line up recently included fan favorites such as Lucky Penny (best burgers!), 717 tacos (best tacos!), Mad Dash (best mac n cheese!), Grappling Crab (best crab cakes!), and The Potato Coop (best fries!). There's nothing quite like being razor-focused on a project when the smell of a team member's food truck treats waft through your floor.
It's the best mid-day pick-me-up!
We even added additional seating outside near our food truck parking to offer more areas for team members to safely social distance with their food and good company.
Farm2FX
Our team continues to reel in the farm-fresh goodies with our local CSA partnership. Our CSA – known as Community Sponsored Agriculture – allows us as consumers the opportunity to connect directly with local farmers. Each week we receive a fresh delivery of produce and fruits that the team can pick from to take home.
It's such a fun opportunity to try a new fruit or vegetable – maybe one you've never even heard of before!
Virtual Follow-Along Brownie & Ganache Demo
Team members joined us for a virtual in-home baking follow-along with our very own resident baker who also happens to be a Social team superstar. FXers tuned in from their kitchens and had the chance to either follow-along or simply tune in to watch. For any team members that joined in with supplies in tow, they got to round out the hour with homemade brownies and ganache to chow down on.
Regardless of whether you baked or not, it was such a fun opportunity to connect with FXers from other departments – and to get a sneak peek inside their cute kitchen spaces 😉
Tie-Dye on the Lawn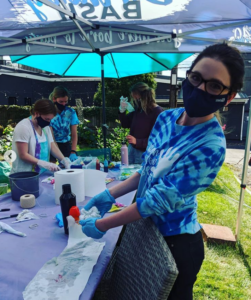 It's no surprise that for a more creative brain, you should take a break! A structured downtime can actually help you do your best work – and it's fun! We hosted the perfect "stretch your legs" activity, encouraging team members to stop by for a 10-minute step-by-step tie-dye tutorial.
We hosted this event out on the lawn, easily accommodating social distancing. The best part – team members got to tie-dye face masks which made it creative AND functional!
We loved seeing teams sign up for the same time slot, making it a fun impromptu team bonding opportunity.
Coffee Cupping Cafe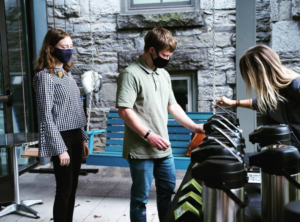 During August our team set goals – and CRUSHED them – as we worked toward earning touchless coffee machines for the FXCampus. Not just any machines though, they've been referred to as the Lamborghini of coffee machines 😉 Before we could have the machines up and running, however, we needed to decide on the coffee beans we'd roast.
The only people we trusted the most to help us out were the FXFamily of course, so we hosted a blind coffee cupping to help us determine which flavors would fill our new machines. Team members took a break from their day to sip coffees, enjoy a breakfast treat, and submit votes virtually on their favorite flavors.
We compiled the votes and our new machines are now proudly keeping our team caffeinated!
Virtual Summer Camp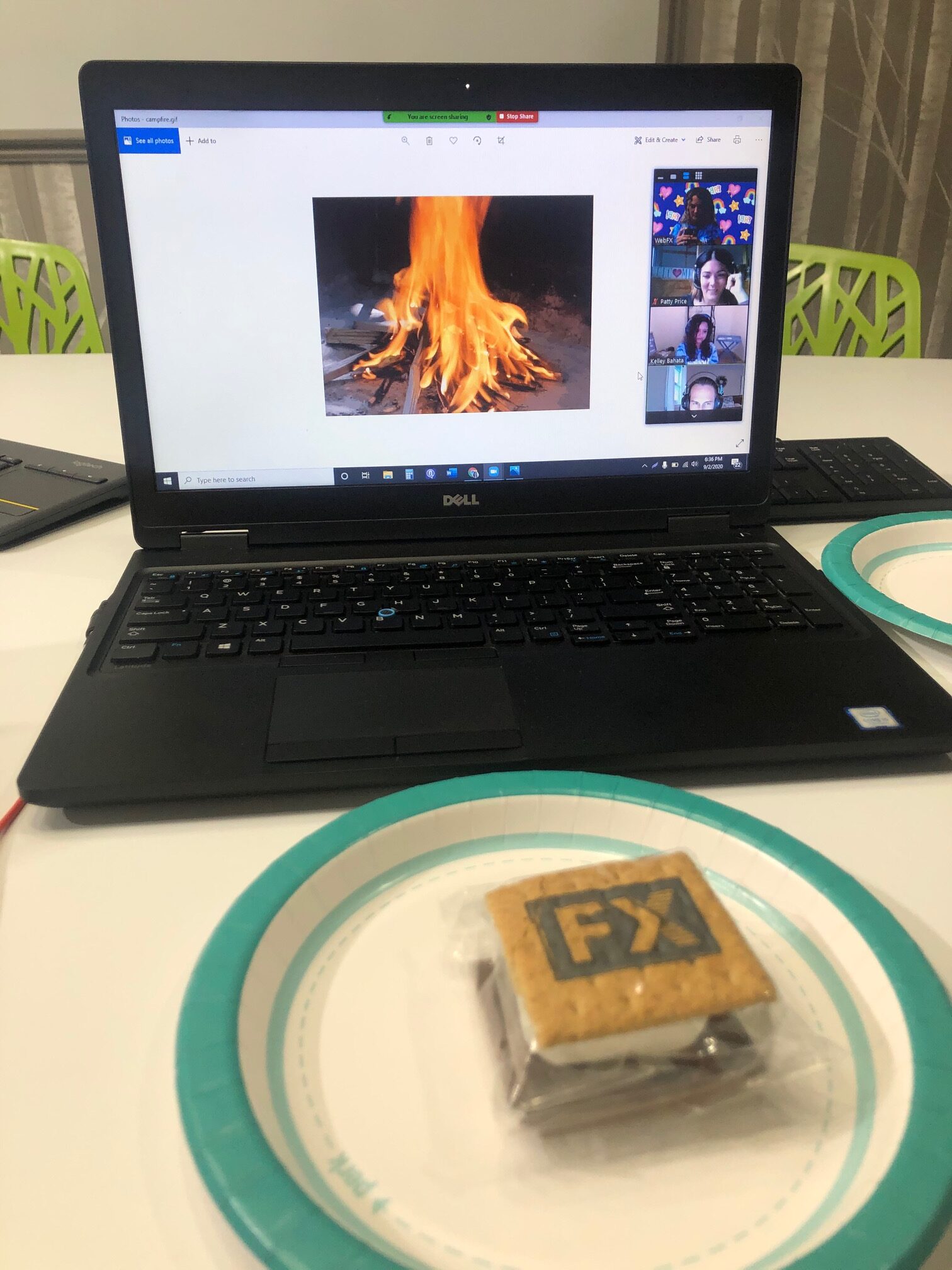 HELLLOOO Campers! We hosted our very first (of many, hopefully!) virtual summer camp.
Think: where coaches become counselors, peers become pals, and camp dreams come to life! The evening included team games, a mini art class, a talent show, campfire stories, and s'more! 😉 Speaking of s'mores, one of our counselors walked us through a how-to s'more tutorial from home which featured custom WebFX branded s'mores kits.
We're not sure it gets much cooler than that!
We're looking forward to making summer camp a tradition around the FXCampus.
Virtual Game Night
We're never at a shortage for virtual games nights, that's for sure! We love having the opportunity to gather our team around the screen to duel it out over the evening's game. This past month we played a fun game of Pictionary which left us all knowing who the artists of our team are. We laughed and pondered our way through guessing, but mostly enjoyed the time to unwind together after a productive day at the office.
Catch Us Back Here Next Month!
We're looking forward to diving headfirst into allll the fall festivities and can't wait to give you a recap on what our team finds themselves up to during October.
See you back here in a month!
How is your website's SEO?
Use our free tool to get your score calculated in under 60 seconds.
Work With Us
Continue Reading
Get posts by email
Join 200,000 marketing managers and subscribe to Revenue Weekly!
"*" indicates required fields
WebFX Careers
Join our mission to provide industry-leading digital marketing services to businesses around the globe - all while building your personal knowledge and growing as an individual.