Did you know that 57% of consumers are willing to share personal data in exchange for personalized offers or discounts?
When your audience is willing to share personal information with you, you should use it to your advantage to help you convert leads into sales for your business. With tools like Google's BigQuery, you can better manage that customer data. On this page, we'll discuss what BigQuery is, the best features of this tool, and seven benefits of using BigQuery.
If you want to learn more about BigQuery or BigQuery consulting services, you can contact us online or call us today at 888-601-5359 to speak with a strategist.
Time to Level Up Your Sales
Our long list of services helps you grow every aspect of your business with marketing strategies that are proven to increase bottom-line metrics like revenue and conversions.
In the past 5 years, we've managed more than 12.9 MILLION transactions across our client base.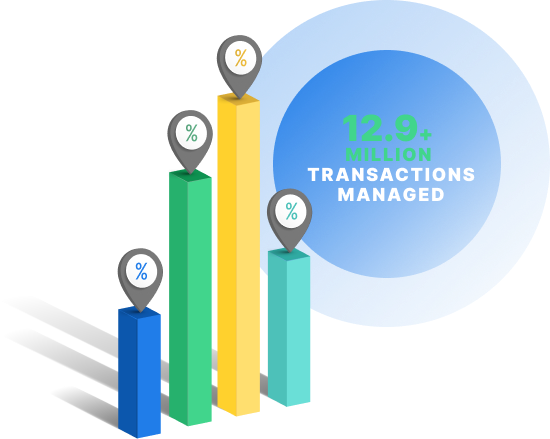 What is BigQuery?
BigQuery is Google's serverless data warehouse. This scalable, enterprise data tool is a cloud data warehouse that helps companies store and query their data. You can upload massive datasets into BigQuery machine learning to help you better understand your data.
This program has the processing power of Google's infrastructure. With machine learning built into the system, BigQuery can help you process your data and make sense of it. There are three main ways to use BigQuery:
Loading and exporting data: You can quickly load your data into BigQuery. Once BigQuery processes your data, you can export it to analyze it better.
Querying and viewing data: BigQuery allows you to run interactive queries. You can also run batch queries and create virtual tables from your data.
Managing data: BigQuery allows you to list projects, jobs, datasets, and tables. You can get information about each of these and update or patch your datasets. BigQuery also enables you to delete and manage any data you input.
BigQuery makes it easy for you to analyze your data. You can create dashboards and reports to help you sift through data and understand it better.
When you use BigQuery, you can share insights with your team. You can share:
Datasets
Queries
Spreadsheets
Reports
8 best BigQuery features for businesses
Now that you know more about BigQuery machine learning, it's time to learn how to use BigQuery. Let's start by looking at all the features you can use with Google's BigQuery.
1. Serverless insight
When you use BigQuery, all your data operates on a cloud platform. It has a serverless architecture, which allows you to scale your analytics automatically. This feature allows you to focus on the most critical insights that you want to uncover.
2. Real-time analytics
BigQuery machine learning also offers real-time analytics. This tool has a high-speed streaming insertion API. It helps build a strong foundation for analyzing real-time data.
With real-time analytics, you can input your latest business data and analyze it immediately. This feature is hugely beneficial for your business because it helps you understand your data as you compile it.
3. Logical data warehousing
With logical data warehousing, you can process external data sources through BigQuery. You can do this in BigQuery's cloud storage. BigQuery also processes transactional databases and spreadsheets in Drive.
It's a great way to help you to input all your data and process it without ever duplicating your data.
4. Data transfer services
Data transfer services allow you to transfer your data from external sources automatically. With BigQuery Data Transfer Service, you can take data from multiple sources on a scheduled and fully managed basis. These platforms include:
Google Marketing Platform
Google Ads
YouTube
Partner SaaS applications to BigQuery
Teradata
Amazon S3
This makes BigQuery a great tool if you're looking to merge data from different tools into one place.
5. Automatic high availability
Automatic high availability provides you with transparent and automatic storage. You can have multiple locations of storage and high availability for those locations. This feature comes at no extra charge or additional setup.
6. Storage compute separation
The storage compute separation allows you to separate your storage. You can choose the storage and processing solutions that work best for your business. It's a great way to help you create a data processing system that aligns with your business's objectives and goals.
7. Geoexpansion
BigQuery machine learning gives you the option to control your geographic data. It only applies to the US, Asia, and Europe. This feature prevents the headache of setting up and managing clusters of data.
8. Automatic backup and easy restore
Your data is essential to your business. You don't want to lose it while trying to process it. With BigQuery, your information is automatically replicated and stored, so you don't lose it.
BigQuery keeps a seven-day history of changes. This feature allows you to restore previous data and compare your data at different times. It's a great way to keep track of your data and see changes.
6 benefits of using BigQuery
Now that you know more about how to use BigQuery and what you can do with it, it's time to look at how this tool will benefit your business.
1. You can set it up fast
When you're busy running your business, you don't want to spend hours trying to set up a data tool to aggregate all your information. The most significant benefit of BigQuery is it's easy and fast to set up. You can set up a data warehouse in seconds.
As soon as your data warehouse is set up, you can start to query your data immediately. BigQuery processes billions of rows of data in seconds. It handles all your real-time data and processes it quickly as it comes into the tool.
This speed makes BigQuery a desirable option for managing your data.
2. It's easy to use
One of the most significant benefits of BigQuery is it's easy to use. Building your own data center is not only expensive but time-consuming and challenging to scale. It leaves you frustrated and can even waste time as you try to understand your data.
BigQuery makes the process simple. You load your data into the tool and only pay for what you use. It's an efficient way to help you process your data and understand it without the complications of building your own data center.
3. It scales seamlessly
One of the biggest problems with inputting data is scaling. Many companies struggle to figure out how to properly size their data to make it make sense. With BigQuery, you'll get all the scaling work done for you.
BigQuery separates storing and computing data. This process enables elastic scaling, which helps you scale at a higher performance rate. It works seamlessly for real-time analytics and appropriately scales your data to help it make sense to you.
4. You'll get accelerated insights
With BigQuery, you get a full view of your data. You can use data tools to help you further digest and break down your data. Tools like Tableau and Data Studio work seamlessly with BigQuery to help you better understand your information.
You can create reports and dashboards through these supplemental tools. BigQuery quickly takes the data it's processed and integrates it into these data tools' platforms to help you break down your data.
5. Your data is protected
Your data is precious to your business. BigQuery protects your data and maintains strong security over it. This process eliminates the burden of having disaster recovery in place in case your data gets compromised or lost, although you should always have a disaster recovery plan.
6. It's affordable
BigQuery's pricing works with your business. You only pay for the resources you use. Whether it's storage or computing resources, Google charges your company solely based on how much of the tool you use.
As you look at BigQuery Pricing, you'll find that you're charged separately for storage and streaming inserts. Copying and exporting data comes at no charge.
For Storage, the fee is:
$0.02 per GB, per month
$0.01 per Gb, per month for long-term storage
For Streaming Inserts, the fee is:
As you can see by this BigQuery pricing, you're paying based on what you use in BigQuery. If you store 100GB of data, you're paying $2 a month to store your data. You will never overpay for storage or processing when you don't use it.
Google also offers two subscription plans:
Pay-as-you-go: $5 per TB per month
Flat rate pricing: starts at $10,000 per month for a dedicated 500 slots
If you're moving more data or want to input an abundance of data over time, a subscription service may be more suitable to your needs. BigQuery helps you process your data at a fair rate without the hassle. You won't need to worry about building your data process tool to try and handle all your data.
By looking at BigQuery pricing, you can see it's an affordable, secure option for managing and processing your data.
experts can help you get started. Contact us online or call us today at 888-601-5359 to learn more BigQuery consulting prices and how our BigQuery consulting agency and services can benefit your business.
WebFX Careers
Join our mission to provide industry-leading digital marketing services to businesses around the globe - all while building your personal knowledge and growing as an individual.