Your Guide to Machine Learning Consulting Rates
By 2022, spending on cognitive and artificial intelligence systems will reach almost $78 billion.

That's a tremendous amount, which is why it's essential to understand the costs and logic behind machine learning consulting rates. That way, you can make educated and informed decisions when it comes to machine learning or deep learning consulting services.
Keep reading to learn more about the hourly and one-time averages for machine learning consulting. Plus, understand the factors that influence deep learning consulting rates and why most consulting services require custom, versus flat-rate pricing.
If you want to learn more about machine learning consulting and how much you should expect to pay, contact us online.
What is the average machine learning consulting rate?

The average machine learning consulting rate depends on the pricing model of your consultant. Hourly consultants often charge an hourly rate of $250 to $350. In comparison, flat-rate consultants cost $5000 to $7000 per project.
| Pricing Model | Average Rate |
| --- | --- |
| Hourly | $250-$350 / hour |
| Flat Rate | $5000-$7000 / project |
While deep learning consulting rates may seem straightforward, especially when looking at average prices, several factors determine the cost of machine learning consulting. Understanding these factors is critical, whether you're looking to hire a consultant or work as one.
What determines machine learning consulting rates?
Consultant's experience
No matter the field, experience impacts the cost of a product or service. In most cases, data scientists offering machine learning consulting services will base their hourly or flat rate off their background and expertise.
If they have less than four years of experience, for example, they may charge $250 or less per hour. In comparison, a data scientist with five or more years of experience will probably cost closer to $350 per hour or $7000 per project.
Agencies that offer machine learning consulting services will often base their data science consulting rates on the experience of their agency. That's because a well-known, more experienced agency can usually attract top talent.
For companies looking to hire a machine learning consultant, it's worth making experience a critical factor in your hiring decision. You want to work with someone that can deliver results, without causing you or your team a headache, especially if you have zero familiarity with machine learning.
Project scope
Machine learning consulting rates also depend on your project's scope.
A larger, more complicated project will often equal a higher consulting rate. That's because a data scientist or machine learning consultant will have to invest more time into setting up and implementing your solution architecture.
Even a flat-rate consultant will increase their prices in response to the work required.
A common challenge for many consultants or contractors, however, is that many companies or clients aren't sure about what they need or want. It's understandable, too, as the details of machine learning can be muddy for professionals without a big data background.
Contractors can adapt to this challenge, as well as help potential clients by chatting with the company's team, learning about what they need and want, and then compiling a proposal with a price. Accepting the job (or even hiring the consultant) before receiving a plan will often cost time and money later.
From a client perspective, working with a contractor that develops a proposal first serves as an excellent trust signal. They want to outline, as well as reach an agreement with your team, about what your company wants before they begin or accept the project.
Plus, these consultants want to provide you with an accurate machine learning consulting rate.
Result expectations
Result expectations are another pricing component when it comes to big data consulting rates.

In big data, result expectations describe what you expect when it comes to a machine learning project's:
Accuracy: The proportion of the total number of right predictions.
Precision: The proportion of positive cases identified correctly.
Recall: The proportion of actual positive cases identified correctly.
F-score: The mean of your precision and recall values.
For many clients, these terms can seem foreign. It's up to the consultant to explain these phrases in a way that makes sense. F-score, for example, describes the balance between precision and recall, which focus on the exactness and completeness of a classifier.
If you're operating as a contractor, you may receive requests from potential clients that have zero experience when it comes to result expectations. Again, talking with potential clients and building proposals can help create accurate project plans and prices.
Requirements quality
In big data, quality is a critical factor.
Businesses want to receive accurate and precise data. That kind of data, however, depends on a large dataset. In some cases, companies may desire high-quality results but provide small datasets. Or, they may request impossible quality standards.
Depending on the requirements quality, machine learning consulting rates may increase.
For example, a business that wants accurate results, but provides a small data set, may need to invest more time and money building its dataset. That way, the contractor can deliver on the client's requirements quality.
As a client, setting a lower requirements quality will not decrease your machine learning consulting rates. If you want to use a lower requirements quality, it's essential to think of how that will impact your results and any actions in response to your results.
Solution architecture
Big data learning consulting rates also depend on the solution architecture.
For reference, solution architecture refers to an entire system or specific parts of a system for delivering a solution. It's a critical component in using machine learning, as solution architecture often integrates with business, information, and application architecture.
MarketingCloudFX (from WebFX) is an example of a solution architecture.
A complex solution architecture can require more hours from a consultant. It can also increase the scope of a project, which can influence the flat rate charged by a contractor. Not to mention, a more sophisticated solution architecture can require the expertise of a more experienced data scientist.
If searching for a faster, more immediate solution, companies can use a pre-built and customizable solution like MarketingCloudFX. With the artificial intelligence of IBM Watson and machine learning capabilities, MarketingCloudFX is a go-to solution for companies exploring machine learning.
For perspective, MarketingCloudFX costs $229 to $999 per month.
Again, consultants and clients need to discuss the project in-depth (and develop a proposal) to determine the solution architecture required. This initial work can help streamline the project, provide accurate pricing, and ensure that the consultant and client are a good match.
Measuring the metrics that affect your bottom line.
Are you interested in custom reporting that is specific to your unique business needs? Powered by MarketingCloudFX, WebFX creates custom reports based on the metrics that matter most to your company.
Leads

Transactions

Calls

Revenue
Learn More

What should machine learning consulting include?
If you decide to hire a machine learning consultant (or act as a consultant), your services should include:
Initial consultation, before hiring
Service or consulting proposal
Flat rate or hourly quote
Client-provided dataset
Outlined results expectations
Detailed requirements quality
With these core service features, your machine learning consultant can move forward with building a system for processing and analyzing your data. In some cases, your contractor may offer additional services or the option to keep them on retainer for anything else you need.
For example, a contractor on retainer can teach your business or team:
What machine learning can do
How to manage the data
How to apply and use the data
While keeping a consultant on retainer will depend on your business, it's a useful strategy for companies new to machine learning. A consultant can help your team amplify the value and uses of machine learning, which can make for a competitive advantage in your industry.
[Example] How a contractor determines their machine learning consulting rates
For additional perspective into machine learning consulting rates, use the following example.
Scenario: The company Acme Industries wants a data scientist to build a document sorting system that will read and sort non-sensitive files in different formats, from PDF to Microsoft Word and will categorize them based on their semantic similarities.
Requirements: Following a meeting between the contractor and Acme Industries, the contractor determines that Acme Industries will need a server and interface setup, as well as the necessary machine learning work, like using TensorFlow for sorting the files.
Cost: Looking at the requirements, the contractor estimates a total cost of $7500, based on an hourly rate of $300. That means the consultant guesses they'll spend 25 hours on the project. This time estimate may include setup and development, as well as some buffer time for troubleshooting errors.
Proposal: Now that the contractor's outlined the requirements and cost, they can move forward with presenting the client a proposal. The proposal includes the project deliverables and price, as well as a planned release date. Here, the client can choose to sign-on with the contractor or with another one.
In most cases, your deep learning consulting rates and proposal will include a more in-depth project analysis and cost breakdown. The time to compile your plan can also take longer, requiring a week or more. Implementation of your machine learning solution can take months too.
Meet MarketingCloudFX:
One platform tracking countless metrics and driving stellar results.
Learn More About Our Proprietary Software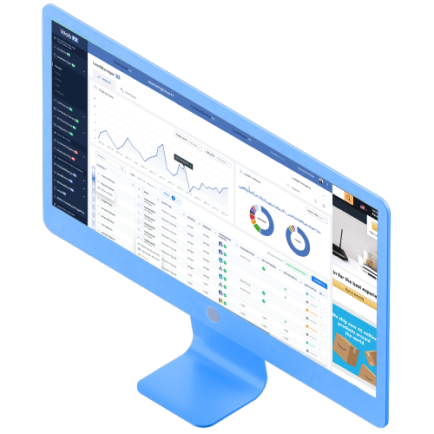 Learn more about machine learning consulting for your business
As machine learning becomes more sophisticated, its business applications continue to grow. That's why more companies are looking to hire machine learning consultants and leverage the power of machine learning platforms like MarketingCloudFX.
When it comes to hiring a consultant, however, price is a critical factor.
That's why this guide on big data consulting rates broke down the average costs, as well as explained the pricing factors behind the numbers. Use it to your advantage when researching, interviewing, and comparing data science consultants.
If you'd like to learn more before starting your search, as well as if MarketingCloudFX is a good fit for you, connect with our experienced strategists. You can contact us online or call us at 888-601-5359 to chat one-on-one about your business and get your machine learning consulting questions answered.