Big data is typically used in tandem with other terms like artificial intelligence and machine learning — but what does big data mean? When you search "What is big data?" on Google, there are close to six billion results — 5,970,000,000 to be exact.
Big data is a large, complex data set you can use to discover trends, patterns, and associations.
Multiple industries use big data, including retail, healthcare, and marketing to solve problems related to product development, customer experience, and operational efficiency.
Big data definition
Let's define big data before we get started. Big data refers to a large volume of data that drives machine learning projects and other analytics programs. The information provided by groups of big data allows machine learning applications to make decisions based on trends and patterns.
Why is big data important?
It's essential to look at extremely large groups of data — hence, the need for big data — to find trends and patterns that provide reliable and useful information.
For example, if you wanted to find the favorite ice cream flavor among people in your city, but only collected data from ten people, you wouldn't end up with a very well-rounded conclusion. However, if you were to question thousands of residents, you'd end up with a more well-rounded assumption. That's because you can find more solid patterns in the expanded amount of data.
What is big data analytics?
When we talk about big data, it's equally as important to talk about big data analytics.
Big data analytics is the act of analyzing large sets of big data.
Your data is only valuable if you know how to make sense of it, and big data analytics can help. If you're looking to use a big data tool or a big data consulting firm, it'll most likely use big data analytics so that you can make sense of and drive results with the wide variety of metrics you collect.
hire a big data consulting firm to help you leverage your company's data
Types of big data
Big data references a variety of data types, and it's essential to understand them all when talking about big data.

The three types of big data include:
Structured data: Found in data warehouses and SQL databases
Unstructured data: Located in NoSQL systems and document files
Semi-structured data: Data from sensors or web server logs
We won't go into detail with each of the types of big data, but you can check out the referred readings below to learn more!
Big data examples
Now that you know the definition of big data, it's time to talk about some practical applications of big data in your every-day life. You might use big data every day and not even know it! Check out some big data examples below!
Healthcare industry
The healthcare industry is a fantastic big data example, since it relies on big data to organize some of their most sensitive information.
It takes more than one hand to count all the data sets that healthcare institutions have access to, which is why big data organization is crucial. When hospitals, medical practices, and other healthcare facilities use big data, they're able to store information like patient records, prescriptions, treatment, and so much more — allowing them to have a birds-eye view of their facility's trends and patterns. These trends and patterns can translate and transform into patient marketing ideas that can better the client's experience.
Retail industry
When it comes to retail, there are tons of data to consider — making the retail industry another great example of big data application.
Stores want to know how many units they sell, which units sell the best, what their monthly revenue is, what their losses are, and what marketing strategies work the best for their particular store. With big data, retail stores can organize this information effortlessly to find the best ways to market to their audience and bring in the most revenue year-over-year.
Marketing industry
Big data is crucial to the marketing industry. That's because marketing, especially online marketing, is one of the best and most effective ways for businesses of all kinds to sell their products.
What is big data in marketing? Marketers use big data to find trends in the success of certain marketing channels, as well as what strategies work on specific channels. Armed with this information, marketing agencies can recommend the best plan of action for their clients, allowing them to run their business successfully and make the most money while doing it.
Did you know that WebFX uses big data to drive our client campaigns?

It's true! With our proprietary tool, MarketingCloudFX, we can use big data to predict how your content will rank, what keywords will deliver, and so much more.
Big data tools
As we mentioned, big data in marketing is crucial to a great campaign — especially when you use more than one strategy. It can be difficult to keep track of marketing metrics from one strategy, like search engine optimization (SEO), but throw something like pay-per-click (PPC) advertising into the mix and it's essential to use a big data tool.
WebFX offers proprietary big data management tools that can help you create the best marketing strategy possible. Check out MarketingCloudFX features below!
CallTrackerFX
CallTrackerFX isn't just a call tracker. It uses big data to help you understand patterns and trends in your phone calls to ensure that you lean into marketing opportunities made evident by call tracking. You'll be able to track the source of your phone calls, see real-time data, view transcriptions, and even track your online return on investment (ROI) by assigning a phone number to each of your marketing campaigns.
PredictionGeniusFX
PredictionGeniusFX is the only tool of its kind on the market, meaning it can give you a huge advantage over the competition. This tool uses Google's deep learning platform, along with big data collected for years by WebFX.
This data helps you determine how a new or updated piece of content will perform in Google — saving you valuable time and marketing dollars.
PersonalizeFX
It's no secret that users want a personalized website experience. Someone looking for pajamas on your clothing website doesn't want to see rain boots. With PersonalizeFX, you'll be able to customize your user experience based on data about your customers.
You can create a website experience that caters to a visitor's company, location, or previous actions on your website.
Use our proprietary keyword research tool,
KeywordsFX

, to help you find high-quality keywords for content and PPC campaigns. Identify Top Keywords for Free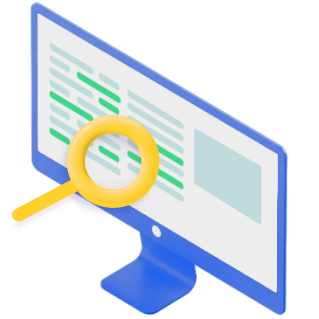 Want to learn more about big data?
If you still want to learn more about big data, from its costs to how it can help your company grow, WebFX can help. Not only are we big data experts, but we also offer a variety of MarketingCloudFX tools that use big data to better your marketing campaign. Did we mention that we're a full-service digital marketing agency?
Whether you're looking for an SEO campaign or video production services, WebFX is here for you. Just check out the real results we've driven for clients, as well as our 1020+ client testimonials. To get a free quote, contact us online, or give us a call at 888-601-5359!
How is your website's SEO?
Use our free tool to get your score calculated in under 60 seconds.
Get posts by email
Join 200,000 marketing managers and subscribe to Revenue Weekly!
"*" indicates required fields
WebFX Careers
Join our mission to provide industry-leading digital marketing services to businesses around the globe - all while building your personal knowledge and growing as an individual.