Companies can choose from dozens of strategies and marketing channels when it comes to business-to-business (B2B) lead generation. With so many lead generation ideas to choose from, however, it's not surprising that almost 70 percent of companies struggle with it. Your company doesn't have to, though.
With these five powerful (yet often overlooked) B2B lead generation tactics, your business can launch a smart strategy that attracts high-value, qualified leads. You can even use the expertise of our award-winning team to amplify the performance of your lead gen campaigns. Just contact us online to get started.
Ready to learn more about B2B online lead generation and the strategies to improve your approach? Keep reading! Don't forget, WebFX is a full-service lead generation agency that provides digital marketing and B2B advertising services to clients across the country.
So whether you need lead generation in Cleveland or Minneapolis, we've got you covered when it comes to building a campaign that generates leads.
WebFX specializes in B2B client success.
Wheeler Machinery Co., saw 82% higher average time on site after partnering with WebFX for SEO, CRO, web design and development, and website content services.
See Case Study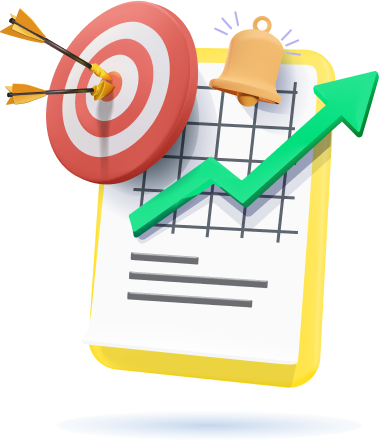 What is B2B lead generation?
Business-to-business lead generation is a practice that generates leads for B2B companies. These leads, often called business buyers, will become a lead once they provide a company with their contact information, like their name, email, and job title.
Tactics for B2B lead generation use various traditional and digital marketing channels, including print, search, and social.
On average, B2B lead generation costs $2500 to $12,000 per month.
Which B2B lead generation tactics work best?
Every business is different — even those in the B2B market. That's why it's challenging to provide a definitive answer to which lead generation tactics work best. Research by HubSpot demonstrates how B2B companies get different results with different strategies.
HubSpot, for example, found that most B2B leads come from other, undefined tactics.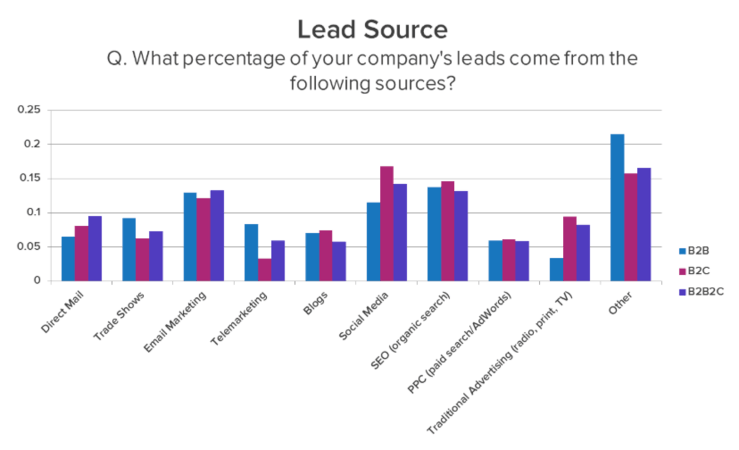 Image from HubSpot
That's why this post covers a few different approaches, some familiar and some new. All, however, offer universal value to B2B companies.
Whether your business operates in the manufacturing, healthcare, or entertainment sector, you can use the following B2B lead generation ideas.
5 effective B2B lead generation ideas
When it comes to lead generation for B2B, the following tactics work extremely well:
1. Give your lead generation forms an overdue update
While some leads may call your company directly, many use your website to contact your team. That's why contact forms across your site play a critical role in your B2B lead gen efforts. If those forms underperform, so does your lead generation strategy.
Companies, however, tend to overlook their contact forms when analyzing their lead generation process. Instead, they focus on their website traffic and conversion rates. While you want to monitor these metrics, you also want to determine what's influencing their performance.
When it comes to your conversion rates, your contact forms carry significant influence. Poorly designed contact forms can cost companies valuable leads and revenue. If you ask the wrong questions, include a problematic design feature, or use a poor location for your contact form, it can result in low conversions.
Your company isn't losing leads because of your product or service, but because of a contact form on your website. That's why it's essential to adopt this strategy for your lead gen campaigns: optimize your contact forms. You can optimize or improve your contact forms for website visitors in a few ways.
You can make global and local changes, like redesigning your contact form or modifying your form fields, for example. Depending on your site, you may require the help of your development team to update your website. A few additional examples of ways you can optimize your contact forms to generate leads include:
Increase or decrease the number of form fields
Modify the number of required form fields
Change the information requested from leads
Update the contact form's design
Move the location of the contact form
Add or improve the contact form's value proposition
Update the calls to action (CTAs) for viewing the contact form
If you decide to use this B2B lead generation tactic for your lead generation campaign, use multivariate or A/B testing to make changes. This approach allows your team to compare design differences and determine which one offers the most value when it comes to your lead generation goals.
2. Supercharge your email marketing campaigns for lead generation
Email is non-negotiable when it comes to B2B lead gen. It's one of the most reliable strategies, which is why almost 90 percent of marketers say it's their company's primary strategy. That, however, is the problem.
While companies recognize the value of email marketing, they fail to develop successful strategies for email. It's a B2B lead generation tactic that doesn't reach its full potential, which is why businesses need to reinvest in email marketing. Maximize the performance of your email marketing campaign with an in-depth audit of your strategy.
Look at your different audiences, segmentation strategies, automated journeys, and more to assess the performance of your plan and opportunities for improvement.
3. Create a dedicated SEO strategy for generating B2B leads
According to a recent study by HubSpot, search is one of the best channels when it comes to B2B lead generation strategies. For reference, search describes the organic traffic that search engines, like Google or Bing, drive to your site. While many B2B companies use search engine optimization (SEO), which focuses on improving your visibility in relevant search results to drive organic traffic to your website, it's common for businesses to abandon SEO as a marketing channel.
That's because companies expect immediate results from this B2B lead generation tactic. SEO, however, is an ongoing, long-term strategy. It can take up to six months for SEO to show results, but many businesses expect results sooner, whether in-house or from their dedicated B2B SEO agency.
If you want to take full advantage of SEO for lead generation, you need to educate everyone involved in your B2B lead generation efforts. For example, you may need to provide company decision-makers with additional information about SEO to earn their support when it comes to SEO. Then, you can start the process of creating a dedicated B2B SEO strategy for connecting with potential customers.
For the best results, your team can breakdown this strategy to include the different parts of the digital marketing buying funnel. For example, you may target select keywords for reaching users in the early and late stages of the buying funnel. A dedicated SEO strategy can have a tremendous impact on your business-to-business lead generation plan. Reynolds Building Solutions, a WebFX client, provides a perfect example of the power of SEO.
With a custom SEO strategy from our team, Reynolds Building Solutions saw not only a 43 percent year-over-year increase in their organic traffic but also a 71 percent year-over-year increase in organic contact form submissions.
Explore SEO Services
4. Get innovative (and creative) with content marketing
Content marketing is another area of opportunity when it comes to lead generation for B2B. In fact, 88% of industrial marketers claimed that they used content marketing to create brand awareness. With content marketing, your business focuses on developing relevant and useful content, like infographics and blog posts, for your target buyer.
Since content marketing is a popular B2B lead generation tactic, however, your company needs to get creative and innovative when it comes to this online marketing channel. You need to move ahead of your competitors, rather than follow their lead. For example, around 80 percent of B2B companies use blogs as a part of their content strategy.
In comparison, less than 50 percent use microsites, highlighting a potential opportunity for your organization's content marketing strategy. Your company can also leverage technology to help your content marketing strategy succeed when it comes to lead generation. ContentAnalyticsFX and PredictionGeniusFX, for example, use machine learning to assess the value of current and future content topics when it comes to your overall goals.
With this kind of technology, which WebFX provides to clients for free, your company can gain a competitive edge in the marketplace. This edge is significant, as almost 50 percent of business buyers read three to five pieces of content before speaking with a sales representative. Compelling content can help your company become a critical touchpoint for those buyers.
5. Rethink the design of your website's landing pages
Like contact forms, companies tend to overlook the role of their B2B paid advertising landing pages on website visitors. From poor design to slow speed, landing pages can impact potential leads in multiple ways. They can make or break your B2B lead gen efforts, which is why landing page design is critical.
Your landing page can deliver on your lead gen campaigns when it's:
Fast
Intuitive
Relevant
SEO-friendly
User-friendly
If you're ready to generate more leads from your landing page, you can approach it a few ways:
In-house
Freelance
Agency
Depending on your company, you may not have a dedicated team for web design and development. While you can partner with a freelancer, it often results in your business partnering with someone with minimal industry experience, which can impact the design and performance of your landing page.

That's why a web design agency offers the most value.
A web design agency connects your business with a professional group of designers and developers. Plus, full-service agencies, like WebFX, can optimize your landing page design for users and according to SEO best practices because they offer web design and digital marketing services. With a professional landing page design, your company can improve not only your organic conversion rates but also your paid ones.
York Saw and Knife, an industrial blade manufacturer, is an example of what can happen when you redesign a landing page. A redesigned website, plus a performance-driven PPC campaign generated tremendous results for York Saw and Knife. The company's cost-per-conversion decreased by 20 percent while its conversion rate increased by 108 percent.
Its year-over-year organic session traffic also increased by 138 percent. Put your website (and landing pages) to work by investing in the design of your landing pages.
We foster and form long-term partnerships so that your business has long-term results.
Over 90% of WebFX clients continue partnering with us into year 2 of their campaign.
Hear from Our Happy Customers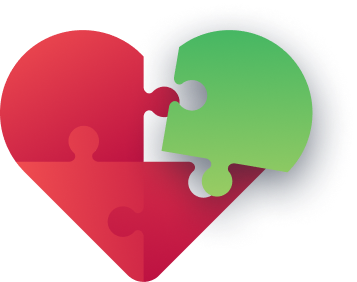 Make lead generation for your B2B company a success
Every day, companies in the B2B industry lose leads, whether due to a poor site design, limited SEO strategy, or a run-of-the-mill email marketing campaign.
Your company, however, doesn't have to be like the rest of the industry. With a smart and well-researched B2B lead generation plan for your company, you can improve conversion rates, increase lead quality, and maximize company revenue. If it seems like an impossible task for your team, WebFX can help.
In the past five years, we've helped our clients earn more 7.8 million leads and more than $3 billion in revenue. Not to mention, our client recommendation score exceeds the industry average by more than 488%. Discover how our award-winning team can help your business by contacting us online today about our B2B lead generation services!
WebFX Careers
Join our mission to provide industry-leading digital marketing services to businesses around the globe - all while building your personal knowledge and growing as an individual.