How to Generate Leads with SEO
Search engine optimization is useful for dozens of different purposes, including lead generation. Leads driven through SEO are notoriously inexpensive compared to leads obtained through other channels, so why not use it as often as you can? After all, leads are the heart and soul of your business.
Of course, organic SEO for lead generation requires some strategy. That's where Internet marketing tactics come into play!
37% of marketers say that generating high-quality leads was one of their biggest challenges.
We want to decrease that percentage.
WebFX can help you generate high-quality leads with a customized marketing strategy.
Learn More About Lead Generation Services
How do SEO and lead generation work together?
SEO is the process of editing and adjusting different aspects of your website so it shows up in search engines.
With a properly optimized site, you can show up in search engines when someone searches for something related to your business.
SEO and lead generation work together because the more often you show up on the first page of the search results, the more potential customers can find and interact with your business. A hardscaping company using SEO, for example, can use its first-page ranking to reach potential clients in its area.
SEO is one of the best ways to increase your client base, increase sales and revenue, and keep your business growing and thriving. When you implement an SEO strategy, you're able to generate leads because you appeal to your target audience at the right time and in the right place online.
For example, let's say you own a wedding cake bakery. Your target audience is engaged couples looking for a bakery to make their wedding cake dreams come true. But how will you reach that audience?
Simply having a website won't do the trick — in order to really drive leads, you have to implement an SEO strategy. In doing so, you'll be able to target your most qualified audience, which is engaged couples, by using target keywords in your copy, building authority online, and more.
As mentioned, SEO allows you to increase your rank in search engine results pages, which means more exposure for your brand, more clicks, more website traffic, and eventually, more sales.
SEO generates leads by ensuring that you're visible in search engines, and that you appear when users search for your target keywords.
Start generating leads with SEO by asking these questions
In order to start generating leads with SEO, it's important to ask yourself a few specific questions.
Who are your dream leads?
The first step in this process is to figure out what types of leads you want, and the more specific you can be, the better you can target potential customers. For example, if you're trying to sell baby diapers to parents, "parents" is still a vague classification. Are you interested in moms or dads? Single parents or two-parent families? Working parents or stay-at-home parents? First-time parents or parents with several children? The list goes on and on.

As you get more acquainted with your target market, you can start to flesh out long-tail keywords to attract them. An environmentally conscious Millennial working mom in her 20s having her first baby might decide to put any number of long tail keywords into search engines, such as "buy green baby diapers online." The longer the keyword tail, the more precise you can be about your target market(s). While these terms might not get a lot of search traffic, you can be sure that someone looking them up is ready to buy from your business.
What will you say to your dream leads?
Now that you know your dream leads a little better, you can start to develop content that will speak to them. After all, you can't just send them to a generic, catch-all page. Develop content that's geared to those dream lead personalities. You don't have to make your whole website focused on your target leads for this campaign, but dedicating a portion of your website to them can help drive leads better.
These landing pages can also be used for pay-per-click and other online advertising campaigns. As an example, if you work in Google's ad system, you can send visitors to a specific landing page designed for them (and only them) based on the keywords that triggered the ad. Once they've clicked, they're in the top of your sales funnel — now you need to convince them to buy.
How will you engage your leads?
A large part of SEO for lead generation is having meaningful conversations with prospective customers. This can be done several different ways. The first is through social media channels, which you can use to create a rapport with customers on the social networks that they use. If they like Facebook, create a Facebook presence. If they're Pinterest enthusiasts, it's time to get on Pinterest. The closer you can get to their comfort zones, the closer you will get to starting building brand following and trust.
Social media has truly changed the whole mindset behind lead generation, thanks to sharing. If you spend time developing content — even if it's in the form of a short tweet or Facebook post — your followers can help multiply your reach by retweeting or sharing what you say. The broader reach you have, the more likely you'll be to attract quality leads that convert on your site.
Another way to engage customers is to start your own blog.
Your blog is not only a place for fresh, optimized content, but you can also use it to educate the public. A properly written blog post that has value to readers can be shared a lot, whether that's through social media, email, or word of mouth. Plus, if you enable comments, you can address your most active customers directly in a public forum.
Even if you operate in an industry like the medical field, you can use blogs to help educate potential clients. A dental lead generation strategy that includes SEO, for instance, may use blog post to explain different procedures, provide dental hygiene tips, or cover breakthroughs in the field.
How will you convert your leads to customers?
In addition to generating leads, SEO can also convert them. After you've attracted the leads to your website, you can funnel them toward a sale. If you work purely over the Internet (like in ecommerce), you can place calls to action at the end of blogs, social media posts, and more. Your call to action can be soft, like a single link to a product you want to sell, or strong, like a "Buy now!" banner for a sale.
Independent research from Clutch has named WebFX the
top SEO company

in the United States.

Clutch has personally interviewed more than 250 WebFX clients to discuss their experience partnering with us.

Read More Clutch Reviews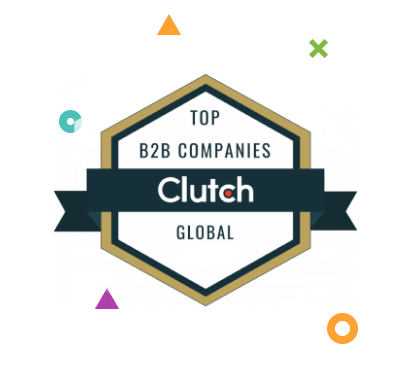 3 tips for how to turn SEO leads into sales
Of course leads are important, but how can SEO help turn your leads into sales?
SEO doesn't only help you attract leads, but it can help your business turn leads into sales, too. Here's how you can use SEO for lead generation to create loyal customers.
1. Write informative content that connects with potential leads
Part of a great SEO campaign is creating targeted copy written specifically for your most important customers. As we mentioned before, creating this content is a big part of attracting leads in the first place, but it's also crucial to turning leads into paying customers.
When you continue to create content that informs readers, you help convince leads that you're the best possible company out there for what they're looking for. Not only because of your products and services, but because you inform readers with your wealth of knowledge about your industry.
A tip for creating informative content: longform content is extremely beneficial. Longform content refers to pages on your site that are over 2000 words in length. Why are they so beneficial? With content that's this long, you show Google that you know a lot about the topic, and that you're willing to write about everything you know concerning that niche.
The goal of longform content is to provide the single best resource about the given topic so that users that read it won't have to reference any other resource.
In continuing to create content that speaks to potential customers at every part of their journey, you'll increase the probability that leads will become customers.
It's also important to consider what kind of content you're creating, and middle of the funnel content is important to making a sale. You can learn more about the different kinds of content in the next section!
2. Talk results to build trust with site visitors
You should also create content around the results you can drive for clients, and the results you have driven in the past.
Potential clients are extremely interested in what you as a company can do for them, so it's important to outline that in your content. You can still target important keywords so that you show up in search for the specific results that your clients are looking for.
For example, if you repair vehicles, you can target keywords like "best paint touch up", "perfect seat cleaning," and other keywords that outline the results you've driven for clients.

When you're talking about results you've driven, consider using hard numbers from your analytics platforms. With permission from past clients, you'll be able to share the numbers attached to specific results that you've driven for them. For example, if you create and market your own clothing line, you could provide numbers like how many custom jackets you've sold in the past year, or how many people contacted you for a custom order.
If you're a law firm, you could talk about how many clients you've worked with, along with a specific number of testimonials that you have on your website.
These hard numbers will help show site visitors that you don't just talk about results you can provide for clients, but you actually deliver.
3. Earn authoritative links for an SEO boost
The more you assert your authority as a leader in your industry, the more you'll be able to turn leads into sales.
In order to build authoritative links, you'll have to become an authority in your industry by providing tons of informative content, which you already know to be important.
When other high-authority industry leaders link to your content, Google will also begin to see you as a leader, and place you higher in search results — an added bonus to get more leads.
As for turning leads into sales, potential customers will see that high-authority figures are linking to your content, which will help them to see your value. Another bonus, if well-known industry individuals link to your content on their popular website, you'll get clicks from there as well!
How the online lead generation sales funnel occurs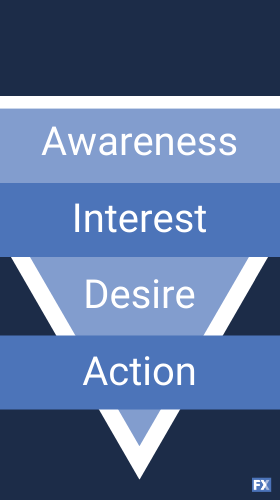 While your sales funnel will include unique parts for every step, there are still some functions that every sales funnel should serve. In general, you work with the top of the funnel (attraction), the middle of the funnel (convincing), and the end of the funnel (conversion).
Top of funnel content can include elements like PPC ads, blogs, and social posts that initially draw attention to your website. Optimized content for this process should include keywords and keyphrases that your target demographic routinely uses to find information and products that they want. Once you offer an answer, they'll click to learn more.
The middle of the funnel involves convincing people who clicked to your page to use your products or services. This means offering quality, unique information and viewpoints that they can't find anywhere else so that you can establish yourself as a reliable authority on a topic. Then, at the end of your content, you can direct customers to convert with calls to action like "sign up now," "click here for more," and other instructional phrases.
Finally, the bottom of the sales funnel is all about converting your customers. They're in the right place at the right time, so now you just need their information. Whether they're making a purchase or signing up for a newsletter, you need to make the process as brief, easy, and streamlined as possible. Minimize the number of pages a person needs to visit to check out, and limit contact forms to one page. Afterward, you can start engaging your customers with more personalized content to turn them into repeat customers.
How to decide on a lead generation agency that's right for your business
With SEO and lead generation at the forefront of the digital marketing industry, there are thousands of agencies across the country that provide services. That being said, how can you choose an agency knowing that it's going to provide great results for your business? Though there is no way to tell for sure, there is a process that we recommend to help you decide whether or not a lead generation agency is right for your business.
Do your research
Making a hasty decision on a lead generation or SEO agency just because you want results quickly isn't the best idea. In order to ensure that an agency is right for you, you have to take time to do research.
When we say research, it's important to understand that it's not about simply taking note of an agency's name, location, and how much their services cost, but looking deeper into the results they've driven for previous clients, how long they've been in business, what other services they offer, and so much more.
You should first visit their website. What is your first impression? If they don't have a visually appealing website, and you can't find what you're looking for easily, you may want to move along. Agencies should practice what they preach, and part of great SEO also overlaps with great web design.
Take time to Google the agency and take note of where they show up in search engines. One of the best ways to determine if they're successful is if they too show up highly in results pages. If they do, you can rest assured that they know what they're talking about, since they obviously have a solid SEO campaign on their website.
These factors and so much more are just some of the you should look for in potential lead generation agencies.
Consider how long they've been in business
As we've mentioned in the last section, determining how long an agency has been in business can be a huge deciding factor as to whether or not you should work with them.
An agency that is just starting out is a bit more of a risk than an agency that has been in business for decades. Agencies that have been in business for over ten years have been able to survive through changing algorithms, changing marketing trends, and various other factors. It also means that their employees know what they're doing since they've been in the business for quite some time.
Look at their testimonials
Testimonials are one of the best ways to determine the quality of a lead generation agency. Unlike reviews, testimonials are all positive comments about an agency, and are featured on their website.
They will commonly include a photo or video of the client speaking on behalf of the agency to tell potential clients what they've done for their personal business.
Testimonials are so effective because its essentially like talking to a friend about an agency's services and quality. These individuals have worked with the agency you're considering, and they know their process, quality of work, and how well they drive results — all of which is beneficial information to you when choosing an agency.
Did you know that WebFX has over 1020 client testimonials? It's true!
Look at their reviews
Reviews are different from testimonials because they're more often found in search engines, and they're not always positive.
Reviews can come from individuals are satisfied with their experience with an agency or unsatisfied — giving you a great balance of feedback and opinion.
Keep in mind that everyone perceives services differently, so even the best agency will have a few negative reviews. That being said, a large majority of reviews should be positive. If negative reviews outweigh positive ones, it's probably best to look at another agency.
Consider your budget and what they charge for their services
Budget is a big thing to consider when hiring a lead generation agency. You should go into the search with a figure in mind, but not be surprised if a majority of agencies are a little higher than what you'd expect. This makes it important to do pricing research beforehand so that you have a realistic idea of budget.
After you have a realistic idea about how much you'd like to spend on a campaign, start narrowing down your list of agencies by whether or not they fit your budget. This is an easy way to shorten your list of potential agencies, and will keep your business in good shape financially.
Make sure they're transparent
One of the best qualities of a lead generation agency is their level of transparency.
When you're interested in an agency, consider whether or not they publish their pricing online, if they talk about their campaign process, and overall how open they are about their services. A great way to take inventory of how transparent an agency is by talking to them on the phone.
This allows you to ask questions like, "how long will it take for me to see results?", "how many clients have you worked with in the past?", "how much would it cost for me to add on this service?" and so many more. A high-quality, transparent agency will be able to answer all of these questions with honesty, and without hesitation.
They will be upfront and honest, and if your campaign is going to take a little longer than you expect, they'll let you know. They'll talk specifically about their pricing, and if they're ones of the best agencies around, they'll even publish their pricing online. They'll talk to you about how many clients they've served in the past, and how successful they've been with past campaigns.
If you talk with an agency that isn't willing to talk about this information, they may not be the real deal.
WebFX knows SEO
Guiding potential customers through the sales funnel can be time-consuming and difficult. If you don't have the time to do it yourself, WebFX has an extensive portfolio of successful marketing campaigns that have benefited hundreds of clients. Our talented team of Internet marketers is passionate about SEO, and their expertise can help grow your business to new levels of success.
How is your website's SEO?
Use our free tool to get your score calculated in under 60 seconds.