'Lead generation' might not be the term you typically use when talking about getting new customers to visit your restaurant. The term is more often associated with larger businesses or companies that sell more expensive products.
Thinking in terms of generating leads can be beneficial for restaurants, however. It can help you make better use of your marketing dollars, get more customers in the door or ordering online, and keep them coming back for more!
Let's discuss how lead generation for restaurants works and go over some strategies for generating restaurant leads.
Interested in working with the lead generation experts at WebFX? Give us a call at 888-601-5359 or request a free quote today.
37% of marketers say that generating high-quality leads was one of their biggest challenges.
We want to decrease that percentage.
WebFX can help you generate high-quality leads with a customized marketing strategy.
Learn More About Lead Generation Services
What is lead generation for restaurants?
A lead is someone who has expressed interest in your restaurant and may become a customer. Lead generation is the process of attracting new potential customers.
Typically, lead generation involves helping qualified leads find your restaurant online and collecting contact information from them. You can then send them marketing materials and special offers and build a relationship with them over time — a process called lead nurturing.
Some businesses purchase lists of potential leads and then contact them. These leads are 'cold' leads, meaning they have not interacted with the business before. A more effective strategy is to let leads come to you using inbound lead generation strategies.
We'll discuss inbound lead generation strategies in more detail below.
Our digital marketing campaigns impact the metrics that improve your bottom line.
See More Results

WebFX has driven the following results for clients:

$3 billion
In client revenue

7.8 million
Leads for our clients

5.2 million
Client phone calls
Hear What It's Like to Work With WebFX!

"I work with a couple other companies across our portfolio and I certainly have the best working relationship and success with WebFX. I appreciate the collaboration, patience and always prompt response with our last minute requests. The WebFX team always presents "guinea pig" ideas that we can test on the properties, some of which come from completely different types of establishments. I truly appreciate the ability to pivot and think outside of the box, especially during these most challenging year!"
Restaurant
How lead generation for restaurants works
So, how does the lead generation process work for restaurants? Let's take a closer look.
1. Attract leads
The first step is attracting leads, which requires having a presence on the websites and platforms your potential customers use and creating content that appeals to them.
For example, you might post a recipe video on Instagram if that social network is popular with your audience. You might also create a blog post about different kinds of coffee and optimize it to rank well on search engine results pages (SERPs).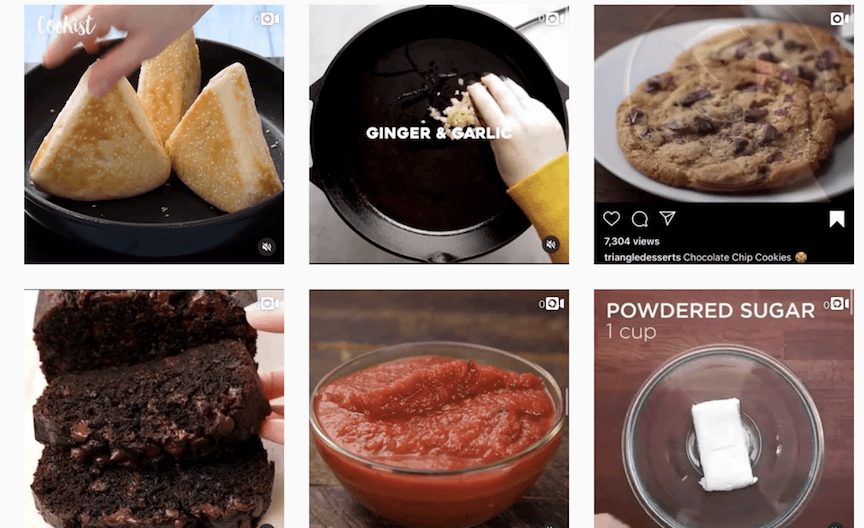 2. Gather contact information
The next step is collecting contact information from your new leads. Not everyone who sees your content will provide their contact details, but you know that those who do are interested in your restaurant.
To encourage people to give you their contact information, you can have them provide it to redeem a special offer, enter a contest, download a piece of content, or sign up for regular updates and offers via email.
For example, you might post a link on Facebook to download an ebook of more recipes or add a pop-up to your blog post that encourages people to sign up for your email list to receive a free drink.
3. Market to your leads
Once someone provides their contact information, they're considered a lead. You can now send them messages, content, marketing materials, and offers via email, text, or whichever medium they provided contact information for.
Through these messages, you encourage them to visit your restaurant, order something online, or otherwise become a customer.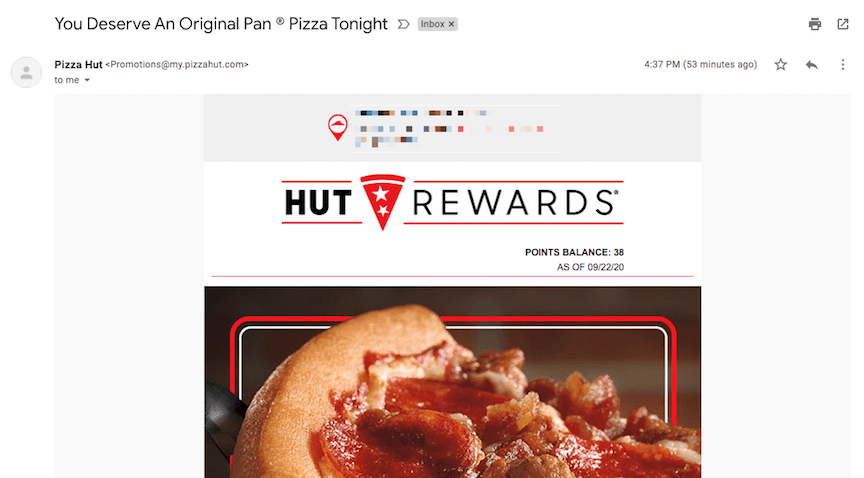 4. Continue building your relationships
After someone makes their first order, continue reaching out to them using strategies for digital marketing for restaurants. Keeping in touch builds the relationship, leads to repeat orders, and encourages customer loyalty.
Some ideas for keeping customers interested include customer loyalty programs and special offers for birthdays and other events.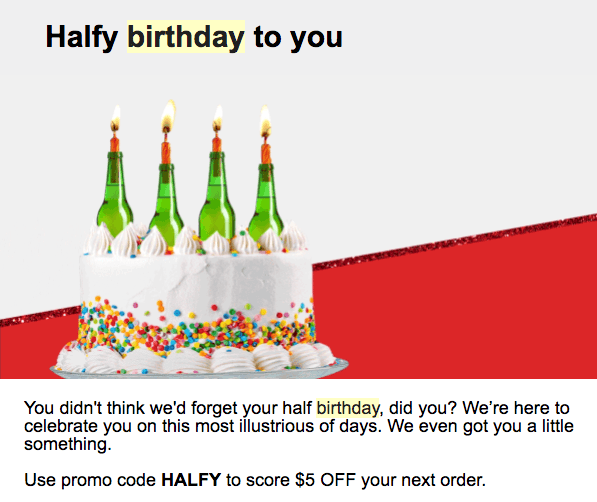 Lead generation strategies for restaurants
Restaurants have several options for making that initial contact with a new potential customer. Here are some of the top lead generation strategies for restaurants.
Pay-per-click (PPC) ads
PPC ads are ads that appear on SERPs, social media sites, and other websites. The name comes from the model for these ads — advertisers pay each time someone clicks on their ad, rather than paying for the ad space itself.
These ads are an excellent way for restaurants to gain new leads. To run PPC search ads, the most popular type, you bid on keywords related to your industry. Then, when someone searches that keyword, your ad appears at the top of the SERP.
If someone clicks on your ad, they go to a landing page where you can encourage them to do actions like enter their contact information or check out a signature dish you offer.
For example, you could bid on the keyword "Italian restaurants in [your city]" and place an ad offering free delivery. On the landing page, customers could place their order and claim their free delivery.
Social media
Social media is another valuable lead generation channel for restaurants. You can post content on your social profiles that appeals to your audience, and include some posts that encourage your social media followers to become leads.
For instance, you could:
Offer special coupons or discount codes to your social media followers
Share downloadable content that requires customers to enter their email address
Hold social media-based contests

Content marketing
Another important strategy in digital marketing for restaurants is content marketing, which involves creating content that appeals to your audience. You can create many different types of content as part of a strategy for lead generation for restaurants.
Some examples include:
Blog posts
Short ebooks, such as recipe books and guides
Here are some examples of how to generate leads for restaurants through this content:
Include calls to action (CTAs) within your content to sign up for your email list
Offer a coupon that you send to users via text or email
Require that users enter their contact information to download the content
Content marketing also integrates well with other lead generation strategies. For example, you can share your content on social media.
Search engine optimization (SEO)
Organic search drives more than half of all website traffic, and only 25% of users go past the first page of results. So, to increase your content's visibility and get more leads from it, you need to optimize it to rank well in search engines.
Search engine optimization, or SEO, involves various tactics, such as including carefully selected keywords in your content, speeding up your pages, and earning links to your website from other sites.
When more people find your content via search engines, more people will access your content and potentially provide their contact information through it, enabling you to gain more leads.
Online listings
For restaurants, online listing sites are important for lead generation. These listing sites show up in search and contain links to your website and social media profiles. They also provide important information, such as your menu, hours, and contact information.
There are many different online listing sites out there. Some of the most helpful listing sites for restaurants include:
Bing Places for Business
Tripadvisor
Allmenus
GrubHub
OpenTable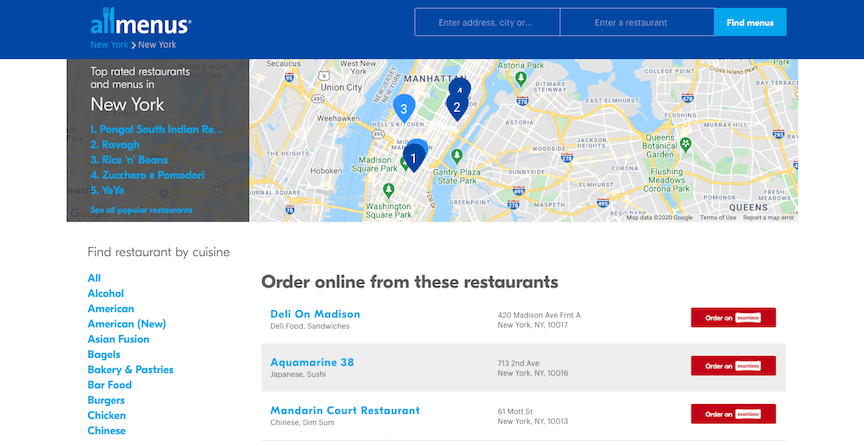 Generate more leads for your restaurant with WebFX
At WebFX, we know how to generate leads for restaurants, and we can help you create a custom restaurant lead generation strategy. As a full-service digital marketing agency, we have experience in:
Contact us at 888-601-5359 or request a free quote to learn more about how we can help you get new customers for your restaurant with online lead generation strategies.
Earn a 20% greater ROI with WebFX