Lead Management Software Pricing: What Does Lead Management Software Cost?
Lead management software pricing varies widely depending on the features included, and you could pay anywhere from $15 to $1200 per month. Keep reading to learn more about lead management software pricing and how to choose the right system for your needs.
How much does lead management software cost?
Lead management software pricing varies widely depending on the features included, the number of users, and other factors. Lead management software companies also list their pricing in differing ways, such as:
Per user per month
Per month for a limited number of users
Per month for an unlimited number of users
Custom quote only
One option is to use free lead management software, but these systems only have basic functionality and allow for just one user.
On a per user per month basis, you can expect to pay anywhere from $12 to $500.

On a per-month basis, you could pay anywhere from $12 to $1200.
What does lead management software include?
The included features vary between lead management systems. The simplest systems allow you to track basic information about your leads, while the most complex options include a wide range of advanced functionality, automation, and integrations.
Here are some of the functionalities lead management software may provide:
Tracking how leads arrive on your website, including which channels and campaigns brought them to your site
Tracking how leads interact with your website, including what pages they visit and which buttons they click
Tracking which stage of the sales process each lead is in
Tracking and managing your sales team's interactions with leads
Communicating and collaborating with other team members
Generating phone numbers for marketing campaigns to enable lead tracking
Tracking phone calls and listening to call transcripts
Scheduling appointments with leads
Viewing reports on your lead management data
Integrating your lead management software with CRMs and other business systems
How is lead management software pricing determined in 2020?
Here are the main factors that affect lead management system pricing.
Extent of features
The main factor in lead management software cost is the features the system includes. Software from different vendors have different functionalities, and most companies offer several tiers of their system with increasing numbers of features and increasingly advanced capabilities.
All systems have basic lead management software features such as the ability to store lead information and track where leads are in the sales process. Software that has less features generally costs less, so to get all the features you need, you may need to pay more for your software. You must determine what you need your lead management software to do so you can find the software that offers the right features.
When choosing a system, consider which lead management software features your team needs, which would be nice to have, and which you wouldn't use. Then compare the cost of the features you need and want to your budget and expected return on investment (ROI).
Number of users
The number of users may also affect the price of a system. While some vendors charge a flat rate no matter the number of users you have, others charge per user. With the latter option, the more user profiles you need, the higher your lead management software cost will be.
Other tools and services included
Some companies provide the option of bundling their lead management software with other tools such as a customer relationship management (CRM) system or even services such as lead generation or pay-per-click (PPC) advertising management.
While you'll pay more overall if you add additional systems or services, you'll often pay less for the lead management system itself. You'll get more value overall, especially since additional tools and services can help you get more out of your lead management software.
Measuring the metrics that affect your bottom line.
Are you interested in custom reporting that is specific to your unique business needs? Powered by MarketingCloudFX, WebFX creates custom reports based on the metrics that matter most to your company.
Leads

Transactions

Calls

Revenue
Learn More

How much should you spend on lead management software?
So, how much should you spend on lead management software? The answer differs from company to company, so let's go over the factors to consider when deciding how much to spend. Then, we'll review typical lead management software pricing.
Your budget: It's essential that you create a budget before choosing a lead management software. Establishing your budget ahead of time will tell you how much you can spend and help you select an option that works for your business.
Your goals: You should also have a clear idea of your goals in using a lead management system. Clear goals will help ensure you choose a system that has the right functionality for your needs.
The complexity of your sales process: Another important factor to consider is the complexity of your sales process. If you have a more complex sales process, you'll need more advanced lead management software features like granular categories, additional tracking options, and increased automation.
How many leads you generate: How many leads do you need to track and manage? Some systems have limits on the number of leads, calls, and interactions you can track. If you're a large company with lots of leads, you'll likely need a more expensive lead management system.
How many user profiles you need: Consider the number of users profiles you need for your software. Having more user profiles often increases the cost of the system, but it's necessary for companies with larger sales teams.
The features you need: The lead management software features you need will also impact your costs. Generally, the more features you need and the more advanced those features are, the higher your costs will be.
Savings opportunities: Don't forget to consider opportunities to save money by bundling your lead management system with other tools and services.
The quality of the system: It's important to remember that the lowest price might not always be the best option. A low-quality lead management system may be less expensive up front, but it will cost you more in the long run due to inefficiency and lost leads. Check reviews and testimonials to help determine the quality of a given lead management system.
Lead management software pricing varies from free to about $1200 per month.

For a basic system, you can expect to spend around $12 to $100 per month.

A mid-level plan typically costs between $100 to $600 per month.

The most advanced systems cost between $600 and $1200 per month.
Ready to Grow? Get your FREE Quote Today!
"We measure our success by how much we WOW our clients."

Bill Craig
WebFX President
Why is lead management software important?
Are you happy with your lead close rate, or are some of your potentially valuable leads slipping through your fingers? Well, lead management software helps you organize, prioritize, and interact with leads to turn more of them into customers.
In short, lead management software helps you make the most of your leads.
With all your data in one place, you can communicate with leads more effectively. Tracking your interactions with leads in a system your whole team uses improves collaboration between team members and departments.
You can also look at your lead data collected over time to see what methods are working best and use that information to improve your marketing and sales strategies.
Ultimately, lead management software helps you convert more leads into customers and increase your revenue.
Meet MarketingCloudFX:
One platform tracking countless metrics and driving stellar results.
Learn More About Our Proprietary Software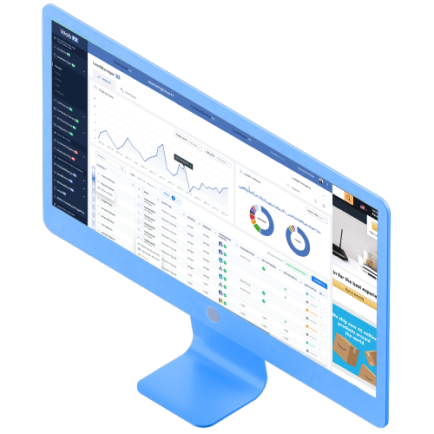 What to look for when researching lead management system pricing
When researching lead management software pricing, transparency is one of the most important things to look for.
Look for companies that are clear about how much their software costs and what you get with each plan they offer. Ideally, the company will post their pricing on their website.
You'll also want to make sure that the quoted price reflects the actual total price and that there aren't any hidden fees or extra charges. You can ask the company about the cost to verify that you have the correct price. The vendor should also be willing to answer any other pricing questions you have.
Working with a company that is transparent about pricing helps ensure you know what you're getting and exactly how much it costs.
You'll also want to consider whether any other tools or services come with the lead management software you're considering, as this can change the price of the software.
MarketingCloudFX: WebFX's proprietary lead management software
Ready to start converting more leads into customers? MarketingCloudFX is a lead management system that can help you do just that.
LeadManagerFX, one of the features within MarketingCloudFX, gives you real-time insights into how leads get to your websites and how they interact with your site once they're there.
With CallTrackerFX, which is also part of MarketingCloudFX, you can generate unique phone numbers for each campaign, track your phone calls, and listen to call transcripts.
SchedulerFX enables you to schedule appointments with leads for the optimal times.
MarketingCloudFX also integrates seamlessly with Nutshell, our CRM software, and other CRM systems. Other features within MarketingCloudFX can help you manage your email marketing, track your search engine rankings, and manage online reviews.
We offer three MarketingCloudFX plans and provide the system to our existing customers at a heavily discounted rate:
| Features | Silver | Gold | Platinum |
| --- | --- | --- | --- |
| Monthly Visitor Limits | Under 50,000 visitors/month | 50k-2m visitors/month | 2m-5m visitors/month |
| Platform setup and configuration | | | |
| IntegrationsFX two-way CRM data connector | | | |
| Rollout training call with sales funnel analyst | | | |
| Monthly Lead Tracking through LeadManagerFX | | | |
| Lead Status options | | | |
| Import options for closed lead data from CRM | | | |
| Website conversion trends and insights | | | |
| Notes field for lead tracking | | | |
| Leverages Call Tracking through CallTrackerFX | Up to 100 calls/mo. tracked | Up to 200 calls/mo. tracked | Up to 300 calls/mo. tracked |
| | Includes 3 call tracking numbers | Includes 5 call tracking numbers | Includes 5 call tracking numbers |
| | Up to 50 calls/mo. transcribed | Up to 75 calls/mo. transcribed | Up to 100 calls/mo. transcribed |
| Conversational intelligence analysis | | | |
| Prospective lead tracking tool set | | | |
| This tracking occurs whether or not the lead converts | | | |
| Competitive content and SEO research | | | |
| Organic traffic recommendations | | | |
| Page-level content analysis | | | |
| AI-powered SEO tool access | | | |
| ReviewboostFX reputation monitoring and review tracking platform setup | Review tracking for 1 location | Review tracking for 2 locations | Review tracking for 2 locations |
| Facebook reviews | | | |
| Google reviews | | | |
| Yelp reviews | | | |
| Data export of historic reviews | | | |
| Monitoring dashboard for lifetime review metrics | | | |
| Leads from website will automatically be pushed into CRM platforms | | | |
| Access to MCFX mobile application for iOS and Android platforms | | | |
| Monthly cost | $299/month | ($125/month for existing customers) | $599/month | ($225/month for existing customers) | $999/month | ($325/month for existing customers) |
| | GET QUOTE | GET QUOTE | GET QUOTE |