Now worth more than $600 billion, the home services industry shows zero signs of slowing down — partially because of the increased need for on-demand home services. With websites like Amazon and Bark, businesses are meeting this demand, as well as redefining lead generation for home services.
Do a few searches for lead generation sites, however, and you'll find there are dozens of lead generation websites for home services. Which ones should your company use, though, and what can you expect when it comes to fees?
Keep reading this go-to guide to find out!
Or, discover how your website can generate leads with the award-winning expertise and machine learning software of WebFX, the full-service digital marketing company that increases client revenue by an average of 20 percent. Contact us online or call us at 888-601-5359 to learn more!
37% of marketers say that generating high-quality leads was one of their biggest challenges.
We want to decrease that percentage.
WebFX can help you generate high-quality leads with a customized marketing strategy.
Learn More About Lead Generation Services
1. Amazon
With more than 50 percent of all product searches happening on Amazon, rather than Google, you can bet that your target audience buys their televisions, faucets, fans, and more on Amazon. All these items require installation — which is why Amazon launched Amazon Home Services.
How does Amazon Home Services work?
Amazon Home Services allows consumers to purchase home services via Amazon.
Companies can offer their services in a few ways:

Standalone service: With a standalone service, shoppers only purchase your service. For example, lawn maintenance or house cleaning is an independent service on the platform. Users aren't buying a product, only your service.
Add-on service: With an add-on service, shoppers purchase your service, plus a qualifying product. For example, a fan may feature installation services. When users add it to their cart, they can select with or without expert installation — you do not have to sell the product.
Whether users purchase your standalone or add-on service, they select a few ideal service dates and times when they checkout. Your company then picks the best one. Later, you receive payment from Amazon.
What does Amazon Home Services cost?
It's free to become part of Amazon Home Services, which is free of subscription, startup, and advertisement fees. Amazon, however, does follow a revenue share model for its Amazon Home Services.
How does that work?
Amazon bases its fee, which ranges from 15 to 20 percent, on the price of your services. For services that cost up to $1000, Amazon takes 20 percent. For services priced at more than $1000, Amazon takes 15 percent.
If you offer a recurring service, like landscape maintenance, Amazon takes 15 percent.
Advantages of using Amazon Home Services
Why do companies use Amazon Home Services for lead generation? A few reasons, including:

Includes multiple purchase options: Your business can sell your services on the platform as-is or as a product add-on. For example, users can purchase a faucet replacement as a standalone service. Or, they can purchase installation services when buying a qualifying faucet on Amazon.
Offers more than 1000 services: Since launching in 2015, Amazon has added more than 1000 qualifying services to Amazon Home Services. That offers a variety of companies the opportunity to use Amazon Home Services to earn new, high-value leads.
Consumers trust Amazon: It's an understatement to say that users trust Amazon. It's the world's largest ecommerce platform and drives more than 40 percent of online sales. Shoppers trust and rely on Amazon for online purchases — and that trust extends to your company.
Amazon processes customer payments: Another feature that companies like about Amazon Home Services? Amazon pays your business directly. Your company doesn't have to request payment from the customer — Amazon receives it and then passes it onto you.
Disadvantages of Amazon Home Services
While Amazon Home Services offers several benefits, it does have some drawbacks, including:
Available in only 30 metropolitan areas: Amazon only provides Amazon Home Services in 30 metro areas, like New York, Los Angeles, and Washington D.C. If you're outside a metropolitan area, this home services lead generation website probably isn't an option.
Mandates General Liability insurance: Amazon also requires every service provider to carry General Liability insurance. While your company may already have General Liability insurance, you may not meet the mandated $1 million limit — per occurrence — that Amazon requires.
Accepts only a few providers per service area: According to Amazon, it approves three out of every 100 service providers in each metropolitan area. It's a statistic that emphasizes how challenging it is to join Amazon Home Services.
Features intensive application requirements: Amazon also requires every home service provider to undergo a background check and provide proof of license or certification, if a trade profession. This feature can make joining Amazon Home Services a time-intensive process.
Should businesses use Amazon Home Services?
If you'd like to generate more leads for your business, it's worth trying Amazon Home Services. It doesn't cost your company anything to join — plus, it connects you with shoppers that may not find your business otherwise.
With the increased presence of Amazon in the home services market, this lead generation platform can help your business get ahead of your competition. It can also serve as an additional tactic in your lead generation strategy.

Hear What It's Like to Work With WebFX!

"We were looking for a forward-thinking but down to earth SEO company to partner with. Not only were we looking to build a long term business relationship but we needed them to understand our needs as a small company. And WebFX met all of that criteria. Our experience has been unparalleled; from the sales team who made the drive to our office to meet us in person to our Internet Marketer who has been an absolute joy to work with. They are completely transparent about their services and they take the time to explain everything which not only sets them apart from every other SEO company we have worked with but we also feel like we're taking something away from our interactions with the staff at WebFX. We are exited to see where this year will take us knowing that we have such a great support system with their company."
Home Contractor
2. Angie's List
More than six million households use Angie's List, a home services website. This site features more than 10 million verified reviews from users, which can connect your business with high-quality leads in your service area.
How does Angie's List work?
On Angie's List, users can look for service providers in their area for a variety of services.
A user can visit your profile by clicking on your paid advertisement listing or your organic listing. With a paid ad, your company has more visibility in search results, but you pay every time a user clicks on your ad. In comparison, if a user clicks on your organic or free listing, it doesn't cost you anything.
Whether a consumer finds your business through your paid or organic listings, they have the choice to contact your company. If they decide to reach out, there is no lead generation fee. The only time you pay is when you advertise on Angie's List.
What does Angie's List cost?
Like Amazon Home Services, it's free to list your business on Angie's List.
If you want to advertise on Angie's List, the average cost-per-click (CPC) is $4 to $8. What that means is that every time a user clicks on your listing, that is the price you pay — and that doesn't guarantee the user will call your business or purchase your services.
Advantages of using Angie's List
Angie's List offers your home services business a few benefits, including:

Features more than 700 services: Angie's List features five categories for its services — house, auto, health, pets, and services. With these categories comes more than 700 different services, which is excellent for companies in a niche market.
Provides established and trusted platform: With more than 20 years of history, Angie's List is one of the most well-known lead generation sites for home services. It's also a go-to website for users looking for services in their area, from plumbing to dog walking.
Fast application and acceptance process: In comparison to Amazon Home Services, any business can become a part of Angie's List — there isn't an application process. With this fast and seamless process, your business can start generating leads immediately.
Disadvantages of using Angie's List
For home service providers, Angie's List also offers some disadvantages:
Poor customer service: Customer service is a universal downside when it comes to Angie's List. Shoppers, as well as businesses, frequently note that the lead generation website underdelivers when it comes to service.
Shares leads with HomeAdvisor: With the purchase of Angie's List by InterActiveCorp (IAC), the website now shares leads with HomeAdvisor, another home services company owned by IAC. This feature funnels potential leads away from your business and to HomeAdvisor advertisers.
Prioritizes companies that advertise: According to three separate lawsuits settled in 2016, companies can pay to increase their placement in organic search results. The lawsuits state that Angie's List accepted advertising payments for improving rankings, ratings, and reviews.
Should businesses use Angie's List?
As Angie's List is free for businesses to join, it's worth claiming or listing your company. While you may not generate an excessive amount of leads from this platform, you at least have a presence on it. That can help your business earn a few leads and close some sales — without any financial investment.
3. Bark
While one of the newest home services lead generation websites, Bark features more than 20 million users worldwide. The platform adopts a different approach to lead generation. It allows you to pick-and-choose your leads, versus accepting any lead that comes your way.
How does Bark work?
On Bark, people post what they're looking for, such as a birthday party photographer or tiling contractor. They provide Bark with all the details, from the location to the deadline, and then Bark finds matching businesses. Only five companies may contact a lead.
If you receive a lead from Bark, you have the option of contacting the person. To connect with them, however, you need to spend a credit — each credit is worth $1.65, and each lead is worth a certain number of credits, generally between 1 and 20.
Once you spend your credit, that's all you pay for that lead.
What does Bark cost?
Becoming a "Pro" on Bark is free. The only cost comes from credits, which cost $1.65 per credit. If you buy credits in bulk, Bark offers a discount of up to 20 percent, which can help your company minimize its lead generation costs.
Advantages of using Bark
With Bark, there are several advantages, including:

Provides money-back guarantee: Bark's money-back guarantee is a favorite feature for businesses. This guarantee becomes available when you spend all your credits without closing a lead.
Lets companies pick-and-choose leads: With Bark, you can also connect with your most valuable leads. Your company can filter your leads and choose the ones that match your target shopper. The best part is you only pay for the leads you pick — not for every lead Bark sends.
Offers a variety of specialized services: Bark also features more than 2000 services. People can search for lawyers, painters, plumbers, and more. If you're in a niche market, this service specialization can help you reach high-quality leads fast.
Includes automated responses: For companies that can't monitor their accounts 24/7, Bark offers a convenient solution. With automatic, one-click responses, your team can send a standard message to leads. This standardized message allows you to reach a lead
Disadvantages of using Bark
Like all lead generation websites for home services, Bark comes with a few disadvantages, including:
Appeals to creative services, rather than home services: One downside that a lot of companies notice is that Bark tends to focus on creative services. For example, it's a go-to platform for photographers, DJs, and graphic designers — not home services providers.
Focuses on comprehensive profiles: At launch, Bark didn't require businesses to create a public profile. Now, however, Bark requires every company to create a profile. Your profile includes a ton of different features, which you need to supply and
Includes reviews from non-Bark customers: Bark and non-Bark customers can leave reviews on the site. This design feature risks fraudulent or malicious reviews from non-Bark users. If you receive a series of low ratings, it can have a negative impact on your lead generation.
Should businesses use Bark?
While Bark offers a business model that appeals to home service providers — you pick and choose your leads and then pay to connect with them — the platform appeals to an audience that doesn't necessarily need home services.
However, if you're looking to experiment with different lead generation websites for home services, it's worth trying Bark. You can create your account, buy some credits, and see what happens. With the low cost of credits, it's a small investment to try Bark.
4. HomeAdvisor
With more than 20 years of history and more than 30 million users, HomeAdvisor is a staple when it comes to lead generation websites for home services. Its merge with Angie's List, however, has introduced some problematic features.
How does HomeAdvisor work?
HomeAdvisor operates by connecting companies with quality leads. To provide your company with relevant matches, it gathers several essential pieces of information from shoppers, such as their project timelines and locations.
When HomeAdvisor delivers a lead, you pay for it — the site operates on a pay-per-lead basis. After HomeAdvisor connects your company with a lead, it's up to your team to convince that lead to partner with your business.
How much does HomeAdvisor cost?
Unlike other lead generation websites for home services, companies must pay to join HomeAdvisor. In addition to paying for each lead, your company must also subscribe to a service plan that costs almost $300 per year.
For leads, your business can expect to pay $15 to $60 per lead. The price of a lead depends on a few factors, including the predicted cost and scope of the job. A lead that's looking to spend more costs more.
Advantages of using HomeAdvisor
HomeAdvisor offers businesses a few benefits, including:
Offers customizable profiles: Like other lead generation websites, you can personalize your HomeAdvisor profile. For example, you can customize your service area and service types, which helps HomeAdvisor find you relevant, high-quality leads.
Allows 24/7 budget adjustments: Via your online account, you can modify your monthly lead generation budget 24/7. This feature provides your team with maximum control. It also allows you to adapt if you're experimenting with other lead generation sites.
Provides well-known and trusted platform: With decades of experience, HomeAdvisor isn't a stranger to consumers. They know the platform and trust it, which is why HomeAdvisor receives so much traffic. That additional traffic can help your site reach your target audience.
Disadvantages of using HomeAdvisor
Before you use HomeAdvisor, there are some drawbacks to know about, including:
Matches users with a small number of companies: For each job, HomeAdvisor only connects four businesses to the user. This feature, however, can remove your company from consideration, as you can't convert a user if they never match with you.
Requires intensive screening process: For consumers, the in-depth screening process by HomeAdvisor, which includes a background check, provides peace of mind. As a business, however, it can delay your account creation and extend your onboarding time.
Risks delivering the same lead twice: With the purchase of Angie's List by HomeAdvisor's parent company, the two now share a lead pool. That means, if your company's active on both sites, you may receive the same lead twice — one on Angie's List and one on HomeAdvisor.
Should businesses use HomeAdvisor?
Companies often feel conflicted when it comes to using HomeAdvisor. If you're on Angie's List, you may receive identical leads, which can make your company appear spammy to users. Plus, you have to pay to become a HomeAdvisor member. Angie's List, however, is free to join.
While it's worth considering HomeAdvisor, it's not a requirement. Build a pros and cons list for this lead generation website and see if it's worth the investment. If not, see how your lead generation efforts go on other sites.
5. Houzz
With more than 40 million homeowners, Houzz is a go-to website for users looking to remodel or redecorate their home. For companies in the home services industry, it's become a trusted platform for generating high-quality leads.
How does Houzz work?
Houzz operates as both a lead generation and design inspiration website. Via the site, users can browse photos of kitchens, baths, patios, and more. Or, they can shop for home products and browse service professionals.
A user can find your Houzz profile by searching for a professional or using the drop-down menu, "Find Professionals." If you advertise on Houzz, they can also reach your profile that way, though you pay for the click.
Via your profile, users can:
Visit your website
Call your company
View your projects, reviews, questions, and more
Save or follow your company
Your profile can also feature several trust signals, such as a badge for a Better Business Bureau (BBB) affiliation or a Best of Houzz service. Each of these features can motivate shoppers to partner with your business for their next project.
How much does Houzz cost?
Creating a profile on Houzz is free.
Houzz does offer some paid options, however. You can advertise on the platform, as well as purchase a Houzz Pro+ account, which provides some additional perks, like a better spot in directory or search rankings.
The costs for Houzz Pro+, as well as advertising on the platform, vary. Rates depend on your location, as well as industry. For example, some companies have paid $1500 per month for Houzz Pro+ while others have paid $250 to $300 to advertise on Houzz.
Advantages of using Houzz
With Houzz, you receive several perks, including: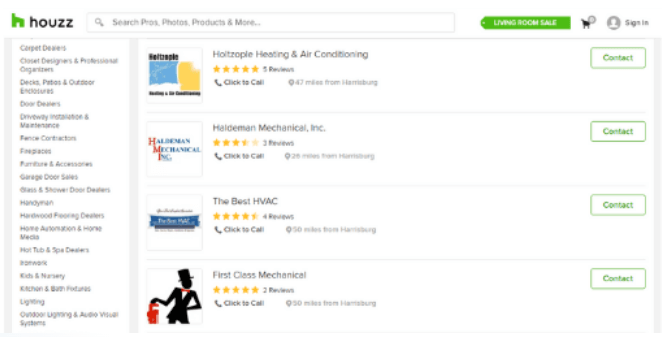 Costs $0 to join: It's free to join Houzz, which means you could generate leads without paying a thing. Plus, Houzz connects you with high-income users. According to the site, 66 percent of users have a household income of more than $100,000.
Offers advertising options: With Houzz, your company can become not only a paying member but also an advertiser to increase your lead generation efforts. While an optional feature, it can help your business generate high-quality leads and optimize your lead generation budget.
Highlights individual projects: A standout feature of Houzz is that your profile includes a "Projects" tab, which you can use to highlight your work. This feature can help your company persuade a user to contact your company.
Disadvantages of using Houzz
Houzz does feature some drawbacks, including:
Unpredictable costs: Whether you're advertising on Houzz or joining Houzz Pro+, you can't expect a consistent rate. For example, Houzz doesn't post their Houzz Pro+ rates — you have to request them, which can lead to inflated prices.
Zero filters for prices: Houzz can also connect you with less-than-ideal users. By not allowing shoppers to filter their results by price range, businesses receive quote requests from users below their price points. Those kinds of shoppers waste your team's time.
Houzz owns uploaded images: For the best results, it's critical that you upload pictures to your profile. The downside, however, is that Houzz then owns those images. That can prevent your company from adding them to your website and sharing them with a broader
Should businesses use Houzz?
Like other free lead generation websites for home services, it's worth creating a free account on Houzz. That way, your company at least has a presence on the site. Your profile on Houzz also makes it easy for users to contact you by phone, which saves you from checking your account 24/7.
6. NextDoor
NextDoor, a private social media network for neighborhoods, allows users to connect with their neighbors — including local businesses. The website features more than 180,000 neighborhoods. According to NextDoor, more than 90 percent of those neighborhoods use it to find recommendations.
How does NextDoor work?
NextDoor isn't your typical lead generation site for home services. It focuses more on connecting neighborhood residents than with businesses. The website, however, has helped companies generate new leads and brand awareness.
On NextDoor, you can advertise with Sponsored Posts — these posts appear in user news feeds. Your organization can claim its business page. With your business page, you can provide users with valuable information about your company, as well as interact with users that engage with your page.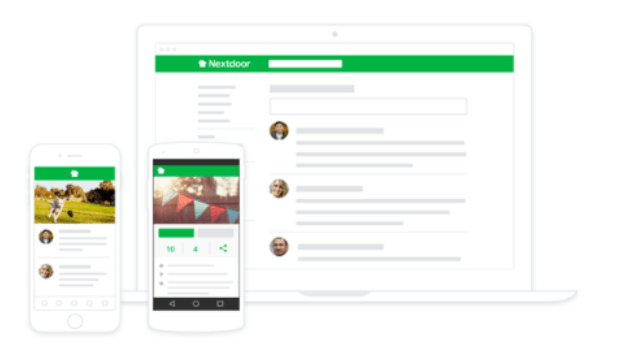 If users request recommendations, like for a plumber or a house painter, your company can respond to these requests. You can also post a comment on your personal account too, though NextDoor requires that you disclose your affiliation to your business.
Unlike Angie's List, Bark, or Amazon Home Services, NextDoor does not focus on generating leads for your business. Instead, it prioritizes your interactions with users. That's why the site doesn't focus on lead generation.
From one perspective, you can look at NextDoor as a social media platform only, like Facebook.
How much does NextDoor cost?
Becoming a part of NextDoor is free. It also doesn't cost anything to generate leads — your company doesn't have to advertise on the site. If you do promote your business, the CPC varies and depends on factors related to your audience and area.
Advantages of using NextDoor
NextDoor offers a few benefits, including:
Connect with specific areas: With NextDoor, you reach your ideal service area. This feature lets your company target a city, as well as connect with the residents in that area. By focusing on a particular spot, your company can build a relationship with the locals.
Build brand awareness: If you want to generate leads, plus build brand awareness, NextDoor is an excellent platform for it. It's also a useful tool if your company thrives on creating personal and long-term connections with customers, versus providing once-and-done services.
Eliminate lead generation costs: NextDoor is a cost-effective option if you're looking to reduce your lead generation expenses. While it's helpful to advertise on the platform, it's not a requirement. That allows your team to leverage NextDoor for zero costs.
Disadvantages of using NextDoor
The unique approach of NextDoor to lead generation does give it some drawbacks, including:
Requires hands-on management: If you want NextDoor to deliver, it needs the time and dedication of your team. For example, you need to continually look for users requesting recommendations to earn a new lead. That feature can dominate your time.
Focuses on brand awareness: For companies that want to generate leads — and only leads — NextDoor isn't an ideal platform. It doesn't revolve around matching companies to customers. Instead, it encourages businesses to connect with users on a face-to-face level.
Limits opportunities to connect: Since NextDoor doesn't focus on lead generation 100 percent, it minimizes a company's chances of generating a new lead. That's why NextDoor isn't the primary lead generation platform of businesses.
Should businesses use NextDoor?
While you may not use NextDoor to generate all your leads, it's at least worth claiming or creating your business page. That way, other users on the platform can recommend your business to others, which can lead to users contacting your company.
7. Porch
Porch features more than three million home services professionals, which can seem intimidating to companies considering the platform. Its focus on home services, however, and convenient payment options makes Porch a go-to choice for businesses looking for a new lead generation website.
How does Porch work?
Like Bark, Porch allows you to filter your leads — you only pay and work with the leads that you want. Porch accomplishes that by acquiring essential information from users to develop an accurate price estimate.
For example, if a user wants a home painter, Porch asks how many rooms need painted. It follows up by asking what parts of each room need done, such as the walls or the trim. With these questions, Porch provides businesses with a detailed write-up of each job.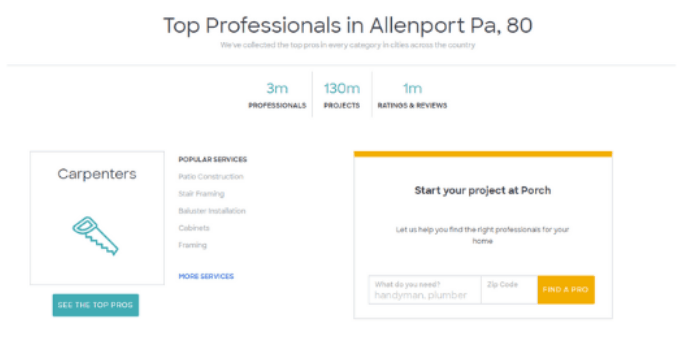 Porch then matches companies to the user request, referencing your profile and the provided project details. Based on your account type, you can either receive and pay for the lead automatically or review the lead before deciding to pay.
From there, it's up to you to close the deal.
How much does Porch cost?
The cost of Porch varies and depends on your account type. Porch offers two business accounts:
Subscription: With the subscription account, you set a monthly budget. Porch automatically sends you qualified leads until you meet your budget. If you respond to leads in less than one hour, Porch provides an unspecified discount, which can help maximize your budget.
Pay-as-you-go: With the pay-as-you-go account, you pay on a per-lead basis. Porch sends a text or email notification when a lead comes in, and then your team decides if you want to pay for it. As Porch only allows four businesses to connect with a lead, a fast response is critical.
According to Porch, lead costs depend on the size or value of the job. For remodeling tasks, which Porch considers a larger project, the cost-per-lead is between $35 to $65. A smaller job, like lawn maintenance, comes with a cost-per-lead of $5 to $20.
Advantages of using Porch
Porch offers several advantages for home service companies, including: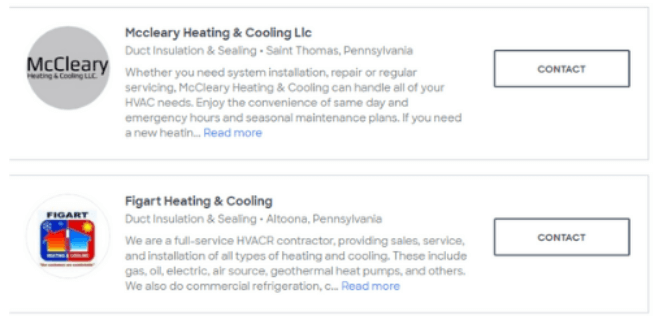 Focuses only on home services: The only jobs users can request on Porch are home services. That feature sets Porch apart from other lead generation websites, like Bark or Angie's List, that includes tasks from a wide array of industries.
Allows businesses to choose their leads: With the pay-as-you-go plan, you can decide which leads to purchase. This feature can save your company money. Plus, it ensures you connect with leads that offer the most value.
Includes options for enterprises: If you're an enterprise, you can take advantage of Enterprise Connect, which allows your company to set service-specific bids and budgets. Enterprise Connect also partners you with an account manager to oversee your account.
Partners with Lowe's: Porch also maintains a partnership with Lowe's. This partnership works like Amazon Home Services — users can purchase a product from Lowe's, plus find a service provider in their area. The service, however, is only available in-store.
Disadvantages of using Porch
With Porch, there are some cons, including:
Favors subscription plan: As Porch only allows four companies to contact a single lead, it favors companies that purchase the subscription plan. Instead of reviewing each lead, these companies automatically connect with them, which can help them close the deal.
Reports of slow customer services: Businesses also report slow or low-quality service from Porch. The complaints revolve around trying to cancel a subscription, which doesn't appeal to companies that want a seamless, no-hassle experience.
Should businesses use Porch?
As a home-services focused website, Porch offers a unique option for companies in the industry. Due to its different payment and account options, as well as minimal drawbacks, it's worth seeing what Porch can do for your business.
Start with a pay-as-you-go account and then move onto a subscription if it's driving results for you.
8. Thumbtack
Thumbtack features more than 1000 services and more than 10 million users, which makes it a viable lead generation option for companies in the home services industry. It's also a useful site for businesses looking for an alternative to saturated websites like Angie's List.
How does Thumbtack work?
Like Bark and Porch, Thumbtack operates on a similar business model. Shoppers tell Thumbtack what they're looking for, whether it's a house painter, electrician, or landscaper, and then Thumbtack provides a list of relevant search results.
Unlike Bark, however, it's the user that decides whether they message your company.
When a shopper decides to connect with your business, you pay Thumbtack. You can, however, receive a refund if the client's request changes significantly, if their first message declines your service, or if they've matched with you more than once in the past 72 hours.
How much does Thumbtack cost?
With Thumbtack, prices vary. They depend, however, on several factors, including:
Job type
Job size
Number of professionals available
Customer commitment to job
In some cases, companies have reported paying $15 to $70 for a lead — Thumbtack automatically charges these rates to your credit card on file. You can, however, view the cost of leads in the "Jobs" tab of your account. Businesses can also set a budget, which also controls how many leads you receive.
If you promote your business, Thumbtack discounts your lead costs by 20 percent. Instead of paying $70 for a lead, you would pay $56. Promoting your services helps Thumbtack match your business to more leads, which means you're paying for more leads.
For billing, Thumbtack offers two charge options. For companies that spend $1 to $999, Thumbtack charges each lead separately. If you spend $1000 or more, Thumbtack issues a bulk charge every Sunday.
Advantages of using Thumbtack
Thumbtack offers several perks to home services companies, including: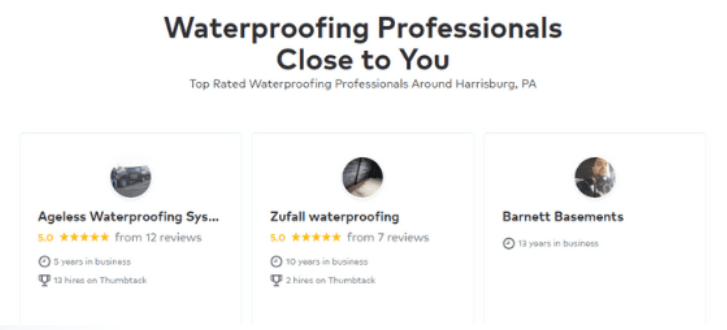 Provides $1 million property protection: For almost all its services, Thumbtack includes $1 million in property protection — it's called the Thumbtack Guarantee. This feature protects your company, as well as the properties of users, which can encourage them to use Thumbtack.
Offers discount prices for leads: With Thumbtack, you also can decrease your lead costs by 20 percent. The risk, however, is that you generate a tremendous amount of new leads, which can offset your savings.
Features lots of profile customization: Thumbtack helps your company narrow its number of leads by providing several profile customization options. For example, you can specify individual services, service areas, prices, and more.
Includes shareable review link: For companies that find success with Thumbtack, the site's shareable review link is a bonus. With this link, you can easily direct users to your profile to leave a review. Based on your reviews, you can encourage more users to contact you.
Disadvantages of using Thumbtack
This lead generation website for home services also comes with a few drawbacks, however:
Unable to pick-and-choose leads: Unlike Bark, your company doesn't have the freedom to pick your leads. Instead, you pay for any user that decides to contact your business, even if they choose someone else. That can make Thumbtack an expensive option.
Lead prices fluctuate and vary: Thumbtack is also unpredictable when it comes to price-per-lead. While you can specify a monthly budget, that doesn't change the varying rates. This feature can make the platform underdeliver when it comes to generating new leads.
Requires quick responses: Like other lead generation websites, Thumbtack favors companies that respond fast to user messages — which is understandable from the perspective of users. It forces your company, however, to have a dedicated team member always at the ready.
Should businesses use Thumbtack?
If your business doesn't mind experimenting with lead generation websites for home services, it's worth trying Thumbtack. You can create your account, set your budget, and see what happens. If you're not thrilled with the platform, you can deactivate your account.
9. Yelp
More than 30 million unique visitors turn to Yelp each month. The lead generation website, which is known for its restaurant reviews also provides home services companies the chance to generate and connect with quality leads.
How does Yelp work?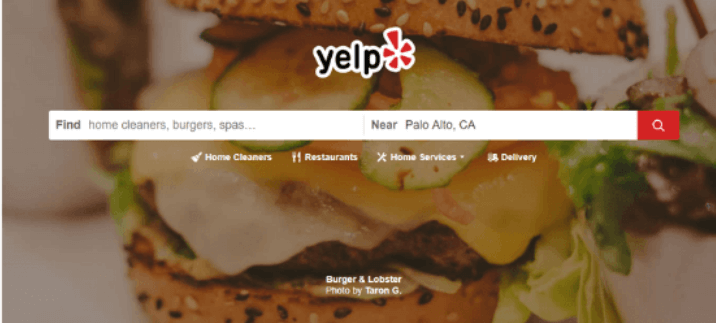 Like many other lead generation websites, Yelp features customizable profiles for businesses. On your profile, you can upload images, respond to reviews, accept reservations, highlight deals, and more. You can also advertise your business across the platform to appear at the top of search results.
What does Yelp cost?
Yelp is free to use — you can create your account, as well as interact with reviewers for no charge.
The only paid feature of Yelp is advertising. The cost for advertising on Yelp varies as it operates on a CPC model, meaning you only pay when a shopper clicks on your advertisement. In most cases, the competition for a keyword influences your CPC the most.
A few case studies on the cost of advertising on Yelp versus Google indicate that Google is generally more cost-effective. For example, one study found that the cost-per-lead on Yelp was three times higher than Google.
Advantages of using Yelp
Yelp offers a few advantages to companies in the home services sector, including: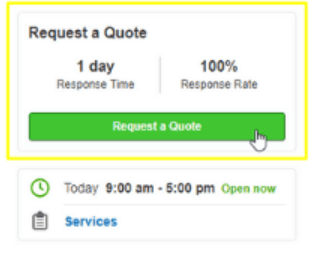 Free to join: It's free to become a part of Yelp, which makes it easy to adopt as a lead generation website. It also provides your company with an additional outlet to reach and interact with current customers and potential leads.
Millions of monthly users: Yelp is also one of the most popular sites for finding a service, whether a plumber, restaurant, or cleaner. The fact that it's well-known increases your company's chances of reaching its target audience and turning them into a lead.
Advertising options for local and franchise businesses: Whether you're a local business or franchise, Yelp offers advertising options for both. This feature makes it hassle-free for your company to promote its various locations.
Convenient booking and quote options: With Yelp, users can also schedule appointments or request quotes via your profile. This tool allows your business to save time, as well as provide a seamless user experience. It also helps you close a lead in an instant.
Disadvantages of using Yelp
Like other lead generation website for home services, there are a few drawbacks to Yelp, including:
Limited advertising campaign controls: A lot of companies report that Yelp offers limited options for customizing your advertising campaign, such as by specifying similar categories. The case studies on Google versus Yelp also emphasized this lack of control.
High advertising cost: Businesses have also noted that Yelp requires a higher advertising budget. In the past, when Yelp followed a cost-per-thousand-impressions (CPMs) model, its average CPM was $600, compared to the industry average of 60 cents.
Small focus on home services: While Yelp features a wide range of service categories, from restaurants to auto services, its audience doesn't focus on home services as much. That can result in less traffic, interaction, and results on your profile.
Should businesses use Yelp?
As a free lead generation website and service, it's worth spending some time on Yelp. Your team can claim or create your profile, as well as respond to user reviews on it. While you may want to experiment with advertising on Yelp, you may earn better results from your ad budget on Google.
At WebFX, we understand what it takes to drive results for home services companies.
Instead of wasting time and money on marketing efforts that don't attract the right clients, our home services marketing agency will work to understand your business and design a custom plan designed to reach your best prospects online.
We also offer an industry-leading customer relationship management (CRM) platform that helps you expertly track and manage your leads from intial awareness to conversion, send automatic, personalized emails, and much more. Our CRM for home services, Nutshell, gives you and your team all the tools you need to drive more leads and conversions.
Are you interested in learning more about how you can use home services marketing to grow your business?
Contact WebFX today. We work with hundreds of businesses across the United States, and we're excited to hear from you!
Earn a 20% greater ROI with WebFX