To grow your delivery business, you need leads. What are leads? Essentially, they're potential customers who have demonstrated interest in your services.
Delivery services companies can use various strategies to generate leads. In this post, we'll discuss some of the most effective ways to generate courier leads.
At WebFX, we have lots of experience generating leads for our clients. We're a top lead generation agency, and we use a range of digital marketing strategies to get leads for our clients.
Just keep reading, contact us, or explore our website to learn more about lead generation for delivery services.
37% of marketers say that generating high-quality leads was one of their biggest challenges.
We want to decrease that percentage.
WebFX can help you generate high-quality leads with a customized marketing strategy.
Learn More About Lead Generation Services
What is lead generation?
Lead generation is the process of getting new leads, which are potential customers who have demonstrated interest in your delivery services. It's an essential part of courier service marketing because it enables you to find new customers and grow your business.
Leads may demonstrate interest in various ways. They might click on one of your ads, visit your website after finding it through a search engine, or sign up for your email newsletter.
Once you acquire a lead, you begin the process of lead nurturing, which aims to move them from merely showing interest in your company to becoming a customer.
You can categorize leads by how close they are to making a purchase. For example, someone who downloaded your app is most likely closer to making a purchase than someone who just read a blog post about what a courier company does.
A helpful way to visualize this process is with a marketing funnel. At the top of the funnel, you have a larger number of leads that aren't yet ready to make a purchase. They may have simply visited your website or liked your Facebook post.
As you move towards the bottom of the funnel, the number of leads gets smaller, but they get closer to making a purchase. At the very bottom of the funnel are those who are loyal customers.

Hear What It's Like to Work With WebFX!

"WebFX did amazing work creating a new website for us on a tight schedule. They have taken the time to learn about our business and give us ideas of how to make our digital marketing better. We still have work to do with WebFX but overall very pleased."
Professional Service
How to get customers for your courier service
Lead generation for delivery services can include many different methods of getting new customers.
At WebFX, we focus on digital marketing lead generation services. These methods involve the use of the Internet in acquiring leads.
Here's how to get new clients for your courier service — take a look at these five strategies.
1. Search engine optimization (SEO)
SEO is a lead generation strategy that helps your website rank higher in search engine results pages (SERPs) for relevant keywords.
For example, if a grocery delivery company uses the right SEO strategies on their website, their site is more likely to be one of the top results when someone searches "grocery delivery services."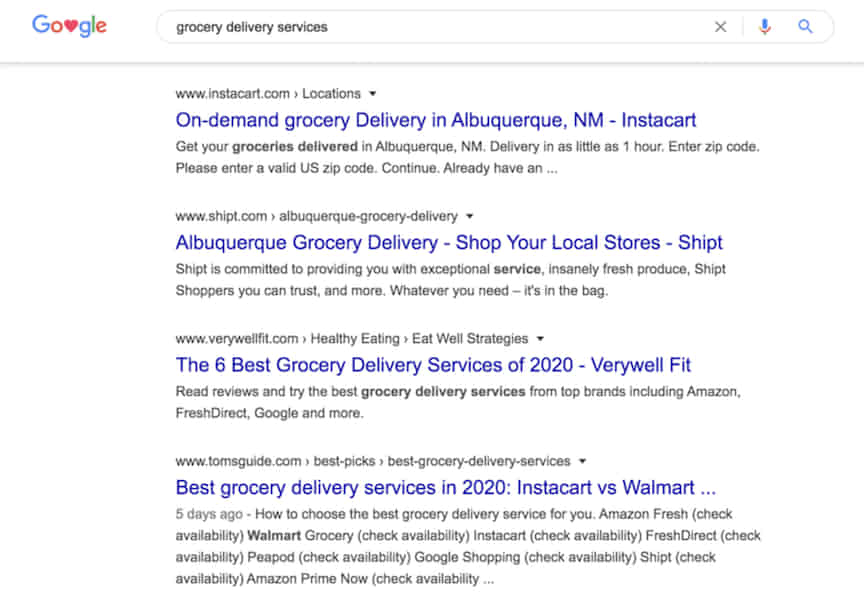 SEO is great for generating courier leads because the people who come to your site via search are actively researching information related to your company. Because they're demonstrating interest in this way, they may be more likely to make a purchase.
In fact, SEO leads have a nearly 15% close rate, much higher than the under 2% close rate of traditional marketing.
WebFX was named the world's top SEO agency by Clutch. We have the experience, skills, and resources necessary to increase the number of leads you get from organic search results.
2. Pay-per-click (PPC) advertising
PPC is a method of advertising online in which advertisers online pay when someone clicks on their ad, generating a lead. Types of PPC ads include paid search results, display ads on websites, and promoted social media posts.
Here's an example of PPC ads in Google SERPs: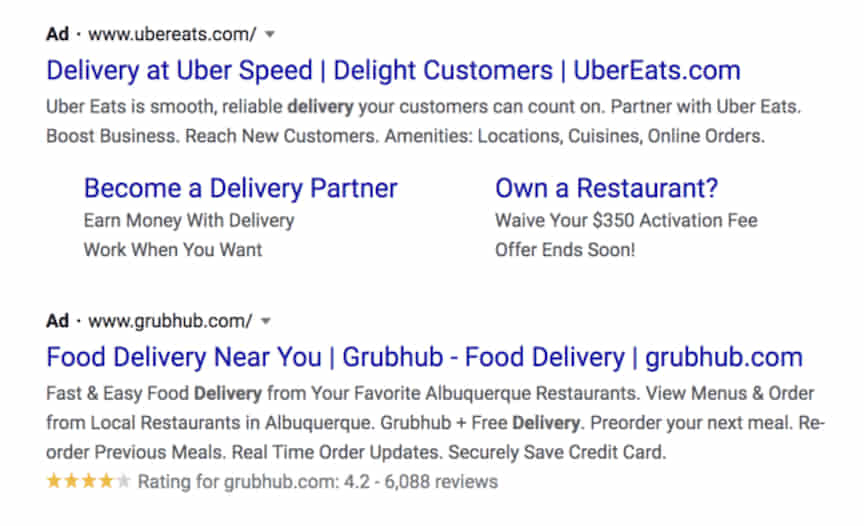 The people who click on PPC ads tend to be further along in the marketing funnel, meaning they're closer to becoming a paying customer. People who come to your website through a PPC ad are 50% more likely to make a purchase than someone who gets there via an organic, or non-paid, search result.
As an experienced lead generation agency, we can create and manage PPC campaigns that result in qualified courier leads. We've managed more than 650 PPC campaigns for our clients, and we're a Google Premier Partner with five agency specializations.
3. Social media
Social media is another excellent tool for courier service marketing and lead generation. Sites like Facebook, Twitter, Instagram, and Pinterest can help courier companies find new potential customers and move them through the marketing funnel.
Here are a few of the ways delivery companies can use social media to generate and nurture leads.
Posting informational or entertaining content on social media can increase awareness of your brand.
You can also create social media ad campaigns that target people who may be interested in becoming customers.
Responding to comments and messages on social sites can also help people connect with your brand and increase customer loyalty.
Social media marketing is another facet of our affordable lead generation services. We've published more than 165,000 client posts on social sites and can create original posts for your company, manage your social ad campaigns, and more.
4. Email marketing
Email is another valuable courier service marketing and lead generation tool. Email is an excellent way to nurture leads since you can communicate with them consistently over time, keeping your company top-of-mind and increasing familiarity with your brand.
To encourage people to sign up for your email newsletter, provide useful information and exclusive content and offers. You can also send different emails to leads based on where they are in the marketing funnel and what actions they've taken on your site.
A drip email marketing campaign allows you to automatically send emails to leads at different stages of the buying process. These types of campaigns are excellent for turning new leads into customers.
You can also send emails that are even more personalized than drip campaign emails. For example, if someone views a resource about the benefits of fuel delivery, you could follow up with an email that contains more resources on fuel delivery.
At WebFX, we can create and manage an email marketing campaign for your business that turns leads into loyal customers. When you work with us, you'll also get access to EmailMarketingFX, which you can use to manage and track your campaigns.
5. Content marketing
If you're wondering how to get clients for your courier services, consider content marketing. It generates three times as many leads as traditional marketing and costs 62% less.
Content marketing is a marketing method that involves the creation of original blog posts, videos, infographics, and other types of content. This content should be valuable to your audience in some way and helps attract and nurture leads.
For example, someone who is curious about courier services may find a blog post you wrote about how these services work. They might then explore other content on your website, perhaps even downloading a guide you wrote or signing up for your email list.
This method can support many of your other lead generation efforts. You can share your content on social media and via email, and it provides additional opportunities to rank well on search engines.
We offer a wide range of content marketing services that can help you generate leads, including content strategy development, content creation, and content promotion.
Our digital marketing campaigns impact the metrics that improve your bottom line.
See More Results

WebFX has driven the following results for clients:

$3 billion
In client revenue

7.8 million
Leads for our clients

5.2 million
Client phone calls
Affordable lead generation services from WebFX
As an experienced lead generation agency, WebFX can help you acquire leads for your delivery services company and convert them into customers.
We offer SEO, PPC, social media, and email marketing services, as well as numerous other digital marketing services.
MarketingCloudFX, our proprietary digital marketing platform, can also help with lead generation for delivery services. It provides you with detailed information about how leads arrive at your site, what actions they take on your site, where they are in your marketing funnel, and more.
At WebFX, we've generated more than 7.8 million leads for our clients in the last five years. Our team of more than 500 digital marketing experts is ready to help your delivery services company generate leads and turn them into customers.
Explore our website or contact us to learn more about lead generation for delivery services.
Earn a 20% greater ROI with WebFX