Did you know that more than 60% of people look forward to weekly promotional emails?
They do, which is why promotional emails are one of the best ways to share your Black Friday and Cyber Monday deals. With Black Friday email marketing, your business can get more products and services sold during the biggest shopping season of the year.
At least, you can if you do it right.
Keep reading to learn how to make the most of Black Friday email marketing in 2023. See actual examples from past Black Friday email campaigns and discover how these brands drove people to open their emails and act on them.
Use the links below to jump to the example you most want to see, or scroll down to read them all!
Our favorite Black Friday email marketing examples
1. The Company Store
Subject line: BLACK FRIDAY Starts Now! 20% Off EVERYTHING
Preheader text: Save Big on Cozy Essentials with code BLKFRIDAY20
The Company Store, a home goods and bedding company, isn't kidding around for Black Friday email marketing.
The business launched this Black Friday sale weeks before Thanksgiving, which likely helped the company get ahead of its competitors.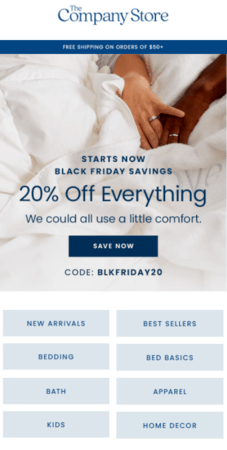 This first promotional email also follows several best practices for promotions, like:
Including your offer in the subject line
Listing your offer details, like the coupon code, as close to the top of the email as possible
Providing your shipping rules, like whether you include free shipping, in the email
No matter what your business offers, from landscaping to pillows, you can mimic The Company Store by surprising your subscribers (and competitors) with an early launch of your Black Friday offers this season.
Takeaway: Get ahead of your competitors and launch your Black Friday and Cyber Monday sales early.
2. Dunkin'
Subject line: Fuel up before the Black Friday Lines
Preheader text: Earn 3X points starting today through Cyber Monday.
Dunkin', a coffee chain with locations across the U.S., takes a different approach with its Cyber Monday email marketing.
Since most people focus on retail and ecommerce stores during the holiday shopping season, Dunkin' needed to take a different approach.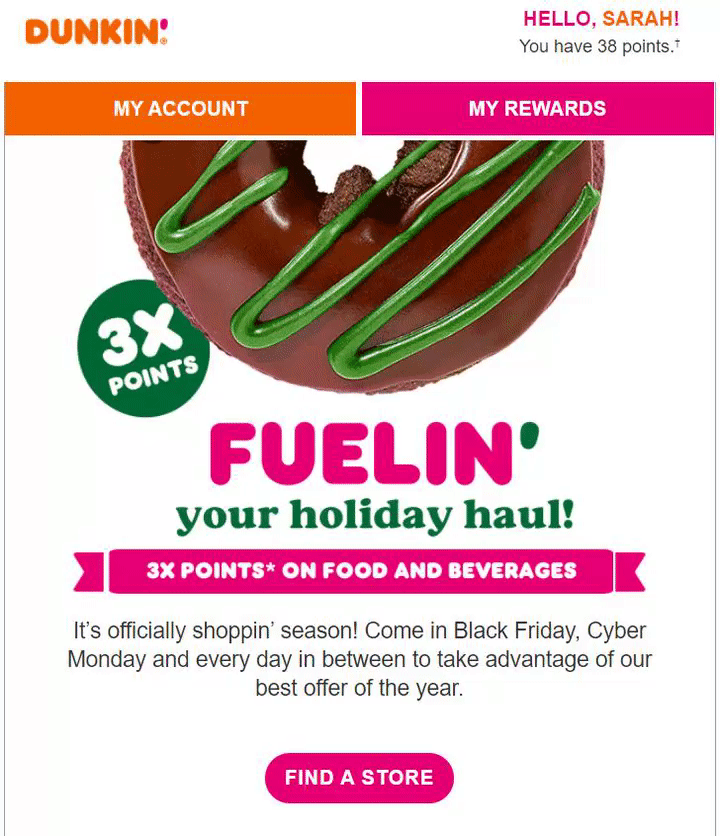 That's why the company offered its DD Perks members — the DD Perks program allows members to earn points on their Dunkin' purchases, which they can then exchange at Dunkin' for free beverages— the chance to earn more points.
When it comes to Cyber Monday email examples, Dunkin' excelled because the company:
Adopted a supportive role by helping users "fuel up" before shopping
Targeted DD Perks members because they could redeem the offer just by making a purchase
Included the member's existing point count as a reference
If your company isn't in the retail industry, you can still benefit from Black Friday and Cyber Monday. For example, if you operated a car dealership, you could promote how users could drop off their car and use a loaner vehicle to visit the nearest shopping center.
Alternatively, you could advertise your free wi-fi and coffee machine so users could shop online while getting their oil changed.
Takeaway: Create an offer that supports Black Friday (and Cyber Monday) shoppers.
3. SimpliSafe
Subject line: Last day for Black Friday Early Access
Preheader text: N/A
SimpliSafe, a home security systems provider, followed a similar approach as The Company Store by announcing its Black Friday sales early. One difference, though, is that SimpliSafe limited its sale to email subscribers.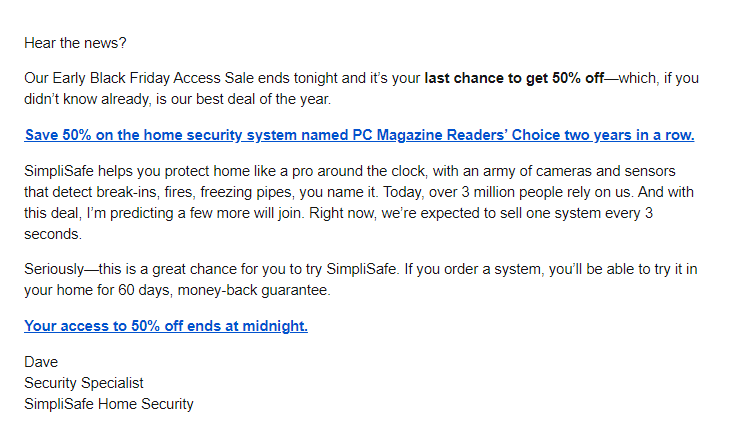 However, the most notable difference is that this Black Friday email marketing example for 2023 doesn't feature a professional design.
Instead, it looks like a typical email exchange between friends. In fact, the email shows as being from one person: Dave. This approach works well because SimpliSafe provides a product and a service:
The surveillance monitoring equipment
The ongoing surveillance
It's important for the company to establish a relationship and open the door for communication since shoppers may need help picking the best system for their home or building a custom solution with the help of someone like Dave.
If you offer a service or product with a high price point, think about following SimpliSafe's example. You want to come across as approachable and make readers feel comfortable about contacting your business.
Something as simple as sending your email from a single person — and providing their contact information — can make a significant difference in your 2023 Black Friday email marketing results.
Takeaway: Use a stripped-back email design for a personalized exchange.
4. Clinique
Subject line: Last chance for Black Friday treats! 25% off + more.
Preheader text: Use code 25OFF to receive 25% off sitewide. Plus, pick a free full size with purchase.*
Clinique, a skincare and cosmetics company, is well-known for offering promotions throughout the year.
That's why the brand's Black Friday email campaigns needed to bring their A-game if they wanted to drive sales.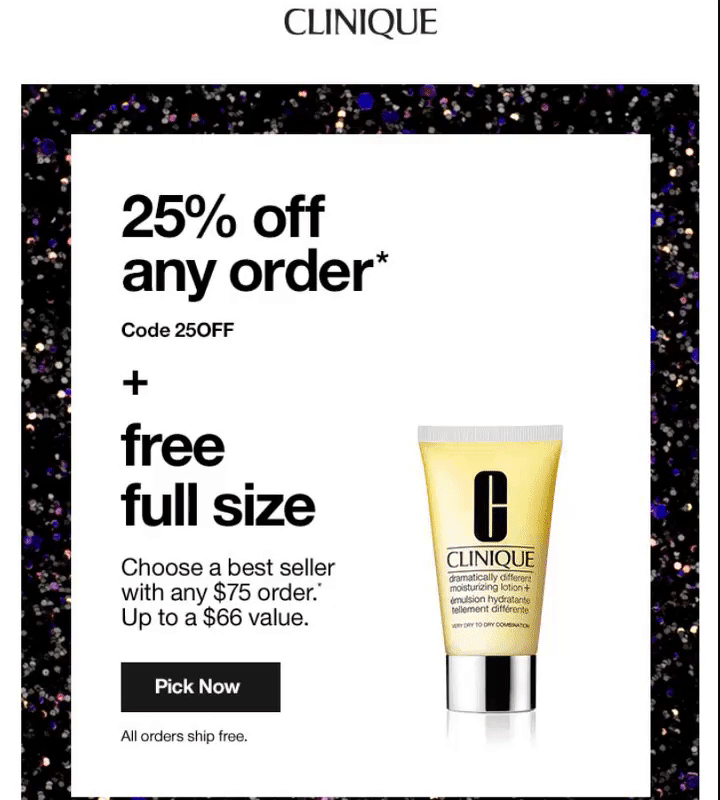 In response, Clinique focused on making both its subject line and preheader text irresistible.
The subject line emphasized that the offer was time-sensitive with the phrase, "Last chance" and that the offer included 25% off. With the preheader text, Clinique expanded on its subject line, sharing how to get that 25% discount — use the code "25OFF" — and where that discount applied — sitewide.
While subject lines are invaluable, Clinique demonstrated the importance of optimized preheader text. With optimized preheader text, Clinique was able to share critical information with readers, like:
The promotional code — which Clinique positioned near the beginning
The discount
The additional promotions — a free full-size product
Whether your company runs promotions year-round or just during Black Friday, you want to follow Clinique's lead.
This strategy is excellent for capturing a subscriber's attention and motivating them to open your email. With a definitive offer, you will make readers curious, and that curiosity can lead to a purchase.
Takeaway: Optimize preheader text to drive opens and conversions
5. Duluth Trading Company
Subject line: BLACK FRIDAY IS HERE!
Preheader text: Plus, 30% OFF Performance NoGA Knits – shop the entire collection and SAVE!
Duluth Trading Company, a clothing brand that operates an ecommerce store and brick-and-mortar locations, features products for both men and women, which is why the brand must deliver the most relevant emails to the right audience.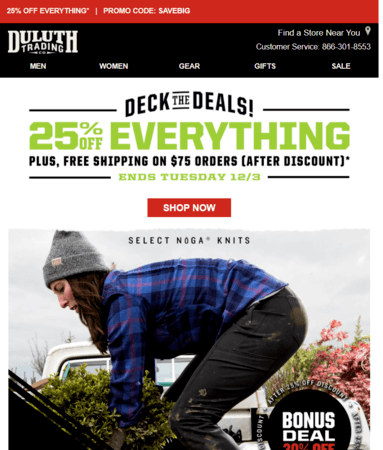 In this Black Friday email marketing example, Duluth Trading Company demonstrates the importance of segmenting your audience. By segmenting its audience, Duluth Trading Company sent its subscribers Black Friday emails that promoted the most relevant products.
The brand uses its preheader text, for instance, to advertise a specific women's clothing line: NoGA. If your company serves a diverse audience, follow the example of Duluth Trading Company.
Look at your subscribers (and your available subscriber data) to create relevant segments. For instance, you could segment users by gender, location, or past purchases to deliver hyper-relevant promotional emails.
Takeaway: Use segmentation to deliver the most relevant emails to subscribers
6. Poo~Pourri
Subject line: Dropping our biggest deal EVER!
Preheader text: Plus limited DOORBUSTERS!
Poo~Pourri, a fragrance company for bathrooms big and small, offers a Black Friday and Cyber Monday email example that any business can use for inspiration.
With its Black Friday email campaign, Poo~Pourri used power words in its subject line, like "biggest," to drive opens and purchases.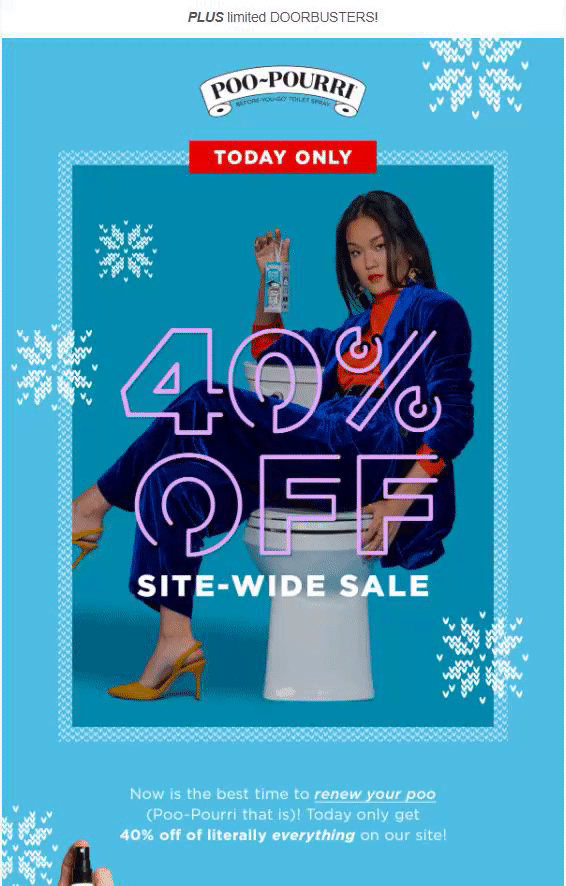 The brand also delivered on its promise. Once users opened the email, they learned that Poo~Pourri was offering 40% of all its products.
Shoppers could get 40% off anything — they didn't even have to enter a code — on Poo~Pourri's site, which worked to build a positive image of the brand. Your company can follow Poo~Pourri's lead by:
Incorporating power words that accurately describe your deal in your subject line
Outlining your offer, from its terms to its end date, in the email body
Enabling your offer automatically for email subscribers, versus requiring a code
Start brainstorming how you can mimic Poo~Pourri with your sales, development, and marketing team!
Takeaway: Use power words to emphasize a deal's timeframe, rarity, or quantity and drive action
7. Chewy
Subject line: [First Name] >> SNEAK PREVIEW: Black Friday Deals!
Preheader text: *BIG* savings UP TO 60% OFF
Chewy, an online pet retailer, knew that while owners love to buy treats and toys for their pets, they still needed a push to do some shopping during Black Friday and Cyber Monday.
That's why the company created a campaign that you can use to inspire your Black Friday email ideas.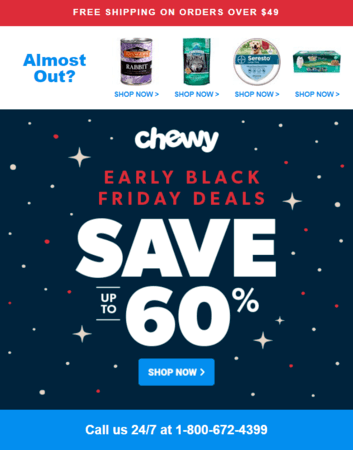 For this email marketing campaign, Chewy focused on personalization. Personalization is a common email marketing tactic because it works.
In Chewy's case, personalizing the subject line with the subscriber's first name works well because they're offering you an exclusive look at their Black Friday sales. The company even tailored the email to include past purchases by the reader! In this Cyber Monday email marketing example, Chewy used personalization to:
Stand out in a user's inbox with a personalized subject line
Provide relevant product recommendations — even if they weren't on sale
Offer early sales access to select subscribers
Of course, you'll still want to take a strategic approach with personalization.
Think about how you can use personalization, like a user's name or location, to make someone feel like your email is just for them. Just like personalization, you'll also want to think about your use of capitalization strategically.
Besides the subscriber's first name, Chewy used all caps for a portion of its subject line: SNEAK PREVIEW. Since all caps can come across as spammy or yelling, you want to use this tactic with extreme care. You may even want to run an A/B test, which will help you find whether all caps works with your audience.
Either way, this Black Friday email example for 2023 offers your business lots of ideas.
Takeaway: Personalize to capture attention and ignite curiosity
Make your 2023 Black Friday email marketing a success
With Black Friday and Cyber Monday, your company can capture a significant amount of leads and sales, especially if you invest in email marketing.
Of course, getting started with Black Friday email marketing in 2023 requires time because you need to develop your campaigns and emails.
WebFX, however, can help your business get ready in time. With our email marketing services, which include email design and email copywriting, your business can get all the benefits of Black Friday and Cyber Monday email marketing in 2023 — without the time investment or last-minute hustle before launch.
P.S. For even more advice on email marketing and digital marketing, get the email that more than 200,000 other marketers' trust: Revenue Weekly. Sign-up today and receive your first email with helpful tips and tricks from the experts at WebFX!
Get your campaigns started now by contacting us online or giving us a ring at 888-601-5359 today!
Sarah Berry is a Google Analytics-certified

Web Marketing Consultant at WebFX

. She's written over 400 articles on digital marketing, covering topics like SEO, CRO, and Amazon. When she isn't polishing her Time Magazine Person of the Year Award, she's spending time with her flock of ducks.

WebFX is a full-service marketing agency with 1000+ client reviews and a 4.9-star rating on Clutch! Find out how our expert team and revenue-accelerating tech can drive results for you! Learn more
Try our free Marketing Calculator
Craft a tailored online marketing strategy! Utilize our free Internet marketing calculator for a custom plan based on your location, reach, timeframe, and budget.
Plan Your Marketing Budget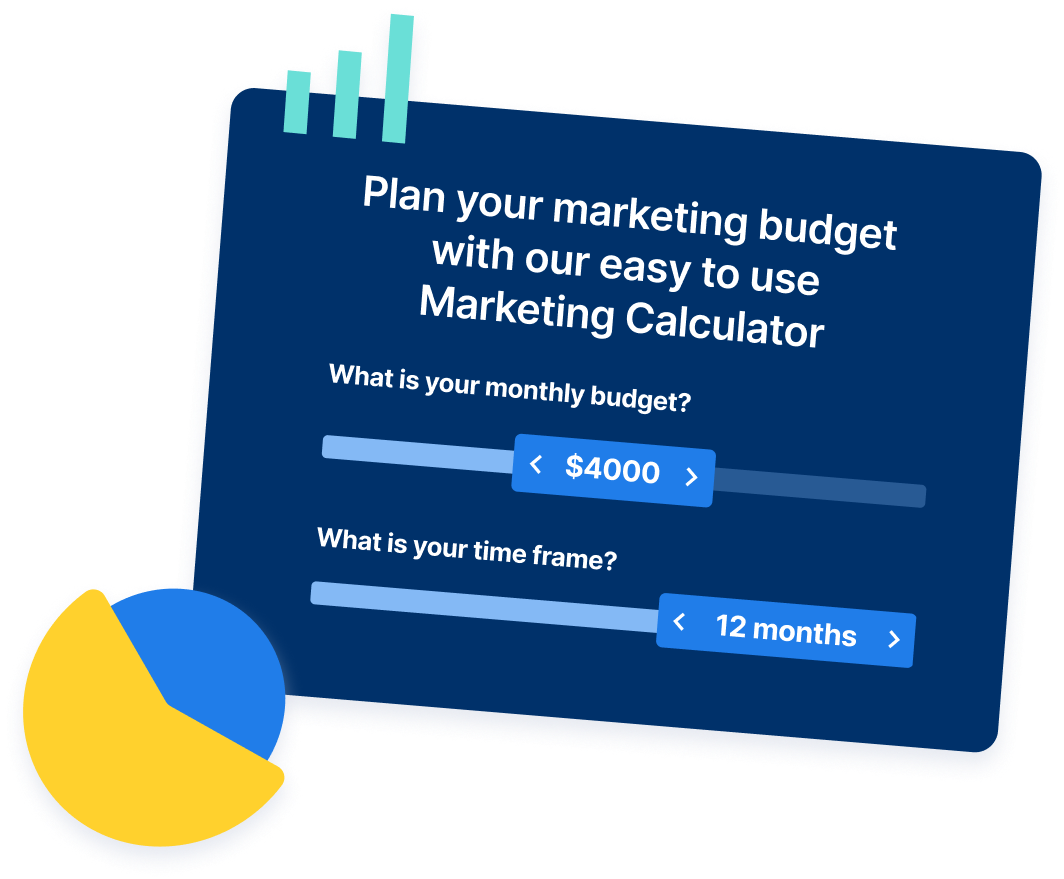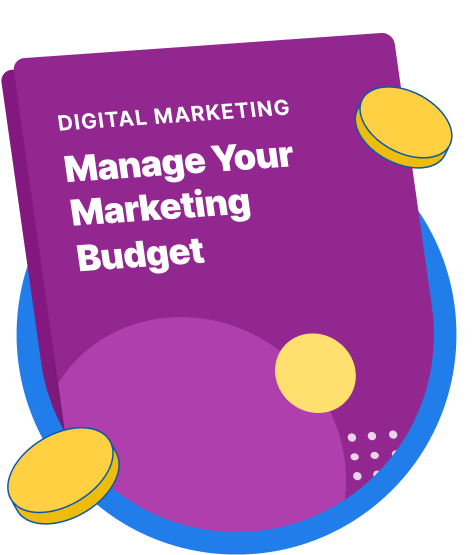 Maximize Your Marketing ROI
Claim your free eBook packed with proven strategies to boost your marketing efforts.
Get the Guide
Try our free Marketing Calculator
Craft a tailored online marketing strategy! Utilize our free Internet marketing calculator for a custom plan based on your location, reach, timeframe, and budget.
Plan Your Marketing Budget