Email marketing can generate up to 50% more sales than other lead generation methods. With statistics like this, your email marketing campaigns can drive significant results for your business. And what's the best way to improve your email marketing strategy?
By learning how to write good email copy, of course!
In this post, we'll go over some email marketing essentials and analyze some of the best email copy examples to help you write excellent email copy that will boost revenue and sales for your business.
Bonus: Our team of experts at WebFX has generated over $3 billion in revenue for our clients with our email marketing services and digital marketing campaigns. If you're ready to start impressing consumers with exceptional email copy, we can help.
Call 888-601-5359 to speak to a strategist or contact us online to create your email marketing campaign today!
We foster and form long-term partnerships so that your business has long-term results.
Over 90% of WebFX clients continue partnering with us into year 2 of their campaign.

Hear from Our Happy Customers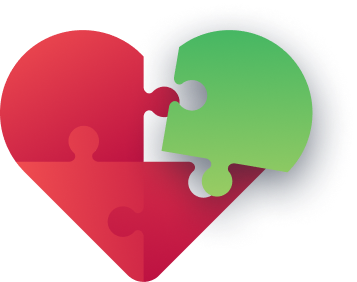 5 best email copywriting examples
Now that you know more about why email copy is essential, we'll go over how to write email copy that will generate leads and revenue for your business. Here are our five favorite email copywriting examples:
1. PayPal
One of the best ways to improve your CTR and entice users to act is to attract them with attention-grabbing words and phrases. With phrases like "last chance" or "don't miss out," you can intrigue consumers to click on your email to learn what deals or offers you have that they don't want to miss.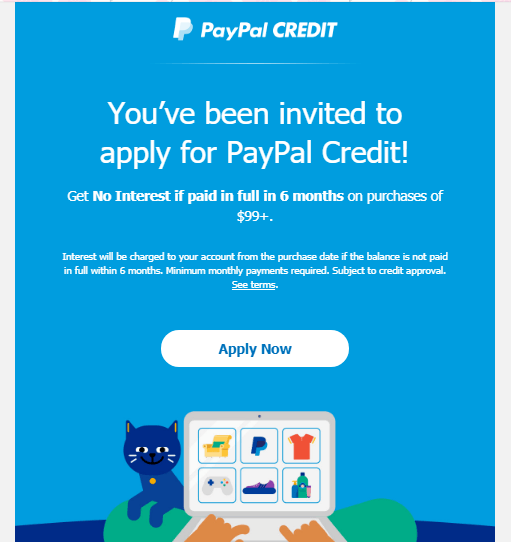 We like this example from PayPal because it's short and sweet and grabs your attention in just a few words. Using phrases like "you're invited to" can capture users' attention and make them feel like you've offered them an exclusive deal or offer they can't refuse.
With eye-catching phrasing like this, consumers will likely want to learn more about your products and services.
2. Secret Escapes
As we mentioned above, email marketing presents an excellent way to connect and create personalized messages for your target audience.
These personalized messages are perfect for resonating with your customers' interests and enticing them to click on your email to learn more about your products and services that they might like. In fact, personalized emails can improve your open rate by 41.8%.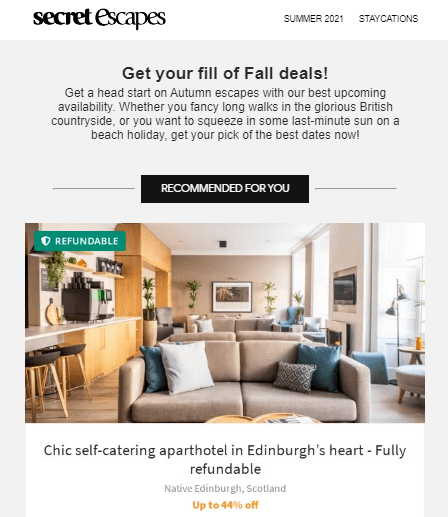 This example from Secret Escapes perfectly provides a personalized email by offering recommendations based on the reader's past purchases or search history.
By incorporating personalized messages into your emails, users will be much more likely to open them and browse your products and services they are interested in, increasing your sales as a result.
3. Grammarly
Keeping a user's attention is essential for any email marketing campaign. And one of the best ways to keep your current and potential customers engaged enough to make it to the end of your email is to keep your email as concise as possible.

We like this short example from Grammarly, which entices the reader to learn more about their services. Their email is concise and straight to the point and included a relevant CTA to ask the user to read and learn more about their products and services.
If you're looking to improve your email CTR, then writing short, snappy emails like Grammarly is the way to go.
4. Hersheypark
When visual content gets 94% more views than text-only content, including plenty of images in your emails is a must. By incorporating eye-catching photos and gifs, you can ensure your emails aren't just a block of text.
By adding images, you can grab your customer's attention and keep them engaged, so they can easily understand the information and make it to the end of your email.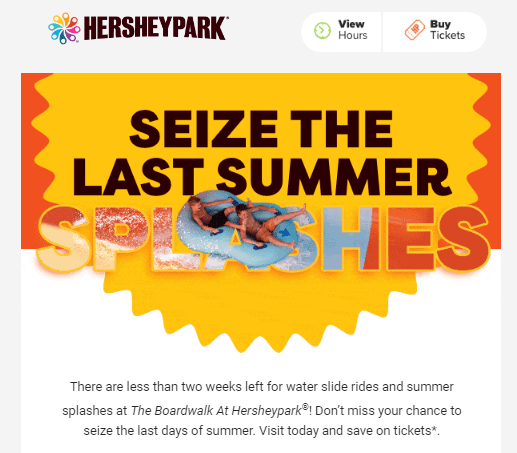 Hersheypark's marketing emails do a great job of incorporating plenty of images. Many of their colorful images and infographics are eye-catching and nicely break up the written text in their emails.
By using a mixture of images and text, you can ensure your emails are colorful and attention-grabbing, increasing your CTR and conversions as a result.
5. PartyLite
A relevant CTA in your emails can increase your conversion rate by 28%, so asking your customers to perform an action is essential. Your CTA can include browsing your products and services, learning more about a topic, making a purchase, signing up for a service, using a discount code, and more.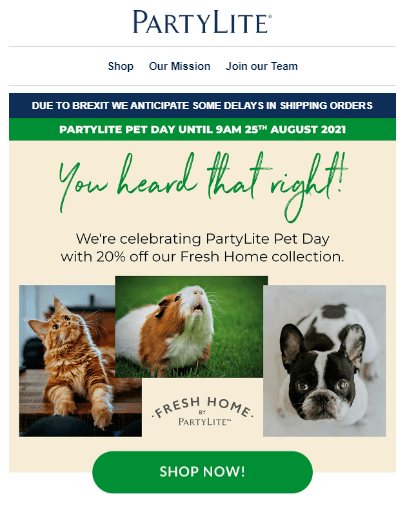 We like this CTA from PartyLite. Their email includes an attention-grabbing mention of a 20% off sale and a relevant CTA that asks users to shop their candle and fragrance collection online.
By having one specific and appropriate CTA like PartyLite, your email marketing campaign can effectively increase conversions and sales for your business.
What is email marketing?
Email marketing
is a digital marketing strategy that uses email as a channel to connect your business with current and potential customers.
With email marketing, you can:
Promote products and services
Share updates and news
Offer exclusive sales and discounts
Share helpful content and videos
In other words, email marketing is a tool that can help you generate more revenue by sending emails to consumers. With a successful email marketing campaign, you can boost sales for your business.
3 reasons why writing good email marketing copy is important
Writing good email copy is essential to ensuring your email marketing campaign is successful. Here are a few more reasons why your email copy is important:
1. Good email copy can entice consumers to click on your email
Writing attention-grabbing subject lines is crucial for drawing a user's attention to an email and enticing them to click on it to read more.
Exciting and informative email copy can help keep users' attention, so they read the entire email.
Good email copy can often be the difference between a user opening your email or clicking the delete button.
2. Good email copy helps you create personalized messages
Creating personalized messages is one of the best ways to reach your target audience. Personalized emails can increase your average click-through rate (CTR) by 14% and increase conversions by 10%.
Consumers are much more likely to click on an advertisement if they can relate to the message. You can use your email copy to write messages that resonate with your target audience's interests and hobbies.
As a result, you can increase your CTR and sales.
3. Good email copy can generate more leads and web traffic
By writing engaging calls to action (CTAs), you can also motivate users to perform an action, such as purchasing a product, reading new content, or signing up for a newsletter.
And writing effective CTAs and attention-grabbing body copy, you can generate more leads and web traffic through your email marketing campaign.
Write exceptional email copy with WebFX
Are you ready to get started with fantastic copy for your email marketing campaign?
Our award-winning team of experts at WebFX has generated more than 7.8 million leads for our clients through email marketing services and digital marketing strategies.
Speak with a strategist by calling 888-601-5359 or contact us online to generate more leads and increase sales with a custom email marketing strategy.
Do you want to learn more email and digital marketing strategies to help grow your business? Sign up for our newsletter — Revenue Weekly — to get more digital marketing advice sent straight to your inbox!
How is your website's SEO?
Use our free tool to get your score calculated in under 60 seconds.
Get posts by email
Join 200,000 marketing managers and subscribe to Revenue Weekly!
"*" indicates required fields
WebFX Careers
Join our mission to provide industry-leading digital marketing services to businesses around the globe - all while building your personal knowledge and growing as an individual.