When using an ecommerce site for your products, you want to be sure that you're earning the most conversions possible. An ecommerce conversion rate tells you what percentage of your prospects are converting. But what is ecommerce conversion rate, really?
Ecommerce conversion rates explain the number of people who complete a desired action — in this case, purchasing from your ecommerce shop — compared to the number of site visitors. Understanding your conversion rate can help you improve it to drive more revenue.
This page will cover the basics of ecommerce conversion rates, a few averages, and how you can improve your rankings. Read on to learn more, or call 888-601-5359 to speak with a marketing strategist about optimizing your conversion rates!
What does a successful ecommerce website need to drive sales?
We wrote you an ecommerce essentials checklist.
Read the Blog Post & Watch the Video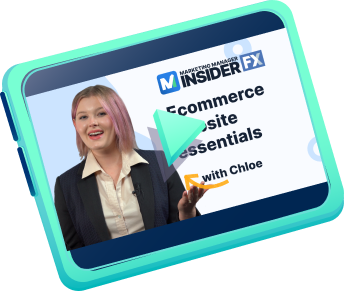 Ecommerce conversion rates 101
Before we break down different ecommerce conversion rates, let's review some basic principles.
What is ecommerce conversion rate?
Ecommerce conversion rate refers to the number of people who bought something from your online store compared to the number of site visitors you have. This number correlates directly with your total purchases, sales revenue, and profit, especially if you are strictly ecommerce.
Why does conversion rate matter?
Ecommerce conversion rate can tell you a lot about your business health, marketing tactics, and overall success as a company. Good ecommerce conversion rates vary by business, but a solid rate will result in more revenue overall.
Understanding your ecommerce conversion rate can help you:
Evaluate the return on investment (ROI) of different marketing strategies
See what channels are driving the most revenue
Determine how your businesses is performing overall
If you are earning most of your income from ecommerce, that can tell you where your audience is finding your business. On the flip side, if you aren't earning what you think you should, finding the cause of a low conversion rate can help you get more purchases.
What is commerce conversion rate optimization (CRO)?
Ecommerce CRO is a digital marketing technique that aims to improve the number of sales you have with ecommerce channels. For example, if you primarily sell on Amazon with a low conversion rate, you could make changes to optimize your Amazon platform for sales.
Some basic steps of ecommerce CRO are:
Analyzing customer behavior to see what people are doing on your site
Watching for issues when users check out
Asking people how they found your site and about their experience
All these steps and more can help you attract more purchases.
Average ecommerce conversion rates by industry
Ecommerce conversions vary depending on various factors. The following conversion rates come from IRP Commerce, and they were last updated March 2023:
Arts and crafts: 1.75%
Baby and child: 0.87%
Cars and motorcycling: 1.28%
Electrical and commercial equipment: 1.21%
Fashion, clothing, and accessories: 1.47%
Food and drink: 1.16%
Health and wellbeing: 3.61%
Home accessories and giftware: 0.31%
Kitchen and home appliances: 2.78%
Pet care: 2.05%
Sports and recreation: 1.61%
Toys, games, and collectables: 1.16%
These numbers don't vary too much by device, either. These are the average ecommerce conversion rates by device:
Tablet: 3%
Mobile: 2%
Desktop: 3%
While it can be hard to pin down good ecommerce conversion rates, knowing the averages can help you understand how your business performs compared to others in your industry.
How to improve your ecommerce conversion rate
Here's how to improve your ecommerce conversion rate:
Improve product images and videos
Build out website copy
Vary your calls-to-action (CTAs)
Promote your products through other sources
Use in-app shopping features
Create a streamlined checkout process
We will break down the tips for improving your ecommerce conversion rates below. Watch this video to get started, then read on for more tips:
1. Improve product images and videos
The first step to improving your conversion rates is making sure that your product images and descriptions are up-to-date.
Use high-quality images that show all angles of your products. If you can, include videos of it in motion or demonstrations for how you should use it. Don't include any products that aren't included with purchase — if you must for demonstration, be sure to explain what is included.
For example, this coffee machine on Amazon breaks down the different features and facets in images: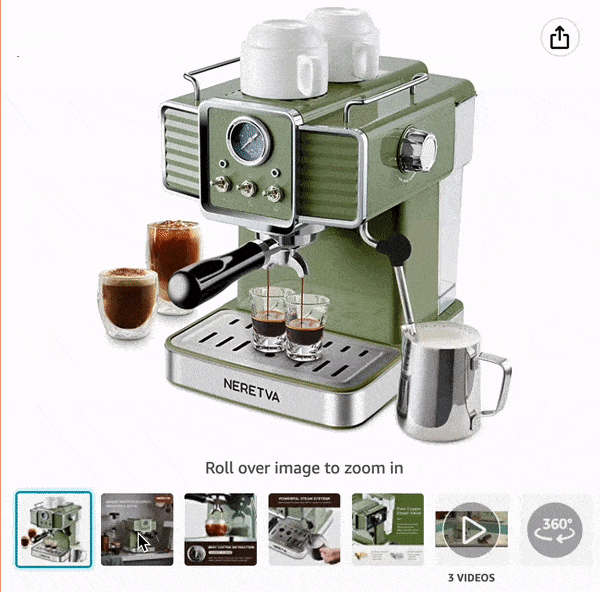 Your images and videos are crucial to highlighting your product's best features. As you improve the visuals, you give your products a better chance at standing out next to competitors.
2. Build out website copy
Your website copy can help you convert leads once they land on your site. If you have types, confusing content, or not enough information, people will bounce and not come back.
Let's say that someone finds your shoe company by searching for keywords. However, once they get to your site, they can't find any information about your sizing, shipping, or inventory specifications. They won't want to buy and may even regard your company as spammy.
Creating meaningful category pages, product descriptions, and FAQs can help you avoid this issue. Also, you can encourage people to contact you or purchase from your site in the content.
3. Vary your calls-to-action (CTAs)
Your CTAs will likely be the same in most cases — you want people to purchase your product via your ecommerce channel. However, placing and varying your CTAs can help you make sure that customers don't get overwhelmed and know exactly what you want.
Some CTA examples for your ecommerce store might include:
Click here for more information
Contact us online
View our shipping and return policies here
Order online now
Shop the newest collection here
Your CTAs should also be easy to find and read. Use buttons and graphics where you can, and be sure that your links work correctly.
4. Promote your products through other sources
When you launch a new product or collection, promote it on all your channels! Email, social media, and advertisements are all great ways for boosting awareness.
This email from Urban Outfitters encourages people to check out their latest collection: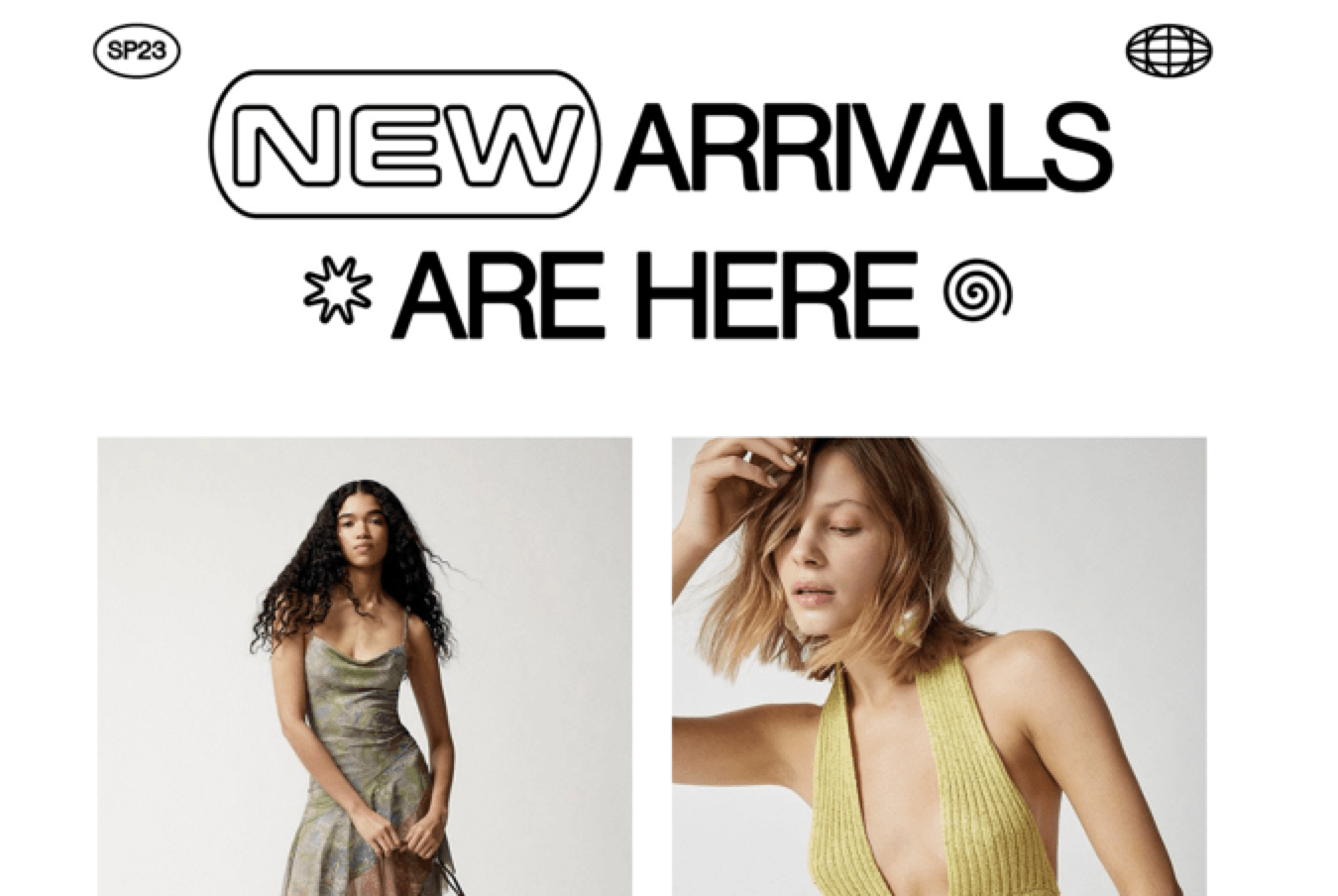 Keep your posts timely to your release, and let people know what's coming and when.
5. Use in-app shopping features
Many social media sites now offer in-app shopping, such as Instagram, Facebook, and TikTok. With these in-app shops, you can create a digital storefront that lets people purchase directly from the app.
In-app shopping accomplishes the following:
Allows customers to shop without leaving the app.
Boosts brand awareness on social media.
Opens a new channel for your ecommerce products.
You can also track impressions and purchases within your in-app shop to see how those ecommerce conversion rates compare to other sites.
6. Create a streamlined checkout process
Once you get people to the point of purchase, there is still time for them to change their minds. For example, if your checkout doesn't offer a guest option or takes too long to load, customers may give up and look for a faster option elsewhere.
To improve your checkout process, you can:
Add a progress bar: This setup shows customers where they are in the process and helps them focus on finishing the checkout.
Offer guest checkout: Instead of making customers create a profile and enter all their information, you can simplify by allowing them to check out without making an account.
Include free shipping: Free shipping on certain orders can encourage people to spend more to save on shipping.
Eliminate extra fields: Keep your customer information simple — a name, address, email, phone, and payment are enough to identify your customers.
Include multiple payment options: Accepting different payments opens your shop up to more people and makes it easier to purchase from your site.
Partner with a team of ecommerce masters!
WebFX campaigns have delivered more than 12,936,451 ecommerce transactions in the last 5 years
Read the Case Studies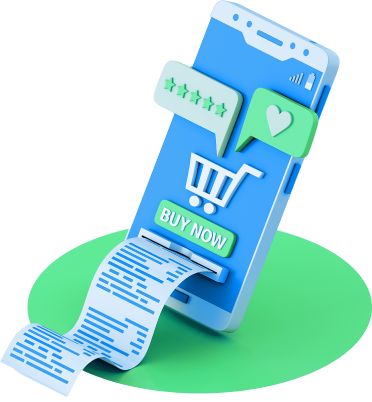 Boost your ecommerce conversion rate with WebFX
Ready to see a higher return on investment from your ecommerce platforms? WebFX is here to help. When you choose us as your ecommerce agency, you enjoy streamlined approaches to all your listings and purchases.
Instead of using your in-house resources and adding time to your workweek, you can enjoy more conversions with an optimized ecommerce strategy. We take on the workload while you focus on running your business.
Want to see how it works firsthand? Contact us online to learn more and start your ecommerce journey with WebFX!
How is your website's SEO?
Use our free tool to get your score calculated in under 60 seconds.
Get posts by email
Join 200,000 marketing managers and subscribe to Revenue Weekly!
"*" indicates required fields
WebFX Careers
Join our mission to provide industry-leading digital marketing services to businesses around the globe - all while building your personal knowledge and growing as an individual.