When you're building your website, you'll want to include a way for users to reach out to you. Whether they're asking for a quote, buying a product, or filling out a survey, they'll want a way to get in touch with you — and for all those tasks, the ideal solution is forms.
Website forms allow users to fill out questionnaires, submit questions, or get a quote. But not every website builder has a built-in feature for creating high-quality forms. So, what do you do? Easy — you use a form builder.
Of course, there are plenty of form builders on the market, and you might be wondering which one to choose. If so, don't worry — we'll look at 10 of the best form builders in this blog post.
Keep reading to learn more, and then subscribe to Revenue Weekly — our email newsletter — for more digital marketing tips from the experts!
10 top form builders for your website
Anytime you have to choose a marketing tool online, it can be a difficult decision because of how many options there are. The same goes for form builders — which is why we've compiled this list of 10 top form builders you can try. Keep reading for a breakdown of each one!
1. Google Forms
Price: Free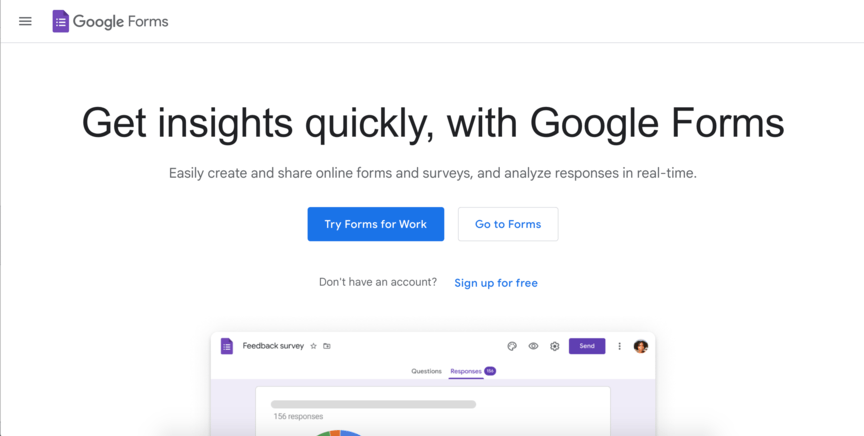 The first online form builder on our list is Google Forms. Google Forms has many useful form-building features, but its best quality is how fast it is. It runs at a high speed, and additionally, you can even reuse questions from previous forms to further simplify the process.
The other major advantage of using Google Forms is that it's free, which is a huge plus considering that many form builders require paying to use them. There's also the benefit of Google Forms integrating with other Google platforms like Docs and Sheets.
2. HubSpot
Price: Free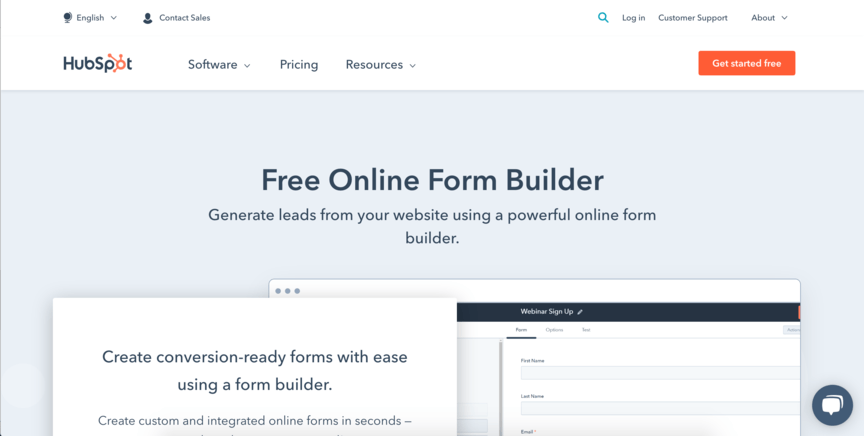 HubSpot is one of the top form builders for much the same reason as Google Forms — it's free. On top of that, though, HubSpot is built specifically for small- to medium-sized businesses (SMBs) like yours, making it an ideal choice.
HubSpot isn't lacking in terms of features — it includes functions like:
Drag-and-drop builder

Multiple field types

Up to 1000 fields available

And more!
If you want a solid overall form builder that's free, HubSpot is the way to go.
3. Microsoft Forms
Price: Free (with a Microsoft account)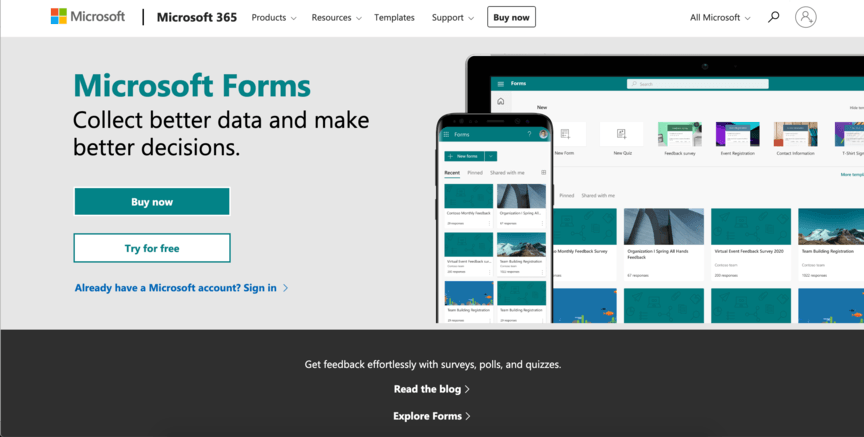 Like HubSpot, Microsoft Forms is similar to Google Forms — the main difference is that it's built for Microsoft rather than Google. That means instead of integrating with Google tools like Sheets, it integrates with the Microsoft Office Suite, including Excel.
The nice thing about that feature is that it can export your form responses right to Excel and help you analyze them there.
Microsoft Forms is also free to use, with a catch — you must have a Microsoft account. But if you already use Microsoft products, you can use your account to access Microsoft Forms.
4. 123FormBuilder
Price: Free, or $19.99+ per month for an upgraded plan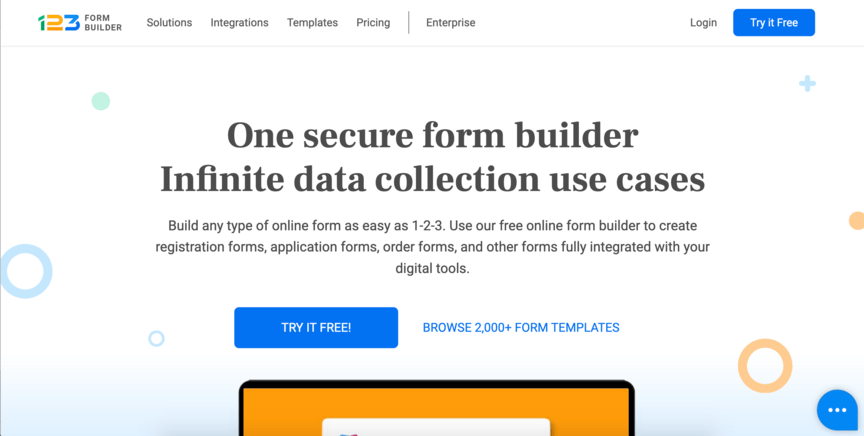 Maybe you're the kind of person who wants all kinds of features in your online form builder. Or maybe you'd prefer to stick to the basics without needing to worry about tons of functions you don't plan to use. If that describes you, you should consider 123FormBuilder.
123FormBuilder earns its spot on this list due to its simplicity. It's incredibly easy to use, containing only the bare minimum number of features that you need to build your forms. That said, it still has enough options to let you make whatever kind of form you need.
5. Typeform
Price: Free, or $25+ per month for an upgraded plan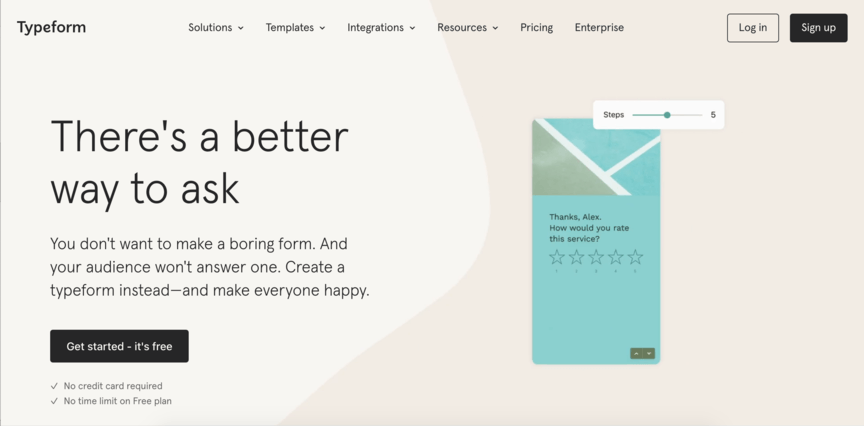 Typeform is another simple form builder, but not in the same way as 123FormBuilder. Whereas 123FormBuilder optimizes for ease of use, Typeform optimizes for the user experience.
Typeform goes out of its way to help you make forms that are user-friendly for your website visitors. Its forms feature large buttons that are easy to see, read, and click. These forms also aim for a conversational and friendly tone, encouraging users to engage with them.
6. Gravity Forms
Price: $59+ per year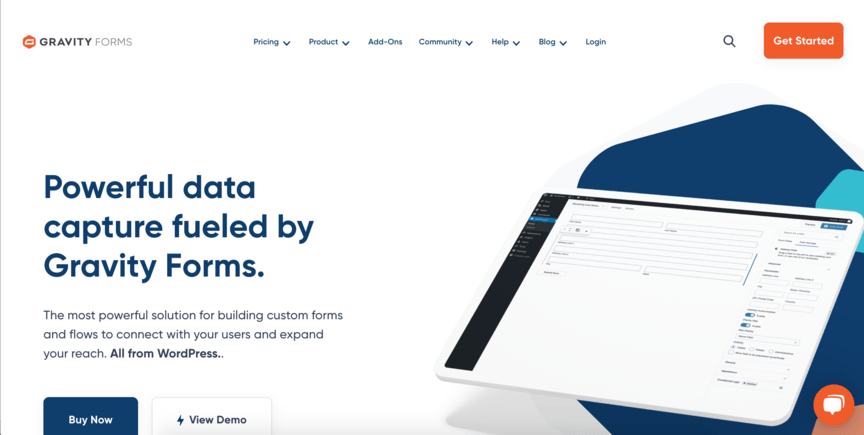 Gravity Forms has been in the form-building business for quite a few years, longer than many other tools. That alone is a reason to consider it among the best form builders. But the real standout feature of this tool is its integration options.
Gravity Forms integrates with numerous other tools to export your form data, including:
If exporting your form data is a priority for you, consider Gravity Forms.
7. Jotform
Price: Free for up to five forms; then $24+ per month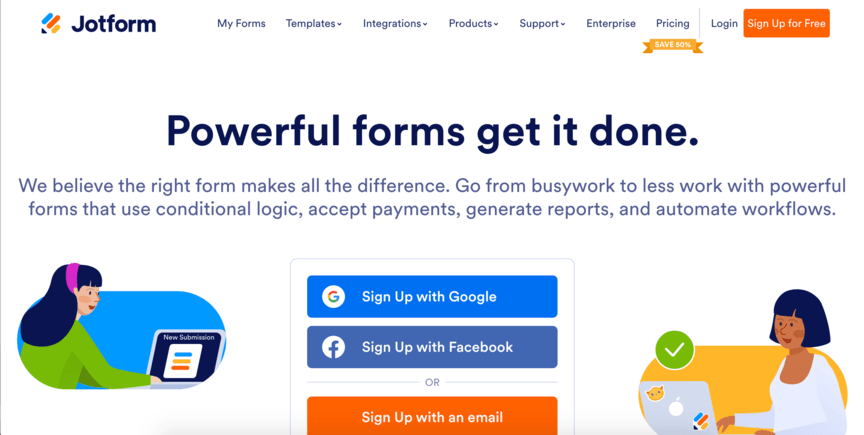 Jotform is another simple form builder that aims to make things easier on you. It does that by harnessing the power of templates. While many other tools force you to build forms from scratch, Jotform features a wide selection of templates you can pull from to have forms ready in minutes.
Of course, you aren't forced to rely on these templates — you can still customize your own forms if Jotform doesn't have what you need. But the option is there, making Jotform a good choice.
8. Formsite
Price: $21+ per month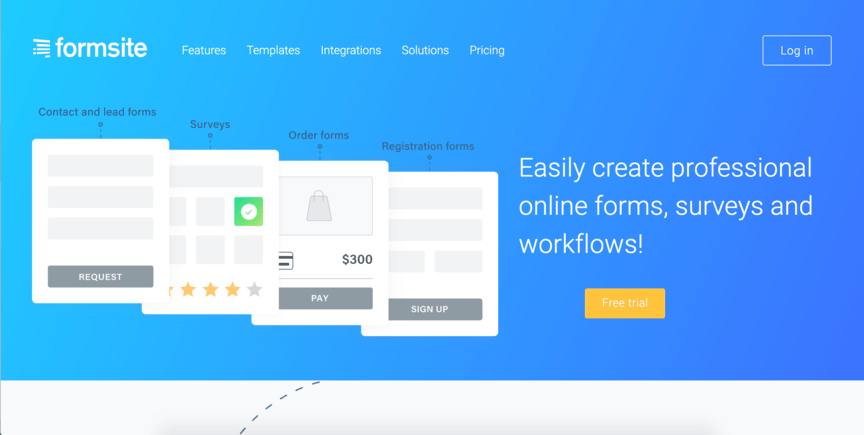 When people fill out forms on your website, they're often submitting personal data, liketheir email addresses or financial information. In any of those cases, you want to ensure that their information is secure.
Formsite makes security a priority, going out of its way to protect sensitive data. Among other things, it encrypts the text submitted in field forms, making it unreadable by anyone without the necessary permissions. Formsite also features built-in payment processing integrations for secure transactions.
9. Paperform
Price: $16+ per month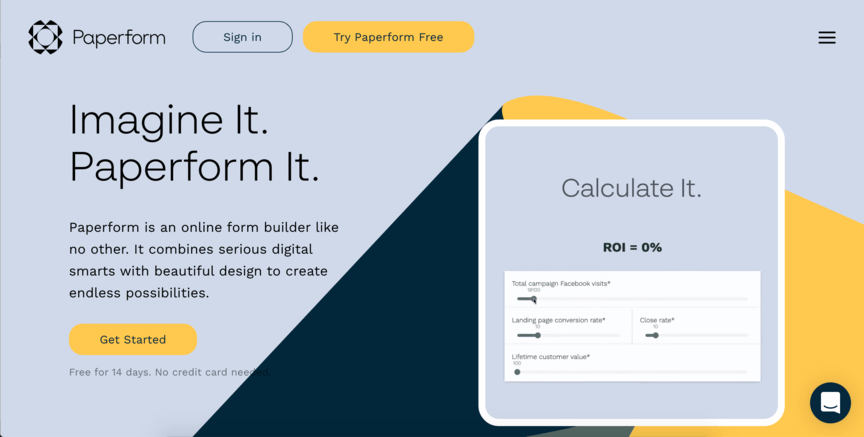 Some forms only acquire contact information or survey site visitors. But others are used to help complete transactions, requiring users to fill out their financial information to make purchases. As you might expect, those forms are built differently than other types.
Paperform is the perfect simple form builder for transactional forms, which must process sensitive information and keep track of your product inventory. If you're looking to build forms for your online store, Paperform is the tool to use.
10. Formstack
Price: $50+ per month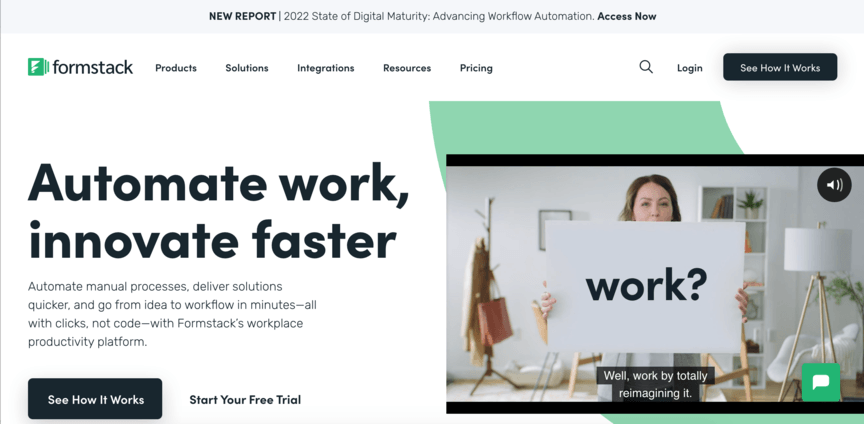 The final option on our list is Formstack. In many ways, Formstack is like any other form builder. But there are two features that make it stand out. The first such feature is its advanced analytics capabilities, which can help you assess the results of your form submissions.
The other standout feature is the fact that it goes out of its way to provide HIPAA- and GDPR-compliant forms. This feature is great if your business is in a heavily regulated industry where you have to be careful about collecting data from users.
We don't want to tell you about the work we do, we want to SHOW you.
View Our Portfolio

We've built over
1,100
Websites
in a variety of industries.
Let WebFX help you drive results through your online forms
Want help putting together online forms, or optimizing your website? Look no further than WebFX! With over 1020 client testimonials, we're the agency you can trust to drive top-of-the-line marketing results.
With our web design services, you'll get help optimizing everything from your email submission forms to your online store. You'll also receive a dedicated account representative to keep you in the loop about everything we do for your website.
To get started with us, just call 888-601-5359 or contact us online today!
WebFX Careers
Join our mission to provide industry-leading digital marketing services to businesses around the globe - all while building your personal knowledge and growing as an individual.