YouTube is a powerful search engine and social media platform used by more than two billion people every month. Remarketing ads, which reach people who have already interacted with your business, have been shown to boost engagement by 400%. Put those powerful tactics together, and you get a killer YouTube remarketing strategy that will earn you more leads and revenue.
What is YouTube remarketing?
YouTube remarketing, also known as YouTube retargeting, uses a combination of YouTube channel data and Google Ads targeting to help your business engage with people who have already interacted with your YouTube channel. With this form of digital advertising, you create an audience list in Google Ads based on different YouTube actions, including:
Viewing specific videos

Subscribing to a channel

Liking videos

Landing on a channel's homepage
Once you have your audience list, you can serve those people ads on YouTube or in Google's other ad networks. You do have to meet Google's audience size requirements, however, for your ads to show. Each network requires a specific number of active users for your ads:
Google Search Network:

1000 active users

YouTube:

1000 active users

Google Display Network:

100 active users

Gmail:

1000 active users
When you create your audience list, Google Ads will tell you if your audience is large enough for its requirements. If you don't meet the requirements, consider looking into other targeting methods until you have a large enough audience for remarketing, or focus on growing your YouTube channel through paid or organic methods.
How to create your YouTube remarketing list
Before you start remarketing to YouTube viewers, you need an audience for your ads. As we mentioned, creating your remarketing audience isn't that difficult. Two prerequisites for using YouTube remarketing are:
If you don't have either a YouTube channel or a Google Ads account, you'll want to spend some time setting those up. Once you have that squared away, you can get started with the YouTube remarketing process.
1. Link your YouTube channel to your Google Ads account
In order to gather YouTube audience data, Google Ads needs access to your channel. First, go to your YouTube Studio dashboard and open your advanced channel settings.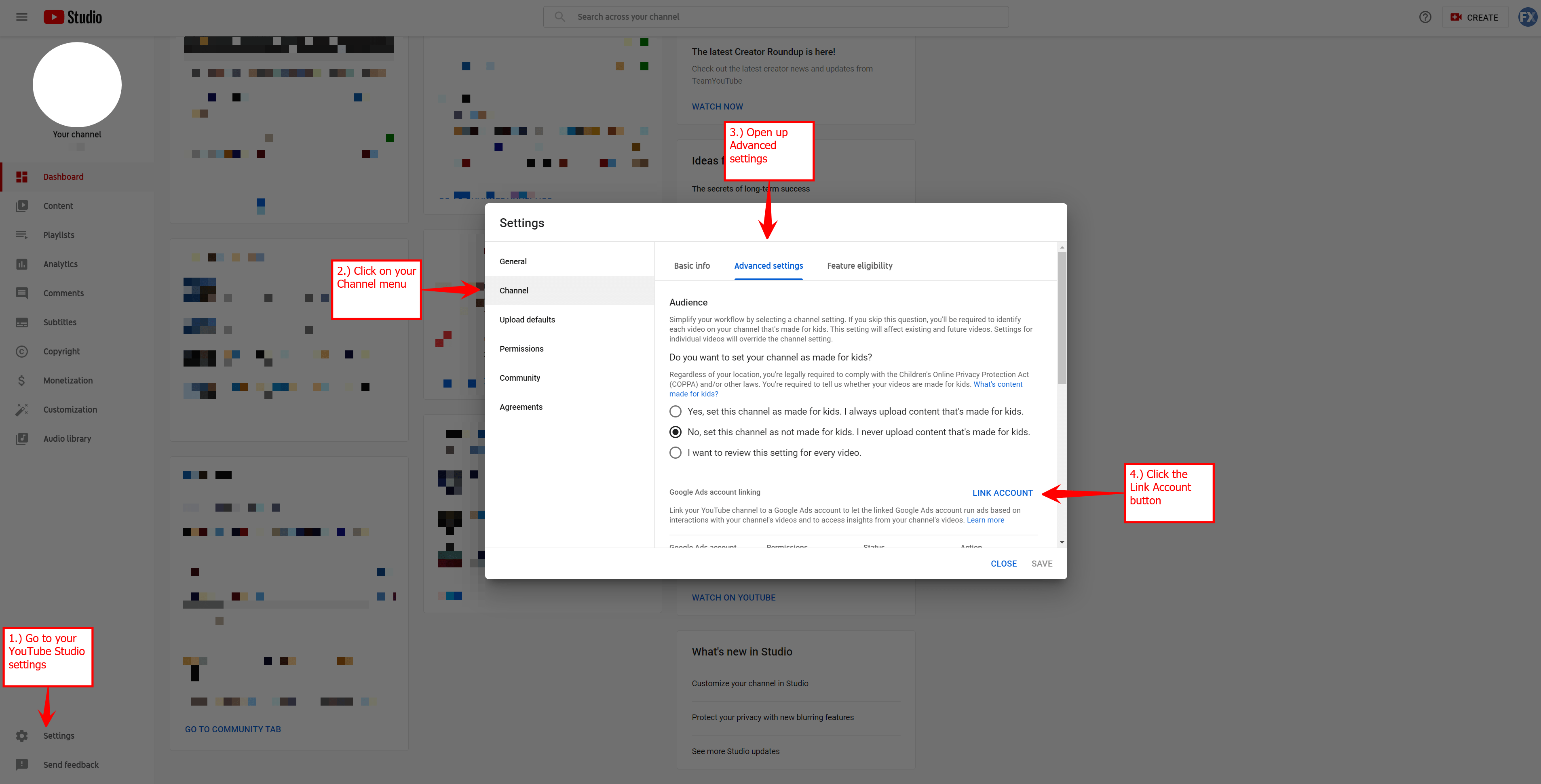 Then, click the "Link Account" button and add your Google Ads information.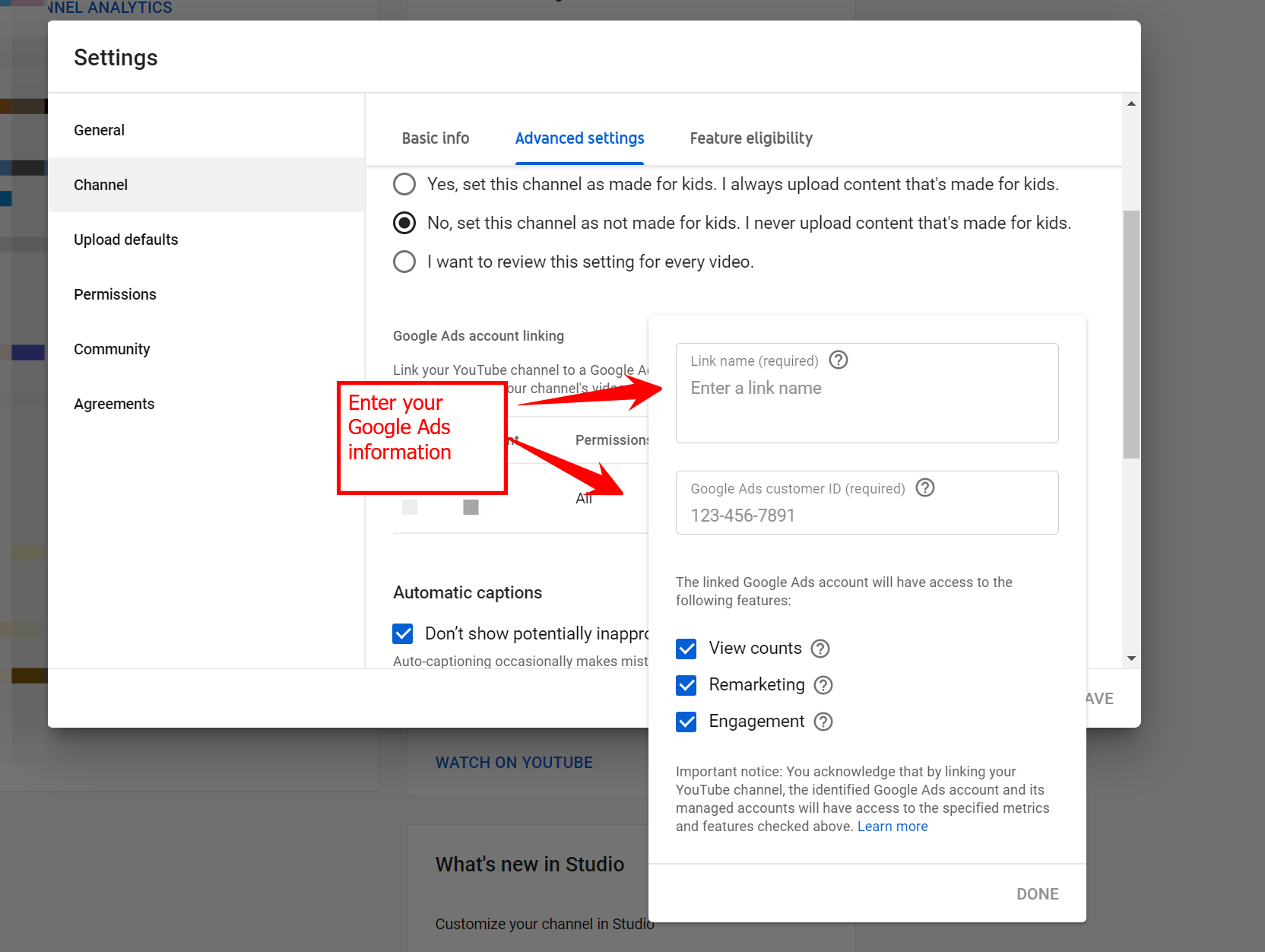 YouTube will ask for your Google Ads customer ID, which is a string of 10 numbers assigned to your business within Google Ads. You can quickly find it at the top of your Google Ads dashboard. If you have multiple businesses attached to your account, make sure you pull the correct customer ID.

Once you've given YouTube your Google Ads information, you'll need to approve the link request in your Google Ads account. You'll see the request as a notification in Google Ads. After you approve the request in Google Ads, you'll see that both YouTube and Google Ads say your accounts are linked. You can view the linking confirmation for YouTube in the same location you adjusted your settings.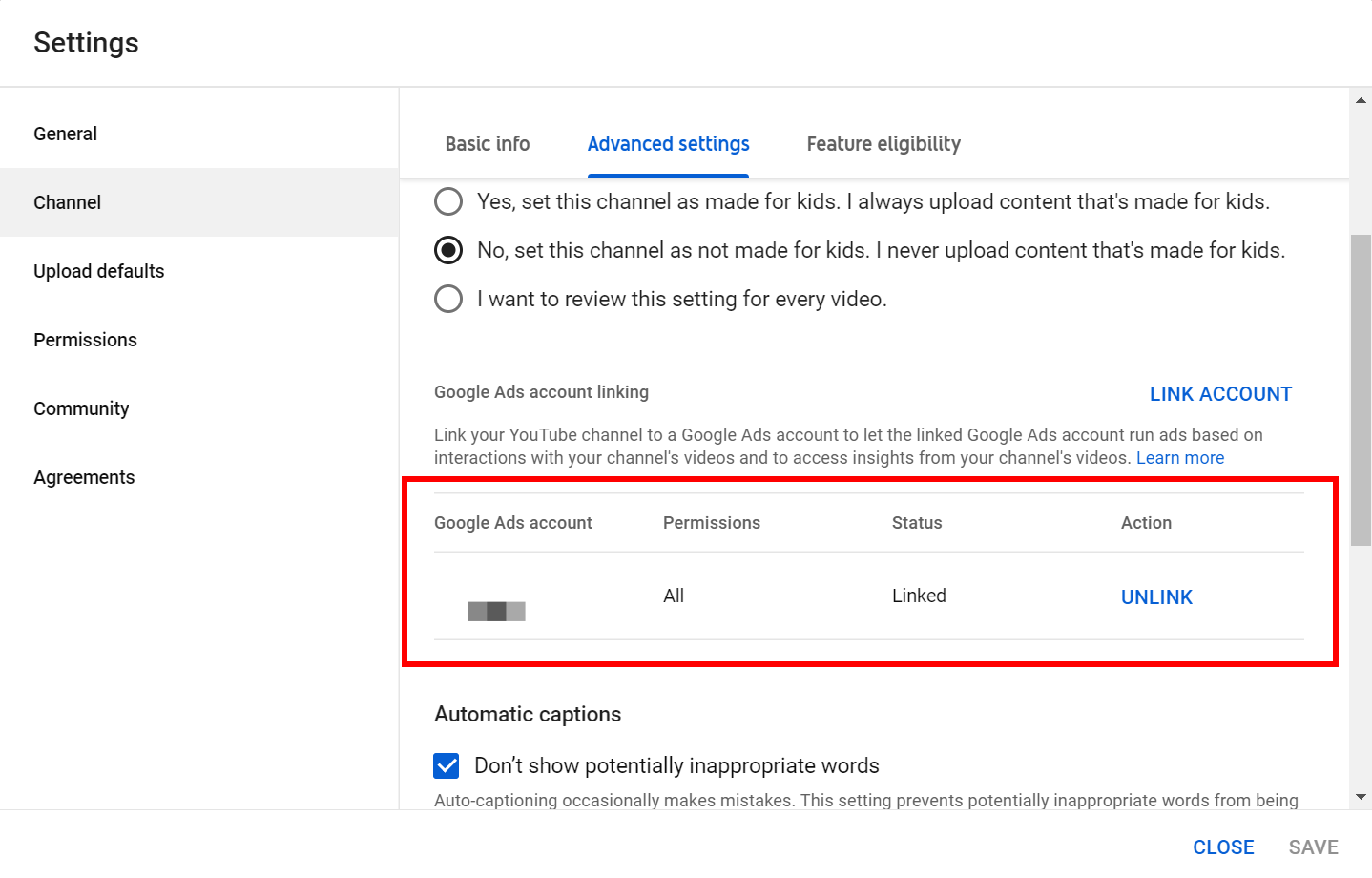 In Google Ads, you'll see that your accounts are linked by going to the "Linked accounts" menu and selecting "YouTube."

If you've confirmed that your accounts are linked, you're ready to create an audience list for your YouTube remarketing.
2. Create an audience from your YouTube data in Google Ads
You're going to spend a lot of time in the Google Ads "Audience Manager" menu to create your remarketing list.

In the "Audience manager" menu, click the blue plus button and select "YouTube users" to start building your remarketing audience.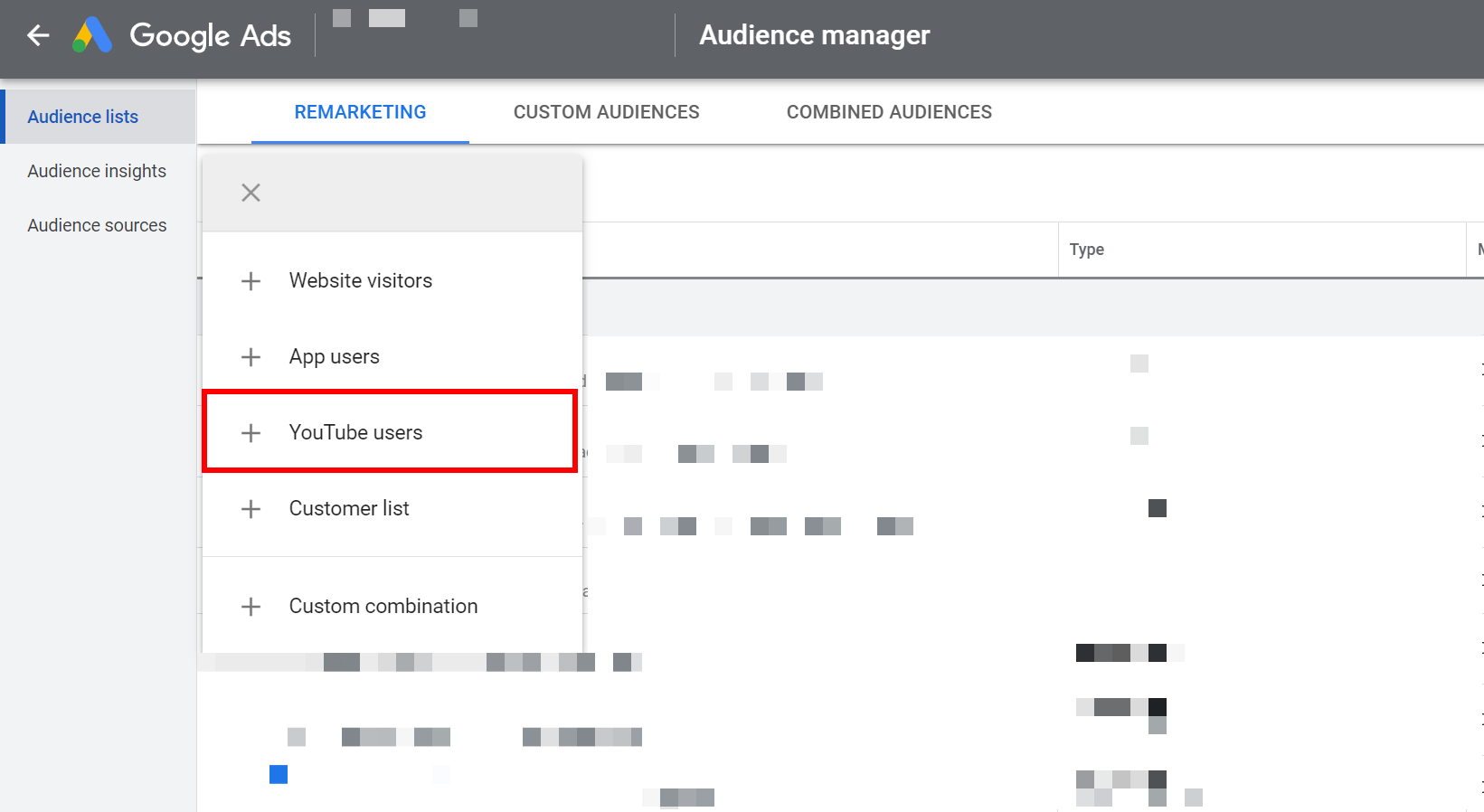 When creating this audience, you'll:
Enter an audience name

Choose who you want to include in the audience

Select a YouTube channel (if you have multiple channels linked to your account)

Decide on how Google Ads will collect audience data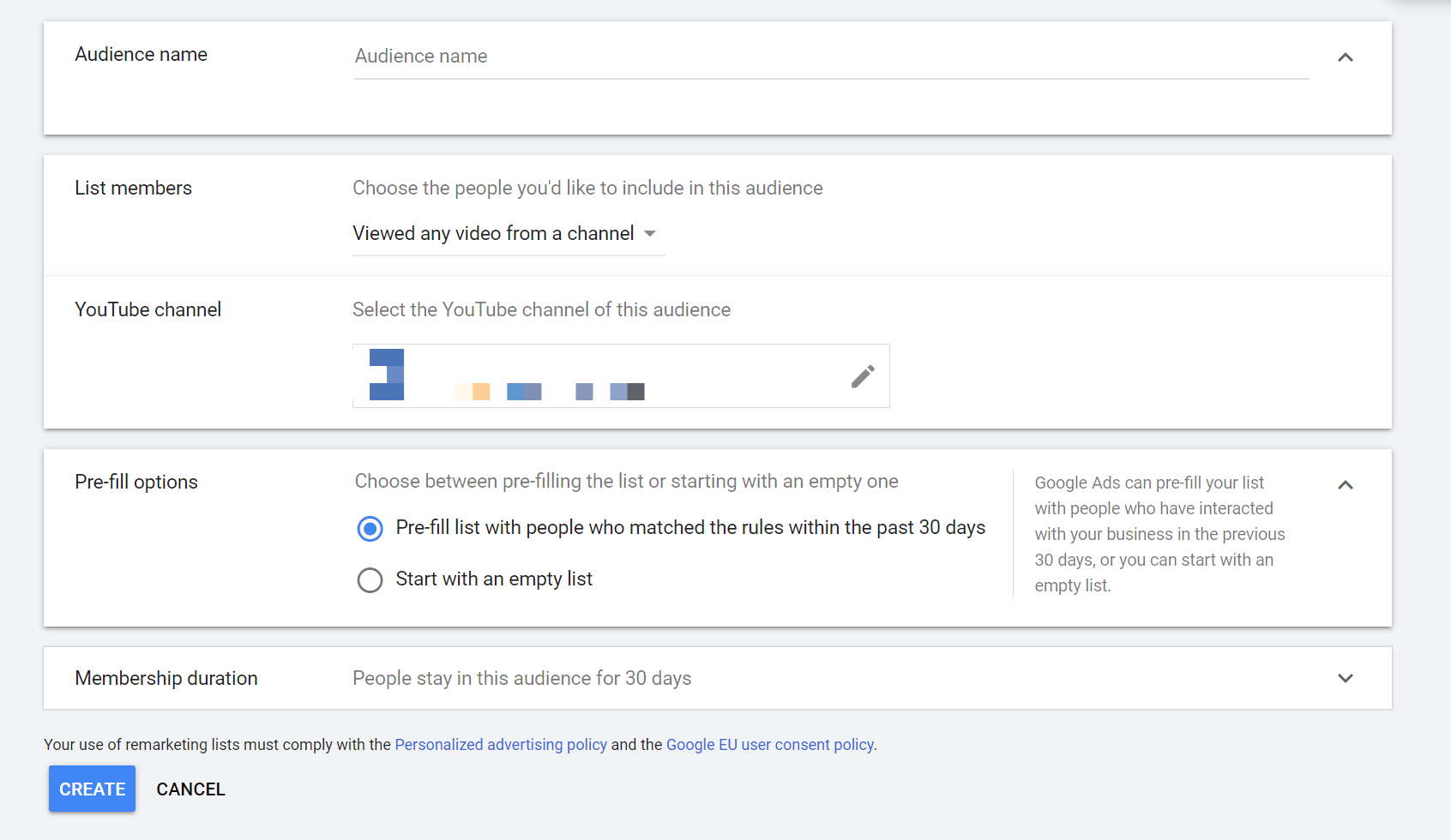 You have plenty of options to choose from when deciding who should be on your YouTube remarketing list. Click the dropdown next to "List members" to view all of your targeting options.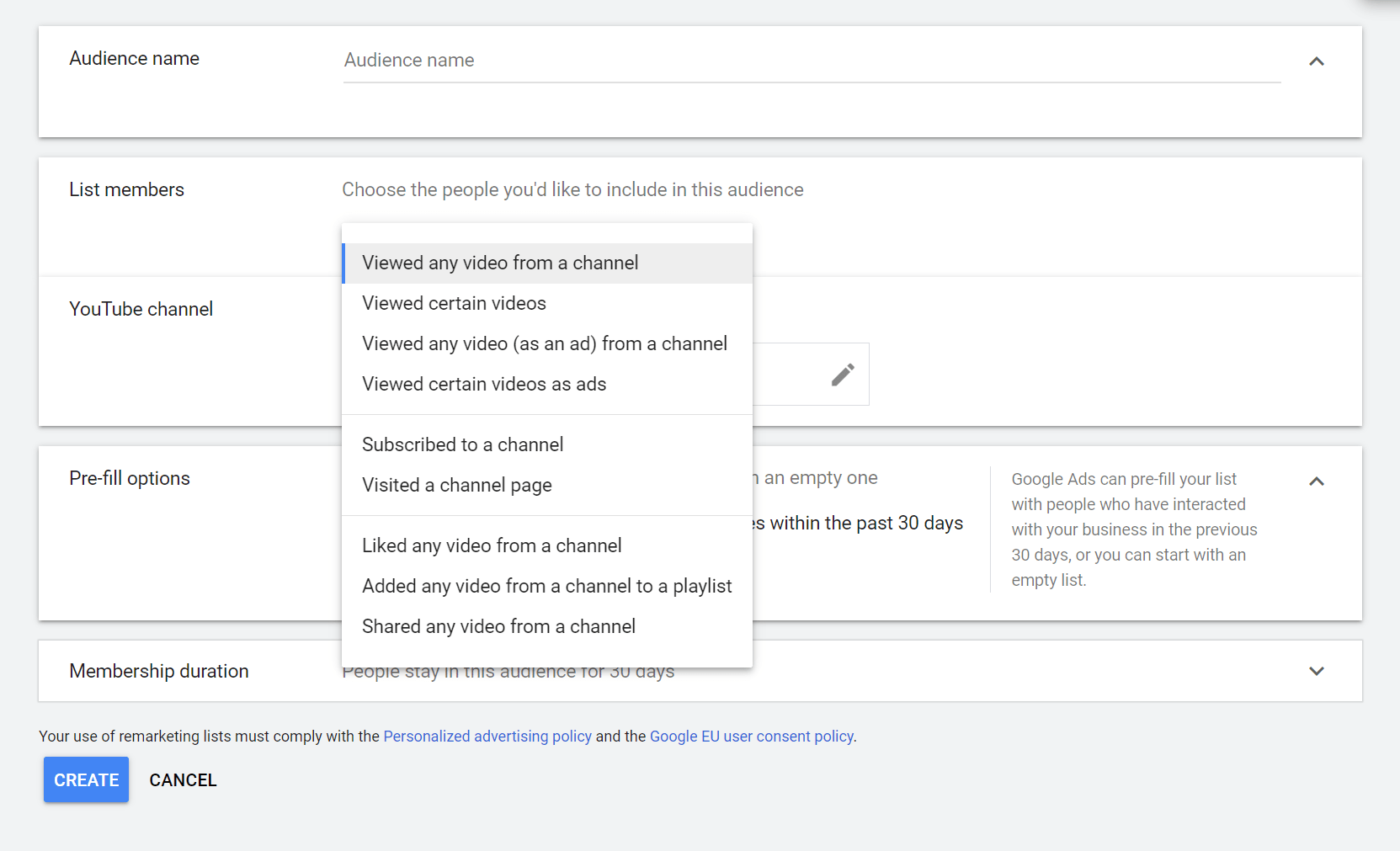 Some options will require more information than others. For example, if you choose to target people who watched a certain video on your channel, you'll be prompted to select a specific video.
Once your information is complete, select the "Create" button and let Google Ads gather your data.
How to add your YouTube remarketing audience to your ads
You've created an audience, and now it's time to use it! When creating your ad campaign, you'll select your target audience. Make sure the one you choose is the YouTube remarketing list you've created.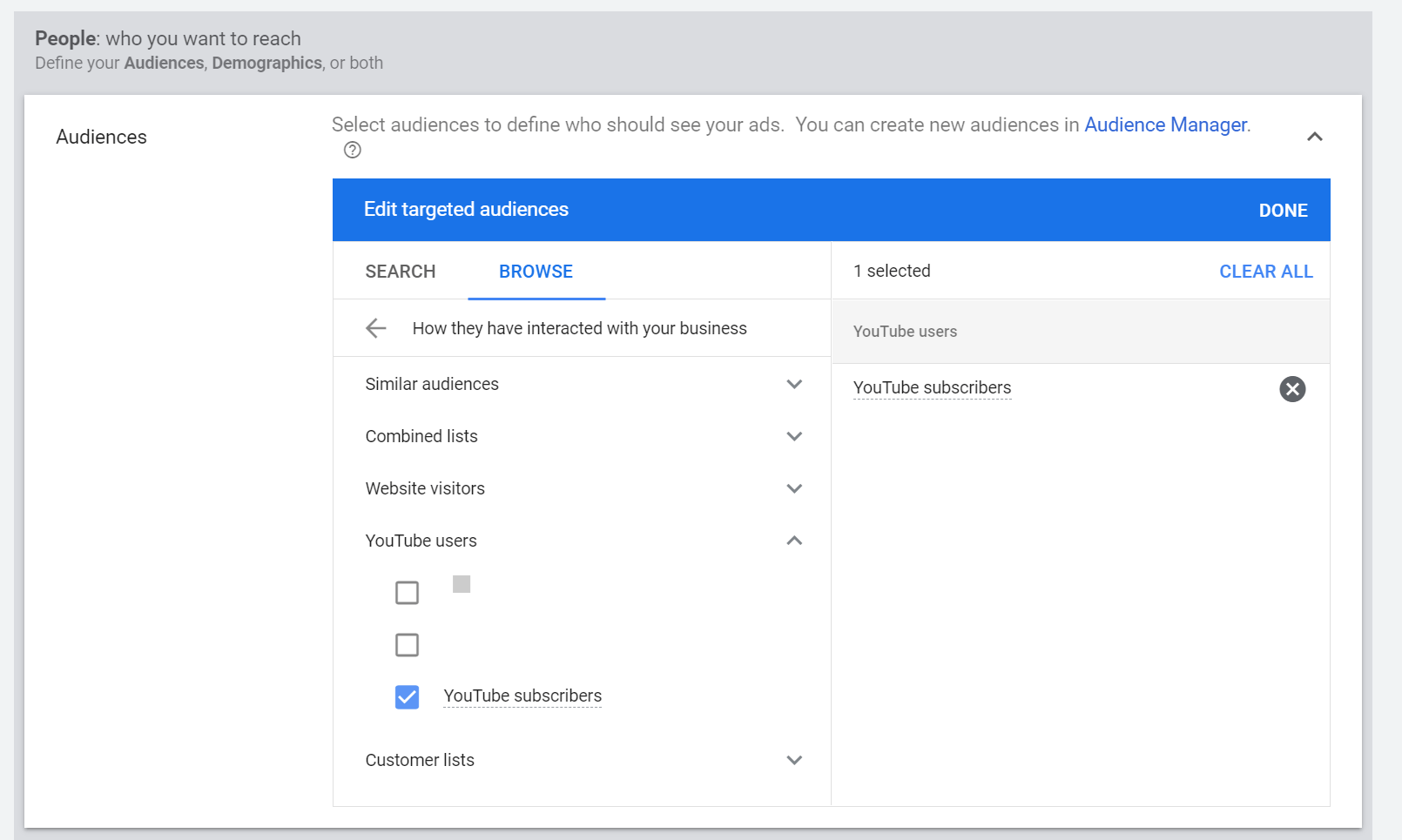 If you have multiple remarketing audiences, it may help to give each an identifiable name so you don't choose the wrong one. You can create your ad as you normally would, linking to a YouTube video, adding your business details, or uploading your files. If you plan to use your remarketing list for YouTube video ads, your ad needs to be hosted on YouTube. For best practices on how to create your business's ads, check out our Google Ads guide on our blog.
If you need help generating a positive ROI for your business with digital advertising, don't hesitate to reach out to our team at WebFX.
We'd be happy to help you grow your business with YouTube remarketing or any other type of ad that will work for you.
How is your website's SEO?
Use our free tool to get your score calculated in under 60 seconds.
Get posts by email
Join 200,000 marketing managers and subscribe to Revenue Weekly!
"*" indicates required fields
WebFX Careers
Join our mission to provide industry-leading digital marketing services to businesses around the globe - all while building your personal knowledge and growing as an individual.