How to Excel at Google Ads Campaign Management
With Google Ads (previously known as Google AdWords), your company can earn an impressive return on investment (ROI) of $8 for every $1 spent. Pocketing that kind of ROI, however, requires committing to your ad strategy and setting aside time every month for Google Ads campaign management.
Keep reading to learn how to practice Google Ads campaign management, which includes:
Checking and revising your campaign structure
Auditing and updating your campaign budget and bid
Analyzing and refreshing your keyword targeting
Assessing and optimizing your landing pages, ad copy, and ad extensions
Reviewing and refining your audience targeting
If the above checklist already reveals that you don't have time to manage your campaigns, WebFX can help. We offer Google AdWords campaign management services that make updating and improving your pay-per-click (PPC) ads an absolute pleasure.
Start earning more from your Google Ads by contacting us online or calling us at 888-256-9448!
Want to speak with a strategist? Reach us here!
888-601-5359
If you're not sure you want to partner with a PPC agency, take a moment to watch our video (below) and learn what PPC specialists can do for you.
1. Follow best practices for your Google Ads campaign structure
So, you want to manage your Google Ads in-house? Great!
Every successful Google Ads campaign starts with a solid campaign structure.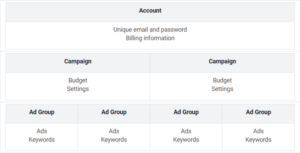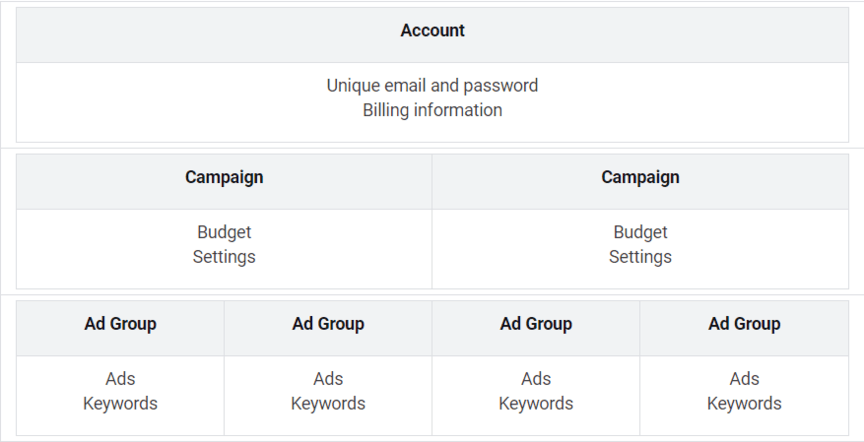 In Google Ads, you have the following hierarchy:
Account
Campaigns
Ad groups
Ads
Keywords
Review these definitions to learn more:
Account: Your account oversees all your advertising efforts. Its where you update your payment information, build your newest campaigns, and evaluate your overall advertising performance. You log in to your account via your Google account.
Campaign: Your campaign houses the budget and settings for a single campaign, which includes your ad groups, ads, and keywords. You can have more than one campaign running in Google Ads.
Ad group: Your ad group contains your ads and targeted keywords. It's specific to a theme in your overall campaign, like emergency plumbing services, sandals, or moving services. While related, your ad groups should have differences, like promoting formal or casual sandals.
Ads: Your ads (within your ad groups) feature your ad copy. You can create multiple ads for an ad group to test and determine which ones get the most attention and action from consumers. A free offer, for example, may drive clicks and conversions.
Keywords: Your keywords, also within your ad groups, detail what keywords trigger your ad to appear in search results. These keywords should coordinate with the theme of your ad group, like "emergency residential plumbers" for the ad group "Residential Emergency Plumber."
When it comes to Google AdWords campaign management, you want to focus on your campaigns, ad groups, and keywords. That's because it's easy for these features to cross-over, which can hurt their performance and ROI.
As an example, look at these two account structures:
Google Ads Account 1 follows an account structure based on best practices.
The account separates its campaign into two appropriate ad groups: One for residential and one for commercial emergency services. These ad groups then target keywords relevant to their audience and ad.
In comparison, Google Ad Account 2 doesn't follow best practices.
Settling for a single ad group hurts the performance of this account's campaign because the ads target a broad audience and keyword list. If the company's hoping to reach commercial and residential customers with personalized ads, it should create separate ad groups.
Using the above best practices, you can create an account hierarchy built for success.
Learn More About Google Ads
2. Audit your Google Ads' budget and bids (and set realistic ones)
Next, you want to assess your current campaign budget and keyword bids.
Depending on your campaign type, your bids may not target specific keywords. If you're running a remarketing campaign, for instance, you may stick with targeting users in your remarketing audience versus adding keywords too.
When it comes to Google Ads, most businesses pay $1 to $2 per click. If you're advertising on the Google Display Network, you'll probably have a lower cost-per-click (CPC). The average CPC for the Google Display Network is $1 or less.
Using these averages, you can generate a baseline budget for your Google Ads campaign.
In Google Ads, you set a daily budget. You can calculate your monthly budget by multiplying your daily budget by 30.4. This amount is the max amount your business would spend on your Google Ads campaign each month.
Monthly Budget = Daily Budget x 30.4
If you already have an existing campaign, Google will often provide a daily budget, as well as bidding recommendations. These recommendations often include insight into what your company could earn, like additional clicks, if you increase your budget.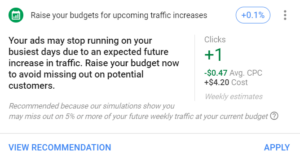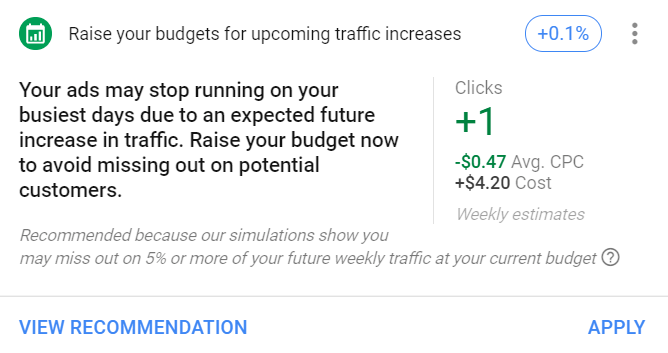 You don't have to follow these recommendations. However, you can use them for insight into your campaign performance since these recommendations come from Google Ads data. Use what Google is sharing with you to tweak your targeting, bidding schedule, and more.
For brand-new campaigns, follow Google's recommendation of starting with a $10-$50 daily budget.
Learn More About Costs for Google Ads
3. Analyze and refresh your keyword targeting
When it comes to advertising with Google Ads, most businesses will use keyword targeting. While you can take advantage of other targeting options, like location, age, and user behavior, you'll often base your campaigns and ad groups on keywords.
That's why keywords are an essential part of Google Ads campaign management.
For the best results with your Google Ads campaign, keep your keyword targeting up to date.
People change, and the phrases they use to find what they need evolve. Take searches for cellphones, for example. People search significantly more for the "best smartphones" than the "best cellphones" these days.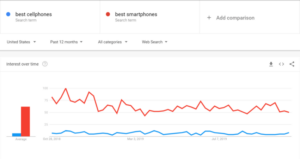 You can assess the performance of your current keyword a few ways, including: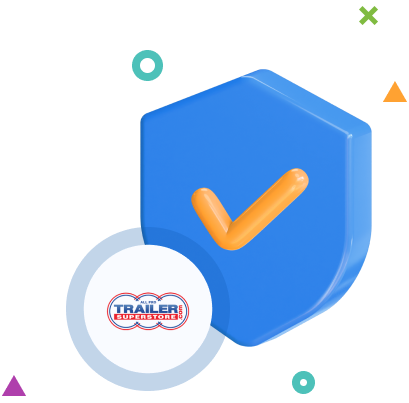 A Partner Businesses Trust
WebFX has helped us expand our digital footprint not only in Central PA and the mid-Atlantic, but also throughout the Continental U.S.
See the Case Study
The above tools (Google Trends, Google Keyword Planner, KeywordsFX, and Keywordtool.io) can also help you find new keywords to target. Google Keyword Planner is a go-to choice when it comes to Google campaign management because of its multiple features.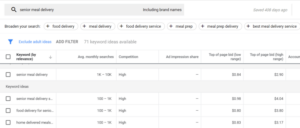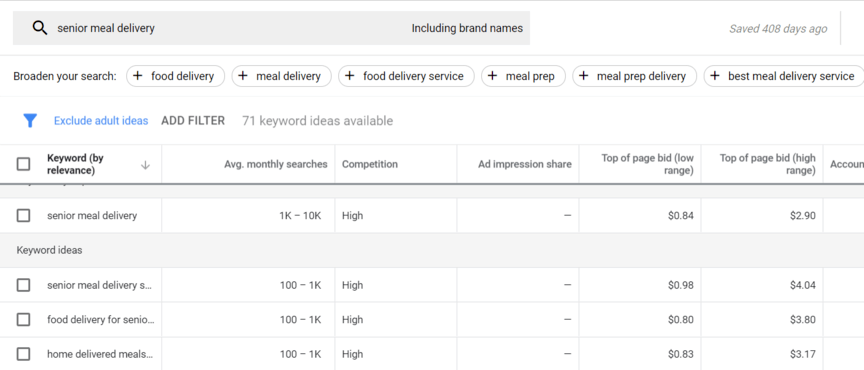 With Google Keyword Planner, for example, you can receive:
Keyword suggestions for broadening or narrowing your search
Keyword data on search volume, competition, and low and high bids
Keyword filters for narrowing your list of results
Keyword groups for easier ad group creation
For the best results with your Google Ads, target long-tail keywords.
These keywords feature three to four words, which results in a lower search volume and less competition in paid search results. For small-to-midsized businesses (SMBs), long-tail keywords are a must because short-tail keywords bring immense competition from big-brand companies.
Checking your keyword targeting every month can help you maximize the performance of your ad campaigns. It can also help you discover new keywords to target, which can lead to new ad groups and new leads.
Learn More About Keywords and Google Ads
4. Optimize your ads, landing pages, and more
With your ad hierarchy, budget, bids, and keyword targeting management done, you can move onto one of the most exciting parts of Google AdWords campaign management: Optimizing your landing pages, ads, and more.
Keep reading to learn more about these optimizations (or skip to your favorite!):
Ads
In Google Ads, you can optimize your ads in a few different ways, including:
Experimenting with different ad copy
Adding new ads for users to see
Trying different ad offers
If you decide to test your ads, you will want to change your campaign-level settings using these steps:
Go to your ad campaign
Select "Settings" from the sidebar menu
Choose "Additional settings"
Click "Ad rotation"
Select "Do not optimize: Rotate ads indefinitely" or "Rotate evenly"
This updated setting provides you with accurate data about the performance of your ads. The default setting (which shows your highest performing ads) can lead to inaccurate data, especially if you're testing a new offer against an existing one.


If you stop optimizing your ads, return this setting to the default option — "Optimize: Prefer best performing ads." Preventing Google from showing your top ads when you're not testing them can hurt the long-term performance of your campaign.
Ad extensions
As a part of your Google AdWords campaign management, you can also experiment with different ad extensions. Using ad extensions can improve the performance of your ads, as well as your Ad Rank, which considers the impact of your ad extensions on a user's experience.
A few examples of some ad extensions include:
It's free to include ad extensions, so take advantage of them.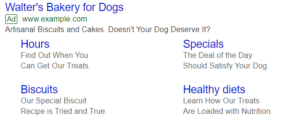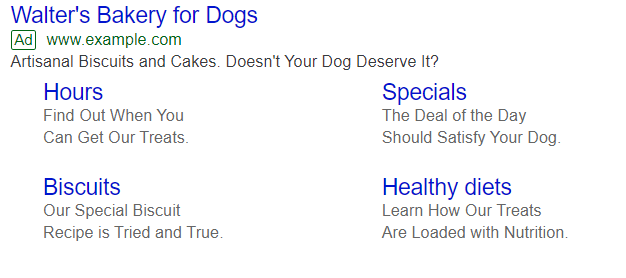 For the best results, choose your ad extensions based on your goal.
If you're looking to get customers to visit your physical location, for example, a location extension could work well. In comparison, a company that doesn't operate a storefront location (like an ecommerce store) may want to use the sitelink extension to get users on their website.
Landing pages
Landing pages also deserve attention when it comes to Google campaign management.
These pages play a massive role in your ad performance and your user's experience. If you want to drive clicks, traffic, and sales with your PPC ads, then you need to spend some time optimizing and testing your landing pages.
As a part of your Quality Score, Google looks at your landing page experience, which includes:
Your landing page's relevance
Your landing page's transparency
Your landing page's usefulness
Your landing page's mobile-friendliness
Your landing page's speed
You can improve your landing page in each of these areas.
With the help of a landing page design and development team, for example, you can make your landing page mobile-friendly and fast. You can also ensure that the page offers value to users and transparency with a custom page.
Even if you have a top-notch landing page, you can still experiment, like with the following ideas:
Changing calls to action (CTAs)
Updating button locations or colors
Adding new features, like progress bars
And more!
With every test and result, you can gain more insight into what works for driving conversions. If you don't have the time for these kinds of tests, you can also invest in conversion rate optimization (CRO) services, which can help you maximize the value of your ads.
Targeting
Once you have a few weeks or months of data (depending on your audience size), you can start experimenting with audience targeting settings. These settings help you refine your audience and focus on the people that matter most.
A few examples of some targeting settings in Google Ads include:
Location
Device
Demographics
Topics
Placements
And more
Use your audience and campaign data when updating your targeting settings.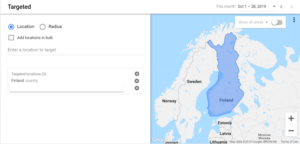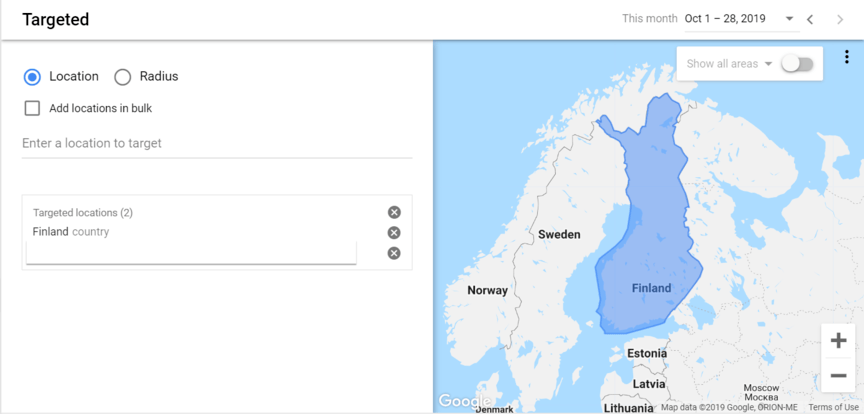 If you notice that tons of clicks, but zero conversions come from mobile devices, for example, consider removing mobile devices from your audience. Or, create a separate ad group that targets those mobile device users, but with a different goal, like brand awareness.
Either way, use your ad campaign data to make data-backed decisions about your campaign strategy.
Learn More About Optimizing Google Ads
Skip the above steps with Google AdWords campaign management services
Do you want to take a proactive approach to managing your Google Ads campaign, but don't have the time? Consider Google AdWords campaign management services from WebFX. With these services, your business can improve your campaign's performance and ROI, but without overwhelming you.
As an agency with more than 20 years of experience, as well as more than 200 PPC specialists, WebFX is a trusted choice for SMBs looking to get more from their Google Ads campaigns. Just in the past five years, we've helped our clients earn more than $1.5 billion in revenue from online marketing.
Are you ready to see what we can do for you? Contact us online or call us at 888-256-9448 today!
FAQs about Google Ads campaign management
Got questions about Google Ads campaign management? Browse our FAQ:
What is Google Ads?
Google Ads, previously known as Google AdWords, is Google's advertising network. Via Google Ads, you can advertise your business in Google Search, as well as across third-party sites vetted by Google, using targeting options that deliver your ads to the people that want to see them.
What is a campaign in Google Ads?
A campaign in Google Ads is a set of ad groups that contain ads, keywords, and bids. When talking about Google Ads account hierarchy, campaigns play a pivotal role because they organize your ad strategy, theme, and focus.
What is campaign management in Google Ads?
In Google Ads, campaign management focuses on updating and maintaining your Google Ads. For many businesses, Google campaign management is a time-consuming process because it requires dedicating a significant amount of time to multiple campaigns, which can require hours of work.
A few examples of some campaign management tasks include:
Revising ad groups
Updating keyword targeting
Checking bids and budgets
Testing ad copy
Implementing new landing page designs
And more
Due to the time commitment that Google Ads campaign management requires, as well as the necessary PPC background, many companies outsource and invest in professional PPC services for managing and improving their paid ad strategy.
Why advertise on Google Ads?
Advertising on Google Ads offers several benefits, including:
Access a massive market: Google is one of the largest search engines, claiming 76% of the world's market share. If you want to advertise online, Google Ads is the platform to use. You cannot afford not to have a Google Ads campaign.
Connect with ready-to-buy users: Paid ads help your business reach people that want to buy your products or services. Studies even show that people who click on ads are twice as likely to buy a product than a visitor that found your site via an unpaid listing.
Get actionable data: Google Ads also gives your company a tremendous amount of data. You can learn about the demographics, location, and interests of your audience and apply that knowledge to other areas, like content marketing and search engine optimization (SEO).
When you spend time managing your campaigns, you can amplify these benefits. Updating your keyword targeting, for instance, can help you connect with more ready-to-buy users while tweaking your landing page experience can drive your conversions up.
Earn more from your Google Ads with Google Ads campaign management
When you're looking to earn more from your Google Ads, whether its clicks or conversions, it's smart to partner with an experienced Google Ads agency, like WebFX. With our decades of experience and impressive client retention rate (it's over 90%), we're the choice for Google Ads campaign management.
Learn more about how we can help by contacting us online or calling us at 888-256-9448 today!