Did you know that around 80 percent of companies focus on Google for pay-per-click (PPC) campaigns? While there are other options for running PPC campaigns, Google Ads is the best platform for reaching the most leads. You'll help your business grow and expand your reach.
In this post, we'll show you how to advertise on Google in six simple steps.
Let's get started!
How to advertise on Google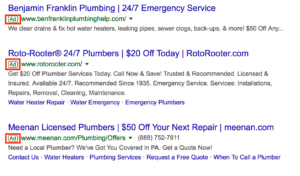 You're looking into reaching new customers through Google, so what are your advertising options? Google has a paid advertising option called Google Ads.
Google Ads is a PPC advertising system that allows companies to reach relevant leads. These are paid advertisements that appear at the top of the search results.
They are tagged with the word "ad" to indicate paid content.
These ads appear above the organic search results, so they're the first thing your audience sees when they visit your site. PPC ads are a great way for your business to find valuable leads interested in your products or services.
6 steps for advertising your business on Google
If you're ready to start advertising on Google, here are the six steps to get started:
1. Set your goals
Any time you run an advertising campaign, you must know what you're trying to achieve.
Before you begin setting up your campaign components, you must set a goal for your campaign. Whether it's brand awareness or conversions, you must have a goal or an objective in mind. Setting a goal will help you create a campaign that maximizes results.
Since PPC visitors are 50 percent more likely to convert than organic visitors, many companies focus on obtaining valuable leads that will buy their products or services.
They choose a goal that focuses on earning conversions with their PPC campaign.
While focusing on conversions is a popular option, it isn't the only option. You can focus on getting people to download a guide or start a free trial (a different kind of conversion) or building brand awareness. PPC ads are great at helping your business reach interested leads.
2. Choose your keywords for Google Ads
Keywords are a crucial part of your PPC campaign.
If you want to know how to advertise on Google, start by researching keywords. Keywords trigger your ad to appear in relevant search results. If you want to appear in search results with leads interested in your products or services, you must choose the right keywords.
Keywords will drive relevant leads that are looking for your business.
To find relevant keywords, you must conduct keyword research. Keyword research will help you find keywords for your PPC ad.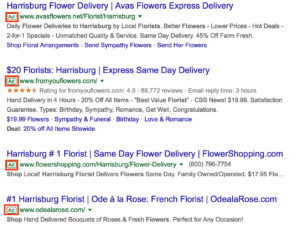 As you conduct keyword research, focus on long-tail keywords.
These are keywords that contain three or more words.
An example of a long-tail keyword is "floral shops in Harrisburg, PA." Long-tail keywords are best for your campaign because they drive more qualified leads.
If someone searches "floral shops in Harrisburg, PA" you know exactly what they hope to find. On the other hand, searching for a keyword like "floral" or "floral shops" could have many intentions that aren't related to finding a floral shop in Harrisburg.
When you select your keywords, choose long-tail keywords. It will help you reach more qualified leads and drive better results for your campaign.
3. Set your maximum budget and bid
Once you have your keywords selected, you'll move on to the financial aspect of your campaign. The first component is your budget. So, how much does it cost to advertise on Google?
You must determine how much you want to spend to obtain leads.
There is no set minimum amount your business must meet to run a PPC campaign. Whether it's $500 or $2000 per month, you decide the amount that works best for your business. It's important to note, however, that a campaign with a $2000 budget will perform significantly better than a campaign with a $500 budget.
Once you have your budget set and keywords selected, you'll bid for your ad's placement.
You must set your maximum bid, which is the maximum amount you're willing to pay each time someone clicks on your ad.
This is how much it costs you to advertise your business on Google and obtain clicks on your ad. The average cost per click (CPC) is between $1-2 for most companies.
This cost will vary depending on your industry. In more competitive industries, like automotive, the CPC can get as high as $50 per click!
4. Create your landing page for your Google Ads campaigns
Half of the puzzle is setting up your ad campaign and creating awesome PPC ad copy that gets your audience to click. The other half is what happens after they click on your ad. If you want to keep those clickers engaged with your business, you must create a campaign-specific landing page to keep their interest.
Creating a customized landing page will help you drive the best results.
When you create a customized landing page, you want to ensure that your page focuses on the content of your ad. Your landing page and ad should match to ensure you're driving the right people to your page.
Let's say you're running an ad for the keyword "wedding flower arrangements in Harrisburg, PA." Imagine that someone clicked on your PPC ad and gets directed to your homepage. Would that be relevant to their search query?
The answer is no.
Someone who is searching for wedding flower arrangements wants to see a landing page specifically tailored to wedding flower arrangements. If you don't have a page specific to your product or service, you risk losing leads because they can't find relevant information.
By creating a custom landing page, you'll keep your information focused on the product listed in your PPC ad, which will drive better results for your business.
5. Improve quality score
As you look more into how to advertise on Google, you come across the term "quality score."
Quality score plays a vital role in determining your ad's rank in the search results.
Your quality score is a numerical value that Google assigns to your ad based on its relevancy. Google only wants to show audiences the most relevant content to their search query, so they take time to rate your ad in terms of relevancy to the related keyword.
You want to have a high-quality score to rank higher in the search results.
A high-quality score with a low maximum bid will always outrank a low-quality score with a high maximum bid. Google cares about quality, not how much you're willing to bid for the top spot.
Creating a relevant ad to the search terms will help your ad earn a better quality score.
When you choose your long-tail keyword, ensure that your ad and landing page match the user intent for the search query.
6. Launch and monitor your Google Ads campaign
Once you find your keywords, set your maximum bid, and create your customized landing page. Now, you're ready to start reaching leads on Google. You'll obtain your placement, based on your quality score, and immediately be able to launch your campaign.
An essential part of advertising on Google is monitoring your campaign.
You want to ensure that your ad is providing the best experience for your audience. To truly know how to advertise your business on Google, you must know how to monitor your advertisement's performance.
You can do this easily through the Google Ads dashboard. Here, you'll get valuable insights into your campaign to see how your ad performs.
Google allows you to see various interactions with your ad. You can monitor actions such as impressions, clicks, and conversions.
It's an excellent way for you to see where your campaign succeeds and where it falls short.
Start advertising your business on Google today
Google is an excellent platform for you to advertise your business and reach new leads. By setting up a PPC campaign with Google Ads, you'll help your company expand your reach and obtain more leads and conversions.
If you want to learn more about how to advertise on Google, contact us online to learn more.
WebFX Careers
Join our mission to provide industry-leading digital marketing services to businesses around the globe - all while building your personal knowledge and growing as an individual.