May 20, 2022
5 minute read
The WebFX team is made up of more than 450 subject matter experts in digital marketing, SEO, web design and web development, social media, and more. Together, they've helped WebFX's clients earn more than $3 billion in revenue from the web — and that's just in the past five years. @webfx

Banner Advertising
Banner advertising is a powerful online marketing strategy that utilizes visually appealing banners placed on websites to attract and engage potential customers, ultimately driving traffic and increasing conversions.
Online advertising is one of the most effective types of marketing campaigns there is. When you display ads to users based on their specific interests, they're very likely to engage with them and end up becoming customers down the line.
There are different kinds of paid ads online. For example, paid search ads are one of the most popular kinds. But you can also use display ads — or, more specifically, banner ads — to promote your business. But what is banner advertising? Keep reading to find out.
Then subscribe to Revenue Weekly — our email newsletter — for more digital marketing tips from the experts!
What is banner advertising, and how does it work?
Banner ads — also called display ads or web banners — are advertisements embedded on a page that link back to the advertiser's site. These ads typically appear as bars at the top or sides of a webpage that advertise a company's products or services.
Banner ads can be static or animated and often contain a combination of graphics or media and text.
How can banner advertisements help your business grow?
Banner ads can attract new audiences and build brand awareness for your company by increasing visibility. Viewers will see your banner ad on another website's page and may be inclined to click on it, which will take them to more of your content and possibly lead to a conversion.
When you make your banner ad as appealing as possible, you open up opportunities to convert leads. Using this advertising style is easy and cost-efficient, making it an excellent tool to add to your marketing campaign.
Is banner advertising effective?
Like other forms of pay-per-click (PPC) advertisements, banner ads are a cost-effective way to enhance your company's visibility and convert viewers.
With smart banner advertising best practices, you can achieve the following:
Increase leads

Boost visibility

Build brand awareness

Target certain customers

Market affordably
How to make the most of your banner advertisements
Banner ads can be an effective way to gain more of a following and reach new audiences, but you have to use proven best practices to see tangible results.
Follow the guidelines below to create a successful banner ad.
1. Use the right size
The first and most basic step to designing an effective banner ad is determining the best size for your ad's message.
Below are the most effective banner ad sizes:
Leaderboard:

728 x 90 pixels
Medium rectangle:

300 x 250 pixels
Large rectangle:

336 x 280 pixels
Half page:

300 x 600 pixels
When choosing the right size for your ad, consider factors such as your budget and the number of words or graphics you want to display to determine which size is best.
2. Consider the placement
You should strategically purchase space on a website that's likely to get views. For the best chance at success, you want your design to be featured near the top of the page and close to the main content.
3. Keep it simple
Viewers see banner ads on a page full of other, unrelated content. It's essential to keep the overall message and graphics on banner ads simple so they stand out on the page and tempt readers to click away.
Shoot for the following goals when designing banner ads:
Instant readability:

Make sure any wording on the ad is clear, concise, and easy to understand immediately. You want readers to be able to see your ad and instantly get the message.
Dominant company logo:

Your company logo should be clearly visible on your banner ad for a recognizable and memorable advertisement.
Clearly defined frame:

Keep your ad's content within an established frame to draw viewers' eyes.
Straightforward call to action:

Your

call to action (CTA)

should be a short, concise message that invites readers to take action and complete the goal of your advertisement.
4. Use buttons when appropriate
Buttons are an excellent way to boost your click-through rate (CTR). A visually pleasing button with a compelling statement can entice audiences to click on your ad and lead to more conversions.
If you include a button, it should come after your text and have a clear, actionable statement that encourages viewers to do something immediately, like "Learn more" or "Watch now."
5. Incorporate animation
While any stunning visuals can grab viewers' attention, animated banner ads typically outperform static versions. A subtle, non-distracting animation will catch readers' eyes and make your ad more appealing without being obnoxious — making it more likely they will follow through and complete the ad's goal.
Make your animation short — 15 seconds or less — and be sure the CTA is still clear and actionable for best results.
6. Be consistent with your branding
As with any new marketing strategy, you want to channel your business's existing aesthetics when designing a banner advertisement.
Take special note of the following to ensure your ad and your company's existing brand advertising are cohesive:
Colors

Written tone

Layout

Graphics

Fonts
You can use your business's preferences for the above to help narrow down your design and wording choices and create an ad tailored to your company's needs.
7. Create a sense of urgency
A significant aspect of a banner advertisement's success is its ability to make viewers want to drop what they're doing and click on the ad to learn more immediately. One of the best ways to accomplish this is to make your CTA time-sensitive so the audience feels a sense of urgency.
Offer an incentive in your banner ad that encourages your audience to take immediate action. You can use promotions such as "Click now and save 25%" or "Take an additional 30% off when you order through this link."
Phrases like these make it seem as though viewers will miss out on a great deal if they don't act right now, making it more likely that they'll take advantage of the offer!
Time to Level Up Your Sales
Our long list of services helps you grow every aspect of your business with marketing strategies that are proven to increase bottom-line metrics like revenue and conversions.
In the past 5 years, we've managed more than 12.9 MILLION transactions across our client base.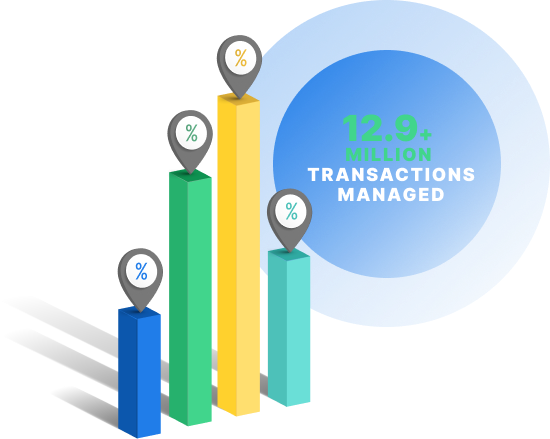 WebFX can design eye-catching and effective banner advertisements
If you're new to creating banner ads, get professional support from the team at WebFX. Our award-winning digital marketers make banner ads that work!
Call us today at 888-601-5359 and see your company benefit from our team's expert banner design that drives measurable results.
Request your free quote and get started today!
The WebFX team is made up of more than 450 subject matter experts in digital marketing, SEO, web design and web development, social media, and more. Together, they've helped WebFX's clients earn more than $3 billion in revenue from the web — and that's just in the past five years.

@webfx

WebFX provides digital marketing solutions with expert marketers, designers, and developers to increase visibility, conversions, and revenue.

Learn more
Cost Per Click (CPC) Calculator
Do you advertise on platforms that charge per click? Use our calculator and figure out exactly how many clicks will fit within your budget.
Calculate Your CPC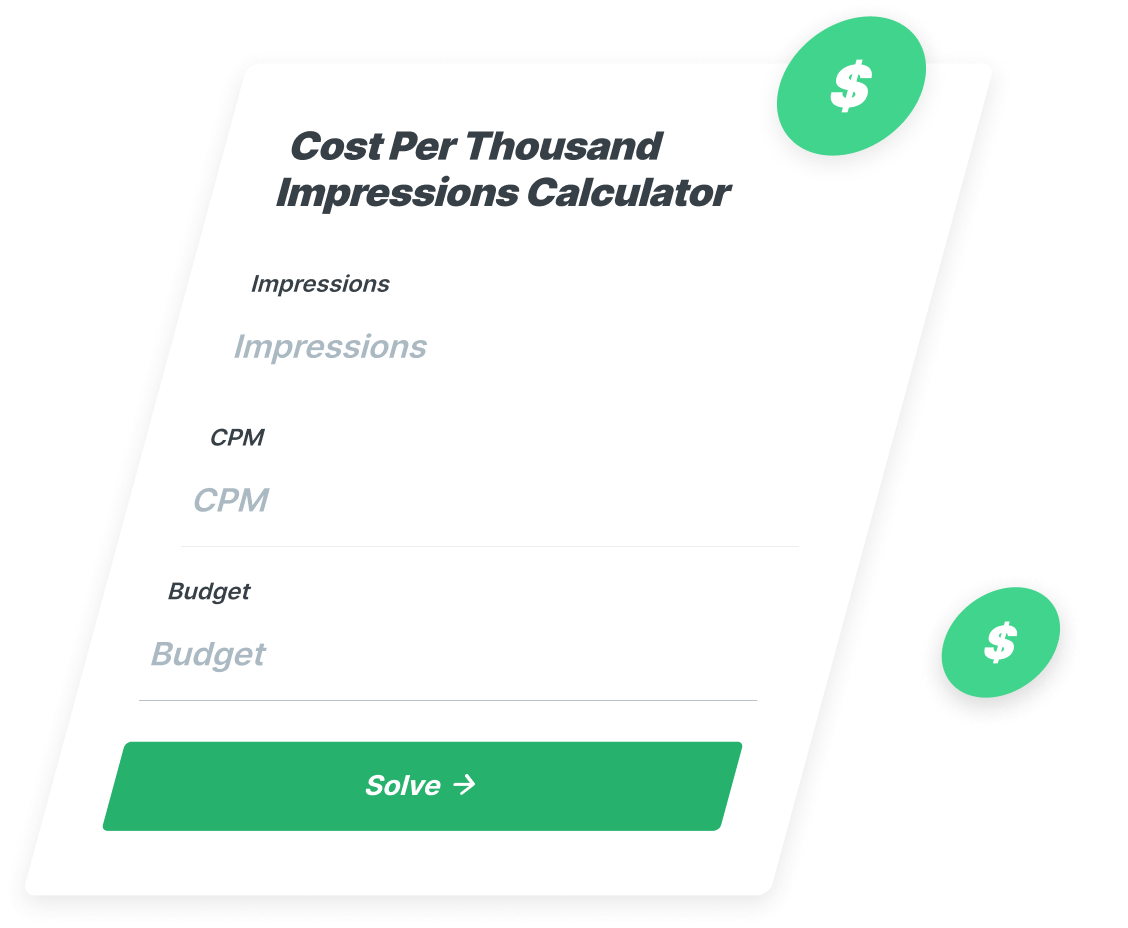 Unlock the Potential of PPC for Your Business
See how WebFX helped another company increase quote requests from paid search.
See How We Did It
Cost Per Click (CPC) Calculator
Do you advertise on platforms that charge per click? Use our calculator and figure out exactly how many clicks will fit within your budget.
Calculate Your CPC