Banner ads are one of the oldest and most well-known forms of Internet advertising.
In fact, Wired hosted the first ever banner ad on October 27, 1994. It was a simple banner sponsored by AT&T.

Since then, the banner ad has all but taken over the Internet landscape.
But don't most people think banner ads are annoying or spammy? Do people actually click on them?
Yes, they do — but thankfully, they've come a long way since 1994.
Like most forms of Internet advertising, it's a matter of maximizing clicks and minimizing costs.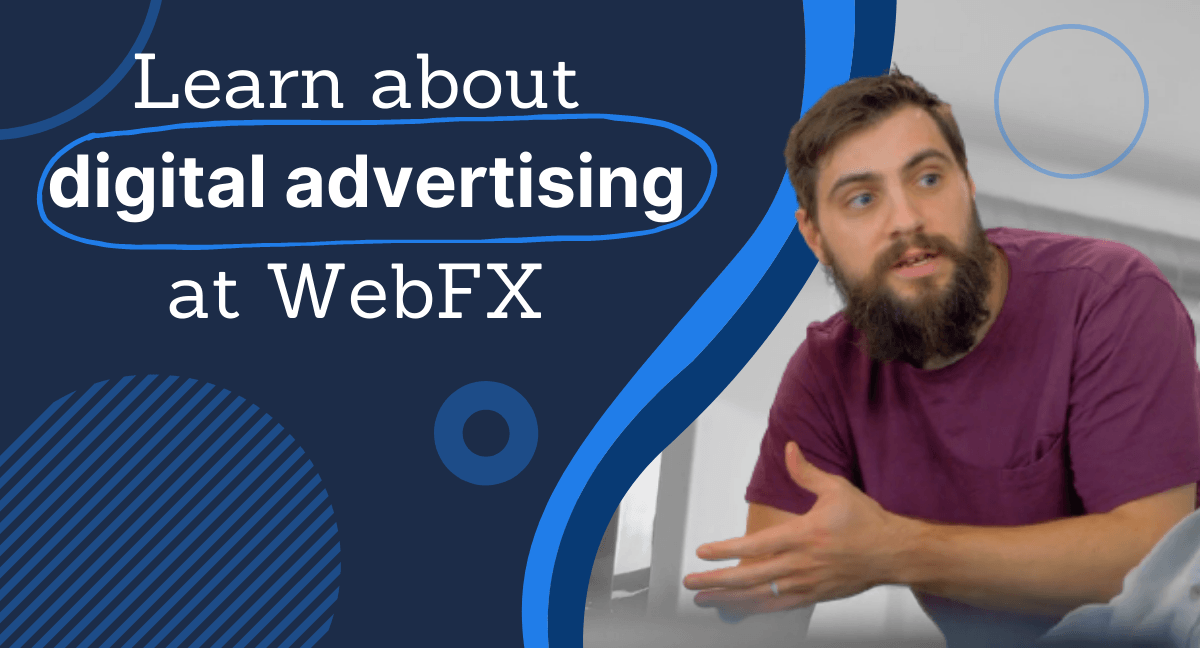 Call 888-601-5359 to speak with a strategist about digital advertising plans from WebFX, or keep reading to learn more about how banner ads and other forms of online advertising help businesses attract customers online.
Maximizing clicks for banner ads
When you make a banner ad, you want it to be as engaging and attractive as possible, while conveying the right message about your product.
That requires a lot of in-depth knowledge about your product, your customer, and your display network. Combined, that knowledge will guide your creation process, so you end up with a top-notch banner ad that continually attracts new customers.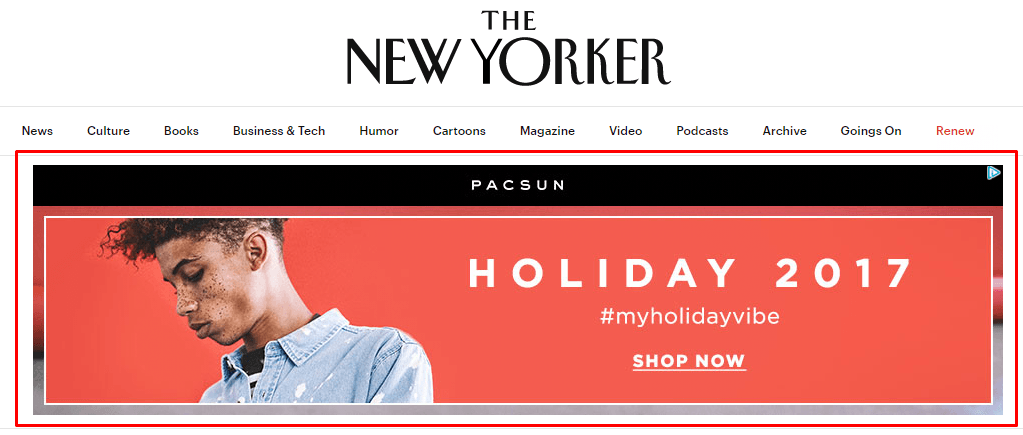 Knowing your product
If you're creating banner ads for your company first-hand, then you should already be familiar with the details of your product and the results of using it.
Those details are valuable to any banner ad campaign, since they're the hooks that'll catch a reader's attention.
After all, you don't just want to talk about what a product does — you also want to highlight the results.
Do you sell fireplaces? Show a happy family huddled on a couch together.
Do you sell sports drinks? Show a sweating athlete downing your company's most popular flavor.
Do you sell software? Show professional business people shaking hands, smiling, and advancing their careers.
In advertising, the devil is always in the details — but the appeal is in the results.
Knowing your customer
Unless you've just started a company, you should have a fully fleshed-out idea about who your ideal customer is and what they do day-to-day.
You can start that by keeping an eye on your Google Analytics data when people come to your website. You could also look at the followers you've acquired on social networks and use each network's individual analytics platform to supplement your that information.
But even beyond that, you should take the time to create customer marketing personas that give a specific name to the kind of customer that you want.
That name — whether it's Amy or Tom or anything else — will come to represent one facet of your customer demographic.
If you sell software that makes it easy to track expenses, your first persona could be George, the Head of Accounting who works at a big business. Your second persona could be Beth, the CEO who runs her own small business and doesn't have the budget for an accounting department.
Likewise, if you sell running shoes, you could market them to Paige the Jogger who needs a new pair of supportive running shoes every few months. Your secondary persona could be Phil the Park Ranger who needs comfortable, strong, and supportive shoes just to do his job.
When you establish personas, your end customer becomes much more clear — and it becomes much easier to attract customer attention with a banner ad.
Knowing your network
A display network will take all the ads you create and serve them to your target audience.
There are a handful of high-quality display networks out there, and choosing the one that works for your needs is critical to success.
Thoroughly look at the networks offered by companies like Google, Facebook, and Twitter. They all reach different demographics in different ways, and you should know 100% what to expect from working with them.
In other words, you have to do your homework to make sure you're working with the people who can help grow your business.
Minimizing costs
When you invest in banner advertising, you want to keep costs as low as possible. That's a major principle in any part of business.
But you also have to weigh your costs against quality. Often, the lowest-cost option will also give you the lowest-quality results.
So before you choose your preferred method of creating banner ads, take a look at some of the most common options in the industry.
Option #1: Making the ad in-house
Creating an ad in-house is a good idea if you have a team of designers and marketers who can collaborate to make a quality end product.
This option is the preferred method for lots of bigger companies that have extensive departments and often tackle multiple projects at once.
However, it isn't ideal for businesses that are taking their first steps into banner advertising.
Option #2: Commissioning a freelancer
Freelancers are excellent options when you don't have anyone in-house to carry out a project.
Freelancers often charge a one-time fee for their work, and after you pay it, all of their creations are wholly owned by your company. That means you can do whatever you want with them, and you won't have a lot of money tied up in a single ad's success.
Option #3: Partnering with an ad agency
A lot of marketing managers and business owners get nervous about partnering with an advertising agency.
Sometimes, a marketing manager may not like the idea of trusting their work to an outside agency. Other times, business owners may not think there's any value to investing in an outside agency.
Both of these reservations are understandable. And thankfully, they're also untrue.
For marketing managers, partner ad agencies work to complement your current marketing initiatives. In this case, that means streamlining the banner ad process, researching possibilities, giving you options, and allowing you to choose the best fit for your goals.
For business owners, partner ad agencies operate under your direction to create banner ads that will get the most possible clicks throughout their lifetimes.
In both situations, a partner ad agency is incredibly helpful. Plus, they're staffed with experienced marketers who know banner advertising, among other marketing disciplines.
If you want the best results for your dollar, a marketing agency is simply the best choice to get an effective banner ad.
WebFX makes banner ads that work
At WebFX, we have full teams of award-winning designers and Internet marketers who know how to work together to get the best results for your business. With their diligence, experience, and professionalism, they'll help you get the results you want to help your company grow.
Contact us today to lay out a banner ad strategy that works for your needs!