When in doubt, we turn to the Internet. As much as it bothers us to admit how much we rely on it, it's true. When trying to discover a new restaurant or find the nearest gas station, we turn to search engines like Google to tell us what local places are near us. Getting your business to show up as one of those result is just one of the local SEO benefits you can enjoy when you start optimizing your site for local SEO.
Those first few results that pop up on those "near me" searches are coveted by local businesses because they're prime real estate for advertising. When you optimize your website for local SEO, you can see your business in one of those spots.
Keep reading to see what benefits await your business when you successfully optimize your website's local SEO!
Looking for an all-in-one SEO audit tool? You've found it.
SEO Checker provides data on key metrics to give you:
Complete SEO score

Content Grade

Site Speed Analysis

and more.
What is local SEO?
We've talked extensively about the importance of SEO, but now it's time to shift gears a bit and talk about the importance of a specific facet of SEO: Local SEO.
Local SEO focuses your optimization efforts on reaching searchers in your area. For example, if someone in Harrisburg, PA, is looking for a bakery, they'd search something like "best bakery in Harrisburg PA," or "bakery near me."
Those keywords ("in [city]" and "near me") tell the search engine to display results for local businesses in that specified area. Local businesses who optimize their website for local SEO will show up in search results as what's called a local SEO 3-pack, which you can see below: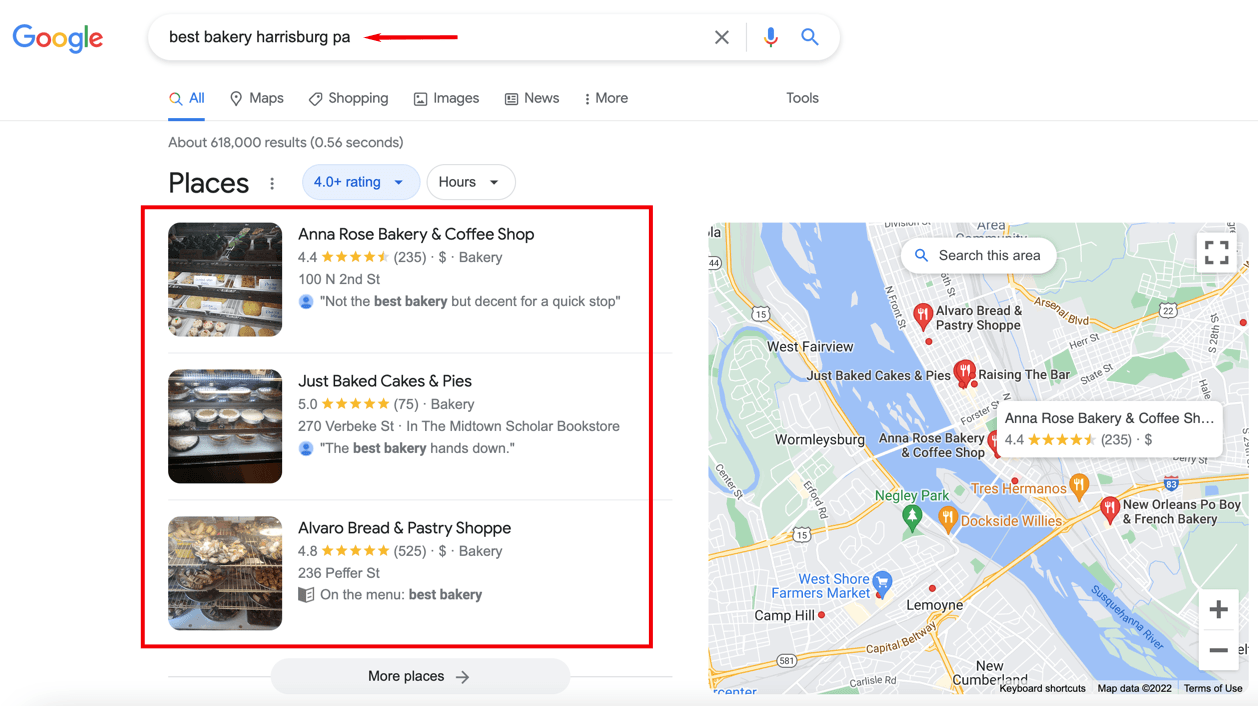 Local SEO 3-packs give prime-time coverage of your business to local users.
Why you need local SEO
We've talked about the importance of traditional SEO so much that you're probably thinking something along the lines of, "Well, why do I need two types of SEO now? Isn't one enough?"
To answer your question, yes, traditional SEO is enough to get your brand out there. But if you've got a physical storefront that you're trying to attract people to, you need more than just traditional SEO.
Traditional SEO helps improve your site's visibility on a global scale, but that's just driving traffic to your site. This is great, don't get us wrong, but to drive traffic to your physical store, you need local SEO to help you connect with searchers in your area.
7 unbeatable local SEO benefits
Let's take a deeper look at the benefits your business can enjoy when you optimize your site for local SEO.
1. More foot traffic
How many times have you found a local business online and thought, "Huh, I didn't even know this place existed"? That's the beauty of local SEO. If your storefront goes unnoticed by local traffic, local SEO can help boost your visibility and bring more awareness to your store.
One of the main reasons why local SEO is important for small businesses is because of the foot traffic it can generate for your store. Every month, people visit over 1.5 billion business locations that they initially searched for on Google.
With local SEO, you can bring in that valuable foot traffic from customers you know are seeking out your products or services.
2. Relevant web traffic
You're not just boosting your in-store traffic with local SEO — you're funneling relevant traffic to your website as well. Targeting local customers helps encourage web visits from people actively seeking out your products or services.
Remember the trusty marketing funnel? This relevant traffic you've generated from local SEO is made up of potential customers looking for your products or services and ready to make a purchase.
With this in mind, you can adjust your marketing tactics and calls to action (CTAs) so that you're converting middle and bottom-of-the-funnel customers (MOFU and BOFU) who are closer to making a purchase than those at the top of the funnel (TOFU).
3. Better conversion rates
Local SEO benefits like more foot traffic and relevant web traffic can increase your overall conversion rates too. In fact, 80% of local searches result in conversions. Add that to the conversions you make with the slick marketing you did towards your new, relevant visitors, and you're golden!
The new traffic you draw to your website from local SEO can help you see an increase in things like contact form submissions, phone calls or emails, email newsletter subscriptions and, of course, sales.
How much should you pay for SEO?
We've got the answer (and the explanation) in our free guide.
Download Now!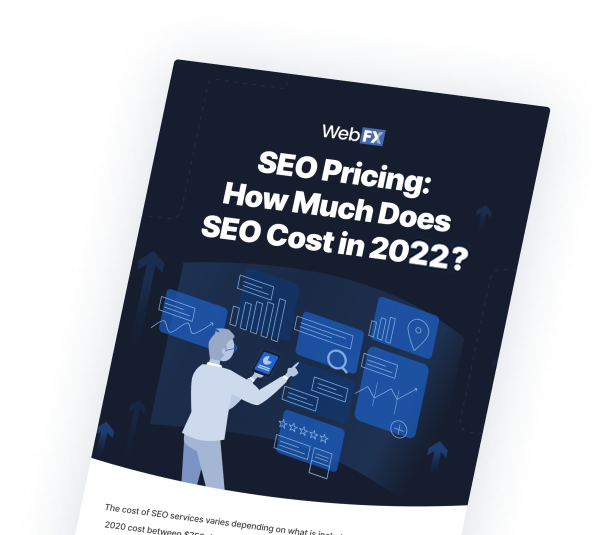 4. Increased visibility
We can't talk about the benefits of local SEO without mentioning site visibility.
Local SEO increases your visibility in a few different ways. As we mentioned earlier, you're getting more foot traffic in your store, improving the visibility of your business' physical location.
In the online world, you're greatly improving your business and website's visibility because your SEO efforts make it visible to local and non-local users.
Traditional SEO efforts ensure anyone can visit your site, but local SEO will drive home that point to your local users while encouraging them to visit you in person at your store.
5. Build trust within your community
Think about your current community. If you're looking for a place to eat for dinner, you're going to trust what the locals have to say about the restaurants, right? Other people's feelings towards businesses will ultimately influence your own opinions in some way (even if you hate to admit it).
When you get great reviews from locals, your credibility rises, and that can attract even more valuable leads.
Your local SEO presence can help you attract new customers, and when you're providing quality products and services, those clients will leave honest, glowing reviews. These reviews can turn into a major deciding factor for users trying to decide between you and those two other businesses who showed in a local SEO 3-pack.
91% of users between the ages of 18-34 trust businesses with positive reviews. With your local SEO strategy, you can manage your reviews and use them to drive more leads to your business.
6. Link-building opportunities
With local SEO you'll create more content for your site that will help you rank higher on SERPs. This means higher visibility on SERPs not just from customers, but other businesses too.
When you create content that is informative, solves a problem, or offers insight on an industry topic, you can earn backlinks from other businesses.
Backlinks are links from another site to your own. When you create valuable content that's helpful to others you earn higher ranks on SERPs, exposing your site to other businesses, bloggers, and industry professionals who could use you as a resource.
Earning a backlink is like a testament to your site's credibility. When users browse other sites and see your site referenced, they see one business trusting another. That's huge for you!
7. Reduced advertising costs
Local businesses need their local audience to thrive, which is why a chunk of their budget goes to advertising via banners, local tv ads, billboards, and pamphlets. While these are tried and true methods of local advertising, local SEO can keep you from burning a hole in your marketing budget.
Optimizing your site for local SEO can help you get the word out about your business and attract new leads all without the hassle of having to pay for ads or banners.
These are real SEO results driven for a WebFX client.
You're next.
Learn More About SEO Services


260%
increase in organic revenue

198%
increase in organic transactions
150%
increase in organic traffic

3872%
increase in sessions from SEO
Have you optimized for local SEO yet?
When you work with WebFX, optimizing your local SEO and traditional SEO never has to be a pain. Our team is made up of 500+ subject matter experts who are ready to help you drive results with your SEO.
Contact us online or give us a ring at 888-601-5359 to talk to one of our strategists!
How is your website's SEO?
Use our free tool to get your score calculated in under 60 seconds.
WebFX Careers
Join our mission to provide industry-leading digital marketing services to businesses around the globe - all while building your personal knowledge and growing as an individual.