You've heard the phrase, "It's the little things that count." Well, taken quite literally, it's true for search engine optimization (SEO).
Sometimes even the smallest things can make all the difference in your site's SEO rankings, but you wouldn't know unless you made those small changes. And who's to say it won't hurt your rank instead or do nothing at all?
As marketers and web developers, we know it takes a lot of work to make large-scale site changes. With an SEO split test, you can test changes to SEO elements on your site to see how they influence your position on search engine results pages (SERPs) before fully committing to site-wide changes.
Do you need an experienced team of digital marketers and strategists to assist you in creating your first A/B test? At WebFX we're no strangers to optimizing websites that drive results, and we're ready to work with you. Contact us online or give us a ring at 888-601-5359 now!
Ready to learn more about optimizing your site for SEO? Read on to learn the basics of A/B testing now.
Independent research from Clutch has named WebFX the
top SEO company

in the United States.

Clutch has personally interviewed more than 250 WebFX clients to discuss their experience partnering with us.

Read More Clutch Reviews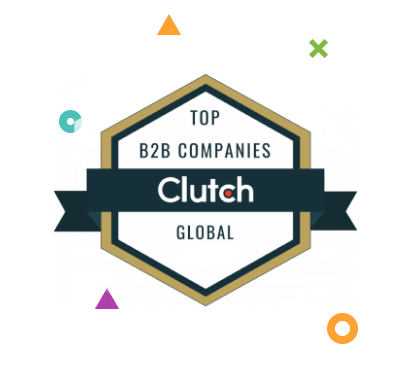 What is SEO A/B split testing?
A/B testing for SEO, also referred to as split testing, is the process of making small adjustments to SEO elements on your site's web pages and monitoring the impact of these changes on the page's SEO performance.
How does an SEO split test work?
When you conduct an SEO split test, you'll split groups of pages with similar templates into two groups — control and test, or variant, pages. To test the success of certain SEO elements on your pages, you would adjust an element on your test pages while leaving your control pages as they currently appear.
You'll then show both groups of pages to site visitors and analyze their results to determine whether to make larger-scale adjustments to your site.
Your SEO A/B test's "results" are data that offer some kind of statistical significance. Essentially, they're results that show a significant change in page performance on SERPs.
What SEO elements can I test?
Search engines like Google employ hundreds of SEO ranking factors when creating SERPs. What follows are just a few of the many elements on your site you can adjust in your SEO A/B split test.
Title format and tags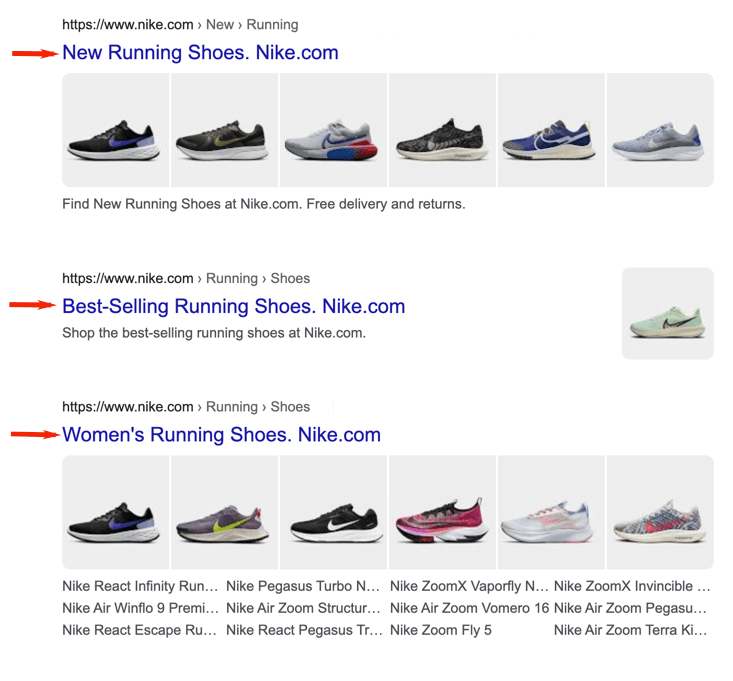 The simplest changes to your page's title tag, like where you used a keyword or your word choice and phrasing, can affect your page's SEO performance. In your A/B test, try playing around with your titles and title tags to see how things change.
Meta descriptions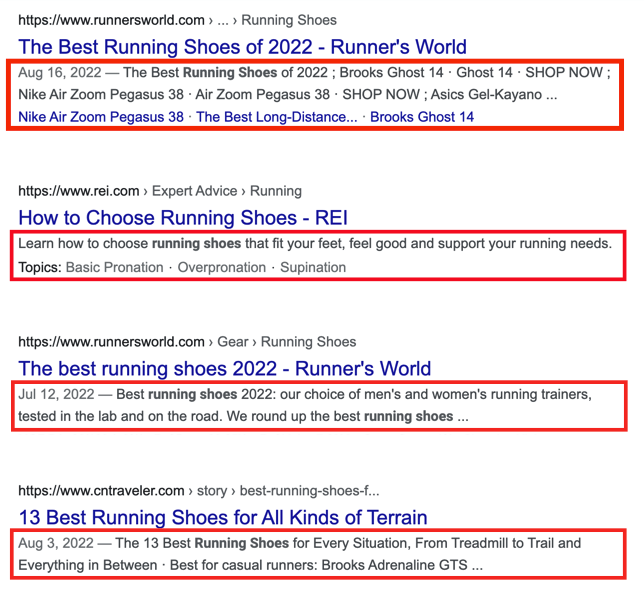 Your meta descriptions briefly tell searchers what a page's content covers. In many cases, they're the first things users read about your page (so you want to write it well!).
Sometimes even the slightest edits to your meta description like word choice, calls to action (CTAs), and secondary keyword usage can affect how many users choose to click on your website.
Image alt text
Google uses an image's alt text to understand the subject matter of the image and page context. Adjusting your page's image alt text to be more descriptive can help you to appear in Google Images search results.
Page content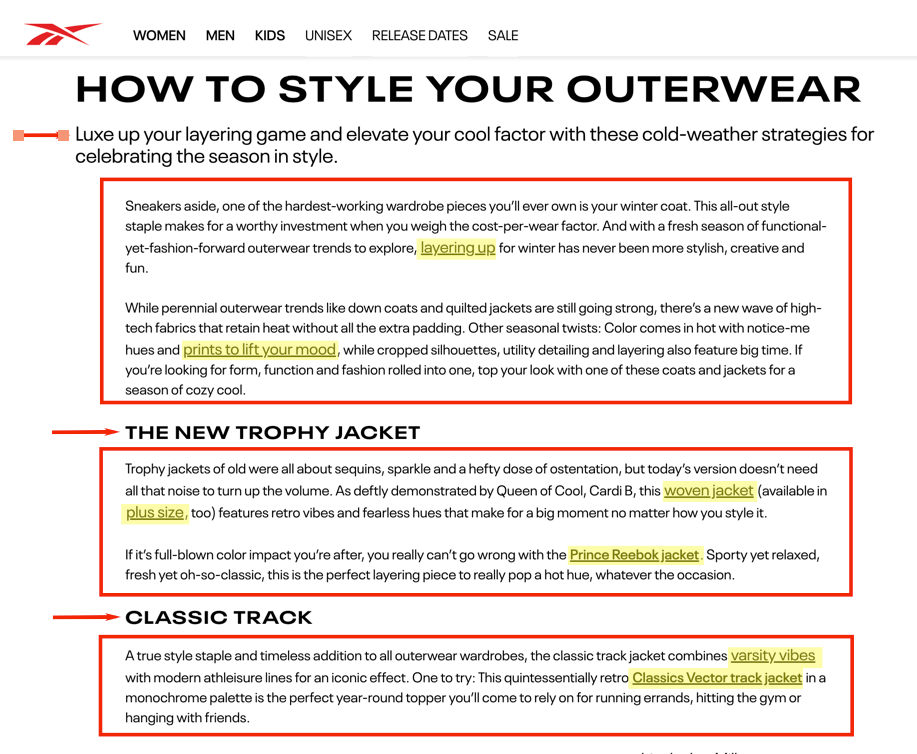 The content of your page can significantly affect how your page ranks in the SERPs. When conducting an A/B test, consider adjusting a page's content length, structure, and keyword usage to see how it influences your SEO rankings.
Why you should run an SEO split test
SEO split tests give you the opportunity to test changes to SEO elements on your site and analyze the results before committing to large-scale, site-wide changes that take time and money to implement.
Read on for a few key reasons you would want to run an SEO split test and how you can benefit from these SEO experiments.
Keep up with the times
Search engine algorithms are constantly evolving. SEO split tests are a practical way to continue evolving your website to keep up with ever-changing SEO ranking factors.
Google came on the scene in 1998, and since then, the search engine has come a long way. It doesn't rank sites the same way it did before. If we all kept our websites the same while Google kept cranking out new algorithms, we'd have unreliable SERPs with different sites in top spots for keywords all the time.
Stay on top of the SERPs (literally)
By conducting SEO A/B split tests, you can ride each wave of new algorithms to the top of SERPs. There's no guarantee you'll nail a website adjustment on the first go around. Still, with SEO split tests, you can continuously test edits and make changes to your website, knowing they'll positively affect your SEO rankings.
Difference between split tests for SEO and CRO
A/B tests aren't limited to SEO. With split tests, you can also adjust your website to improve your conversion rate optimization (CRO). Because the two marketing strategies are often lumped together, we want to ensure you understand how the two differ.
While SEO A/B testing focuses on influencing search engine rankings, CRO testing works to influence user behavior on your site. CRO testing is a perfect way to improve conversion rates. Just like SEO split testing, you can make small adjustments to a site page and see how it affects user behavior.
The major difference between the two tests is that CRO testing presents two versions of the same page to Google, then those two pages are randomly assigned to different users. SEO testing takes a handful of similar pages, makes variations to one group of them, and sees how Google ranks each.
SEO split test best practices
Not every website is suitable for SEO A/B split testing. Even those suited for an SEO split test will have certain parts of their site that won't be able to be tested at all.
When running SEO experiments, you need to ensure that your site meets two essential requirements for your test to be successful:
1. You need enough templatized pages
To run a successful SEO A/B split test, you must have enough pages following the same template or layout. Pages that typically follow the same template include:
Product pages
Pricing pages
Blogs
Contact pages
You can't measure how small changes affect two differently structured pages because two different templates will produce two different results. This will provide little to no insight into the changes you're testing.
2. You need significant web traffic
When running SEO experiments on your site, you need to have reliable, stable traffic patterns. This makes it easier to detect statistical significance in your data.
Can you still test your site even though you don't have significant traffic? Absolutely. But irregular web traffic patterns (or little to no traffic) on your site will make it difficult to detect whether your test produced accurate results.
Bonus Tip: Check your website traffic now with our handy website traffic checker!
How do I run an SEO split test?
Now that we've discussed the ins and outs of SEO split testing let's put it into action. Here's a quick rundown of how you can run an SEO split test of your own!
Choose what you're going to test and make a hypothesis
You can't conduct an SEO split test if you don't have a goal in mind!
To get started, choose an element of your website that you want to adjust. Are you going to test out a new meta description? Or maybe you want to change the alt text of your images to see how they fare in image search results pages.
Whatever you choose to test in this SEO experiment, make sure you formulate your hypothesis. Usually, the goal of SEO split tests is to see whether the variant pages perform better on SERPs than the control pages.
Choose your variant and control pages, then make your changes
Once you've got all your ducks in a row, decide which site pages you'll use for your test. Choose one group to be your control pages and another to be your variant pages. Remember, you want all of these pages to follow the same template so you can have the most accurate results.
Once you've figured that out, make the changes you identified in the previous step to your variant pages.
Run your SEO split test with Google Optimize
There are plenty of programs available to conduct SEO experiments, but, being a Google Premier Partner, we're partial to Google Optimize.
Google Optimize is a free tool on Google's Marketing Platform that allows you to conduct CRO and SEO experiments on your website.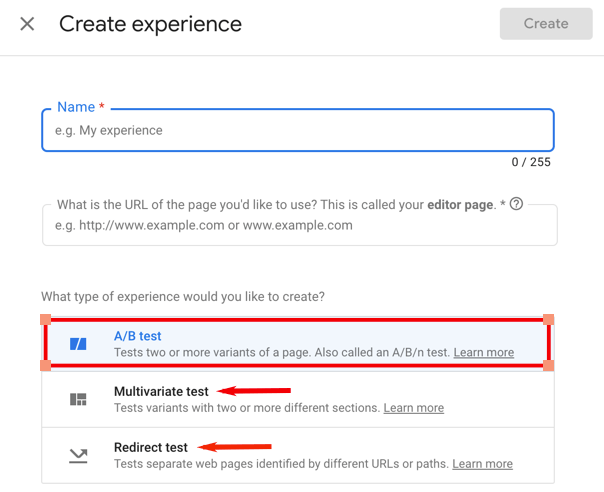 With Google Optimize you can conduct A/B tests to run different variations of pages and measure their success via performance metrics. You can choose which performance metrics you want to measure. The longer your SEO experiment runs, the more data you can gather to determine if a site adjustment is warranted.
If A/B split testing isn't your thing, Google Optimize also offers multivariate and redirect testing.
Analyze your results. Did it work?
It will take some time for you to see significant, trustworthy results from your SEO test (if you see a statistical significance at all). Depending on how high your website traffic is, you'll want to wait about two weeks to a month before you start diving into your results.
Now, you've waited the appropriate amount of time and looked over your data. Do you see a significant increase in page traffic, interaction, or a rise in SEO rankings? If you see a statistical significance, it's a great indicator that your changes worked favorably for your site. Congrats!
If you do not see any statistical significance in your data, don't worry — that's what these tests are for! See this lack of statistical significance as a trial and error situation and head back to the drawing board to develop a new test. As we mentioned earlier, there're plenty of site elements for you to test!
Need help conducting your next SEO split test?
Our experienced digital marketing team can help you create and launch SEO and CRO split tests that help you gain insight into your website's performance. Then, we can help you interpret those results and optimize your site for higher SEO rankings and conversion rates.
Ready to get started? Contact us online or call us now at 888-601-5359 to speak with one of our strategists!
WebFX Careers
Join our mission to provide industry-leading digital marketing services to businesses around the globe - all while building your personal knowledge and growing as an individual.