Website Traffic Checker: Check Your Website Traffic for Free!
Check your website traffic for free (or a competitor's) with our website traffic checker. Just click the button below to get started. In less than 60 seconds, you'll receive a report from our web traffic checker, which analyzes site traffic, plus search engine optimization (SEO) so you can spot new opportunities, competitor movements, and more!
As a business, one of the best ways you can measure your success is the amount of traffic that your website attracts. Measuring that success, however, requires a website traffic checker.
This kind of tool can help you:
Understand user behavior and trends
Discover content topics and keywords
Uncover competitor strategies
Grade on-page and off-page SEO optimizations
And more
Check your website traffic for free with our SEO website traffic checker now!
Or, keep reading to learn how your site influences your customer's journey, conversions, and search engine rankings. Plus, get tips for how to use our traffic checker and how to check website traffic without a checker.
If you'd like to learn more about increasing website traffic before reading on, contact us online.
What does our website traffic checker do?
Though Google Analytics (GA) is a great tool to gain super-specific information about your website pages, our website traffic checker provides an overall view into a site and its SEO, plus offers actionable advice for improving a website's SEO, saving you the hassle of learning how to check your SEO manually.
When you use our tool to check your website traffic, you'll receive the following data:
Indexing: Learn if your site is indexed, which is crucial to earning traffic from search engines.
Content: Understand how search engines see your website and its content, which can influence your rankings in search results and how much organic traffic your site receives. Plus, learn which keywords search engines associate most with your website.
Mobile: Get instant insight into whether your website is mobile-friendly, which is another factor search engines use when ranking sites. Rank lower, and you can expect less traffic. Rank higher, and you can look forward to more traffic.
Structured data: See if your website (or a competing site) uses structured data Structured data provides search engines with definitive information about your website, which can lead to higher, more accurate rankings.
Performance: Determine if your website loads fast, which is another search engine ranking factor. With a faster site, your business can rank higher in search results and capture more traffic.
Backlinks: Understand your backlink profile (or a competitor's backlink profile better) with our website traffic checker. It'll score your backlink profile so you can move forward with a backlink strategy that will drive organic traffic and referral traffic.
Our web traffic checker will summarize all this information with an overall score that shares:
The number of areas that passed
The number of areas that need improved
The number of areas that generated errors
Check your website traffic for free today to start generating more traffic for your site!
Looking for an all-in-one SEO audit tool? You've found it.
SEO Checker provides data on key metrics to give you:
Complete SEO score

Content Grade

Site Speed Analysis

and more.
How can I use a website traffic checker?
Anyone can use a website traffic checker, from business owners to investors to digital marketers.
A few examples of how our web traffic checker can benefit you, based on your role, include:
As a site owner…
Check traffic on a website with our traffic checker to:
Gauge the quality of your site's SEO
Determine how competitors use SEO to earn website traffic
Learn how search engines see and understand your site
Discover new keywords and topics to target on your website
As a digital marketer…
Check website traffic for free with our checker to:
Analyze competitor strategies for SEO
Uncover a competitor's core target audience
Discover potential keywords to target for SEO
Understand how search engines (that send you traffic) see your site
In most cases, a free website traffic checker like ours can provide you with a quick, unbiased view of your site and competing websites. This view can help you understand the performance of your SEO against the competition and uncover ways to improve your strategy to capture more traffic from competitors.
Why is our website traffic checker useful?
When you use our free website traffic checker, you'll get a detailed report of your website's SEO. This information is invaluable when trying to increase page traffic since SEO and website traffic are so closely linked.
Our tool will give you suggestions as to how you can improve your SEO campaign to ensure that your website pages are ranking as high as possible, leading to the most amount of website traffic.
Not only is our tool beneficial for checking up on your own website's SEO, but you can use it to compare your website against competitor sites, as well. This can help you understand what they're doing well that you're not as well as why they're ranking better or worse than you in search results.
You'll also be able to speculate on whether or not they're getting more website traffic than you are based on your free SEO report of their website.
Why track and check website traffic?
Tracking your website traffic means more than just knowing how many people visit your site.
Though the number of people that visit your website is a metric you'll see, you'll also glean other important information.
You'll also learn where your traffic is coming from, what pages they visit within your site, how long they stay on a page, and more.
Website traffic is so important to track because it lets you in on key insights that allow you to learn the behavior of your site visitors. When you know how users behave on your site, you can start to learn and adapt to what they like, what they're most likely to click, and the kinds of pages that get the most traffic.
Those that don't track site traffic miss out on learning about their site visitors, which means they miss out on potential leads and loyal customers.
If you want your website to increase conversions, build a customer base, and increase brand awareness, tracking your traffic and learning your audience is a must.
Don't all website visitors behave the same?
Many website owners shy away from tracking their traffic because they think that all web users behave the same. You may think that all users are more prone to click a red button than a blue one, are more likely to read on if there are images or will stay on the page longer if they watch a video.
All of these things may be true, but if you execute them incorrectly, they won't work. Period.
This is why tracking your traffic to pinpoint their behavior is so important.
For example, you may find that for some reason, your target audience reacts better to buttons that say "Buy now," as opposed to "Learn more."
You might also learn that videos showing how to use your product perform better than product overviews.
This is what we mean when we talk about user behavior. Of course, it's about pinpointing how they behave in general terms like clicking buttons above the fold, but it's also learning and paying attention to the small details that make the general elements effective for your target audience.
How to check website traffic without a web traffic checker
One of the best ways to track your site traffic is with a tool like Google Analytics, or GA.
The GA platform can let you in on a ton of great information that can help you create the best possible pages for your audience — which means you'll increase your website's traffic.
Let's go over the different information you can see within GA.
Traffic sources
GA allows you to see where your page views are coming from in real-time. You can see what traffic is organic, direct, and referral.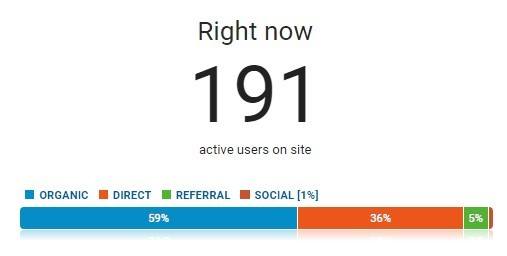 You'll also be able to see the number of page views per minute, per second, the source of the traffic, and the percentage of active users that come from each source.
Highly-trafficked content
You'll also be able to see how many pages on your website are active, meaning how many pages have visitors. You'll be able to see how many users are viewing your website on a desktop, a mobile device or a tablet in real-time.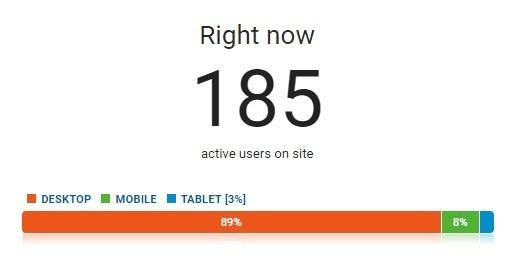 This information can help you decide how you should be structuring your pages to accommodate every user. For example, if you have even a small percentage of mobile viewers, you ensure that your website is responsive on all devices.
This will help to boost user experience (UX) since users accessing your website from a mobile device will still be able to have a great experience.
Better UX means higher rankings. And you know what higher rankings mean — more traffic.
User behavior
Perhaps one of the most beneficial tabs in GA is the landing pages tab. You can find it under "Behavior," then "Site content."
This tab offers a great information to help you cater your website to your target users.

For example, you'll be able to see the average session duration on any given page, how many conversions a page had, or how many new sessions there were.
Session duration can help you understand how well a page is performing in terms of user experience and holding a users' interest. If it's low, it should prompt you to look over your on-page SEO.
If conversions are down on a specific page, take a look at your calls-to-action, to ensure that they're effective.
You can greatly improve your pages using these small pieces of information to gain more site traffic with this free website traffic checker.
How does website traffic and SEO relate?
You may wonder how website traffic directly correlates to the health of your search engine optimization, or SEO. Let's first cover SEO basics.
SEO is the process of improving your website so that it ranks higher in search results. If you have a great SEO campaign, your page will rank exponentially higher than it would without an SEO campaign — which is extremely important to the health of your website.
If your website doesn't rank on the first page, you can stop counting on boatloads of traffic because you just won't see it. In fact, the first page of search results receives 95% of web traffic.
So if you're looking to increase your website traffic, ensuring that you have a great SEO campaign in place is a must.
Your SEO campaign will include things like:
All of these improvements work together to increase your ranking in search results, which will, in turn, increase your SEO website traffic.
At the end of the day, it's fair to say that a great SEO campaign means increased website traffic.
Good agencies have more than 50 testimonials.
Great agencies have more than 100 testimonials.
WebFX has over 1000+ glowing client testimonials.
See What Makes Us Stand out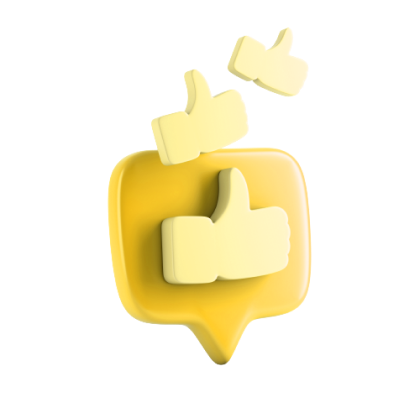 Want to earn more website traffic?
If you want to increase your website's traffic, you've come to the right place.
WebFX is home to website consultants who know SEO, and we can help your website pages rank highly in results pages to ensure that they're getting the most traffic possible.
If you're interested in our services, contact us today for a free quote
How Is Your Website's SEO?
Use our free tool to get your score calculated in under 60 seconds.