Are you familiar with Nextdoor? If not, Nextdoor is a social media platform specifically designed to connect people in the same neighborhoods and local areas. People might use Nextdoor to arrange community gatherings, inquire about local events, and more.
Just like many other social media platforms, Nextdoor is an excellent place for you to market your business. By running ads targeting people in your local area, you can draw in new customers and increase your revenue.
But what goes into advertising on Nextdoor? How can you set it up, and what does it take to get results from it? We'll answer all these questions below, so keep reading to learn more about Nextdoor advertising.
Then subscribe to Revenue Weekly — our email newsletter — to receive more digital marketing tips from the agency with over 1,020 client testimonials!
Why advertise on Nextdoor?
You might be wondering, what's the benefit of advertising on Nextdoor for your business?
To start with, Nextdoor offers the same opportunity as many other social media platforms — it provides you with an additional audience of potential customers online. Learn more about social media marketing in this video:
But what makes Nextdoor special is that it's focused on local regions.
When you market through Twitter, for instance, you're putting up content for the whole world to see. You can certainly hone your Twitter ads to specific locations, but the fact remains that Twitter wasn't built for local advertising — nor were other platforms like Facebook or Instagram.
But with Nextdoor, everything is built around specific neighborhoods and local communities. That means that if your business is limited to a particular town — especially if you operate out of a brick-and-mortar store — Nextdoor is the ideal way to reach people right in your area.
How Nextdoor advertising works
Nextdoor operates differently from other social media platforms.
There's a cap on how many posts you can make — you only get two free business posts per month. That's because Nextdoor is a community platform first and foremost, and it doesn't want people to get spammed by businesses in their feeds.
That said, you can still pay to run ads in Nextdoor, just like you can on other platforms. You can do this through Local Deals, which vary greatly in price depending on how many people you target and how long you run the ads.
Your ads will appear in two main locations:
Neighborhood newsfeeds

Nextdoor daily or weekly digest emails
Nextdoor also tends to rely more on word-of-mouth advertising than other platforms. For example, a person might ask their community for plumber recommendations, and someone might recommend your local plumbing company.
How do I set up advertising on Nextdoor?
One of the things you may be the most unsure about is how to set up your Nextdoor Business Page. Thankfully, setting up a Nextdoor Business Page is simple.
To create your page, walk through the following steps:
Provide your business name, address, and contact information when prompted.

Choose up to 10 categories for your business (e.g., Roofing).

Click "Claim page."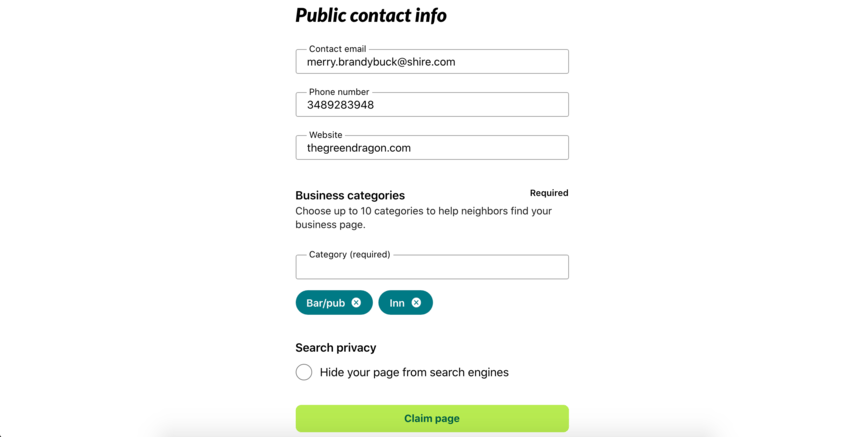 At some point during the above process, you may also be prompted to specify whether you're a "Professional Business" or a "Neighbor for Hire." Be sure to choose "Professional Business."
From there, you have only to optimize your profile by adding a logo and cover photo and filling out any additional information you want to add. Then you can start creating posts and developing ads!
3 tips for advertising on Nextdoor
If you're looking for ways to improve your Nextdoor advertising, you're in luck. There are a few different ways you can get more from your Nextdoor ads, and below we'll cover three of those ways.
1. Engage with your audience
The first tip to remember when advertising on Nextdoor is to engage with your audience. Nextdoor is just like any other social media platform — audience interaction is key.
While you're only allowed two free business posts each month, you can freely respond to public comments from other users. So, when people ask questions about your business, you can (and should!) take the time to answer them. The same goes for any questions people send to your Nextdoor inbox.
For example, if someone creates a post asking for help finding a pest control specialist, your pest control company could respond by offering your services.
2. Earn reviews
Another thing to remember when running Nextdoor ads is that positive reviews — called "recommendations" on Nextdoor — are your friend. Recommendations can improve people's view of your business, making them more likely to respond positively to your advertising.
Recommendations are important in all your online marketing, but they carry additional weight on Nextdoor. That's because, as we indicated earlier, people often ask each other for company recommendations on Nextdoor.
While you're certainly free to promote your own services on Nextdoor, you don't want everything coming directly from you. It's helpful to let other people talk up your company whenever you can, as their opinion holds more weight than your own.
So, if someone asks for a recommendation, the ideal scenario is for another user to respond with something like, "Oh, have you tried [your company]? They're right in this area and they're great!" When that happens, it will make people far more likely to engage with your ads when they see them.
You can largely encourage these recommendations by simply providing quality service in your area and letting word-of-mouth reviews spread through Nextdoor. That said, you can also directly encourage your existing local customers to recommend you to their neighbors.
3. Track your advertising metrics
Finally, it's critical that you track your advertising metrics to see how your Nextdoor ads perform.
When you advertise on Nextdoor, it's just like other forms of paid advertising — you can't throw up some ads and wait for results. You must reoptimize as you go. That's the purpose of tracking metrics and performing analytics.
Nextdoor will let you see certain metrics related to your ads' performance, most notably Organic Neighborhood Reach. This metric shows you how successfully you're engaging specific areas of the neighborhood, highlighting your strong and weak spots.
You can even use Nextdoor to help you target your advertising more heavily to the areas that you're having trouble reaching.
WebFX is a partner businesses trust.
Hear from HydroWorx, who saw a 236% increase in organic sessions with WebFX services.
Watch the Video Testimonial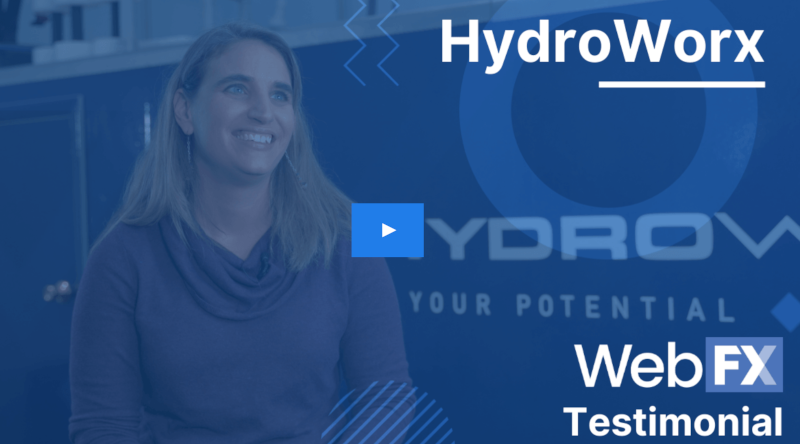 WebFX can help you optimize your Nextdoor advertising
Want some help driving results through your Nextdoor advertising? Look no further than WebFX. We've been in the social media marketing game for over a decade, and we know what it takes to help you reach a large, relevant audience on platforms like Nextdoor.
With our social media marketing and social media advertising services, you'll get help creating content and posting it on Nextdoor. We'll even help you monitor your analytics to see what we can do to reoptimize your marketing and boost your revenue.
To get started with us, just call 888-601-5359 or contact us online today!
WebFX Careers
Join our mission to provide industry-leading digital marketing services to businesses around the globe - all while building your personal knowledge and growing as an individual.