Looking back this year (2009), we have had some incredible tutorials that have taught hundreds and thousands of people new skills in Adobe Photoshop. We've been searching the web from America to Germany to the UK and have managed to compile a list of the 50 of the very best Photoshop tutorials this year. Happy learning and wishing you all the luck in 2010!

Use various tools such as the Cloning tool to remove facial features and the Brush tool to create a realistic splatter merged with professional blending techniques to mould the paint splatter over a face.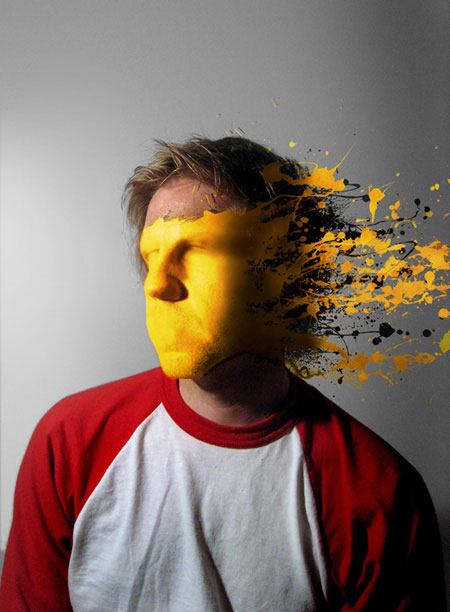 Learn how to combine vector art with pixel art in this superb tutorial here at Six Revisions. Use various blending modes and manipulation techniques to make a flat-looking 3D object really pop out.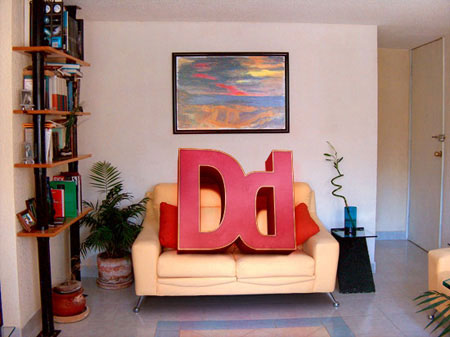 Learn to apply the Warp tool effectively (as well as a few other tricks) to manipulate real smoke to look like a skull. You can use the technique on other various mediums such as water and clouds.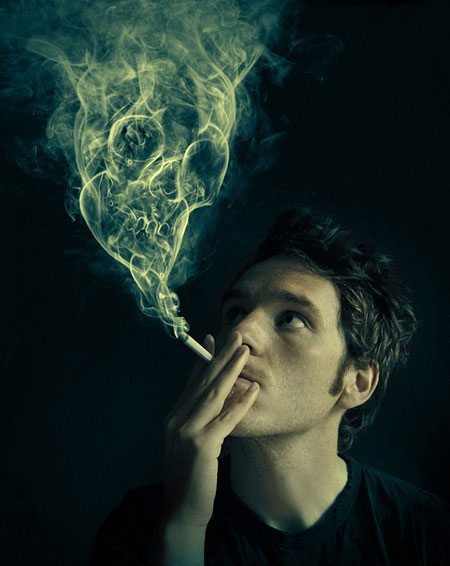 4. Combine Photo Elements to Create a Surreal Photo Manipulation
Use color balances and levels to change the overall feel of a stock photo, and the Burn tool to make certain areas of an image darker than others to make them appear correctly in any given environment. Select areas of stock photos using the Magnetic Lasso tool or a quick mask and merge them into your composition.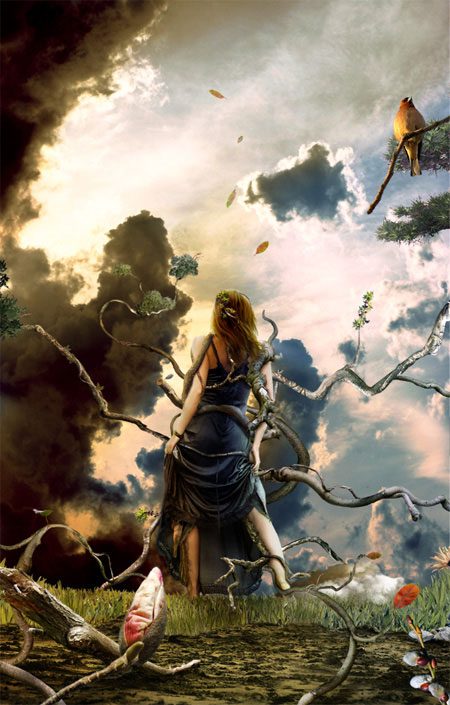 5. Design a Vintage Radio Icon in Photoshop
Use gradients and custom strokes to make flat objects appear three-dimensional – combine this with stock photography and textures to produce a vintage and very realistic radio icon. The same technique can also be used to produce other icons such as guitar amplifiers and televisions.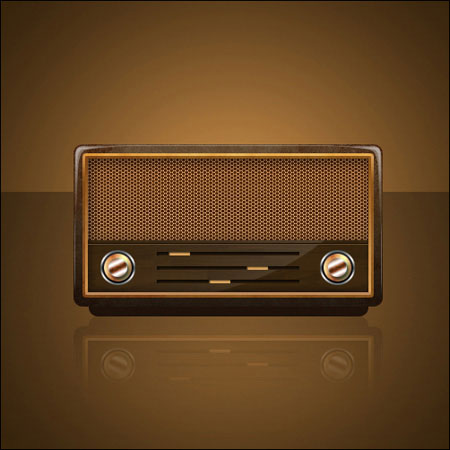 6. How to Create a Retro Hippy Van Poster in Photoshop
Learn how to combine vector art with pixels, add texture to clean artwork, and play with blending modes. A little bit of shameless self-promotion here, but this tutorial did get me a lot of great feedback, and the first part of the tutorial (the vector van) is going to be featured in a top French Design magazine!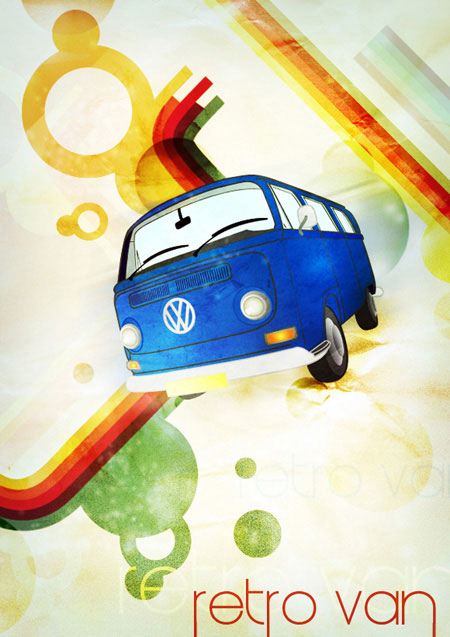 Use professional manipulation and editing techniques with various stock photos to make a beautiful composition. Use the Warp tool to change angles and shapes to make them fit exactly how you want them in your composition.
Follow this tutorial and work with textures, levels and layer styles to create a realistic and incredibly awesome space scene.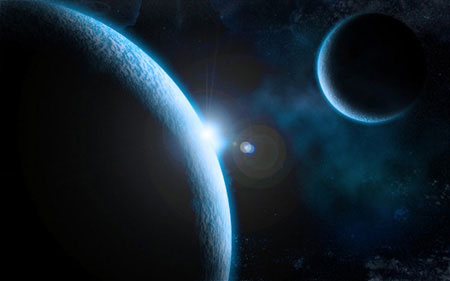 9. Create a Vintage Traveler Diary in Photoshop
Learn how to combine stock photos, photography and textures to create a vintage composition whose primary elements are a world map, a diary and a cup of coffee to finish things off.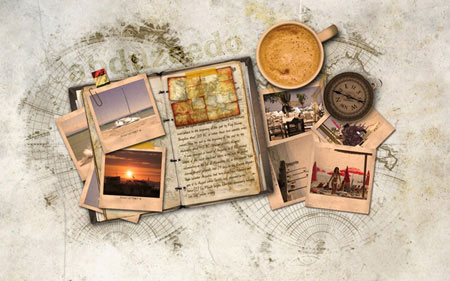 10. How to Create an Abstract Business Card in Photoshop
Make use of Photoshop's guides and custom type settings to create an abstract typography-based designer's business card.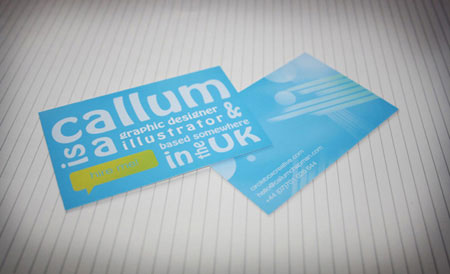 Get your torch and SLR camera out for this tutorial as you'll be needing it to create some superb lighting effects. Combine that with Photoshop's excellent selection of image adjustment tools such as levels, curves and the hue/saturation level to produce a stunning vibrant light effect.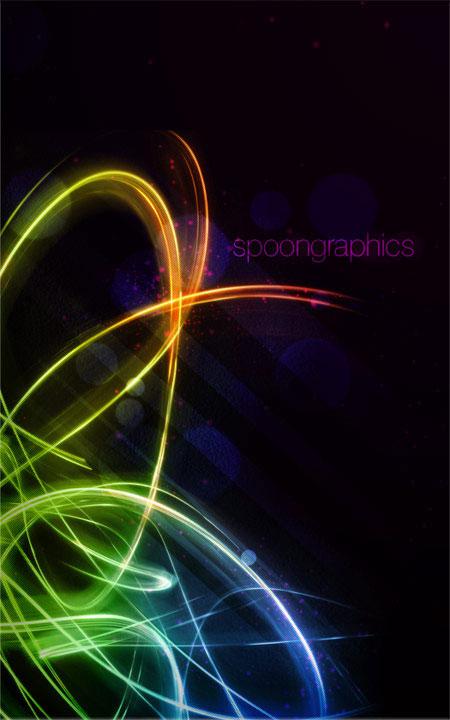 Combine neat and tidy typography with gradient splats, a handful of coffee-stained textures and some ink brushes, and what do you get? A modern and very cool wet ink typography effect!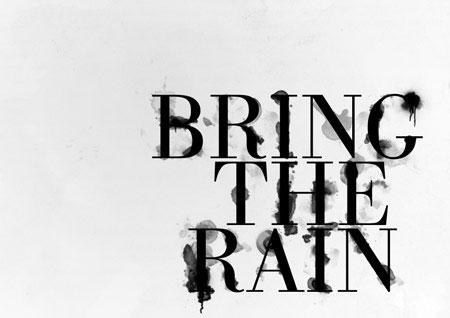 Retro/vintage art is one of the most-loved design trends of 2009 and we're sure that's not going anywhere quickly! In this tutorial, you'll learn how to manipulate stock photographs, work with the Pen tool and make your overall composition look retro!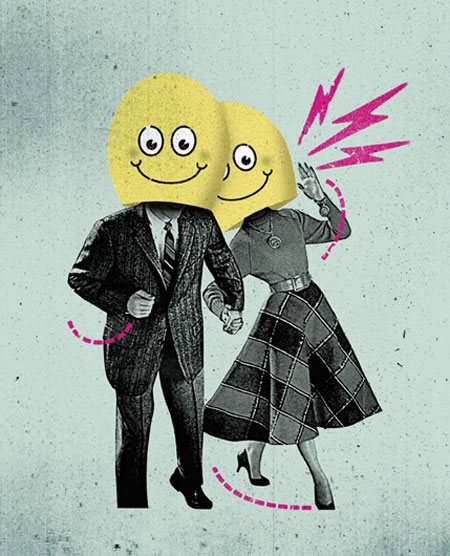 In this extremely detailed tutorial, you'll learn how to make various components of a television remote control including the back, front, individual buttons and even the circuit-board. Why? Because you're about to combine the lot together to make an almost life-like motion bullet shot effect!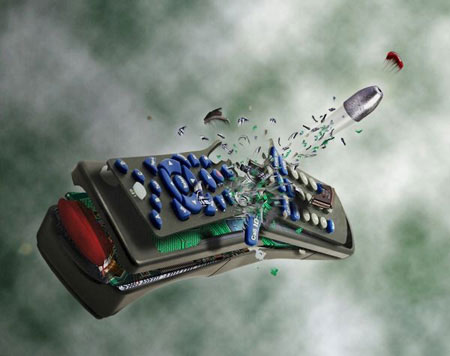 Use the Eraser tool to remove areas of a stock image to nicely combine it around another object. You'll also create custom lines with the Pen tool and learn how to stroke and skew them and turn them in to little colorful beams of light.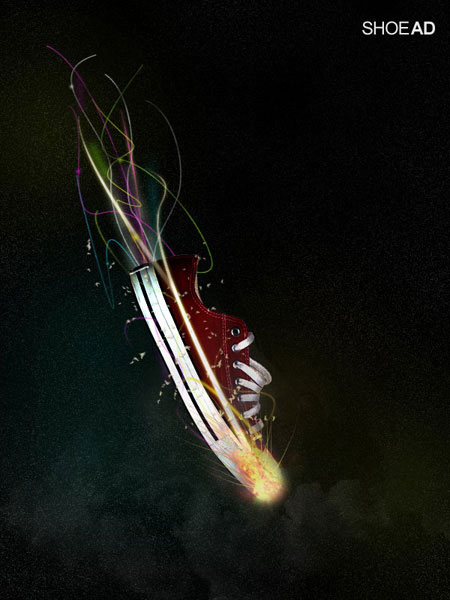 Learn how to duplicate layers by nudging them down to create a remarkable 3D typography effect in Photoshop without the aid of 3D software. Learn how to create a drop shadow and add realistic lighting effects to finish off your newly learned text effect technique.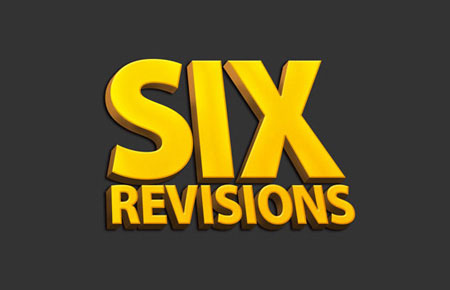 17. How to Design a Vintage Horror Movie Poster in Photoshop
In this tutorial you'll learn various techniques and effects on how to reproduce a legendary film poster for the popular horror movie called "Day of the Dead". You'll be using and manipulating various textures and stock photos to create a great composition.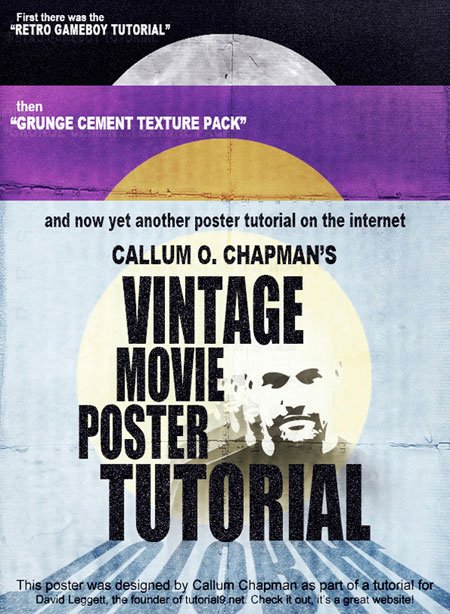 Sometimes vector art can look a little too crisp and unnatural. In this tutorial, Derek Lea will be teaching you how to combine your vector art with textures to give it an awesome worn-and-torn look!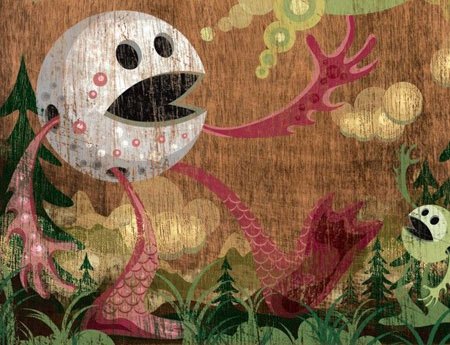 After learning how to create some custom typography in Illustrator, you'll be instructed in great detail how to merge stock photographs of (splashing) milk with your custom type to produce this great milky typography effect.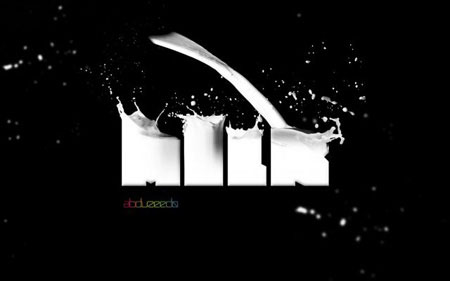 With some help from Cinema 4D to create your text, you'll be using brushes, motion blurs and various stock photos and textures with different blending modes to create this wonderful piece of typography art.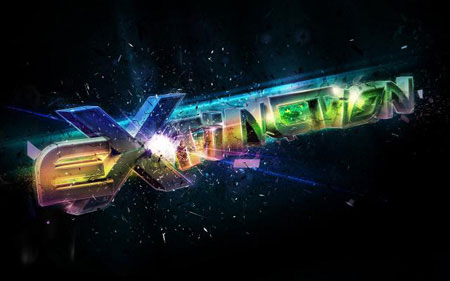 Learn how to correctly use a grid layout template when designing a new website. Combine various tools and effects to create a clean and modern "web 2.0" style web mock-up.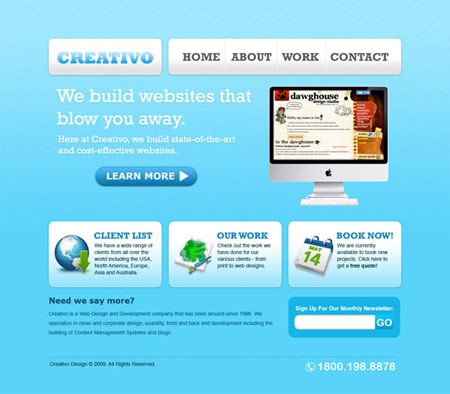 In this tutorial by Chris Spooner, you'll be learning how to use advanced lighting techniques and stock photography manipulation to produce a trendy galactic style poster design.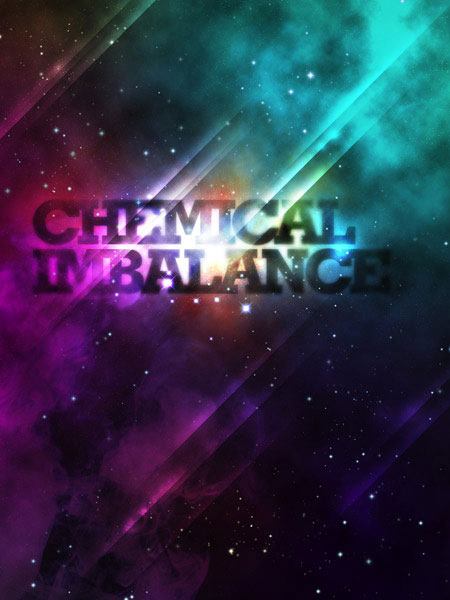 Effectively combine vector files with pixel art in this great tutorial by Fabio Sasso. You'll learn how to create custom geometric shapes in Illustrator and then merge them with some great Photoshop lighting effects and noise filters.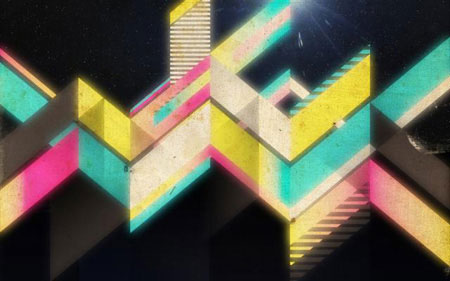 24. Colorful Glowing Text Effect in Photoshop
Create some custom-sized type in Photoshop and manipulate it using various techniques such as adding glows, playing with motion blurs, modifying colors and adding reflections.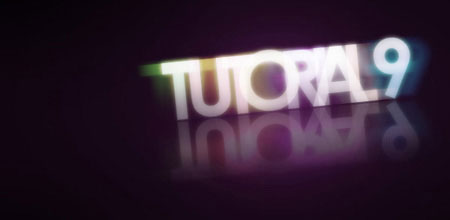 25. Design a Modern and Sleek Web Design Mockup in Photoshop
Follow through the detailed web design tutorial to learn how to create a simple but modern and sleek mock-up in Photoshop.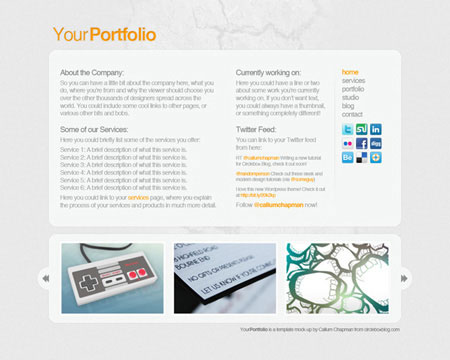 26. Design a Clean Portfolio Site in Photoshop
Learn how to correctly and effectively use guides to your advantage when designing for the web, and pick up several tips and tricks along the way whilst you pay attention to every single tiny detail in the design.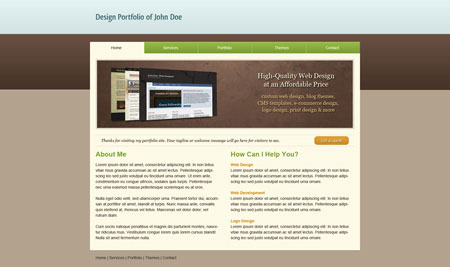 This incredible and inspiring tutorial by Tyler Bramer published on Smashing Magazine is probably one of the most detailed of the year. You'll learn an endless amount of techniques in the tutorial including photo manipulation, blending techniques, lighting effects and much, much more!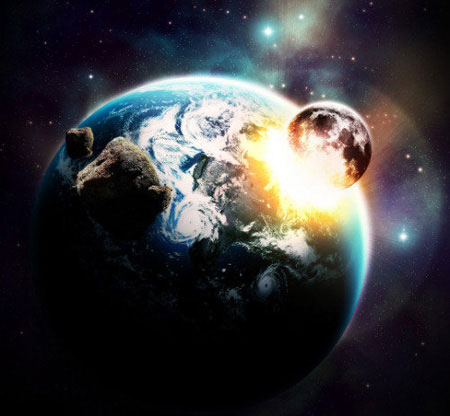 Create a slightly freakish typography and retro "space face" in this tutorial by following through the detailed steps on how to manipulate typography, add extreme bursts of color and how to effectively use light to make your image stand out.
29. 3D Typography Tutorial in Photoshop & Illustrator
Once again you'll be using both Illustrator and Photoshop in this tutorial: Illustrator to create the 3D typography, and Photoshop to add some great lighting effects, gradients, shadows and an awesome HDR effect.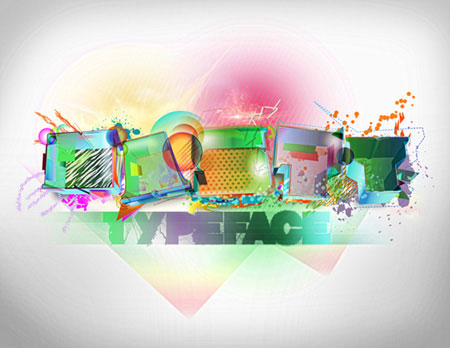 30. Create a Furious Pink Panther Poster
In this tutorial you'll be manually tracing a stock photograph in Photoshop (graphics tablet recommended!), adding some awesome colored grungy and splattered areas followed by some great halftone brushes and some strong, bold typography.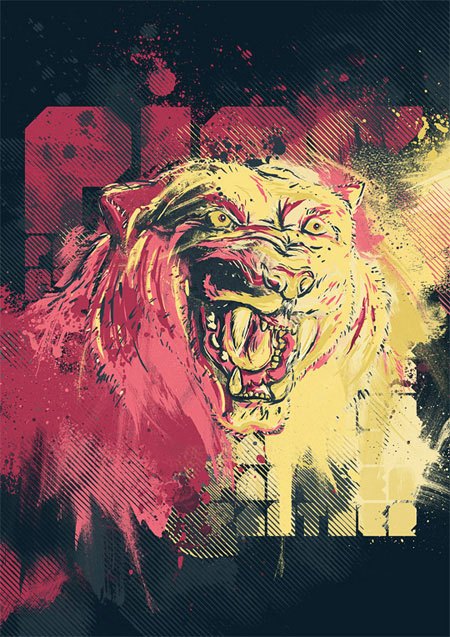 Deconstruct and reproduce a vintage magazine advertisement in Photoshop by following this superb tutorial by Danny Outlaw at his blog Outlaw Design. Learn how to professionally combine grungy textures with a clean and professional stock photograph.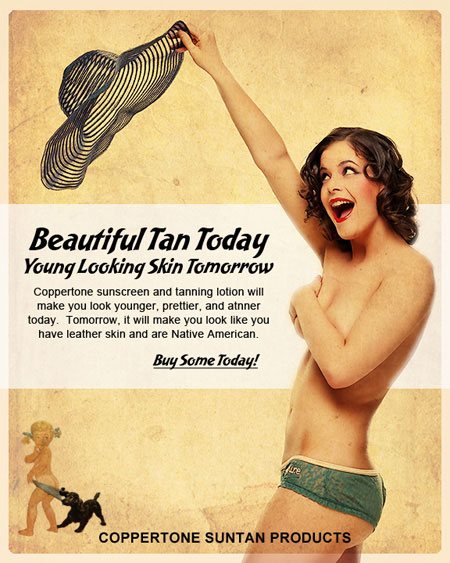 Follow this great tutorial written by Matthew Heidenreich to produce a trendy and modern paper-themed web design mock-up. Use various textured photographs and scanned images to make a realistic paper look.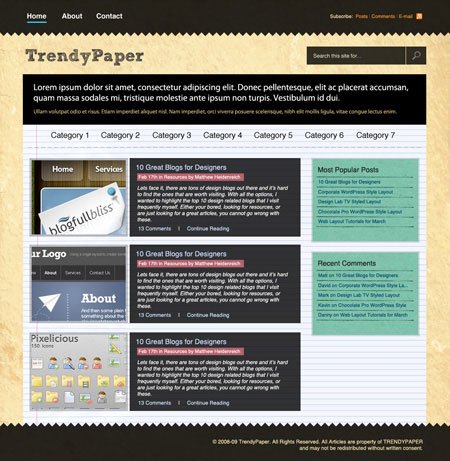 33. Creative Photoshop Animal King Photo Manipulation Tutorial
In this detailed and (probably) very recognized manipulation, you'll learn how to manipulate and merge a lion's head and various other items and creatures into a famous portrait painting of Napoleon.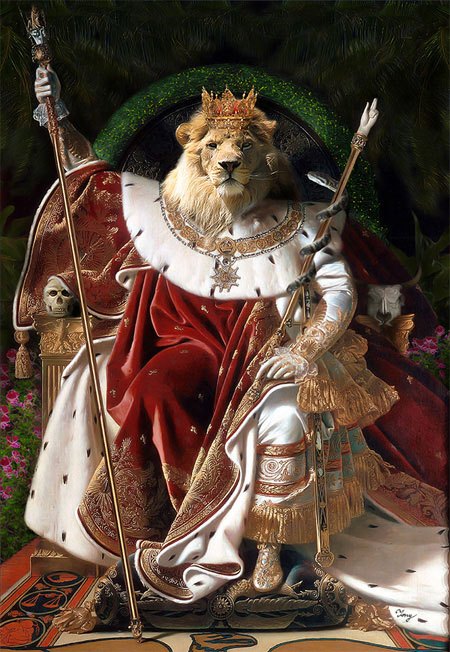 34. Create a Winter Theme Web Design in Photoshop
Although this tutorial by Ionut Ciursa is relatively new, it lands a well-deserved place in this list. You'll learn some very handy techniques such as making a frosted header banner and how to effectively use guides when designing for the web.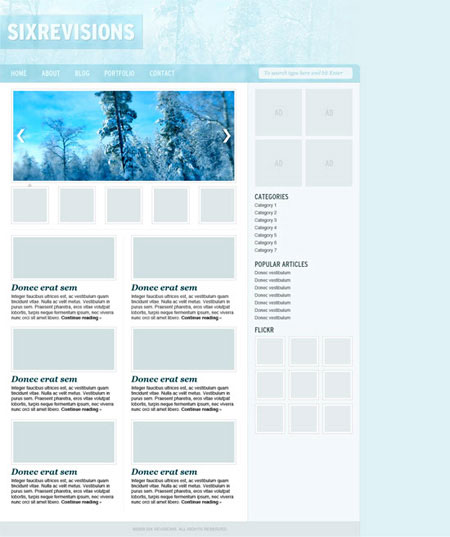 In this tutorial you'll learn how to create an Apple-inspired application gift ribbon (as seen in Apple's latest Christmas promotional period). You'll be using various tools such as the Warp Transform tool and the Gradient tool.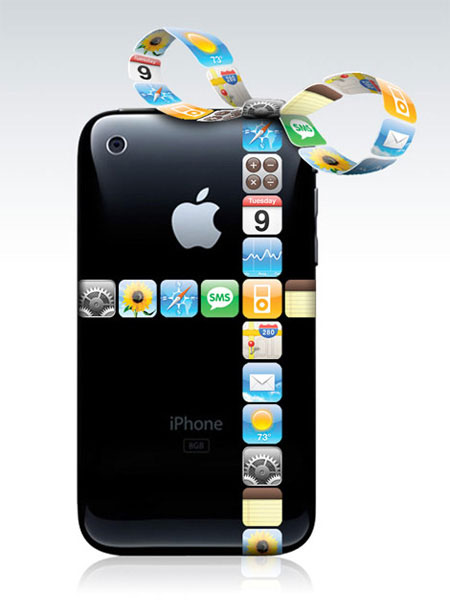 36. Design a Stylish Mail Icon in Photoshop
Use the Pen tool and several layer styles to produce a modern and stylish mail icon in Photoshop. Icons created using this technique are suitable for the web, print documents, and even application icons.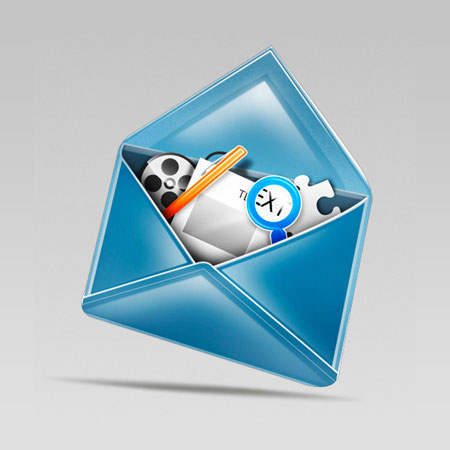 The popular TV show, "Heroes", has become a hit for the catchy storylines and the fantastic art that is associated it. This tutorial shows how to produce the eclipse in very simple and easy to understand steps. You'll learn some great lighting techniques as well as how to apply grungy textures.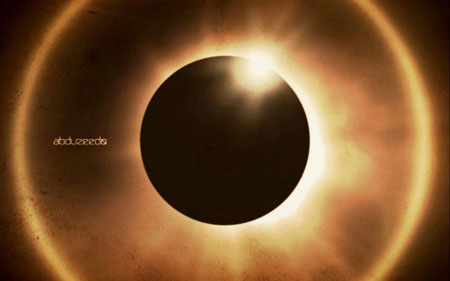 This could ultimately be one of the best and most helpful tutorials you'll ever read. Learn simple but superb techniques on how to add special finishes to your print work such as spot colors, spot varnishes and more!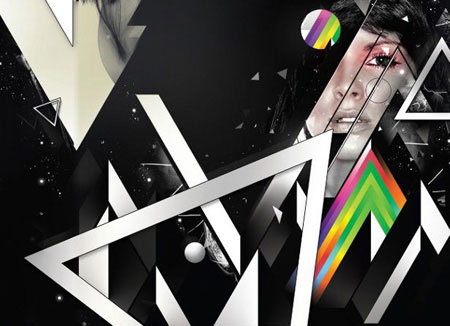 39. Creating an Abstract Watercolor Wallpaper
To make this great watercolor wallpaper effect in Photoshop, you'll need to know how to use advanced layer mask techniques. Not too sure how to do that? This tutorial teaches it perfectly.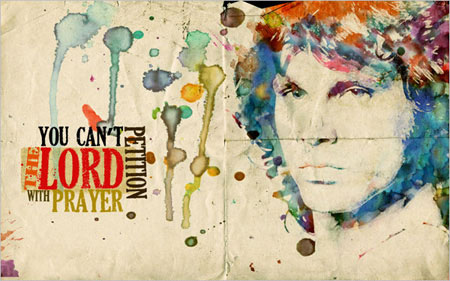 40. How to Create a Cool and Stylish Green Poster Design in Photoshop
Combine various blending modes and manipulation techniques in this tutorial to create a stylish and modern green planet with wavy lines.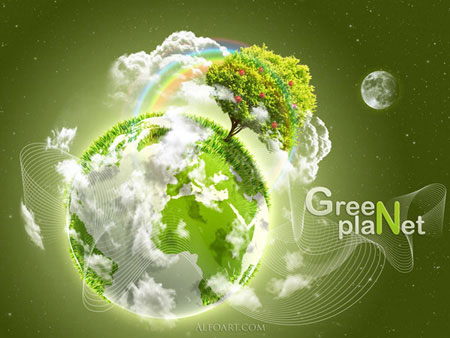 41. Killer 3D Poster Design with 3DS Max & Photoshop
This tutorial combines both 3D Max (20%) and Photoshop (the remaining 80%) but can, however, all be produced in Photoshop. You will be learning techniques on the basics of lighting, mapping, rendering, applying textures blurs and various other tips and tricks to produce this galactic style poster design.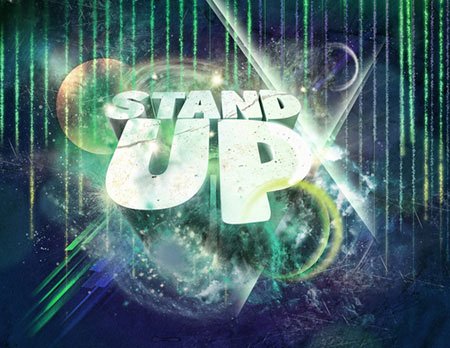 If you want a way to freak out your other half or one of your friends, this is a great technique to learn. Taught by Simon Rudd, he walks you through the steps on how to separate limbs (nice!) using various tools and techniques such as how to use the Heal tool, how to use layer masks and how to use adjustment levels.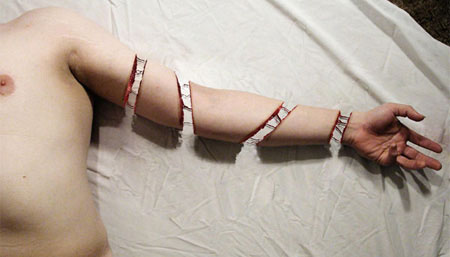 Andrew Houle talks you through how to create some great 3D typography in this tutorial. You'll learn how to color 3D illustrations by using gradients and how to use hue, saturation and lightness levels to productively change the feel of the final image.

In this tutorial, David Cousens takes you through the design process of his digital painting "Broken Link" from sketch to the finalized digital piece of art. Throughout the tutorial you're bound to pick up on hundreds of little techniques such as light sources, basic drawing techniques and how to add a bit of a dirty feel to your final image.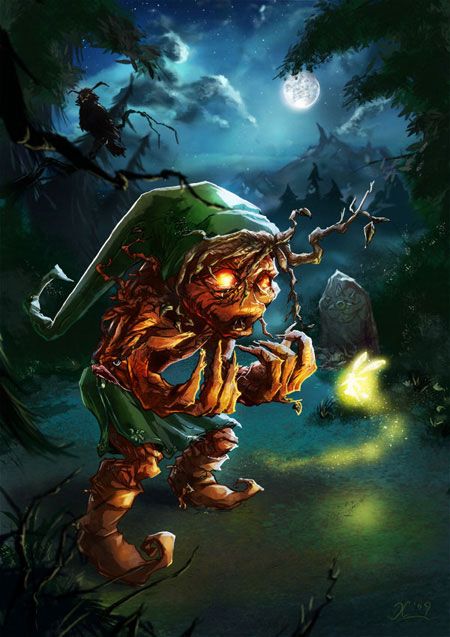 In this awesome tutorial you'll learn how to make a realistic and grungy peeling sticker from scratch using Photoshop's simple tools such as the Ellipse tool, the Polygonal Lasso tool and feathered brushes. This tutorial is great for making your own icons for web and print, or even for designing your own real stickers!

This effect is known as the "letterpress text effect" and has been a huge design trend of 2009 – the effect is still expanding and I can't see it going very far in 2010. For that reason, this tutorial by Chris Spooner made it into the list with a well deserved place. Use very simple techniques to create this stylish and effective text effect!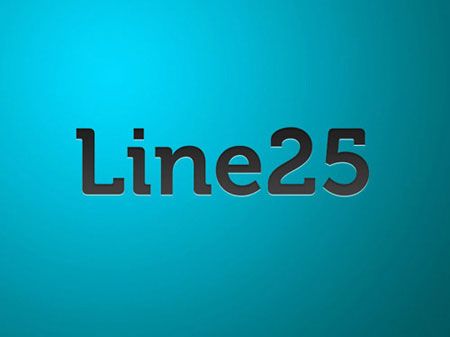 This piece of art was inspired by the master Scott Hansen. Fabio Sasso walks you through how to create your own digital wallpaper like Hansen's using a combination of layer masks and watercolor brushes.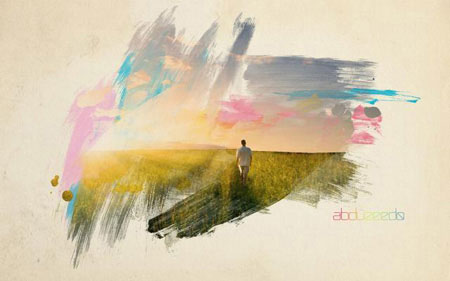 In this tutorial, university lecturer Eren Goksel will teach you how to use the 3D Orbit tool, the Mosaic filter and various other techniques to design a 3D text block type effect in Photoshop.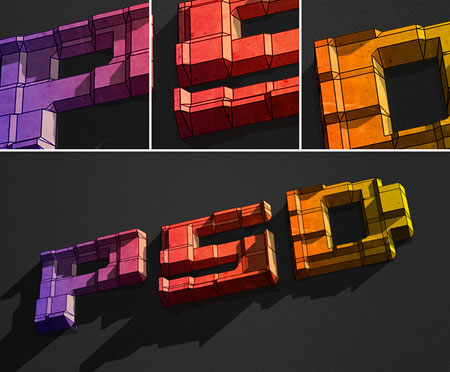 To create your own stunning and bold 3D text you will use a combination of Illustrator and Photoshop to create your 3D type and several layer styles and tools such as the bevel and emboss style, Gaussian blurs and layer masks.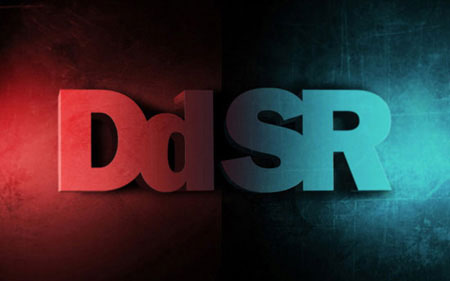 Combine the use of textures, rendered clouds and loads of great tools and techniques to produce a realistic briefcase icon that can be used for various projects, both web and print.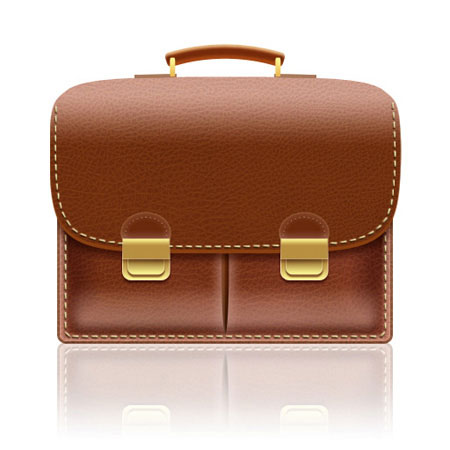 Related Content
WebFX Careers
Join our mission to provide industry-leading digital marketing services to businesses around the globe - all while building your personal knowledge and growing as an individual.