Grow SEM's ROI With a Top Search Engine Marketing Agency
With a track record for improving search engine marketing's ROI by 20% (on average), WebFX is the Google Premier Partner businesses trust when looking for a search engine marketing agency. Get a custom strategy, pricing, and flight plan for your business by requesting a proposal now!
Capture more revenue from the web with a proven SEM agency
93%
client satisfaction rate
91%
client retention rate
$3 billion
revenue driven for clients
7.8 million
leads driven for clients
$120+ million
annual ad spend under WebFX management
20%
average PPC performance lift with our proprietary tech
Who is WebFX?
WebFX is a full-service SEO and SEM agency headquartered in Harrisburg, Pennsylvania.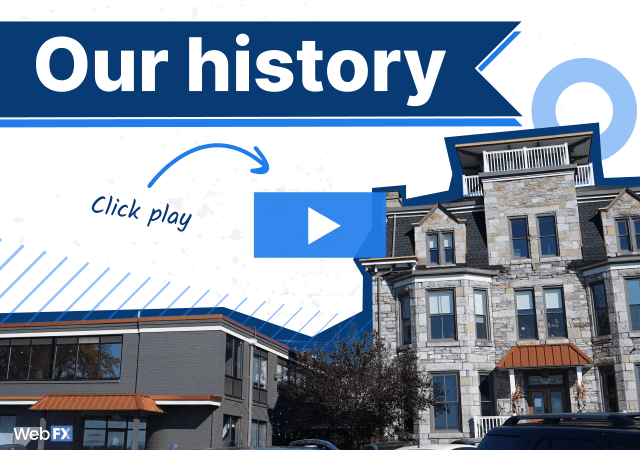 The company was founded in a dorm room in 1996 as a way for now-president, Bill Craig, to earn some extra cash while he earned his Bachelor's degree at Shippensburg University.
Fast-forward two decades, and WebFX is now a digital marketing powerhouse with clients throughout the United States! We've driven more than $3 billion in revenue for our clients over the past five years and have earned a client recommendation score that's 488% higher than the average.
Our SEM marketing agency focuses on what's best for our clients and how to achieve their goals, and our team of talented Internet marketers specializes in search engine optimization (SEO) and pay-per-click (PPC) advertising as well as social media marketing, email marketing, lead generation, and more.
As WebFX has grown from a dorm-room hobby into a national provider, we've never lost our focus on client satisfaction. At the end of the day, we understand that our clients' success is our success, which is why our search engine marketing company works so hard to meet and exceed their goals.
Working with our search engine marketing firm: What to expect
Learn what it's like to work with our search engine marketing firm for SEM — and why 91% of our clients stick with us after their first year!
Step One

Meet your SEM team
WebFX is a full-service search engine marketing company, which means your business receives a full-fledged SEM team, from a dedicated account manager to a digital advertising specialist to an ad designer.
Step Two
Build your SEM strategy
Your dedicated strategist will collaborate with you and your team to understand your organization's goals, processes, and audience to then create a recommended strategy for achieving your goals through SEM.
Step Three
Launch your campaigns
Next, our SEM agency will build and launch your campaigns — and we'll take care of everything. From setting up ad groups to writing ad copy to designing creative assets, you can sit back and focus on other internal tasks that need your attention.
Step Four
Optimize your ad campaigns
Your dedicated SEM team will monitor your campaigns' performance and make proactive changes to improve your returns, from more qualified leads to bigger sales, so you can achieve your business's goals.
FAQs about search engine marketing agencies
What is a search engine marketing agency?
A search engine marketing agency is a service provider that uses search engine optimization and pay-per-click advertising to increase a client's visibility in organic and paid search engine results. In some cases, SEM agencies will just focus on paid search results.
How much do SEM agencies cost?
Prices for SEM agencies' services vary and depend on your ad spend, business size, and even agency location. Typically, search engine marketing companies will cost $9000 to $10,000 per month. For the most accurate pricing, however, request a custom quote.
When should I hire a search engine marketing firm?
Business will look into hiring a search engine marketing firm when they're constrained by:
SEM agencies resolve these constraints by:
Managing all SEM tasks, which saves you time
Providing SEM skills, which improves campaign performance
Delivering measurable results, which contributes to company goals
How do I hire a search engine marketing company?
Some best practices for hiring a search engine marketing company include:
Outline what your business needs — and wants — in an agency
Search online, but also ask for recommendations from professionals in your network
Read the agency's reviews, case studies, and testimonials
Meet with the agency (in-person or virtually) to discuss their approach, process, and reporting
Request pricing and deliverables
Exploring an agency's website, as well as meeting with them, can help your team decide if the search engine marketing firm is a good fit for your company, budget, and department.
Why is SEM important?
When users are looking for information, products, or services, they often turn to search engines. In fact, more than 90% of online sessions begin with a search engine.
Most of these users stay on the first page of search results and only click on the top few results. Search engine marketing helps get your business into these top spots.
The PPC side of SEM enables your business to appear in ads that show at the top of the page above the organic search results.
With SEO, you can win organic listings on the first page.
When you combine SEO and PPC to get SEM, your business can appear in two of the most critical locations on a search engine results page — the top organic listings and the ads at the top of the page.
What is search engine optimization (SEO)?
SEO is the process of improving a website so its pages rank higher in Google search results. It's also helpful for achieving results in other search engines like Bing and Yahoo, but Google is the main target of any SEO strategy.
The immediate goal is to drive traffic to your site on a variety of different pages. That's because 93% of all online experiences start with a search engine, which means you have millions of opportunities to get new customers every year.
SEO is also one of the most affordable and reliable ways to produce consistent returns from your marketing budget. After all, 14.6% of all SEO leads result in sales. That's about seven times more than traditional marketing leads!
How much do SEO services cost?
Pricing varies by SEM agency, and there are many different factors that determine the monthly cost. SEO costs typically range between $1500 and $5,000 per month, though, based partially on the project scope.
What do SEO services include?
SEO services can include a range of deliverables.
Here's what you can expect when you work with an SEO agency for SEO:
SEO strategy creation
Keyword research
Competitor and industry analysis
SEO audits of your website
Content creation
On-page optimization, such as optimizing keyword use improving user experience
Off-page optimization, such as link building
Technical SEO, such as improving your page speed and site architecture
Tracking and reporting of SEO results
What is pay-per-click (PPC) advertising?
Pay-per-click advertising (PPC) is an advertising model that allows you to promote your business online but only pay when a user clicks on one of your ads.
In most scenarios, PPC runs like an auction system. You find a keyword that's related to your business, dictate how much you're willing to spend for each click, and try to beat your competitors.
If your bid is higher than your competitors', your ads will show up as users look up the keywords you've targeted in search engines.
As the name implies, with PPC, you only pay when someone clicks on your ad. The most popular PPC advertising platform is Google's, which is called Google Ads.
What do search advertising services include?
When you work with an SEM agency on PPC, you can expect services such as:
Strategy creation
Keyword and competitor research
Ad copywriting
Bid management
A/B testing
Campaign tracking and reporting
How much do PPC services cost?
PPC services pricing depends on several factors, from your ad spend to your industry. Typically, PPC management costs $350 to $5000 per month with monthly ad spends ranging from $300 to $100+ million per month.
Get a turnkey solution to digital marketing with our SEM agency
In addition to SEO and PPC, our SEM agency offers a full suite of other digital marketing services to help your business grow. Many of these services relate closely to SEM, and they can all be part of a strong online marketing strategy.
Social media marketing
Content marketing
Reputation management
Lead generation
Lead tracking
Email marketing
Web design
Web development