Have some questions about Internet marketing? You're certainly not alone. For those who are unfamiliar, attracting leads and generating revenue online can be confusing, and even for those who may have understood it in the past, the constant changes make it a difficult field to keep up with.
Call 888-601-5359 to speak with a strategist about Internet marketing plans from WebFX, or keep reading for answers to a few of the questions our team is asked most often:
WebFX is a partner businesses trust.
Hear from HydroWorx, who saw a 236% increase in organic sessions with WebFX services.
Watch the Video Testimonial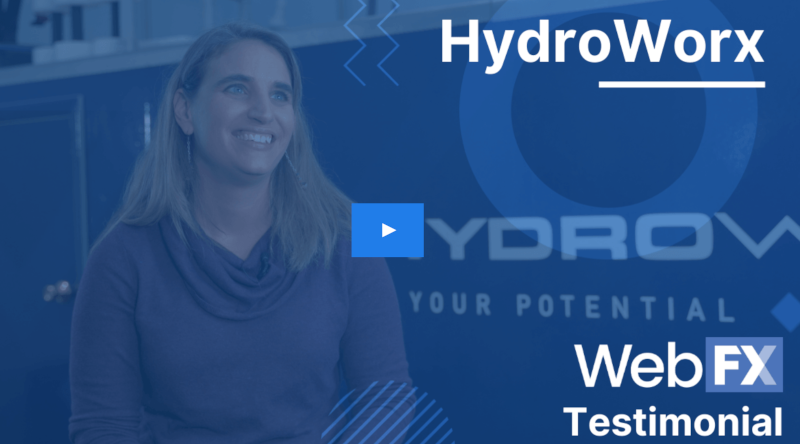 1. Isn't Internet marketing just regular marketing?
While Internet marketing certainly uses some of the same elements of more traditional, offline marketing, Internet marketing has its own nuances.
Perhaps the most apparent is immediacy—you can get an advertisement on the web in a few hours if you're willing to take the time and spend the money. The Internet is certainly fast, however, that also extends to the rate at which it changes.
For instance, less than a decade ago, social media was only used by a handful of users worldwide. Now, it's the primary way Internet users spend their time, and is also an extremely profitable marketing channel.
2. What is the best way to market online?
One of the most exciting aspects of the Internet is the wide variety of marketing opportunities available to business owners. From SEO to PPC to social media, the options are plenty—and growing.
That being said, there's no one way that works best for every company. While we typically recommend a variety of strategies and channels, some work better within certain industries than others. The only way to find out which ones perform best for your business is through trial and error.
3. Can I market online for free?
Unlike traditional marketing, there are quite a few ways to start marketing online for free. Doing search engine optimization, or SEO, requires investments of only time and energy if you have a website, and all social media platforms are completely free to join.
That being said, if you want to maximize your online potential, you will likely need to invest some money in professional Internet marketing. Most business owners and traditional marketers do not have extensive knowledge of SEO, PPC, and other strategies that help sites succeed in the increasingly competitive online market.
4. How often do I need to post or blog?
The Internet is a great way to spread information about your company, and some of the fastest (and cheapest) ways to do so are posting on social media and maintaining a company blog. However, those strategies only work if you regularly maintain a presence.
There's no magic number of weekly posts you need to hit, but you should create a plan and stick to it. Your followers will appreciate a sense of regularity, especially since it means that you'll post content that interests them—not just content that you create to sell them specific products or services.
5. Can my Internet marketing strategies work with my traditional ones?
Ideally, your Internet-based and traditional marketing strategies should work together seamlessly. If your branding is clear and consistent across all of your marketing materials, this is relatively simple.
However, if you want to combine your strategies in the most effective way possible, you'll need to ensure that you track everything. And while measuring and analyzing online efforts is much simpler, this blog post will help you get started. Once you have a clear way to look at all of your marketing efforts as a whole, you'll be able to see what's working—and what isn't.
From there, you can eliminate the ineffective methods and know for a fact that your strategy only includes the most effective strategies from both online and offline options.
6. Do I really need Internet marketing?
In a word—yes.
Today's consumers are online, and if you're not there for them, you run the risk of becoming obsolete. Traditionalists may want to stick to marketing in print publications, through direct mail and/or via billboards, but it's a dangerous decision.
To compete in today's world, you simply have to be a part of the Internet, and that includes Internet marketing. Whether you choose to work with an agency or take a more DIY approach, you should (at the very least) maintain a website with basic information and ways to contact you.
7. How much of my marketing budget should I spend online?
The magic number of Internet versus traditional marketing doesn't really exist. However, if you're effectively monitoring the ROI of all of your channels with tools like Google Analytics, it should be easy to see which methods are the most effective.
If you eliminate the methods that aren't effective, you'll have more money to spend on the ones that are. As a result, you won't actually need to spend any more than you already do on marketing—you'll just reallocate it.
8. How can I learn more about Internet marketing?
Internet marketing is starting to be taught in many institutes of higher education, but you don't have to go back to school to find out how to use Internet marketing strategies for your company. Moz's Beginner's Guide to SEO is a great starting point for anyone unfamiliar with search engine optimization, and there's a wealth of valuable (and free!) information on other popular sites like MarketingLand, KISSmetrics, and Quicksprout.
For more detailed information on growing traffic, generating revenue, and improving your overall marketing strategy, you may also want to check out our free marketing guides.
9. How can I tell if my Internet marketing is working?
You can measure just about every aspect of your Internet marketing, but that sometimes makes it difficult to pick out the metrics that are truly important. Instead of trying to do it all, pick a few key performance indicators, or KPIs, and monitor them regularly.
If you've chosen the right KPIs, it will be easy to tell whether your marketing efforts are successful. And if you're working with an agency, they should be willing to generate regular reports for your company using these metrics.
Time to Level Up Your Sales
Our long list of services helps you grow every aspect of your business with marketing strategies that are proven to increase bottom-line metrics like revenue and conversions.
In the past 5 years, we've managed more than 12.9 MILLION transactions across our client base.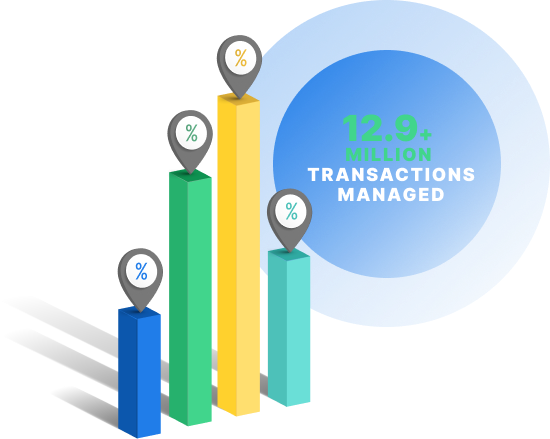 Want more answers to internet marketing FAQs?
We hope these answers cleared up some of your questions about marketing, but if you're still confused about a few points, feel free to contact us! Our dedicated team is more than happy to answer any questions you may have, as well as get you on your way to creating a successful Internet marketing strategy.