What Is Internet Marketing? Learn the Definition, See Examples, & More!
Internet marketing, also known as online marketing, digital marketing, or website marketing, is a form of marketing that uses the Internet to promote a brand, product, or service via social media, search, email, and other digital channels.
Are you looking to expand your marketing efforts? If so, Internet marketing is a great opportunity for you to reach more leads for your business.
Want to learn more about Internet marketing? We've got you covered.
In this article, we'll answer:
Need an Internet marketing consultant?
Give us a call at 888-601-5359 or contact us online to get in contact with one of WebFX's talented Internet marketing consultants today!

Free Comprehensive Guide
Digital vs. Traditional Marketing
Download this guide to understand the key advantages, costs, and opportunities for each to decide which is best for your marketing strategy!
Get My Free Guide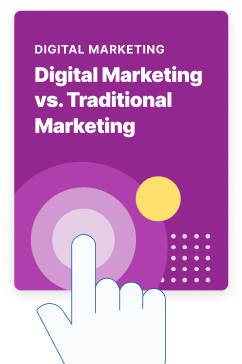 What is Internet marketing?

Internet marketing, also called digital marketing or online marketing, involves promoting a brand and its products or services to online audiences using the Internet and digital media.
With Internet marketing, you use a combination of online strategies to help you build better relationships with your audience and attract more interested leads.
7 Internet marketing examples
Internet marketing uses several techniques and strategies to drive online traffic, leads, and sales. Online marketing involves using these major strategies:
1. Search engine optimization (SEO)
Search engine optimization (SEO) is the process of optimizing your website to rank higher in search results. This strategy helps you appear in more relevant search results, so you can drive more qualified traffic to your site.
Much of SEO involves increasing your rank in search by using techniques to:
Research and incorporate search terms (keywords) that your target audience uses into your content
Generate high-quality content that provides your audience with relevant answers to the questions they make
Improve user experience by improving web design
Earn backlinks from authoritative sources in your industry to gain online reputation
2. Content marketing
Content marketing strategy focuses on sharing valuable, industry-relevant information with your audience. With quality, relevant content, you can build up an attentive audience and get them to check out your business.
Content comes in numerous forms including:
Blog posts
Infographics
Videos
Ebooks
Podcasts
And more
The important thing to remember with your content marketing strategy is to create content often. Content marketing is all about consistency. The more that you post online, the more people that your content marketing will reach.
For your content marketing to produce the best results, your content needs to be high-quality, which means your content:
Easy to read: The vocabulary is around an 8th-grade reading level
Researched: It integrates your target keywords and answers your audience's question clearly, succinctly, and accurately
Unique: It adds relevant information to the discussion in your own style
Interesting: It generates a good experience for your reader
Error-free: It's grammatically correct
3. Pay-per-click (PPC) advertising
Online paid advertising generally involves paid search ads and display ads. Most online paid advertising functions on a pay-per-click basis, where businesses pay for the ad only when users click.
Much of the benefit of online ads comes from the fact that most online ads are less intrusive than their traditional ad counterparts like billboards or cold calling.
Pay-per-click (PPC) advertising is one of the best Internet marketing strategies to drive traffic to your site quickly at a low cost. With PPC advertising, you can easily appear high in search results, and the return is high since you only pay when someone clicks on your ad.
4. Social media advertising
Social media advertising is also another cost-effective Internet marketing strategy to start generating an online presence.
If you want to use social media advertising, you'll need to choose which platforms you want to use to reach your audience. Popular social media advertising platforms include:
Social media platforms gather a plethora of information on users that you can use to target your ideal audiences — the ones that are most interested in what you have to offer.
Pulling in these audiences with a wide variety of engaging social media ad types will boost your traffic and engagement, as well as your sales and conversions.

5. Social media marketing
Social media networks provide a great opportunity to market online because of how easy it is to use the networks to share information. That's why social media marketing is a great option for your business.
With social media, you can:
Increase brand awareness: Social media lets you have a larger online presence. You can build up your brand identity and show up as a relevant interest for your audiences. When your audience sees your presence on social media, they'll get more familiar with your brand.
Interact with audience members: Social media provides useful platforms for interacting with your audience one-on-one. Whenever your audience has questions, concerns, or thoughts they want to share, you can be there to provide quality interaction right when they do. Your engagement with your audience on social media can help set you apart from your competition and show that you care for your audience.
Build your brand voice: Social media is one of the best places to show off what makes you unique. You can showcase how your quality products and services improve your audience's life. You can also show off the relevant content that you produce.
Social media provides an essential means of engaging with your customers, building your brand voice and identity, and providing people with great customer service.
6. Email marketing
Email marketing enables you to connect one-on-one with leads interested in your products or services.
There are several different types of emails you can send, but some of the most popular ones are:
Newsletters
Customer service
Follow up
Loyalty/rewards
Recommendations
Promotions
You can also take advantage of the advanced targeting and personalization options that come with email Internet marketing strategies. With emails, you want to hit users with reminders and deals when they're most likely ready to convert.
Use email personalization to send emails to your audience when:
You publish new content they might like: You can show off your new content and get your audience to interact with your brand. Show that you have something in common with them.
They look at your products and services: You can send promotions on those products or services, or recommend similar ones they might be interested in.
They abandon a cart of products: You can remind them of items in their cart to increase the chance that they'll make a purchase.
It's their birthday or another special event: Discounts and coupons sent on these days work great for getting your audience to convert.
When you personalize an email, be sure to include the subscriber's name. It makes them feel connected to you and that you care about them enough to get to know them. Adding their name makes them more likely to engage because they'll know the email content is specific to their interests.
Get started personalizing your emails with MyEmailFX!
7. Web design
The web design of your site is vital for online marketing. Your website acts as your business's central hub. Your presence and activities on other online platforms most often lead your customers to your website where they can convert.
A good portion of website marketing focuses on building websites that appeal to your audience and gets them to continue engaging on your page.
Having a good design means making sure that your user experience (UX) is flawless. UX design involves aspects like:
Creating a modern design unique to your business
Implementing easy-to-use navigation and layout
Making design responsive on any device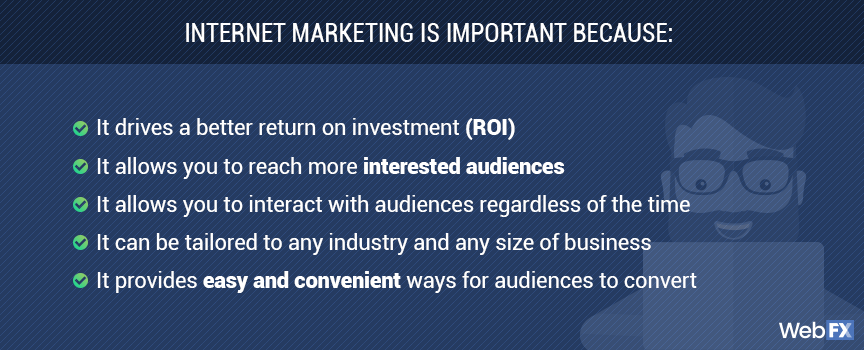 With Internet marketing, you can connect with customers using their preferred communication channels. The Internet also allows you to build strong and long-lasting relationships with your customer base.
Internet marketing is important because:
It drives a better return on investment (ROI): Internet marketing strategies are more cost-effective than traditional marketing strategies. These strategies have a better ROI because you target more interested leads, making them more likely to convert.
It allows you to reach more interested audiences: Online marketing enables you to reach audiences interested in your products or services. Using Internet marketing, you can reach these audiences interested in your business, whether they're local or international.
It allows you to interact with audiences regardless of the time: With automation and other techniques available with Internet marketing, you can stay in contact with your audience 24/7, so you can be there right when they're ready to convert, no matter the time, no matter the time zone.
It can be tailored to any industry and any size business: No matter what industry or size your business is, Internet marketing can adjust perfectly to provide the results you want because your audience is guaranteed to be online.
It provides easy and convenient ways for audiences to convert: The Internet makes it easy for your audience to convert. All it takes is the push of a button to buy, sign-up, download, or contact.
Why is Internet marketing important?
Internet marketing is important because it expands a business's reach and allows them to connect with more leads interested in their business.
The importance of Internet marketing lies in that it best aligns with the way consumers prefer to discover and purchase products and services.
7 ways to use Internet marketing
You know the meaning of Internet marketing, but how can you use Internet marketing? A few ways:
Build brand awareness
Generate website traffic
Attract qualified leads
Nurture leads
Convert leads (or drive sales)
Reduce churn
Improve customer satisfaction
Keep reading to learn how to use Internet marketing to grow your business.
4 steps to developing an Internet marketing strategy
Internet marketing allows you to communicate your brand's message to your audience, so when building your Internet marketing strategy, it's essential to keep your audience and brand in mind.
Use these four steps to help you build your Internet marketing strategy:
1. Identify your Internet marketing goals
The best Internet marketing plan is built around and continuously works towards a set goal. Without something to work towards, your Internet marketing strategies will fail to produce the results you want.
When building an Internet marketing strategy, identify what you want to achieve with your online marketing. Possible goals you could choose from are:
Driving traffic to your site
Boosting engagement
Earning calls
Encouraging downloads
Gaining subscribers
Netting sales
Growing followers on social media
And more
2. Define your audience
To create a proper Internet marketing strategy, you need to identify your audience first. You want to identify who is interested in your products or services.
Take a look at your typical customer. What attributes define them?
You can document information like:
Demographics
Socioeconomic status
Interests
Hobbies
Occupation
Buying habits
And more
Without researching your audience, you run the risk of improperly targeting your audience. You'll drive less than satisfactory results with your campaigns if you don't target the right people.
3. Identify the strategies you want to use in your Internet marketing campaign
After you have identified your Internet marketing goal as well as your audience, the next step is to determine which Internet marketing strategies would work best for your business.
You'll want to use strategies that enable you to reach your target audience. Where is your audience likely to engage with your business? You'll want to consider what keywords they're searching or what social platforms they use.
It's also important to consider your budget, too. You want to ensure you're investing in strategies that fit within your budget, so you don't overspend.
4. Monitor your strategies
For Internet marketing strategies to drive the best results, you need to analyze the data from your campaigns.
Online data tracking tools such as Google Analytics can help you keep track of data from your Internet marketing strategy in real-time. This platform is great for SEO and PPC strategies. You can track:
How many people visit your site
How long they stay on your pages
How many people click your ad
How many conversions you receive
And more
The metrics these tools pull in will help you determine how well your Internet marketing strategy performs.
This data will help you optimize your Internet marketing strategy. By monitoring your campaigns' performance, you can see what's working and not working for your business. As a result, you can optimize your tactics to drive better results for your business.
Get started with Internet marketing with WebFX
Ready to start building your Internet marketing strategy? If so, WebFX is the Internet marketing agency for you!
We specialize in helping our clients attain their Internet marketing goals and we know how to drive real results.
Contact us online or call us at 888-601-5359 to learn more about how WebFX can help you grow your business!

Free Comprehensive Guide
Digital vs. Traditional Marketing
Download this guide to understand the key advantages, costs, and opportunities for each to decide which is best for your marketing strategy!
Get My Free Guide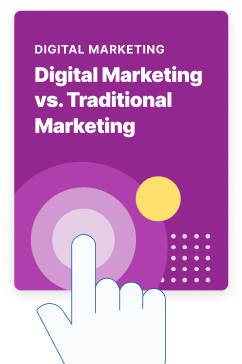 Earn a 20% greater ROI with WebFX