5 Effective Ways to Increase Market Share Online
A focus on sales, revenue and profits will keep your company going. But how can you improve in these areas? There are many strategies to try, but one of the most effective is to work towards a larger market share.
When your business attracts more customers and orders than your competitors, it's on its way to success. That being said, your market development strategy needs to be long-term.
There are many steps you can take to increase market share and be the leader in your field for a quarter or a year, but you'll lose in the long run if the position isn't sustainable. When you work to increase market share, you need to make sure you can build on your past success and maintain market share for years or even decades.
These steps will help you get there. If you'd rather speak with a specialist, you can reach us at 888-601-5359.
Our digital marketing campaigns impact the metrics that improve your bottom line.
See More Results

WebFX has driven the following results for clients:

$3 billion
In client revenue

7.8 million
Leads for our clients

5.2 million
Client phone calls
1. Build a referral program
It takes a lot of time and effort to acquire new customers, which is one reason why so many B2B businesses rely on referral programs. In one banking study, referrals were 18 percent more likely to stay with the company and generated 16 percent more in profits.
Get these benefits — and increase market share in the process — by implementing a referral program in your company.
As for referrals wherever you can, including on your website, social media and email. Ask for names and email addresses, and then reach out to these new leads. When you do, tell them how you got their information. Otherwise, your message may read like a cold call and discourage them from following up.
Some customers may be happy to provide referrals, but others may need additional motivation. Offer an incentive for every new referral that places an order. A discount on a future purchase is a good motivator, as is an entry into a drawing to win a vacation or a cash prize.
2. Increase engagement with customers
Numerous studies show the correlation between customer engagement and customer loyalty. It's one of the reasons social media has evolved from an auxiliary channel to a standard tool in most marketing programs.
If you want to figure out how to increase market share online, increasing engagement will help you maintain your current share and turn more new customers into loyal buyers.
Communicate frequently via social media and email. Post new content on a regular basis and encourage customers to share and comment on it. Make engagement part of the selling process. Send a survey after each order asking customers for feedback about the ordering process, delivery and other issues.
3. Stay ahead of your competitors
Some of the largest companies in the world achieved their current positions because they offered something bigger or better than the competition. Others got there by offering it first.
If you want to grow market share, make innovation a part of your marketing strategy.
Innovation comes in many forms: new products, customized solutions, service delivery models or customer support. Look for a way to distinguish your offerings from those of other companies in your field, and you'll be seen as a leader — and a company worth staying with over the long term.
Innovation is important for growth, but don't just do it for the sake of doing it. Innovate to address a customer need, even if customers aren't aware of the need. This will keep customers around, but it will also help you follow the next step to increasing market share online.
4. Develop a unique brand position
Market share is impacted by several factors, including the ability to address a need in a way no other company can. If your company can stake out a unique brand position in the marketplace. Define this position and carry it out in everything your company does in order to maintain your current market share and increase it over the long term.
So, how do you define your brand position? Unique products and services is only the first step. It also requires your marketing team to create a distinct look, tone of voice and brand personality — as well as a plan to communicate your new position at every opportunity.
This brand will encompass everything your company delivers to customers, which will make it easier to attract new customers looking for the same type of experience.
5. Market to niche audiences
At first glance, this might seem like a bad idea if you're trying to increase market share. After all, a niche market is smaller and more specialized. And one niche market is — however, marketing to several niche markets can help you gain market share by developing larger footprints in smaller segments of the marketplace.
Suppose you sell accounting software. Many types of businesses want it, but they could buy it from dozens of other companies. Why would they want to buy it from your company?
With the right niche marketing strategy, you can position it as a suitable product for local retailers, start-up businesses, small companies and niche service providers. Each market is small — but when combined, they create huge market and, therefore, a larger market share for your business.
Time to Level Up Your Sales
Our long list of services helps you grow every aspect of your business with marketing strategies that are proven to increase bottom-line metrics like revenue and conversions.
In the past 5 years, we've managed more than 12.9 MILLION transactions across our client base.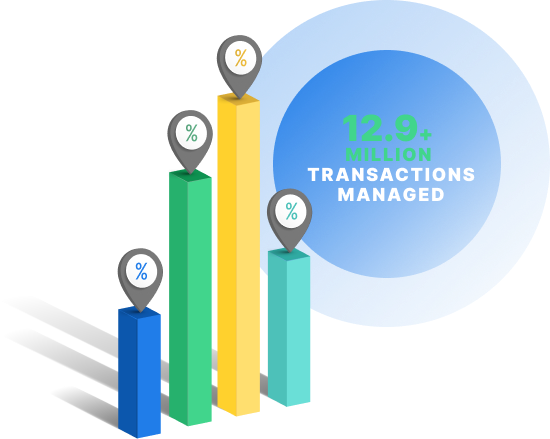 Want to increase your company's market share?
There are many ways to beat the competition, but market share is one of the most important. In addition to more revenues, it also yields greater loyalty, engagement, and attention. Put these strategies in place to get a bigger share of the marketplace.
If you don't have the in-house resources to create and manage a market share-specific strategy, WebFX can help. Contact us today to speak with a strategist!
Earn a 20% greater ROI with WebFX