4 Factors of a Good Internet Marketing Company Review
There is no shortage of Internet marketing companies. However, there is a small pool of exceptional Internet marketing companies. These are the ones that can provide concrete results, make your job as easy as possible, and work with you to continually improve your site's performance.
Finding the right Internet marketing company for you can be time-consuming if you don't have the right tools. That's why performing an Internet marketing company review is essential. Using an Internet marketing company review, you can use a set list of attributes to compare companies and ultimately choose the perfect one for your project.
If you'd like to speak with a specialist before reading on, you can reach us at 888-601-5359.
Time to Level Up Your Sales
Our long list of services helps you grow every aspect of your business with marketing strategies that are proven to increase bottom-line metrics like revenue and conversions.
In the past 5 years, we've managed more than 12.9 MILLION transactions across our client base.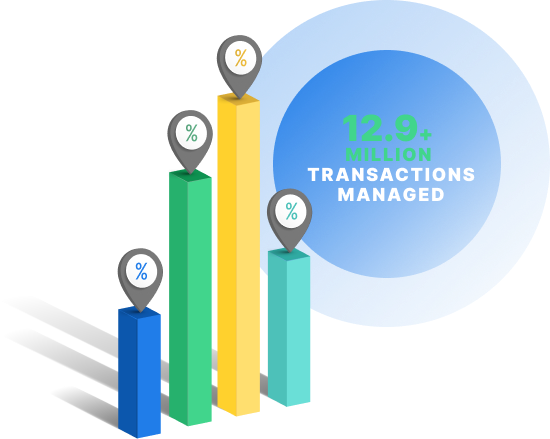 4 essential parts of an Internet marketing company review
In general, you can always find (and add) these key parts of an online review when looking for or reviewing an Internet marketing company.
1. Success
Another factor you should consider when performing your Internet marketing company review is success. Your Internet marketing company review should answer the question "how successful has the company been in helping clients reach their online goals?"
Just because a company says they've been doing Internet marketing for years doesn't mean they've been doing it well. That's why results should be a part of any Internet marketing company review. A good Internet marketing company will share sample results with you. An exceptional Internet marketing company will have outstanding results, plus the data and client testimonials to back it up for any online marketing company reviews.
WebFX has a proven track record of success. In fact, 100% of our clients enjoy positive results from our Internet marketing services. The numbers can be staggering, with some clients achieving over 800% positive change in search engine traffic. Success is another factor WebFX receives high scores for on any Internet marketing company review.
2. Experience
First, how much experience does the company have? Since any company can claim they are an Internet marketing agency, you need to find out exactly how long they've been doing actual Internet marketing work. If they are a reputable company, this information will be found easily on their website, which makes conducting Internet marketing company reviews a cinch for the more impressive firms.
WebFX has more than two decades of experience in digital marketing, and we were one of the first web design agencies to offer Internet marketing strategies. Over the years, we've amassed a team of the most talented Internet marketers in the industry. And, we've developed proprietary products and processes that enable us to provide top-notch services at competitive prices. That's why we score highly for experience on an Internet marketing company review.
Of course, most any project will have a budget. Determining SEO pricing is key to your Internet marketing company review. But be careful when considering pricing. Pricing should only be a tie-breaker if you find two companies with relative overall scores on your Internet marketing company review. Placing too much emphasis on cost can skew online marketing reviews too much and drive you away from quality firms.
Pricing alone should not weigh the heaviest on your Internet marketing company review since you typically get what you pay for. If you go for the lowest price on your Internet marketing company review, you may end up wasting your time and money, since they won't provide the same level of results as a more qualified Internet marketing company.
A reputable Internet marketing company will provide you with concrete SEO rates. Companies that don't provide SEO pricing easily, or don't explain how SEO pricing is determined, may not have the knowledge and experience to be providing Internet marketing services. Companies that use Internet marketing should understand how it works and how to price it. And if they don't, they should not score highly on your Internet marketing company review.
Not only does WebFX provide our SEO pricing online, we also explain exactly what is included in each Internet marketing package. Yet another reason why WebFX scores highly on any Internet marketing company review.
3. Company's website
If you're looking to hire an Internet marketing company to design your new website, start by examining their own site. Is it well-organized and user-friendly? How intuitive is the navigation? Are the graphics appealing? These are all important questions to consider.
But just because an Internet marketing firm has a well-designed website, doesn't necessarily mean that it's qualified to work on your SEO projects. While it's important to consider the look and functionality of the company's website, don't put all your eggs in one basket.
4. Social proof
Social proof is a great way to show potential customers how previous customers feel about your services. It also acts as free publicity.
Check out references and client testimonials to learn about the process, and find out what it's like to work with a particular Internet marketing company. Since you'll be working closely with your Internet marketing company, you need to make sure that you mesh well together.
To find out more about the WebFX experience, visit our client testimonials and reviews page. We're dedicated to the happiness and success of each of our clients, and it shows!
WebFX: Hundreds of reviews
We wouldn't talk about online reviews so much if we weren't confident in our own.
If you'd like to learn more about our credentials, you have hundreds of options — literally — right at your fingertips.
Are you ready for your company to get more for your company?
Give us a call at 888-601-5359!