Social media is a place where friends, family, and colleagues can share information. It's also where more than 74% of people go when they're looking to buy a new product, discover or new brand, or even find a new dentist. That's why social media marketing for dentists is such a valuable and useful strategy for attracting new patients, interacting with current ones, and building your reputation in the area for being a trusted practice.
Keep reading to learn why a social media strategy for dentists is a must, plus how to choose the best platforms for your dental social media marketing campaign. You can also get tips for making the most of your social media presence.
If you're looking for professional social media marketing for dentists, WebFX offers decades of experience and dedicated account managers that have helped our clients earn more than 7.8 million leads (and more than $3 billion in revenue) in the past five years.
Call us at 888-601-5359 or contact us online to learn more about our social media services for dentists!
Good agencies have more than 50 testimonials.
Great agencies have more than 100 testimonials.
WebFX has over 1000+ glowing client testimonials.
See What Makes Us Stand out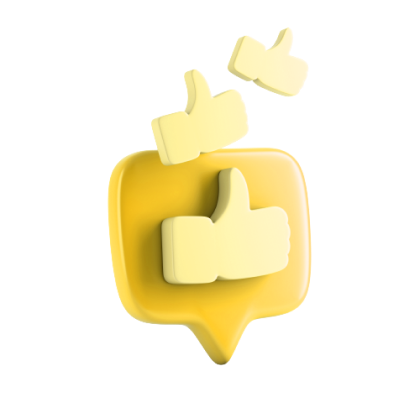 What is social media marketing for dentists?
Social media marketing for dentists is a method of promoting your dental practice online using social media sites like Facebook, Twitter, YouTube, and others. It involves creating profiles on social media networks, publishing social media posts, running social media ads, engaging with users, and other techniques. It's an excellent way to increase brand awareness, build relationships with patients, and reach potential new patients.
Why is social media marketing for dentists important?
Social media marketing for dentists offers several benefits, including:
Building relationships
Social media is a place for people to connect, so it only makes sense that you'd use it to build relationships with both your current and future clients.
When you respond quickly to comments or messages on a social platform, you have an opportunity to build a strong business/client relationship by proving to your clients that they are your priority.
For example, if you receive a message from a patient that asks what risks are included with swallowing fluoride toothpaste, you should make sure you respond within a timely manner to show clients that you care about addressing their concerns.
Replying to comments also gives you the opportunity to start a conversation with current and future clients. This proactive approach can help set your dental social media marketing strategy apart from other practices.
Attracting potential clients
When you encourage your current clients to connect with you on social media, you also have the ability to attract their friends and followers.
For example, if one of your Facebook friends like or share one of your statuses about a community event that you're participating in, their friends will see your update as well.
Social media has the ability to create a viral buzz for your dental practice.
A social media strategy for dentists that can help attract potential clients can include promoting a limited-time offer, like for teeth whitening, or new weekend hours.
Emerging as a leader
Social media marketing for dentists can also benefit from the viral nature of social media. With social media, you have the ability to spread word of your practice throughout the social community.
You can increase the awareness for your practice and its quality by asking your current customers to rate you on platforms like Facebook, so that when new customers check out your page, they can see that you provide quality care.
Sharing relevant articles, like about dental hygiene, from respected organizations can also help your practice build its reputation and trust among patients. With dental social media marketing, you can build not only your relationship with clients but also your regional reputation.
Not happy with your social media engagement?
We've got just the blog post for you.
Read the Blog Post & Watch the Video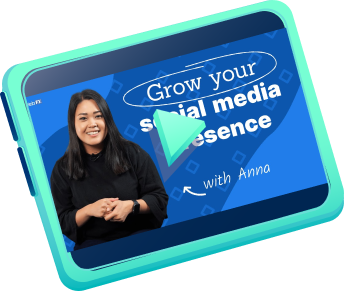 3 social networks for dental social media marketing
Any number of social media platforms can attract new customers to your practice. But some work especially well for dental social media marketing.
Here are some of our favorites:
1. Facebook
Facebook is used by billions of people every day.
You can increase your client base with Facebook by using a variety of strategies, including content-based posts, links to your site, and even paid advertisements.
When you post, it's important to link back to your website often so interested readers can learn more about your practice. Sharing industry posts is also beneficial because you become a source of valuable dental information to potential customers.
Since 65 percent of the population is visual learners, it's also important to add images to your Facebook posts. They could be of your office, your dentists, or explanatory graphics.
You can also use Facebook for PPC, or pay-per-click ads, where you can advertise to a targeted audience. This will cost you money directly, but it's also the best way to reach potential customers since Facebook decreased the visibility of brands.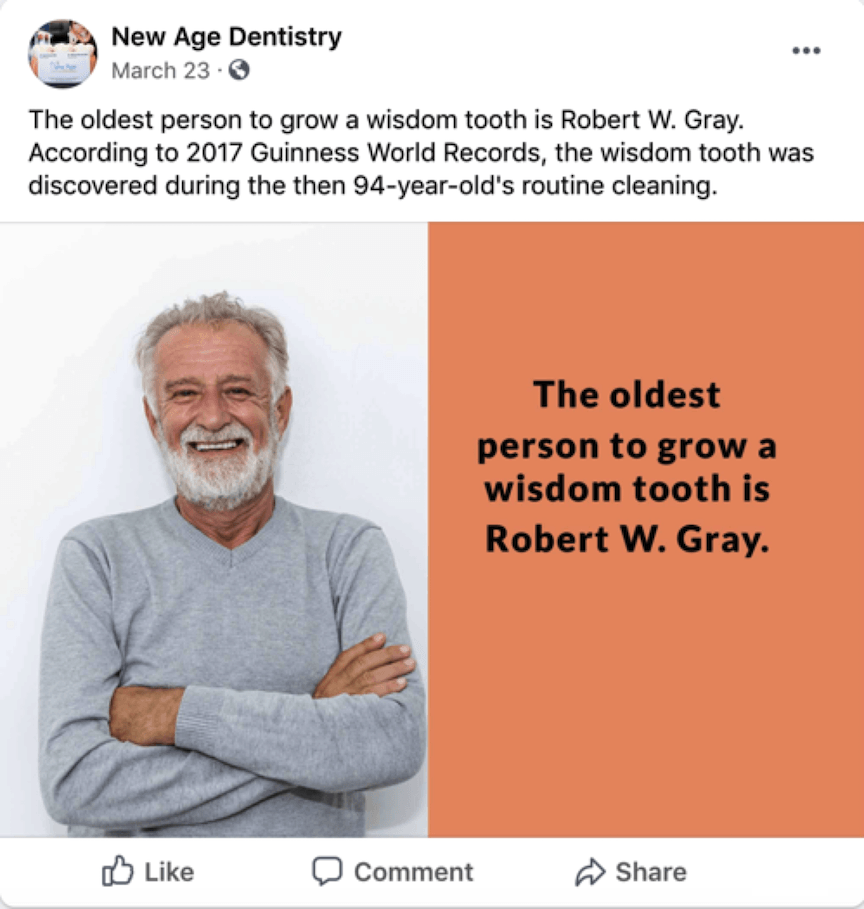 2. YouTube
YouTube is a go-to social media strategy for dentists.
There are many different ways that you can utilize videos to market your practice, including testimonials, office tours, and more.
You could start by posting an office tour to your channel. That'll attract views on YouTube, and you can promote it more with using other social channels like Facebook and Twitter.
Along the same lines, videos of educational demonstrations help inform and build trust with your potential customers. They're also great to share.
3. Twitter
Twitter is another great channel for marketing your dental practice.
Its benefits are similar to Facebook, but the biggest difference is that Twitter has a character limit for each post.
A tweet can only be 240 characters, but it's still a powerful marketing tool.
Your practice can attract new patients with tweets by using hashtags related to your industry, like #teethwhitening or #flouridetreatment.
You can also tweet and images of your office, employees, or smiling patients (with their permission, of course).
With Twitter, you can also target your audience with PPC ads that let you target users by demographic, location, or keyword.
How much does social media marketing for dentists cost?
Social media marketing prices for dentists vary depending on the number of platforms you choose to use, how many posts you'd like per month, and a number of other factors.
You can also contract an agency to manage your dental social media marketing strategy and accounts.
An average price for an agency-provided social media plan would be ranges anywhere from $800 to $4,000 per month.
When you pay an agency to market your dental practice on social media, you no longer have to handle your channels on your own. You can also get a specified amount of blog posts per month, a customized social media presence for each platform, in-depth reporting on your success, and more.
How to market your dental practice using social media
Here are six ways you can use social media to connect with your audience and bring new patients to your dental practice.
1. Post helpful tips and interesting news
As a dental professional, you're much more informed about industry news than the majority of your patients. You probably already read news articles and online publications for industry information. Sharing articles you read that your patients may find interesting is a great strategy for social media for dentists.
Be selective with the content you share, though – after all, the average person is unlikely to be interested in highly technical articles. Instead, stick to sharing tips and information that they can easily use to improve their own dental health.
If you have a content marketing strategy in place, you can also use your social channels to share and promote your own original content. Blog posts, infographics, and other interesting content help your followers learn about dental health and show them that you're an expert in your field.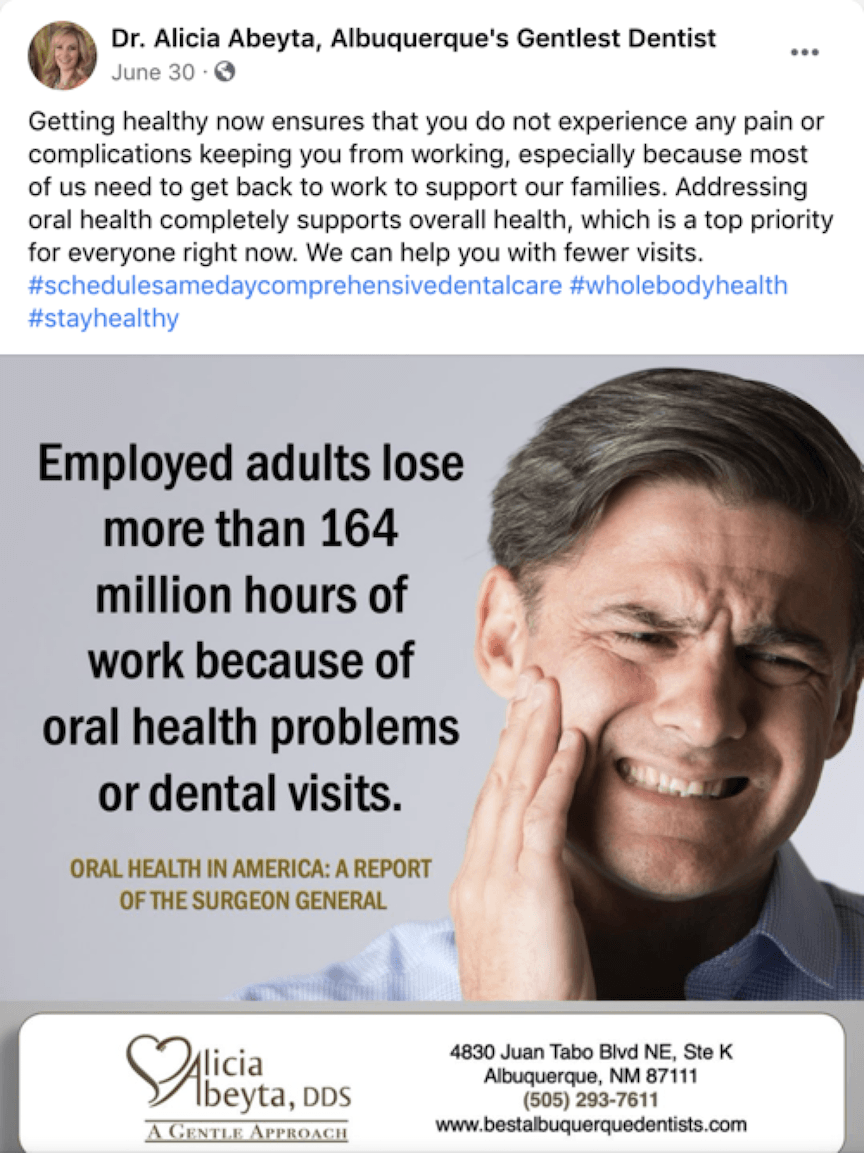 3. Tell your followers about important milestones and achievements
Has your practice won any awards recently? Have any of your employees hit important career milestones or earned recognition within the field?
These are all great accomplishments to share with your social media followers. When you highlight your practice's successes, you build trust with your patients.
And who doesn't like sharing their achievements with other people?
2. Share photos of your team
Many people avoid making dental appointments because they seem unpleasant. Posting informal, "behind the scenes" photos from your office shows them that you offer a welcoming environment and that a checkup is a positive experience.
If your employees participate in community events or volunteer opportunities, you should also share photos of these. Showing a more laid back side of your practice is great for building relationships with patients and making them feel more comfortable with you.
Plus, showing that you care about local organizations is a great way to build a positive reputation within the community. With social media for dentists, you can humanize your practice and get patients excited about seeing you and your team.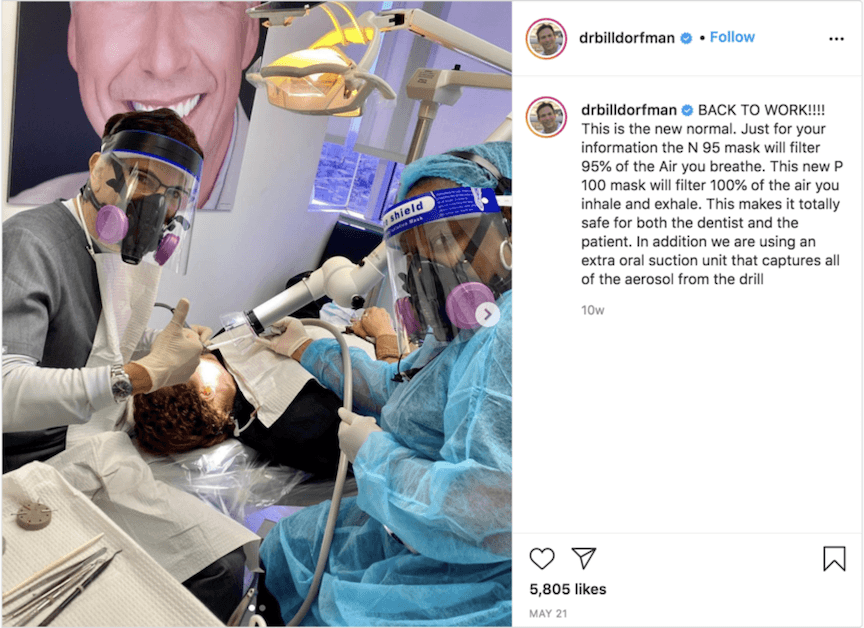 4. Engage with your followers
Engaging with your followers on social media is important for success on social media for dentists. Interacting with other users on social media helps you build relationships with current and potential patients.
Respond in a timely manner whenever someone comments on one of your posts with a question, and do your best to provide a helpful answer. And when users leave positive comments on your photos and other posts, be sure to thank them for their support.
This shows your followers that you not only take the time to read their comments, but also appreciate them enough to respond. When your other followers see this on your accounts, they'll be much more likely to leave comments of their own.
5. Manage your online reputation
Many people rely on the Internet for information and reviews about businesses, so it's more important than ever to manage your online reputation. Social media plays a major role in this process because users often use platforms like Facebook and Twitter to voice their opinions – both positive and negative.
Facebook, in particular, has an entire section on business pages dedicated to reviews. Users can rate your business on a scale from 1-5, then leave comments explaining their rating.
It's up to you whether to respond to each of your positive reviews individually, but doing so encourages other users to leave reviews of their own. In the case of negative reviews, on the other hand, you'll want to respond to almost all of them.
Reach out to users who leave negative reviews and learn why their experience was unsatisfactory. Ask what you could've done differently, or what you can do to make the situation right.
This shows that you care about your patients' happiness and you don't ignore their concerns. And even if these users don't respond to your questions, showing your other followers that you value their opinions can go a long way in building their trust in you.
6. Promote events
If you run, sponsor, or participate in events in your community, Facebook is a great way to promote them. Make a Facebook event, share it on your page, and encourage your followers to attend.
This makes it easy to get the information out there and make people aware of your event at no cost at all. Plus, Facebook automatically sends event reminders to their users – so once they RSVP, you can be sure they'll remember.
74% of people use social media when making a purchasing decision.
Make their decision easy with a stellar social media presence. See how your brand can level up by requesting a no-obligation proposal today.
One of our experts will be in touch within 24 hours!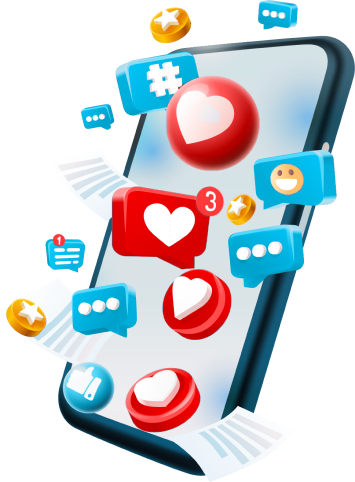 Start your dental social media marketing campaign
If you're ready to see how social platforms can affect your dental practice, WebFX is here to help.
We understand that your industry is highly competitive, and we have all the resources to ensure that your practice gains more patients with the use of social media marketing.
Contact us today to get started with dental social media marketing!
Find out how WebFX can create an effective Internet marketing strategy for your website. Call 888-601-5359 or contact us online today for a free evaluation.