Is your optometry practice using social media? If not, now is a great time to start! Social media can help you find new patients, keep your current patients coming in for appointments, and help you build a positive reputation in your local community.
But what should you post on social media as an optometrist? Keep reading for 10 social media ideas for optometrists.
Want help creating an optometry social media strategy that gets results? Contact us to learn how our social media marketing services can help you make the most of your social media presence.
74% of people use social media when making a purchasing decision.
Make their decision easy with a stellar social media presence. See how your brand can level up by requesting a no-obligation proposal today.
One of our experts will be in touch within 24 hours!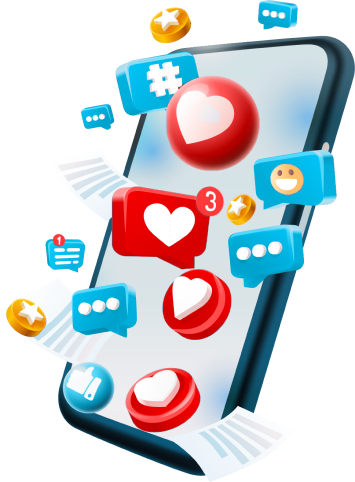 1. Provide helpful tips
Sharing helpful advice on social media is an excellent way to build relationships with current and potential patients, as well as demonstrate your expertise as an optometrist.
People will appreciate the useful information you provide and begin to view you as an expert in your field. Then, when they need to go to the eye doctor or need new glasses, they'll be more likely to think of you first.
Try sharing information about how to take care of your eyes, choose a pair of glasses, and other helpful tips relevant to optometry.

Hear What It's Like to Work With WebFX!

"WebFX has completely transformed my practice. With their support, I have expanded my practice significantly and grown exponentially. I could not have expanded to this degree, nor this quickly had it not been for the incredible efforts provided by WebFX and my team."
Healthcare
2. Interact with your followers
Social media for optometrists works best when it's interactive, so check your social media regularly and respond to any comments, messages, reviews, and other interactions you received.
When you use social media to interact with your followers, it becomes a helpful 'customer service' channel for your patients. Since 57% of customers prefer contacting businesses through email or social media rather than telephone, you might want to consider using it in this way.
If you get positive comments or reviews, respond publicly and thank the patient.
If you get a negative comment or review, respond publicly and acknowledge the patient's concern in a friendly way. Offer to resolve the issue through a private message or phone call. This demonstrates to people that you care about your patients.
3. Share blog posts and other content
To get more out of optometrist social media marketing, consider combining it with content marketing.
Content marketing involves creating online content such as blog posts and videos, as well as longer content such as ebooks. This content can promote your practice but should be largely educational.
Creating this content and then sharing it on social media is an excellent way to increase social media engagement, build your reputation, and drive traffic to your website.
If working with a digital marketing company on your social media, consider choosing one that also offers content marketing services, like WebFX.
4. Post visual content
Visual content tends to perform well on social media. Visuals help get a user's attention and increase engagement. On Facebook, for instance, posts with images get two times more engagement than those without.
Some visual social media ideas for optometrists include:
Pictures of happy patients wearing their new glasses
Pictures of your employees with some information about them to help patients get to know them
Photos of new frames you have available
Graphics featuring facts related to eye care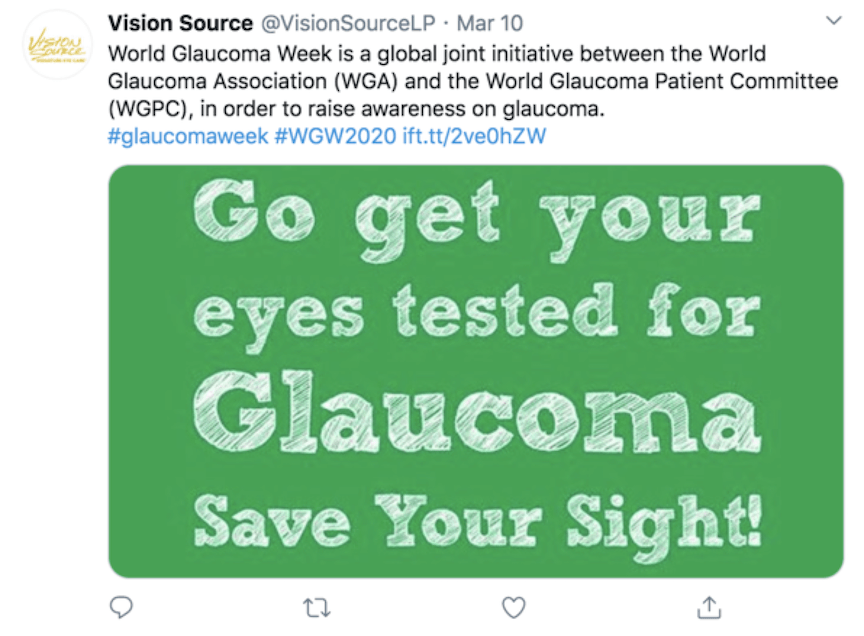 5. Expand your reach with paid ads
You can do a lot with standard posts on social media, but you can also use paid social media ads to increase your reach.
Popular social media platforms allow you to place ads and target them to users based on their location, demographic characteristics, interests, and more.
Ads help more of your followers see your posts, and your social media ads can also reach users who don't yet follow you.
To get the most out of your social media advertising, consider working with a digital marketing company that can put together a custom strategy for your business.
6. Use a conversational tone of voice
One important consideration for your optometry social media strategy is the tone of voice you use in your posts. You'll want to choose a style that's engaging and matches your brand's personality.
For social media for optometrists, you'll typically want to use a tone that your patients can easily relate to, and that encourages them to engage with your posts.
Try using a conversational tone and avoid using terms your patients might not know. You can even inject some humor into your posts if that matches your brand's style.
7. Post updates about your available frames
When you get new frames in, consider posting pictures of them to let your patients know. You can also try posting a frame of the week to give your followers an idea of the kinds of options you have available.
This kind of content may encourage them to come in for an appointment and get a new pair of glasses. It's also visual and engaging.
8. Include calls to action (CTAs) in your posts
CTAs encourage users to take specific actions. Common examples of CTAs include "contact us today," "visit our website," and "make an appointment."
While most of your social media content shouldn't be purely promotional, you can include CTAs in various types of posts. Some CTAs you might use as part of your optometry social media strategy include "comment below" or "check out our website."
You can also include numerous other CTAs, depending on your goals.
These CTAs can encourage engagement with your posts and help you get appointments.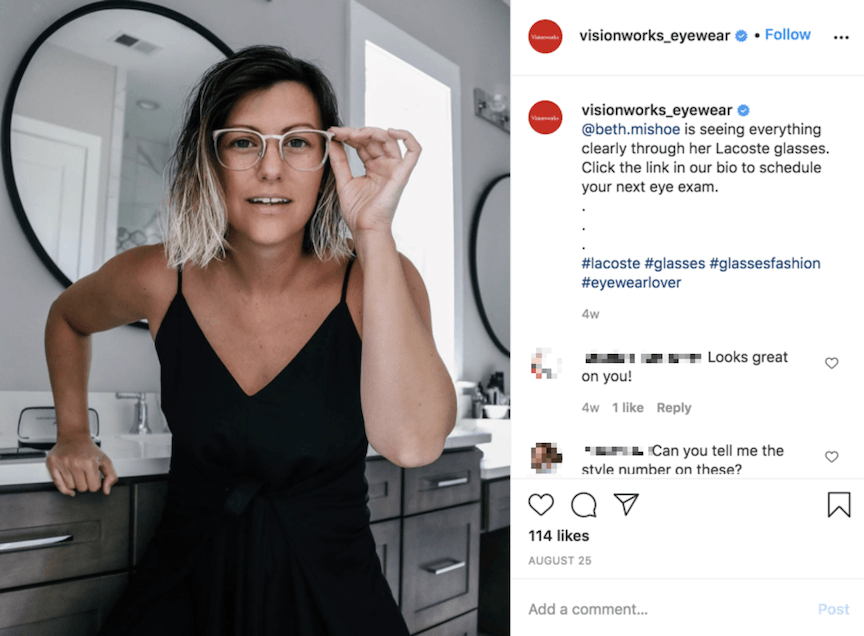 9. Share success stories
Another useful tactic for social media for optometrists is to share patient success stories.
Here are a few ideas:
Talk about how your practice helped a patient or solved a particularly challenging problem
Share patient reviews or testimonials
Share a photo of a patient with their new glasses on
Just make sure you get a patient's permission before posting about them or using their photos on your social media.
10. Ask questions and conduct polls
Another great way to encourage social media engagement for optometrists is to ask questions or conduct polls in your posts. Many social media platforms have a built-in poll feature.
For example, you could ask your followers which of several pairs of glasses they like better, why they prefer glasses or contacts, or any other creative questions you can come up with for your strategy.
Get a custom optometry social media strategy from WebFX
Want help making the most of your optometrist social media marketing? Consider working with WebFX. We create custom social media marketing and advertising strategies that get results. In fact, we've driven more than 7.8 million leads for our clients over the last five years.
When you work with us, you'll get a dedicated account representative, a unique strategy based on your needs and goals, regular reporting, and a team of digital marketing experts on your side.
To learn more about how we can help you reach your goals with social media marketing, call us at 888-601-5359 or request a free quote today.
Earn a 20% greater ROI with WebFX