Urgent care centers are booming across the United States, and have been for at least the past seven years. The model is simple and provides a stepping stone between going to an emergency room (which is often an expensive, inefficient experience) and trying to get an appointment with a family physician (which can be a challenge, especially when the physician is booked solid or doesn't have office hours.)
As more people flock to these types of facilities, new urgent care centers begin to emerge in every city. This increases the competition, as well as the need for urgent care centers to have a solid search engine optimization, or SEO, strategy.
Learn more about urgent care SEO, below. Or, if you're curious about urgent care SEO services, contact us online or call us at 888-601-5359 to chat with an experienced strategist about your center and how SEO services can help you grow.
Independent research from Clutch has named WebFX the
top SEO company

in the United States.

Clutch has personally interviewed more than 250 WebFX clients to discuss their experience partnering with us.

Read More Clutch Reviews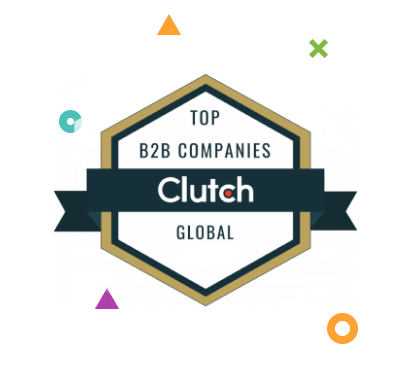 What do WebFX urgent care SEO services include?
When you invest in our urgent care SEO services, you receive a turnkey solution to SEO.
For example, our services include:
In-depth research and planning
Learn about your industry, products or services, market, and competitors
Investigate your competitors and their SEO strategies
Assess your current urgent care SEO strategy
Analyze your site design and searcher experience
Research your most valuable keywords to target
Build your custom urgent care SEO strategy
360-degree optimization and implementation
Set up Google Analytics
Optimize local citations, including Google Business Profile
Create website sitemaps
Optimize videos, images, and content for high-value keywords
Ensure a mobile-friendly or responsive site design
Professional content development and promotion
Develop original and shareable site content
Promote site content to industry insiders and influencers
Attract valuable links to your website
Routine reporting and analysis
Deliver regular reports on site and ranking performance
Provide quarterly keyword reports
Track phone calls generated from your website
Summarize you and your competitors' market share
If you'd like to learn more about what our SEO services include, contact us online to chat!

Hear What It's Like to Work With WebFX!

"WebFX has completely transformed my practice. With their support, I have expanded my practice significantly and grown exponentially. I could not have expanded to this degree, nor this quickly had it not been for the incredible efforts provided by WebFX and my team."
Healthcare
Why does urgent care SEO matter?
For many people in need of urgent care, the first place they'll look is the Internet.
This is particularly true if they've never gone to one, or are in a new or unfamiliar location. Whether they sit down at a desktop computer or simply pull out their smartphone, almost all of them take the same approach: search engines like Google and Bing.
They'll type in phrases like "urgent care Harrisburg," or "walk-in clinic York." Then, they'll look through the results and decide which one to visit for medical treatment.
As most marketers know, it's important to rank well for phrases and keywords related to their businesses. For urgent care centers, it's even more essential. After all, individuals looking for an urgent care center likely don't have time to scroll through pages of results and conduct tons of research.
This means that if you want people to choose your urgent care center, you need to optimize your site and make sure that it's easy to find online.
These are real SEO results driven for a WebFX client.
You're next.
Learn More About SEO Services


260%
increase in organic revenue

198%
increase in organic transactions
150%
increase in organic traffic

3872%
increase in sessions from SEO
5 urgent care SEO tips
SEO for urgent care centers should be done with potential patients in mind, and should start by taking into consideration what people who need your services might search for. But beyond that, here are a few tips to help you make your site as easy to find as possible:
1. Optimize for location-based keywords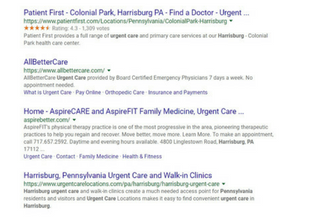 Every urgent care facility website should keyword optimize its pages for one or two long-tail keywords. You can start by doing keyword research and including basic phrases relevant to your business, like "urgent care center."
However, keywords describing your services aren't enough to help nearby people find you. That's why location-based keywords are so important. Include the name of your city or town long-tail phrases, and optimize for keywords like, "urgent care center Boston, MA".
Of course, these keywords should fit naturally into your copy, and you should never stuff a page with them in the hopes of ranking well—this will only end up harming your SEO in the long run. Instead, create content and pages specific to the different areas you serve, and provide information that is genuinely useful to your site visitors.
2. Start a PPC campaign
Although pay-per-click, or PPC, is technically a different form of Internet marketing from SEO, it's still important to consider for urgent care centers. PPC campaigns allow you to display ads in search results—above or beside the organic results—meaning that even if your rankings aren't as strong as you'd like them to be, you still have a chance of reaching searchers.
These ads can be simple yet effective, especially using platforms like Google Ads. And if you spend the time to create carefully-worded ads that generate clicks from people who need your services, you could be well on your way to building up a steady flow walk-ins.
3. Add unique pages for all urgent care services
People who are looking for urgent care center assistance are in need of all types of services, from flu relief to sprained knees. This means you have the opportunity to create unique pages for each of the services you offer.
Although you don't have to have pages for each and every ailment you treat, like sprained ankles, sprained knees, sprained elbows and sprained wrists, you can devote one page to "sprains" and cover the common types seen in an urgent care facility. This will help you reach patients who are looking for specific services, and reassure them that your center is able to help.
4. Have a Facebook page
Having a social media presence is a great way to boost awareness of your business. And while many platforms have value, it's smart to start with the biggest one — Facebook.
Though social media won't directly give your facility an SEO boost, it will give you an indirect way to build links back to your site. Plus, it will enable you to start building a base of followers who may talk about their positive experiences at your urgent care center. In today's world, any business without a Facebook page is missing a huge opportunity to be seen and build a solid reputation.
5. Start a blog
Search engines' web crawlers like to see that sites are regularly adding new material and pages. One of the easiest ways to do this is by starting a blog. You don't have to be an award-winning author, as long as you commit to posting consistently about new topics.
There's plenty of information that you can explore in blog posts, such as how to avoid common illnesses, when to get a flu shot, or virtually anything else patients would find interesting. If you're having trouble coming up with topics, check out this blog post on how to come up with content ideas your readers will love.
Ready to start using SEO for your urgent care center?
Urgent care centers are becoming a popular convenience throughout the country, and the best way to make sure that yours is successful is by creating and using an effective SEO strategy. A strong web presence is absolutely necessary, and optimization is the only way to make sure patients can find you.
If you'd like to do SEO for your urgent care center, but aren't sure where to start, don't hesitate to contact us! Our talented team of Internet marketing specialists can assist you in developing a strategy that will help patients find you—and help your facility achieve success.
Earn a 20% greater ROI with WebFX