Digital marketing is critical to growing your HVAC company in 2023. But how much should you budget for digital marketing? What is industry-standard HVAC marketing pricing?
Knowing the answers to these questions will help you research agencies thoroughly to choose the best marketing partner for your business.
Continue reading to learn:
If you'd like to speak with an expert about our marketing pricing, call us at 888-601-5359 or request a free quote online today!
Meet WebFX:
Your world-class, tech-enabled marketing agency with over 1.6 million hours of combined expertise.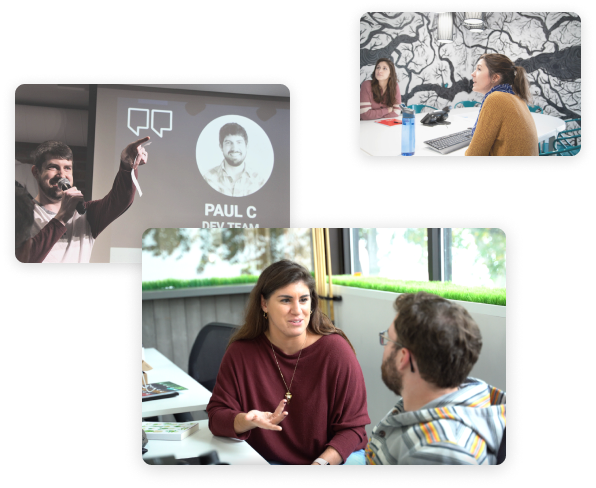 Average HVAC marketing cost
The average digital marketing cost for a small-to-midsized HVAC business is $2500 to $12,000 per month.
It's a wide price range, so consider your annual revenue when determining your HVAC marketing budget. To give you a starting point, you'll want to invest 7-10% of your revenue in digital marketing.
Hear What It's Like to Work With WebFX!

"WebFX is always quick to respond to a question or request even if they do not have the answer right away. Their expertise on increasing our domain authority over the years has been significant and has had a positive impact on our website. They keep their offerings updated and monthly reporting is always on time."
Hvac Company
Factors that affect HVAC marketing pricing
While your company's revenue provides a budgeting baseline, you should also consider factors that can influence your HVAC marketing price, including:
Marketing goals: How much do you hope to grow your HVAC company this year? Do you want fast growth, or are you looking for slower, more long-term growth? Your answers will determine the best mix of digital marketing strategies for your business.
Competition: How competitive is the HVAC industry in your area? If you operate out of a city with many top HVAC providers, you'll need a more aggressive marketing strategy, which requires a more considerable
Agency skills and expertise: More experienced digital marketing agencies will likely cost more — but carry a high return on investment (ROI) for your business. You'll work with experts who have driven real-world results for clients in your industry.
HVAC marketing strategy: Which types of digital marketing tactics do you want to use? Do you need a comprehensive digital marketing solution, or are you only hoping to focus on one tactic? Your HVAC marketing budget will vary based on your chosen strategies.
If you read that list and wondered what digital marketing strategies your HVAC company can use and how much they cost, keep reading to learn more!
HVAC marketing price by strategy
Digital marketing for HVAC companies includes strategies like search engine optimization (SEO), pay-per-click (PPC) advertising, web design, social media, and more. Each tactic benefits your company in different ways, and they all work together to form a comprehensive digital marketing strategy.
SEO for HVAC businesses
SEO involves optimizing your company's website to appear at the top of search results when potential customers search for keywords related to your business.
For example, you might want your website to appear in searches for "HVAC repair services in Los Angeles."
Pro-tip: Target long-tail keywords because they have lower competition and higher relevance for your business. Possible long-tail keywords you could target include "how often to service HVAC unit" and "repair or replace AC unit."
You should also optimize your HVAC site for local SEO. When you search for HVAC services on Google, you'll often see a group of local search results. Local SEO helps your business land in those results for users in your area.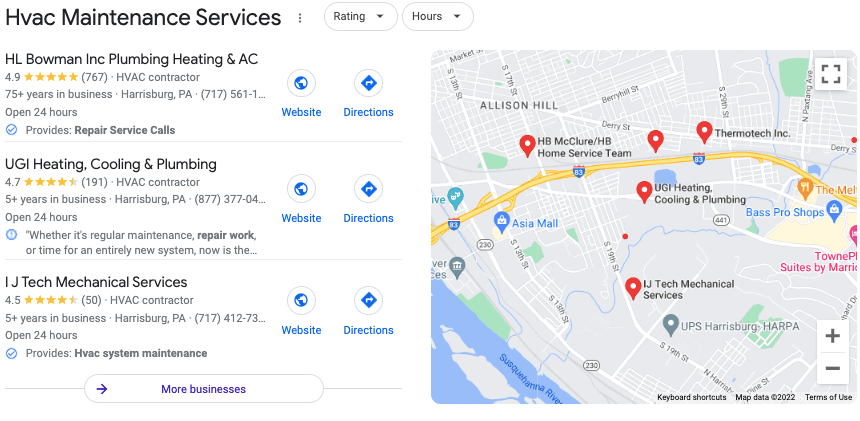 How much do HVAC companies spend on SEO?
The average cost of SEO for small-to-midsized HVAC companies is $1500 to $5000 per month. Your prices will vary based on how aggressive your keyword strategy is and your existing SEO strategy.
If you need to build out more content for your HVAC site to rank highly, your SEO costs will likely be higher. However, content marketing brings 54% more leads than traditional marketing, making the cost well worth it.
PPC for HVAC companies
When you search for "HVAC repair services," you likely see multiple paid results at the top of the page.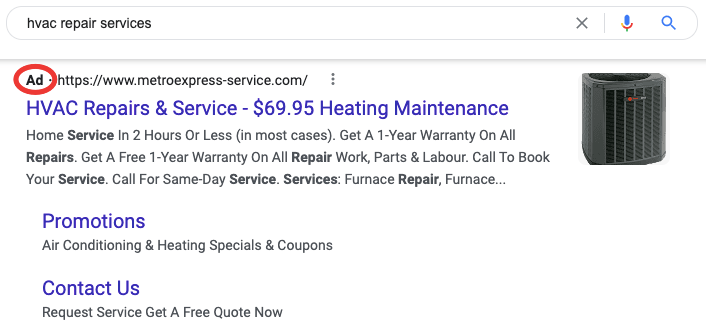 If you want to appear in those paid spots, you'll need to invest in PPC. A PPC strategy for your HVAC company might include paid search advertising and social media advertising. For now, let's focus on paid search.
Paid search benefits your HVAC company by turning quicker results to make campaign adjustments and helping you dominate the search results.
How much do HVAC companies spend on advertising online?
Small-to-midsized businesses (SMBs) like your HVAC company invest an average of $9000 to $10,000 per month in PPC. Within this monthly budget, you'll pay for each ad based on a cost-per-click (CPC) model. While CPC varies widely by industry, Google Ads cost $1-$2 per click on average.
Now that you know the answer to "how much do HVAC companies spend on advertising?" you might wish to lower your Google Ads cost.
Your HVAC company can optimize your PPC budget by improving your Google Ads Quality Score and targeting long-tail keywords. For example, "HVAC services" with likely have more competition — and cost more — than "HVAC cleaning services in Harrisburg."
Web design for HVAC businesses
All HVAC digital marketing services circle back to your website. Investing in a well-designed site for your HVAC company will improve your SEO and provide a more enjoyable user experience.
Web design also helps your potential leads find your contact information and learn more about your HVAC industry expertise.
How much do HVAC companies spend on web design?
Web design costs an average of $1000 to $100,000 per website. The cost varies based on:
The number of pages you need on your site
Whether you need to copy written for any of your pages
The complexity of your design
Whether you need ecommerce functionality
And more
Your HVAC company may not need ecommerce functionality, and you might use a simpler design, which could lower your web design costs.
Social media for HVAC companies
Social media provides an excellent way for HVAC companies to connect with potential clients and maintain relationships with past clients.
Social media marketing services consist of organic social media management — in other words, the unpaid posts you make on your account — and paid social media advertising.
Because HVAC services are locally oriented, you might use social media marketing to show your community involvement. If you invest in paid social media advertising, you can target your ads to audiences in your service area.
How much do HVAC companies spend on social media marketing?
The average cost of third-party social media marketing services is $900-$20,000 per month. Your business's social media budget will depend on how many platforms you want to use and whether you choose to run social media ads.
Want numbers specific to your HVAC company? Check out our social media cost calculator!
Digital marketing pricing models for HVAC companies
Now that you know the types of digital marketing for HVAC companies and how much they each cost, you might be wondering how an agency might frame their rates.
You'll see three digital marketing pricing models for HVAC companies:
Hourly: Hourly rates vary widely depending on the expertise of your agency or freelancer. Your HVAC company could pay anywhere between $50 and $500 per hour.
Monthly: Digital marketing services are often ongoing, so many agencies will charge a monthly fee. These fees range from $2500 to $12,000 per month.
Project-based: Some services — such as an individual campaign or a website — might use a project-based pricing model. With this pricing model, your HVAC company can expect to spend $1000 to $7500 per project.
The pricing model you choose depends on the scope of the digital marketing services your HVAC company needs and how the resulting costs align with your budget.
For instance, a project-based model might work well if you only need a website designed. However, a monthly model better suits ongoing services like SEO.
Time to Level Up Your Sales
Our long list of services helps you grow every aspect of your business with marketing strategies that are proven to increase bottom-line metrics like revenue and conversions.
In the past 5 years, we've managed more than 12.9 MILLION transactions across our client base.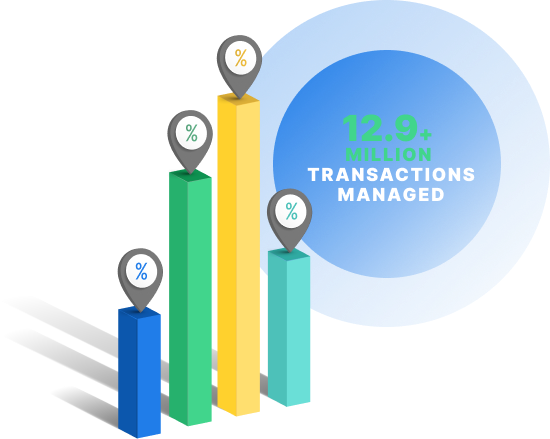 Secure a high ROI for your HVAC company with WebFX's marketing services
Our digital marketing experts know how to drive measurable results for your HVAC company. We've generated $3 billion in revenue and 7.8 million leads for our clients. With 500+ subject-matter experts, we know the digital marketing space inside-out.
To help you make the most of your investment, we leverage an ROI-focused, data-driven approach. Our comprehensive services allow you to focus on the digital marketing tactics that matter most for your HVAC business.
Need to establish a strong local SEO foundation? We can do that! But maybe the following month, you need to add PPC to your strategy to continue optimizing for results. We've got you covered!
Are you ready to partner with a digital marketing agency that understands your industry? Contact us at 888-601-5359 or request a free proposal online today!