Turn more visitors into leads with WebFX
Driving HVAC leads for
25+ years
91%
RETENTION RATE
Industry average: 50%
Why is our retention rate so high?
We leverage our expertise to delight your customers and keep your clients coming back.
93%
CLIENT SATISFACTION SCORE
Industry average: 72%
why is our satisfaction score so high?
Project management
ROI tracking
Diverse skillsets
"WebFX has helped make our website the most important and profitable lead source for Maryland Sunrooms."
U.S. Contractor
420%
NPS SCORE
Industry average: 16
why is our NPS so high?
Turn-key solutions
Real business results
Consistent communication
HVAC marketing price by strategy
Digital marketing pricing models for HVAC companies
Now that you know the types of digital marketing for HVAC companies and how much they each cost, you might be wondering how an agency might frame their rates.
You'll see three digital marketing pricing models for HVAC companies:
Hourly: Hourly rates vary widely depending on the expertise of your agency or freelancer. Your HVAC company could pay anywhere between $50 and $500 per hour.
Monthly: Digital marketing services are often ongoing, so many agencies will charge a monthly fee. These fees range from $2500 to $12,000 per month.
Project-based: Some services — such as an individual campaign or a website — might use a project-based pricing model. With this pricing model, your HVAC company can expect to spend $1000 to $7500 per project.
The pricing model you choose depends on the scope of the digital marketing services your HVAC company needs and how the resulting costs align with your budget.
For instance, a project-based model might work well if you only need a website designed. However, a monthly model better suits ongoing services like SEO.
Time to Level Up Your Sales
Our long list of services helps you grow every aspect of your business with marketing strategies that are proven to increase bottom-line metrics like revenue and conversions.
In the past 5 years, we've managed more than 12.9 MILLION transactions across our client base.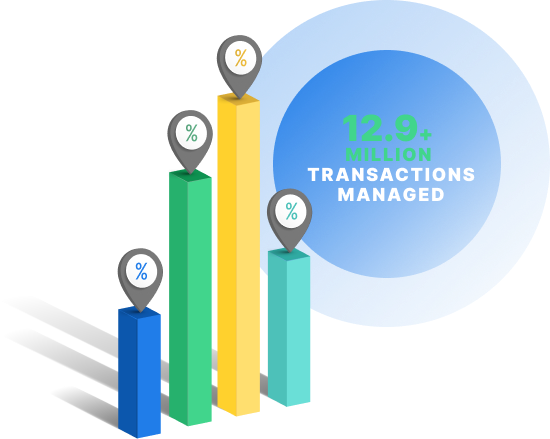 Secure a high ROI for your HVAC company with WebFX's marketing services
Our digital marketing experts know how to drive measurable results for your HVAC company. We've generated $3 billion in revenue and 7.8 million leads for our clients. With 500+ subject-matter experts, we know the digital marketing space inside-out.
To help you make the most of your investment, we leverage an ROI-focused, data-driven approach. Our comprehensive services allow you to focus on the digital marketing tactics that matter most for your HVAC business.
Need to establish a strong local SEO foundation? We can do that! But maybe the following month, you need to add PPC to your strategy to continue optimizing for results. We've got you covered!
Are you ready to partner with a digital marketing agency that understands your industry? Contact us at 888-601-5359 or request a free proposal online today!
Solving key challenges for HVAC companies
Our website isn't ranking in the search results for HVAC services
When people need HVAC services in their area, they take to search engines like Google. Ensure your website appears at the top of the results when your target audience needs your services.
We're struggling to grow our technician team
Expanding your team and growing your business go hand-in-hand. If you need help growing your team with talented and friendly technicians, our recruitment marketing services have you covered.
We're not generating enough leads
Are people visiting your website but not getting in touch with you? Our expert marketing specialists and web designers can optimize all areas of your website so you can attract and convert more of your target audience to use your HVAC services.
We're not attracting new customers
Having trouble increasing your online visibility, so you can attract new customers? Our award-winning marketing services get your brand in front of the right people in your local area.