Lead Generation for Moving Companies
The average person will move 11.4 times in their life. This means that at some point, almost everyone will need to hire a moving company. So how can you make sure that the people near your moving company choose you over your competitors?
One of the best ways is building a strong online presence. Many consumers turn to search engines like Google for everything they need, and moving companies are no exception. The easier it is for potential customers to find you online, the easier it will be for you to generate new leads.
It can be difficult to figure out which methods for lead generation work best for your business. On this page, we'll look at three online strategies that can help you generate leads for your moving company.
Call us today at 888-601-5359 to speak with a strategist about lead generation services or keep reading to learn more about how you can start earning more leads for your moving business.
37% of marketers say that generating high-quality leads was one of their biggest challenges.
We want to decrease that percentage.
WebFX can help you generate high-quality leads with a customized marketing strategy.
Learn More About Lead Generation Services
1. Search engine optimization (SEO)
Search engine optimization (SEO) is a great way to draw in leads that you can use in conjunction with PPC. SEO focuses on boosting your website's ranking to the top of the search results.
Seventy-five percent of people don't go to the second page of results. It's important that your website ranks on the first page of results because most people won't find it otherwise.
SEO involves many different elements, but there are a few you should focus on when you're trying to improve your rankings.
1. Keyword optimization
The first step to SEO is figuring out your keywords. These keywords determine when your website appears, so they need to be tailored to your target audience's search habits.
When you are figuring out your keywords, you'll need to conduct keyword research. You'll need to analyze the search volume and competition level for each keyword. These are important factors that will affect your campaign, because they tell you how many people are searching for any given topic, as well as how difficult it will be for your site to rank for it.
If you select keywords with a high search volume, the competition will be higher. This means it will be more challenging to show up in search results — and if you're just getting started, those keywords may not be worth your time.
If you select relevant keywords with a relatively low search volume, on the other hand, it will be easier to achieve the rankings you want. Even though not as many people search for those keywords each month, you'll likely see better results from the people who do.
These keywords are often broken into two categories: Short- and long-tail keywords.
Short-tail keywords, or broad match keywords, are keywords that only contain one or two words. They are generic terms such as "moving company" or "movers." They don't specify the searcher's intent and they're often extremely difficult to rank for.
Long-tail keywords use three or more words, like, "moving companies in Harrisburg, PA." This is more specific to what a user is seeking and will be easier to rank for.
Once you have your keywords, you'll need to incorporate them throughout your site. Include them where they make sense naturally, with a particular focus on title tags, headings, meta descriptions and body copy.
2. Links
An important part of SEO is link building. You want to obtain as many backlinks as you can for your business. Backlinks are links from other sites that direct users to your site.
Backlinks help build the trust and authority of your site. If a credible site is linking to your pages, it means that they find your information to be accurate and pertinent. This sends a positive signal to Google that your site is trustworthy.
The best way to build backlinks is through content creation. You can create content about moving and suggest that other authority sites check it out. If they like what they see, they can use your content as a resource in their content.
This helps you build relationships with authority sites. You can nurture that relationship and earn more backlinks for your business. By obtaining more backlinks, you will improve the ranking of your site.
3. User experience
Google wants to provide the most helpful results to their users, and that means ranking sites that provide an excellent user experience. A negative experience, like difficult navigation or slow page load times, will hurt your ranking.
There are a few things you'll want to focus on as you improve your site to make sure it's easy and a pleasant experience for users to visit.
First, you'll want to ensure that your page is loading quickly. Users want to access information quickly, so users won't wait for your site to load.
These visitors will leave your site quickly and return to the search results. This increases your bounce rate, which can negatively impact your rankings.
To prevent users from leaving your page, you can use Google PageSpeed Insights to see how your page is performing. This tool will tell you where there are problems in your website and how you can fix it.
If you are dissatisfied with your site speed, you can check out our page speed optimization services to improve your website's speed and attract more customers.
Next, you'll want to focus on the design. Your design impacts how visitors perceive your business.
You don't want your website to appear old or outdated. Users will leave your site if it is unappealing, so it's important to have a modern and clean design that is appealing to users.
Your site should also be consistent with your existing branding. For example, many people associate orange with U-Haul because it is integrated throughout their marketing materials — and their site is no exception.

Beyond appearance, your site also needs to be easy to navigate. Users shouldn't be confused about where to find important information. So if your navigation is even remotely confusing or difficult to use, updating it could have a major impact on your visitors.
2. Pay-per-click (PPC) advertising
This method is one of the best ways to boost lead generation. Pay-per-click (PPC) advertisements are ads that often appear at the top of the results pages in search engines like Google.
Like SEO, you'll want to utilize long tail keywords here too. You'll need to analyze the CPC and the search volume in order to pick the best keywords for your ad. It is important to remember that you want to make the most of your budget and reach qualified leads.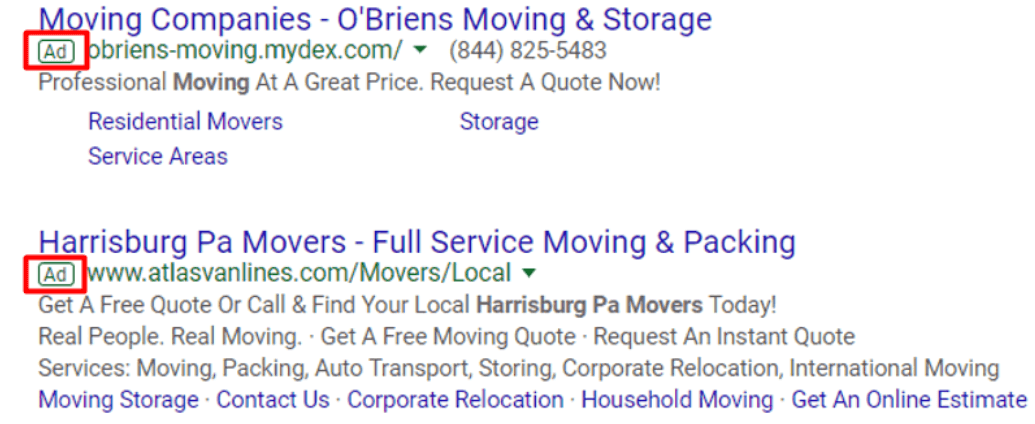 These advertisements are based on the keywords a user searches. This means that as an advertiser, you can use them to advertise only to people who are actively looking for information related to your products or services.
Once you have your keywords selected, you'll bid for your placement.
The bidding system
PPC ads operate on a bidding system. Advertisers set the amount they're willing to pay for each click to their website for any given keyword, and the ads with the highest bids show at the top of search results.
Your bids represent the maximum amount you're willing to pay to beat out competitors. These are flexible and can be changed as needed.
One of the benefits of PPC is that you only pay when someone clicks on your advertisement. This means that you are spending money on people who are interested in your services and are more likely to convert.
When you utilize long-tail keywords, you pay less per click. This is because there is less competition for these keywords. They are more specific, so not as many companies are competing to have their ads appear for those words.
Your maximum bid and quality score will determine your ad placement. Once you have your placement, you can begin running your campaign.
PPC is a great option for your moving company because you can tailor your ads to keywords with clear intent. As a result, 65% of all high intent searches result in an ad click.
You'll be able to capture leads that are interested in your business by using PPC advertisements. Interested people will click on your ads and check out your business.
PPC also works well with your budget. You can set the amount you want to spend on a PPC campaign. You will never pay over that amount or incur additional charges.
If you want to reach more qualified leads, PPC is a great way to reach them. You can attract more qualified leads that more likely to convert into paying customers.
3. Email marketing
Email marketing is a great way to attract and nurture leads. This method has the potential to bring you $44 for every $1 spent — an ROI of 4400%!
To start using email marketing, you'll first need to build a list of subscribers. If people are already interested in your business and on your site, they will more than likely want to receive emails.
Many people will look at moving companies long before they move so they can weigh their options and determine which company is best for them. Encouraging these people to sign up for emails is a great way to help these leads become customers for your business.
You can utilize an email signup bar or a pop-up email sign up to encourage people to join your email list. You'll want to refrain from buying email lists, as these lists don't contain valuable leads for your business.
Once you have a subscriber list, you can send emails to remind them of your business and show them why they should choose you over your competitors. These emails can contain promotional announcements, coupons, or special offers. You can also send them helpful newsletters with tips for an easier move.
Email is a great way to capture leads and help them convert. Your subscribers are people who are interested in your business, so they're more likely to become customers than a general online audience. By utilizing email marketing, you can turn your subscribers into customers for your business.
Our experience in more than
154 industries
ensures cutting-edge, niche marketing strategies that drive real results for your business.
See What Industries We've Worked In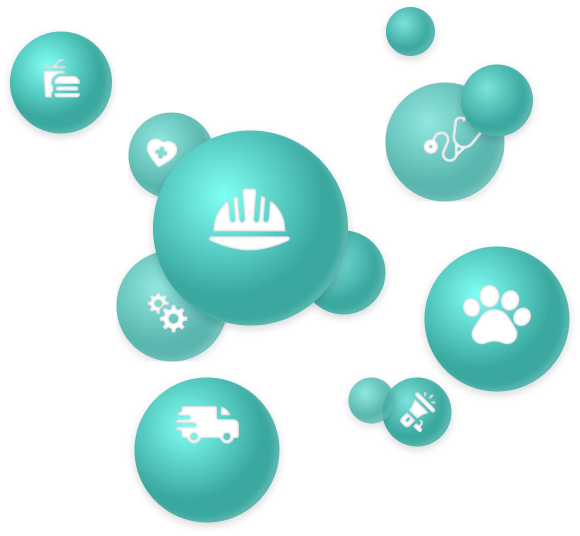 Lead generation services from WebFX
While you're doing all the heavy lifting for your clients, we'll do the heavy lifting for your lead generation plan. As a full service digital marketing company, we are experienced in generating valuable leads for our clients. To date, we've driven on $3 billion in sales and over 7.8 million leads for our clients!
At WebFX, you'll have a dedicated team of 450+ experts working on your campaign. Our team takes the time to get to know your business so we can create a customized lead generation plan that fits your needs.
Our clients love the work we do. We have over 863 client testimonials from various industries. Check out what they have to say and see what it's like to work with one of the top lead generation agencies in the industry!
Move in on a great opportunity
If you're ready to start creating your customized lead generation plan, contact us online or give us a call today at 888-601-5359 to speak with a strategist.
We look forward to hearing from you!