If you haven't invested in this method for your farm, you're missing an excellent opportunity to entice customers to visit your location. Social media allows you to build connections and share important information with your audience that grows your business.
On this page, we'll provide you with six reasons to invest in social media for small farms and farmers.
If you need help creating a social media campaign that works for your farm, contact us online or call us today at 888-601-5359 to speak with a strategist about how a strong social media marketing plan will help your livelihood grow.
74% of people use social media when making a purchasing decision.
Make their decision easy with a stellar social media presence. See how your brand can level up by requesting a no-obligation proposal today.
One of our experts will be in touch within 24 hours!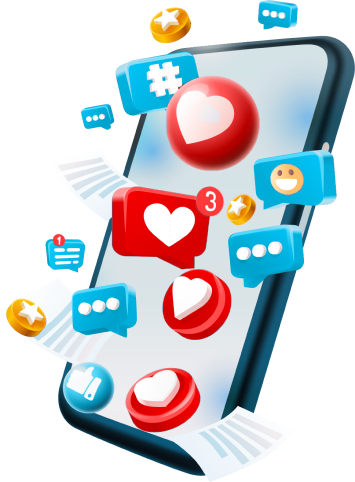 1. Social media helps you connect with your audience
When you want to attract new leads for your business, you should opt for strategies that enable you to communicate with your audience. Social media platforms are an excellent place for you to connect with your audience and learn more about them.
Millions of people are on social media and log into platforms like Facebook, Twitter, Snapchat, Linkedin, and Instagram daily. Let's take a quick look at how many people use the three most popular social media platforms:
Facebook: 1.5 billion active monthly users
Twitter: 126 million active daily users
Instagram: 500 million active daily users
As you can see from these numbers, social media provides a huge pool of potential customers, and to not market to them is a huge missed opportunity. People often use more than one social media platform each day, too, which makes even more opportunities for you to advertise your farm directly to them.
Social media is an excellent way for your farm to connect with people interested in visiting your business or buying your products. You'll reach your audience where they are and connect with them.

Hear What It's Like to Work With WebFX!

"We have enjoyed and benefited from our growing relationship with WebFX. The communication is strong, the results speak for themselves, and things are often fixed without us even having noticed they were off to begin with. We are grateful to have their support and guidance as we work on SEO, website traffic, campaigns, content, and more."
Agriculture
2. Social media marketing is cost-effective
Another reason to use social networking for farmers is that it's cost-effective. Whenever you run a marketing campaign, you want to use strategies that will work with your budget. Social media marketing is one of the most low-cost strategies for marketing your business.
To start, creating an account on any of the most popular social media platforms is completely free. You don't have to pay to post content on your social media profile. This means the first and most important step to attracting people to your farm with social media — creating your account — is free of charge.
Additionally, the paid options are cost-effective, too. Each social media platform offers its own proprietary form of advertising. These ads are relatively cheap to run and attract valuable leads.
If you're looking for a digital marketing method that is effective and works with your budget, social media marketing is a great option.
3. You get more precise ad targeting
When you market to leads interested in your business, you want to reach people who are looking for your farm. With social media platforms, you can target people more precisely than other advertising options.
Platforms like Facebook have very refined and effective targeting parameters. You can reach more people interested in your business and avoid advertising to people who aren't interested in your farm. It also helps you avoid wasting money on leads that aren't looking for what your farm has to offer.
Precise ad targeting makes it easier for you to grow your business. You'll attract more leads to visit your farm and help grow your business.
4. Social media allows you to build your brand for your audience
Your brand is an integral part of your farm's identity. It helps you stand out from your competition and drives people to visit your business. Social media helps build your brand.
When you're using social media to promote agriculture, you can integrate your unique brand characteristics throughout your social profiles. Regardless of the social media site you use, you should always have your logo as your profile picture.
Your logo builds immediate brand association and helps your audience become more familiar with your farm.

Additionally, when you post content on social media, you want to have a specific brand style.
From your color choice to text style, everything should remain cohesive and on-brand. Social media is an excellent place for you to create a brand image for your farm and help more people get familiar with your business.
Brand familiarity is a crucial component for earning leads and conversions. When people remember your brand, they're more likely to choose your farm over competitors. By using social media marketing, you'll help your farm earn more leads.
5. Social media helps you get to know your audience
Social media marketing allows you to get to know your audience better.
You can see how they perceive your brand online by looking at posts about your farm, reviews on your social pages, and social mentions of your farm. It helps you see how your audience talks about your business.
Social media is an excellent way for you to understand what people like and don't like about your farm.
Facebook is one of the most common platforms for voicing opinions about your brand. Since Facebook enables reviews on business profiles, many people will leave information about their experience with your farm.
These reviews are an excellent opportunity for you to understand how your audience feels about your location. You can see what people like, don't like, and even areas that you can improve. It's a valuable way for you to understand your audience's perception of your business and create a better experience for them.
You can also see what content generates the most interest on your page. For example, you may find that particular events or posts create more attention than others.
6. Social media helps you provide customer service for your audience
Using social media for farms allows you to provide your audience with a better experience of your business. You want to answer your customer's questions and help them understand your business better.
With so many people turning to their smartphones for information, not everyone wants to call your business to ask questions physically. Social media helps you create a new way for you to answer questions from potential customers.
Nearly every popular social media platform enables messaging. Your audience can message your farm and ask essential questions. On some platforms, like Twitter, users can tag your farm and ask questions.

Social media creates a new avenue for you to answer your audience's questions and get them to visit your farm. You don't want people's unanswered questions to hinder them from visiting.
By investing in social media for farms, you create a new way for customers to interact with your farm and get all the information they need.
Ready to start using social media for your farm?
Social media marketing has the power to help your farm drive new people to visit your business. These social platforms allow you to build your brand, get to know your audience and connect with interested leads. At WebFX, we have a team of over 500+ experts that can help you build a robust social media marketing plan.
We're a full-service digital marketing company that specializes in creating custom social media marketing campaigns. Our team will help you figure out which platforms work best for your business and how you can create content to engage your audience.
If you want to learn more about how social media will help your farm gain new leads, contact us online or call us today at 888-601-5359 to speak with a strategist about our social media plans.