Did you know that 74% of people use social media to help them make purchase decisions? That means that social media marketing is a must for any business looking to reach their target audience online.
Whether you sell products to farmers or work with farmers to sell their produce, your agri-business has an audience on social media. To boost your leads and conversions, you just have to reach out and connect with that audience.
But what's the best way to approach social media for agriculture? Below, we'll look at seven different ways you can get the most from your social media campaign.
Read on to learn more, and then consider partnering with WebFX's team of over 500 experts for help bringing your agriculture social media strategy to life. Just call us at 888-601-5359 or contact us online today!
7 top-notch agriculture social media tips
Below, we've listed seven agriculture social media tips to drive results for your business.
1. Choose the right platforms
Before you do anything else, you need to figure out what social media platforms you're going to use. It's easy enough to say you're going to advertise on social media, but which social media channels will drive the best results for your agriculture company? There are quite a few platforms available, including the following:
The best way to judge which platforms you should use is to determine your target audience, and then research the platforms they use. So, if your target audience is mostly made up of farmers, research where you can most often find farmers on social media.
The more platforms you utilize, the more visible you'll be online! If you feel overwhelmed with the idea of marketing on multiple platforms, WebFX's social media marketing management services can help!
2. Share blog posts
Most of your online marketing is intended to lead users to your website, where they'll hopefully become leads or customers. That said, a great agriculture social media strategy is to share blog posts on your social media page.
If you aren't already running a blog on your website, it's something to consider starting. Blog posts are an easily-shareable medium, and they act as a great way to draw people in and direct them toward taking the next action — like visiting your website or becoming an email subscriber.
When you share your blog posts on social media, people will likely be intrigued by the interesting content, and follow the link to your website to read it.
3. Post informational content
Not all the informational content you share has to come from your website. Some people may not be willing to follow a link to a full-length blog post, but are interested in shorter snippets of content that they can read right in their social media feed.
One type of content you can incorporate into your posts are short news stories related to the agriculture industry. If you see an agriculture news article posted by a reliable source, you can summarize it in a post on your social media and include the link to the full article as well.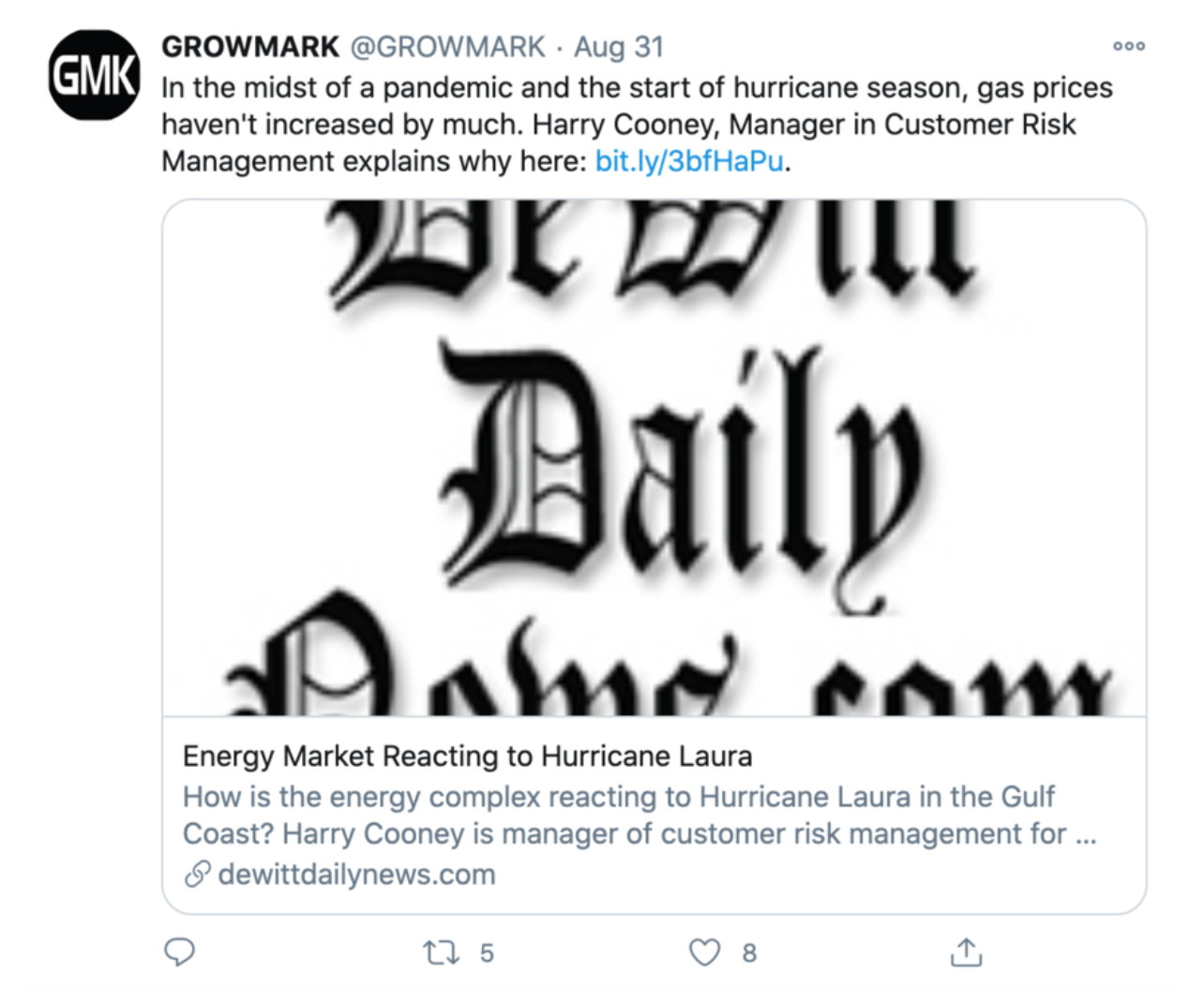 Another method is to use infographics. Infographics allow you to pack a sizeable amount of information into a compact space, and they display it in a visually appealing way that will make people interested to read it.
4. Engage with the local community
Next on our list of agriculture social media tips is to engage with the local community. If your business works exclusively with customers or farmers from a certain geographical region, you should embrace that with your marketing efforts.
The more you root yourself in the local community, the more connected your audience will feel to your business. Shared community bonds tend to be strong, and they can be exactly what you need to persuade people to convert.
Use your social media as a tool for enforcing your role in the community. Get involved with local events, and post about them online. Whenever a significant date is coming up for your area, be sure to mention it on your social media page.
5. Create a social media calendar
To successfully engage consumers and farmers on social media, you must maintain a consistent posting schedule. If you start off posting every day, but eventually let weeks slip by without posting any new content, people will start to feel a disconnect with your brand.
Of course, you have plenty of other things to manage at your agri-business and may not have time to craft new social media posts every day. The solution is to use a social media calendar, where you schedule when you'll post different pieces of content.
You can then input your schedule to a social media scheduling tool like Buffer, which can launch your posts at specific times.
With the help of a social media content calendar and a social media scheduling tool, you can ensure that you consistently post social content — even on your busiest days.
6. Respond to reviews
Social media for agriculture is filled with people expressing their opinions about the products and services they encounter, and your agri-business is no exception. As you do business with more and more people, some social media users will post reviews of your business.
However, avoid watching the reviews roll in without responding to them. Take the time to respond to each and every review individually.
For positive reviews, be sure to thank the reviewer for speaking kindly of your business.
You should respond to negative reviews too. Start by publicly apologizing to the reviewer and offering to fix the issue. Then message them privately to resolve the situation. By handling things this way, you'll do a lot to promote the quality of your customer service!
7. Use paid social media ads
If your organic social media content isn't driving results as quickly or effectively as you'd like, don't worry. There's something else you can try: Paid social media ads.
When you use paid ads in the social media platform of your choice, you typically have two options. You can run ads that appear in the margins of the site or app, or you can run sponsored posts, where your organic posts are promoted to the top of users' feeds.
The best part about paid ads, is that you're able to direct these ads to custom audiences based on things like age and geographic location. They give you a way to reach more of your target audience outside those already following you.
Growing your social presence with WebFX is a walk in the park.
"WebFX allows growing your social media platforms to be stress-free! They are knowledgeable and adapt to your company needs!"
Learn More About Our Social Media Services

Hear What It's Like to Work With WebFX!

"We have enjoyed and benefited from our growing relationship with WebFX. The communication is strong, the results speak for themselves, and things are often fixed without us even having noticed they were off to begin with. We are grateful to have their support and guidance as we work on SEO, website traffic, campaigns, content, and more."
Agriculture
Get more help with your agriculture social media strategy from WebFX
Need help reaching consumers or farmers on social media? No worries — WebFX has your back. With over 25 years of experience, we know what it takes to optimize a social media marketing campaign.
When you partner with us, we'll help you implement every one of the strategies listed above. We'll also provide you with a designated account representative to work one-on-one with you throughout the entire process.
To get started with our social media services, just call us at 888-601-5359 or contact us online today!
Earn a 20% greater ROI with WebFX