Pest control used to be a very word-of-mouth industry when it came to getting new customers.
The Internet has changed that over the past few years. Now, people go to Google first and search for phrases like "best exterminator near [their city]" instead of asking friends and family for a recommendation.
It goes without saying that the Internet is an absolute gold mine for potential customers. However, you need to have a proper marketing strategy in place to turn search engine users into loyal, repeat customers.
What should your pest control marketing strategy focus on, though?
When it comes to marketing a pest control company, there are plenty of options. This article, however, compiles the strategies that offer the most value to your business. With this format, you can focus your time and effort on the approaches with the best return on investment (ROI).
Keep reading to learn about the best pest control marketing ideas. If you're looking for professional help with pest control marketing, WebFX features a dedicated team of more than 500 experts that will create a custom and impactful strategy for your business.
Browse our digital marketing services today or contact us online to learn more!
Our digital marketing campaigns impact the metrics that improve your bottom line.
See More Results

WebFX has driven the following results for clients:

$3 billion
In client revenue

7.8 million
Leads for our clients

5.2 million
Client phone calls
Video: 4 pest control marketing strategies
Learn about the most effective pest control marketing strategies in this video!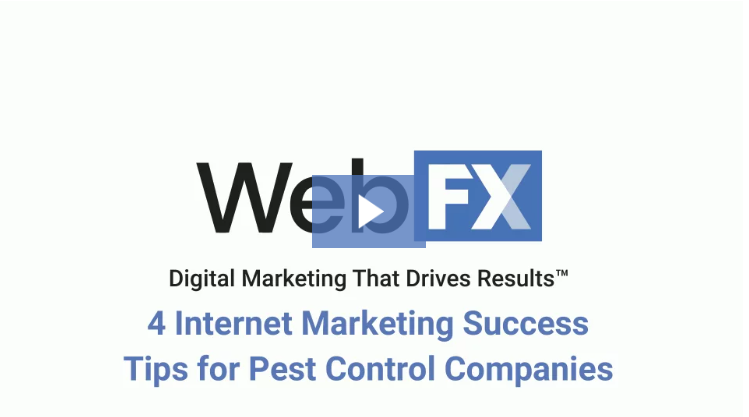 Hear What It's Like to Work With WebFX!

"WebFX did amazing work creating a new website for us on a tight schedule. They have taken the time to learn about our business and give us ideas of how to make our digital marketing better. We still have work to do with WebFX but overall very pleased."
Professional Service
4 pest control marketing strategies that generate leads
You can choose from dozens of pest control marketing ideas, which can become overwhelming. Save yourself the time and hassle of comparing pest control marketing strategies by focusing on these four proven ones:
1. Web design and web development
Design and development are kind of like the precursors to Internet marketing. You need a website to send people to when they click on your advertisements, after all.
Web design and web development are responsible for the overall look, feel, and function of your company's website. You need a website that's easy to navigate, easy to understand, and quick to respond.
As a pest control company, you also want your website's aesthetic to match the tone of your business. Pest control is no joking matter to most people, so you want to come across as appropriately professional and effective on your website.
2. Search engine optimization (SEO)
SEO is one method of generating traffic to your website. It's the practice of optimizing and building your website so that it appears higher up in search engine rankings.
Much of SEO is based on the content that you have on your website, which gives pest control businesses a great opportunity to inform, educate, and build trust with potential customers. For example, you could have an entire section of your website dedicated to explaining how to recognize the signs of certain types of pests, or how to deal with minor issues that don't require the help of a professional.
Another section could describe precautionary measures homeowners can take, or steps to take after an infestation has been identified.
All of this content establishes your business as an industry-leading authority, and gives potential customers a reason to do business with you over your competitors.
3. Pay-per-click advertising (PPC)
Pay-per-click (PPC) is a form of online advertising — and it's an excellent pest control advertising idea. You create ads that are displayed above Google search results for specific keywords or on social media pages, and you only pay when users actually click on those ads.

It's a fantastic advertising model for companies with tight advertising budgets, because it gives you complete control over how much you're spending.
It also gives you very actionable data. For example, if you publish a newspaper ad, you're never going to know how many people saw it, and it can even be hard to tell which customers you acquired as a result of that ad.
With PPC advertising, you're always going to know exactly how many potential customers viewed your ad, clicked on your ad, and so on.
4. Social media
Social media can be a huge deal for pest control businesses. Word of mouth has essentially gone digital, and taken the form of social media networks.
It's extremely important to have your business listed on all relevant sites (Facebook, Instagram, etc), so that you can start collecting reviews from current and past customers.
Many people head straight to Facebook or Instagram when researching potential exterminators, and you want to make sure you're ready and waiting with a five-star rating.
Social media also gives you the capability to speak directly with your customers. If someone has an issue with your work, you can address and solve it publicly to demonstrate your stellar customer service. If someone loved the work you did, their sentiment is there for all to see.
37% of marketers say that generating high-quality leads was one of their biggest challenges.
We want to decrease that percentage.
WebFX can help you generate high-quality leads with a customized marketing strategy.
Learn More About Lead Generation Services
Get more qualified leads with pest control marketing
It's important to know that the best and most effective digital marketing strategies use a number of different online marketing channels.
There's no one-size-fits-all solution available, and each individual business should test various combinations of pest control marketing strategies like SEO, PPC, social media, and more to find what works best for their circumstances.
If you're looking for a professional touch, we'd love to help!
At WebFX, our expert team of Internet marketers has years of experience working with all channels of digital marketing. We've implemented highly successful marketing strategies for pest control businesses across the country, and we'd love to do the same for you.
Contact us today to learn more about our pest control marketing services.
Earn a 20% greater ROI with WebFX