As kids grow and age out of daycare, childcare providers must regularly find new clients. While marketing your childcare services might seem daunting, finding parents interested in your services is simpler than you think.
There are several ways childcare providers can generate new leads — and you can adopt the strategies that work best for your small or medium-sized business (SMB). In this guide from the digital marketing experts at WebFX, we'll cover the most effective methods to attract new clients, including content marketing, local marketing, and PPC advertising.
Would you like us to deliver more digital marketing strategies like these straight to your inbox? Subscribe to our newsletter, Revenue Weekly, today!
Don't miss our Marketing Manager Insider emails!
Join 200,000 smart marketers and get the month's hottest marketing news and insights delivered straight to your inbox!
Enter your email below:
Inline Subscription Form – CTA 72
"*" indicates required fields
(Don't worry, we'll never share your information!)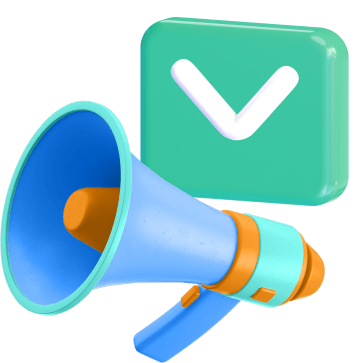 What is lead generation for childcare providers?
A lead is a parent interested in your childcare services. Lead generation is about attracting their attention, nurturing their trust, and capturing their contact information, like their phone number or email address.
The great thing about the lead-generation process? Leads have already expressed an interest in your services. Once they're aware of your daycare business, it's your job to earn their trust, answer their questions, and prompt them to contact you.
What are the best practices for lead generation?
Parents will have different criteria for their childcare service provider, depending on their child's needs. That means the best approach to generating leads includes adopting honest, transparent strategies that mesh with your business and budget.
With so many potential methods available, we've picked some of the most cost-effective lead-generation strategies for childcare providers to explore.
Content marketing
Parents want to make a well-informed, confident decision when selecting a childcare provider — meaning they'll have many questions. While it's challenging to field everyone's questions while successfully running your daycare, it's possible to create informational content that will provide answers and address their concerns right on your site.
For example, parents want to know if you're licensed, if you provide food and drinks, what the learning curriculum looks like, and much more. Building out your website with informative resources that parents can access whenever they want builds their confidence in you. Blogging is a convenient way to answer common questions and demonstrate your childcare approach.
When writing blog posts, you can increase your chances of capturing leads by including a call-to-action (CTA), whether that's encouraging readers to give you a call or sign up for your marketing newsletter. You can also embed a contact or email sign-up form in your posts.
Pressed for time? Create a lead magnet if you can't commit to blogging regularly. Create a high-quality, in-depth resource like a PDF pamphlet with FAQs and other pertinent information parents need to make an educated decision. Your lead magnet will also incentivize parents to sign up for your marketing emails, so you can continue to nurture their interest in your services.
Local marketing
Many people are glued to their phones, which is excellent news for location-based businesses like childcare providers. If a parent has their phone's location services turned on, local marketing reaches them where they are. The next time a parent turns to Google for "daycares near them," you want your business to pop up.
You can ensure your business shows on Google's search results in several ways. First, claim and complete your Google Business Profile, optimizing it to reach your ideal audience. Be sure to write a detailed description of your daycare services and include local keywords.
When determining appropriate keywords, think about what an ideal customer in your city or town might search for — getting as granular as possible. Let's say you run a Christian preschool out of your local church. You might include keywords like "Christian daycare near Harrisburg, PA," or "faith-based daycare in Harrisburg."
After claiming a Google Business Profile, partner with local businesses and the chamber of commerce to advertise your services and build high-quality backlinks to your website. Backlinks from authoritative sources boost your daycare's credibility, generating interest from parents looking for trusted childcare providers in their community.
Are you interested in the power of local marketing to generate leads? Check out our comprehensive guide to local marketing to learn more!
Pay-per-click advertising
Advertising is a big part of running a successful childcare business. Since most people go to Google to find products or services, it's safe to assume many parents find their childcare providers with Google's help, too. In addition to content and local marketing, pay-per-click (PPC) advertising is another cost-effective way to get your business on Google's search engine results pages (SERPs).
With PPC advertising, you create advertisements for the "Ad" section of Google's search results, displayed at the top of the page and above the organic search results. PPC advertising is an excellent way to find qualified leads because your childcare ads only pop up when parents actively search for childcare services in your area.
The best part about PPC advertising? You only pay for the ads when someone clicks on them. That's why PPC ads are a cost-effective way to experiment with ad copy and see which unique selling points (USPs) and keywords generate the most leads for your business.
37% of marketers say that generating high-quality leads was one of their biggest challenges.
We want to decrease that percentage.
WebFX can help you generate high-quality leads with a customized marketing strategy.
Learn More About Lead Generation Services
WebFX is a lead generation company for childcare providers and daycares
Do you need help generating qualified leads for your daycare business? Our Internet marketing experts at WebFX are here to help. Whichever lead generation strategy you choose, we'll help you attract, nurture, and capture leads to grow your business.
Why choose WebFX? We're an award-winning, full-service digital marketing company that offers lead generation and content marketing services that drive results. To date, we've generated over 7.8 million leads for our clients!
Contact us today to get started. Call 888-601-5359 to speak with one of our strategists or request a free quote online!
Increase your leads, sales, and revenue with digital marketing
Find Us Driving Revenue Nationwide