As a realtor, you probably already know that a large portion of your clients find you and your properties online. An increasing number of consumers turn to the Internet for all of their needs, and home buyers are no exception.
Because of this, you know that you need to provide detailed listings of all of your properties for potential clients online. But how can you be sure that people are actually finding them?
One of the best ways to make sure that your listings are easy to find is by doing search engine optimization, or SEO.
What is SEO?
In order to start doing SEO for your real estate listings, it's important to first understand what exactly it is. Basically, SEO is the process of tailoring your website content to rank well in search engines like Google. If you rank well, Internet users who search for terms related to your website (ex. "homes in San Francisco") will see your website in the search results.
Realtors commonly address SEO by adding high-traffic keywords to their website content. While that is not necessarily a bad strategy, it can be a lot of work to tailor the keywords for individual listings to attract the right buyers.
The truth is that you can gain serious traction by optimizing real estate listings for search. Use these SEO tips for your real estate listings, and you can stay ahead of the curve and keep your potential clients informed, satisfied, and ready to take the next step.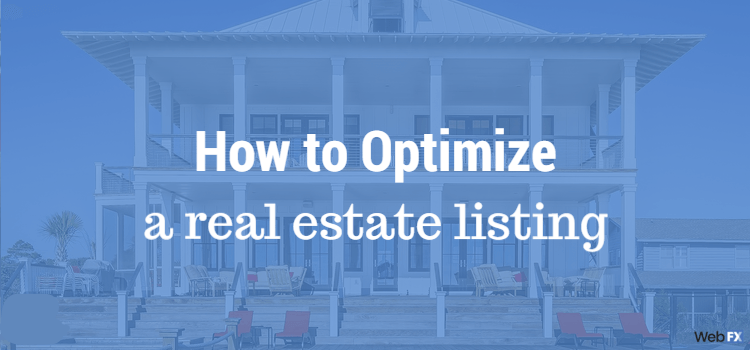 Begin with an effective, responsive website
To maximize the reach of your listings, you should start with a website that's responsive. Your potential clients are most definitely typing addresses into search engines via mobile devices and expecting to find real estate listings.
An effective website is the foundation of SEO for real estate listings. Once your website is in place and highly functional, you can move your focus to optimizing your real estate listings for search.
Do your research
Keyword research is an essential part of planning SEO for real estate listings. You need to know the search terms that will lead potential clients to your website and real estate listings. Once you know these terms, you will strategically insert them into your listings.
There are many tools for doing keyword research, but one of the best is Google's keyword planner. If you have an Adwords account, this is a great way to see how many people are searching for terms related to your industry and how many other businesses are competing for traffic from those terms.
Optimize your listings for search engines
Once you've found appropriate keywords for your listings, you'll want to include them where relevant. Resist the temptation to use them in every single listing, as this is called "keyword stuffing" and can actually negatively affect your rankings, but use them wherever it makes sense.
For example, if you are trying to list a 750 square foot apartment in Harrisburg, you might list is as "750 Square Foot Apartment in Harrisburg." But if keyword research shows you that more people are searching for "one bedroom apartment in Harrisburg," that's probably a better choice.
Real Estate Listing Best Practices
In addition to basic SEO, these tips specific to SEO for real estate listings should help you make sure that the right buyers can find you online.
Include local keywords
Although your property is only technically located in one city, think about other keywords that describe the surrounding area. For example, if you are listing a property in Harrisburg, consider how buyers in the area might search for properties. Think about broader descriptions like "Central Pennsylvania" or "Dauphin County," and do some research on those keywords as well.
Use the address in your header tags and body
Be sure to include the street address, city, and zip code. This will draw attention to the listing and make it easier for the search engines.
Promote the listings on your real estate website and blog
Although search engines are extremely helpful in bringing traffic to your listings, don't rely on them to do all of the work. Make sure to link to your individual listings from your website, and consider creating a section on your homepage that shows your most recent properties.
If you have a blog, that can also be a great way to keep visitors up to date on new listings. Don't be overly promotional and risk losing subscribers, but adding a few new properties you think your readers might be interested in at the bottom of a post could potentially spark some new clients.
Also promote the listings on your social channels
Posting links to your listings on social media platforms will help with exposure to your audience. That being said, be careful not to do it too often. Your fans will get annoyed if your social channels fill their news feeds up with real estate listings, so limit yourself to one or two properties per week at the most.
Optimize your images
Images are some of the most important parts of real estate listings. They can make potential buyers want to contact you, and give a much better sense of a property than text alone. But even though they can work wonders with human visitors to your site, search engines cannot process visual content.
The only way search engines can tell what your photos are of is with file names and alt descriptions. Be sure to include these, and make sure that they are relevant to both the photo and the content on the page.
Reach out to other reputable sites
Be sure to create local profiles on all the big directories for real estate listings. Then, consider reaching out other online communities that will benefit from your listings, such as community or neighborhood online communities.
Create local profiles
Now that you know more about SEO for real estate listings, we hope you're convinced of the power that comes with it. With properly optimized listings, you will reach more clients and increase your authority in the real estate industry.
Need help optimizing your real estate listings? Feel free to contact us! Our dedicated team of internet marketers is more than happy to help you attract clients and business online.
Find out how WebFX can create an effective Internet marketing strategy for your website. Call 888.449.3239 or contact us online today for a free evaluation.