The best answer—even if it's the most frustrating—is "it depends." Online advertising covers a very wide range of possibilities, including SEO, PPC, email marketing, content marketing, social media marketing, display ads, and more. Each of these channels involves different price models and ranges.
In 2014, marketers spent $137.53 billion on Internet marketing. Some small businesses chose to spend nothing or to spend very little on their marketing efforts, while others paid millions of dollars for elaborate online advertising campaigns across multiple channels. Of course, the majority fell somewhere in between those two extremes.
However, if you're just beginning to plan your online advertising strategy, ballpark estimates can help you decide which channels are best suited for your business. On this page, we'll discuss a few of your options, as well as how much you should expect to pay.
Online advertising options
The advantage to online advertising is that your business has complete control over how much you spend. You decide what your budget is, and you can experiment to see which channels offer the highest returns for that budget.
There are many options to choose from, including:
1. Search engine optimization (SEO)
SEO is the process of improving the pages on your website so that they rank higher in search engine results for relevant terms. The better optimized your site, the more interested visitors and potential customers you'll attract.
Unless you have prior experience with SEO, a successful strategy requires hiring an experienced agency. The cost is typically a monthly rate, and can run anywhere from $500 - $5,000 per month.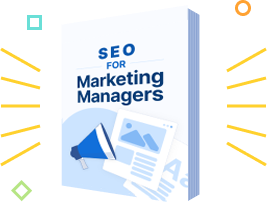 Need help with your SEO, marketing manager? Check out our SEO Guide for Marketing Managers to start driving more site traffic, leads, and revenue!
VIEW THE GUIDE

2. Pay-per-click (PPC) advertising
Google, Bing, and other search engines allow you to create and run ads that show beside or above the regular search results for specific keywords. These ads operate on a pay-per-click (PPC) system, meaning that you pay every time someone clicks on your ad.
They also operate on a bidding system, meaning that in order for your ad to display, you have to be willing to pay more than your competitors for clicks. Depending on the level of competition within your industry, your cost per click (CPC) can be anywhere from a few cents to a few hundred dollars.
That being said, the typical average is $1 - $2 per click.

3. Email marketing
Although it's one of the oldest forms of Internet marketing, email still has one of the highest ROIs of any online channel. However, the amount you invest in it depends on the platform you choose, as well as who creates the content for your emails.
Even if you choose to write and send the emails yourself, you'll most likely need to use an email platform in order to reach all of your customers. Depending on how many subscribers you have, this can cost anywhere from $10 - $2500 per month.
However, many Internet marketing agencies now offer email plans that include both use of a platform and content creation. At WebFX, for example, this service costs $100 - $275 per month, plus setup fees.

4. Content marketing
If your company's website has a regularly updated blog, you're already engaging in content marketing to a certain extent. This strategy simply refers to the creation and promotion of original content, with the goal of informing readers and reaching new potential customers.
This can be extremely beneficial for your company in terms of exposure and brand awareness, and best of all, the only cost associated is the cost to create the content. Creating it in house can be free, while hiring freelance copywriters will typically cost $100 - $300 per page.

5. Social media marketing
Social media platforms like Facebook, Twitter, LinkedIn, Instagram, and allow you to create free accounts and engage with customers. And although this can be effective on its own, the paid advertising options available on each can help you get even more out of your social media strategy.
Most platforms have PPC models similar to AdWords, and the average cost per click ranges from $.050 (Facebook) to $4 (LinkedIn).

How to choose the right channels for your business
So how can you choose which channels are most effective for your business, and how much should you invest in each? Essentially, it all comes down to your target audience and budget.
For example, if you're an ecommerce site, PPC ads for specific product names are typically a good option. But if you're a B2B software provider, these short ads won't provide enough information, and a content marketing strategy is a much better choice.
No matter what kind of online marketing you choose and no matter what your budget, it's important to think strategically and always keep your potential customers in mind. Focus your marketing strategy on the places they look online, and you'll see much better results in the long run.
Ready to start advertising online?
If you want to use the Internet to advertise your business, choosing and budgeting for the right channels can be challenging. WebFX can help.
We have years of experience creating successful multi-channel approaches for our clients, and we'll do the same for you. Contact us today to speak with a strategist about your business's goals, and which online advertising strategies will help you achieve them.