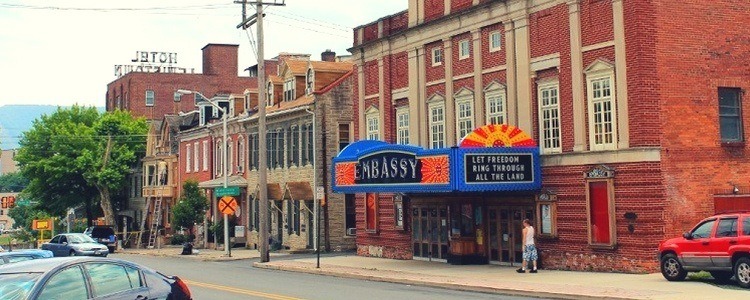 Internet Marketing in Lewistown, PA
Founded more than 200 years ago, Lewistown, Pennsylvania is one of the most historically significant small towns in the United States.
In its heyday, Lewistown was a bustling hub of travel, commerce, and opportunity. The Pennsylvania Canal system made it the crossroads of the entire state, and the population boomed throughout the 1800s and early 1900s.
Unfortunately, the Pennsylvania Canal couldn't last forever. It eventually shut down, taking much of the economy with it, and Hurricane Agnes dealt the coup de grace that drove much of the remaining business south.
As a business in Lewistown, Pennsylvania, you have a monumental task ahead of you — how do you grow a company in a city where nearly half of its residents live below the poverty line?
Fortunately, there's hope. You can bring in new money for your business — and your community — with Internet marketing.
Keep reading to learn more, and give us a call at 888-601-5359.
How Internet marketing works for Lewistown businesses

Internet marketing is designed to make small businesses more competitive and profitable. "Internet marketing" in general is an umbrella term that encompasses lots of detailed strategies, but they're all designed to make you more money.
Put simply, the Internet marketing process is:
Create a website
Get people to visit that website
Turn those people into paying customers on your website
This strategy works for any business in any industry, and it's one of the best ways for a company in Lewistown to get more customers beyond the city limits.
And with those customers, you can grow your company, hire more Lewistown locals, and revitalize your own small portion of the community.
If you don't believe us, take a look at midtown Harrisburg. It was once in the same position as Lewistown, and it didn't have much in the way of new business or safe jobs.
Now, young workers are flocking to the city for opportunities at tech companies like WebFX. The city itself is gradually revitalizing after years of poor economics and corrupt public officials.
Before that, Lancaster drove tech-based businesses to its city center as well. Now, it's quickly becoming a hotspot of Central Pennsylvania activity.
Lewistown can be the next Harrisburg or Lancaster. You just need to drive more cash to the local economy.
But don't take our word for it — look at one of our own clients near Lewistown and how we helped them succeed.
Some of our client Successes
Our client near Lewistown, PA: Bortek Industries
Bortek Industries sells industrial sweepers for use by cleaner companies. They're some of the most powerful and reliable cleaners on the market.
But Bortek had trouble getting their cleaners to the companies that needed them. They partnered with WebFX to change that.
We made them a new website with high-quality imagery and simple navigation. Visitors to the site could easily find the information they needed, and potential customers could quickly convert and buy the equipment they wanted.
The end result is simple: More people found the information they needed, and more of them bought sweepers.
Now, Bortek has a robust website and multiple locations throughout Pennsylvania. If you incorporate Internet marketing into your business, you can be the next Bortek.
That means more revenue, more locations, and more employees.
And if you keep it up, it could also mean a new Lewistown.
WebFX is an Internet marketing agency for Lewistown, PA businesses
WebFX is a full-service Internet marketing agency that specializes in promoting Pennsylvania businesses.
We're headquartered in Harrisburg — a short drive from Lewistown — and we've worked with hundreds of small businesses to help them generate the revenue they need to grow.
Our award-winning team of designers and Internet marketers know how to take your business to the next level, even if your business is struggling. When you partner with us, we do everything we can to make you succeed.
Do you want to earn more money for your business? Contact us today to create an Internet marketing plan for your company!
Call 888-601-5359 or contact us online today to see how WebFX can improve your online performance.