Looking to get more from marketing your construction company? Like more leads, contracts, and revenue? A smart strategy inspired by proven construction marketing ideas (like the ones mentioned on this page) can help.
Keep reading to learn more about these 15 powerful ideas for construction company marketing!
If you're looking for professional help with marketing your construction business, WebFX can help. With more than 500+ digital marketing specialists, plus more than 7.8 million leads generated for our clients' companies in the past five years, we're a trusted choice.
Call us at 888-601-5359 or contact us online to learn how we can help!
What is construction marketing?
Construction marketing is a marketing practice that uses offline and online channels to promote a construction business and build that company's relationship with its target audience to convert those audience members into clients.

Hear What It's Like to Work With WebFX!

"We were looking for a forward-thinking but down to earth SEO company to partner with. Not only were we looking to build a long term business relationship but we needed them to understand our needs as a small company. And WebFX met all of that criteria. Our experience has been unparalleled; from the sales team who made the drive to our office to meet us in person to our Internet Marketer who has been an absolute joy to work with. They are completely transparent about their services and they take the time to explain everything which not only sets them apart from every other SEO company we have worked with but we also feel like we're taking something away from our interactions with the staff at WebFX. We are exited to see where this year will take us knowing that we have such a great support system with their company."
Home Contractor
15 construction marketing ideas
Learn how to build a top-notch marketing campaign with these 15 construction marketing ideas!
1. Create a well-designed, informative site
For many potential customers, your site is their first impression of you. Ensure that you appeal to visitors by creating a site that is both informative and visually pleasing.
One of the most important things to consider when creating a website is responsive design.
This means creating your site in a way that allows it to adapt and work successfully on all devices. Regardless of whether people look at your site from desktop computers, smartphones, or tablets, they'll be able to get the information they need and continue the process towards working with you.
In addition to simply being convenient, this will also improve your site's chances of ranking well in Google.
Speaking of Google, you should also consider search engine optimization, or SEO, for your site. Doing things like including relevant keywords in your title and header tags and creating compelling, unique body copy (along with many other components) will increase your visibility online.
2. Start an email newsletter
Many companies mistakenly think that email newsletters are becoming outdated, but the fact is that they have one of the highest average ROIs of any marketing tactic. Collect emails on your site, build a database of readers, and start regularly sending out a newsletter as a part of your construction marketing strategy.
The topics you discuss can be almost anything —letting customers know what your company is working on, sharing ideas for new projects, or showing before and after images of your latest fix. Emails like these can be a good way to stay in touch with people interested in hiring construction companies.
3. Reference your online materials in your physical locations
Are you working on refacing the front of a building? Make sure that anyone who drives by knows that your construction company is the one who is doing such an incredible job.
You should also be sure to include your website's URL and social media information on any signage to ensure that your customers know that you're active online. This can also help to boost your website traffic!
Use this construction marketing idea to connect your offline and online marketing strategies!
4. Start a Facebook business page
If your company isn't already on Facebook, it's time to create an account. With 1.79 billion daily active users, odds are that your current and potential customers are already there. And if that's not enough to convince you, it's completely free to create.
Creating a business page is an easy way to show off projects, make announcements, and engage with your customers. As an added bonus, you can also choose to take advantage of the platform's highly-targeted paid advertising options. For more information on what to do with your page (and profiles on other platforms), check out our resource on social media tips for construction companies.
5. Add calls to action on all of your marketing material
Whether you are working on your site, newsletters, or social accounts, be sure to include calls to action. Simply adding buttons like "contact us!" to your pages or ending your social posts with links to a contact form, improves the chances that visitors will take steps to become a customer.
This will also keep them from clicking around on your site aimlessly, and allow them to easily find the most important information on the page — your contact information.
6. Claim your business on review sites
Many potential customers go online to look for company reviews before trusting them with their money, and that includes construction companies. Customers have free reign to post their opinions, which can act as a vote of confidence to your potential customers.
You have little control over these reviews, but you should at least claim your business on popular review sites like Yelp and Google. This construction marketing idea a great way to both monitor what people are saying about your company and respond to reviews. By acknowledging both compliments and complaints, you can show potential customers that you care about customer satisfaction.
7. Offer your expertise as an interviewee
Reporters and writers for local publications are often looking for experts to talk about all kinds of news-worthy topics. Offer yourself as an expert in your field by sending an email to editors and writers in your area.
This may not seem related to online marketing, but consider how people today get their news. Most videos and articles are posted online, which can be a great way to build links and drive traffic to your site.
8. Optimize your construction company's website for search
SEO is one of the best construction marketing ideas because 71% of business buyers and 80% of shoppers do their purchase research online. You need to have a presence in search results to get found online.
With SEO, you optimize your site for searches relevant to your company and its services.
For example, if your construction company specializes in working with real estate developers, you'll target searches used by people looking for construction companies that work with real estate developers, like "construction company real estate" or "real estate development."
Optimizations for SEO range from updating title tags to improving page speed.
9. Build interactive tools, like cost calculators
Links are a critical component of SEO.
You want to attract backlinks from reputable sites to your website because they send a positive signal to Google. From Google's perspective, those backlinks serve as an endorsement of your content and website, which can lead Google to rank your website higher in search results.
Construction companies can earn authoritative backlinks a few ways.
Almost all efforts, however, focus on content. You must create valuable content that people want to share to earn backlinks. Otherwise, your business will struggle to build its backlink profile. That's why tools are an excellent idea for attracting backlinks.
Tools provide immense value because they offer personalized responses to user questions, like how much would a custom home or building design cost. Or, how much should a company or homeowner set aside for building maintenance?
Research searches and poll sales reps, then work with your developers to build tools for your site.
10. Use Google Local Services ads for marketing your construction company
Another way you can market your construction company is through Google Local Services ads.
These pay-per-lead ads, which you pay for when someone contacts your business versus clicks on your ad, appear at the top of relevant Google search results. For example, someone looking for a home builder may see your Local Services ads.
Start using Google Local Services ads today to drive qualified leads to your construction company. You can also partner with a digital marketing agency that specializes in Local Services ads, like WebFX, to build, manage, and maintain your ads.
11. Track all your construction marketing strategies
When it comes to marketing your construction business, it's essential to track and measure your marketing efforts. This data can help you make educated decisions about your marketing plan, as well as demonstrate to company decision-makers the impact of different strategies, like SEO.
A few examples of tools that can track your digital marketing efforts include:
In most cases, you'll need to invest in a paid tool.
Paid tools will almost always save you time.
They'll make syncing and comparing your data from different channels, for example, easier. MarketingCloudFX, for instance, compiles all your marketing data in one place so you can spend less time organizing your data and more time analyzing it.
12. Start a blog and post regularly
Content marketing is one of the best construction marketing ideas because:
Most companies get started with content marketing by starting a blog.
Your blog can serve as a hub for informational articles that attract users in the early stages of researching construction companies. If you decide to create a blog, remember to optimize your blog posts for search.
That way, you'll get long-term value from your post by attracting organic search traffic.
13. Launch a geofencing ad campaign to target expos, events, and more
Marketing a construction company can also take the form of a geofencing campaign.
With geofencing marketing, your business creates an ad campaign targeted to an ultra-specific area, like a trade show, expo, competitor location, or another area. An ad this targeted can help your company reach qualified leads.
If you're unfamiliar with geofencing, you can invest in geofencing advertising services.
14. Build dedicated landing pages for your online ad campaigns
While many businesses use existing site pages as landing pages for ad campaigns, you can get even more value from your ad campaigns by creating dedicated landing pages. These landing pages focus solely on converting users arriving on your site from ad campaigns.
When you invest in dedicated landing pages, you invest in creating personalized experiences that focus on generating conversions, like a phone call or quote request. In comparison, existing pages on your site probably consider other digital marketing strategies, like SEO, in their design and content.
Start building custom landing pages for your ad campaigns with a tool like Unbounce. You can also invest in professional landing page design services, which will create a landing page optimized for conversions for you.
15. Run A/B tests to drive more website leads
Every construction company's marketing plan should include conversion rate optimization (CRO).
With CRO, your business focuses on getting more value from its existing traffic by making design and copy changes. For example, your company may change a page CTA, update a button color, or change a contact page design.
You can get started with CRO with Google Optimize, which is free. If you don't have time for CRO, you can use conversion rate optimization services, like from WebFX, which will develop, implement, and analyze CRO tests for you.
Time to Level Up Your Sales
Our long list of services helps you grow every aspect of your business with marketing strategies that are proven to increase bottom-line metrics like revenue and conversions.
In the past 5 years, we've managed more than 12.9 MILLION transactions across our client base.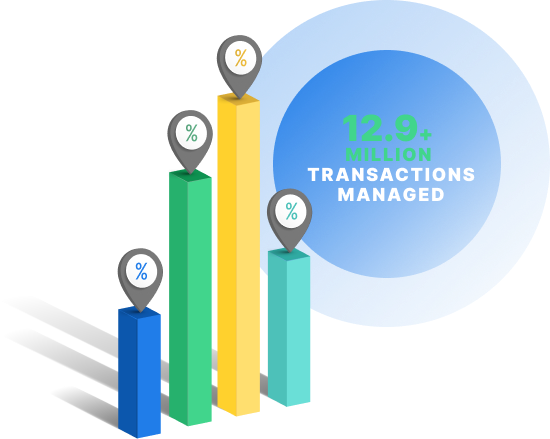 Browse services for marketing your construction business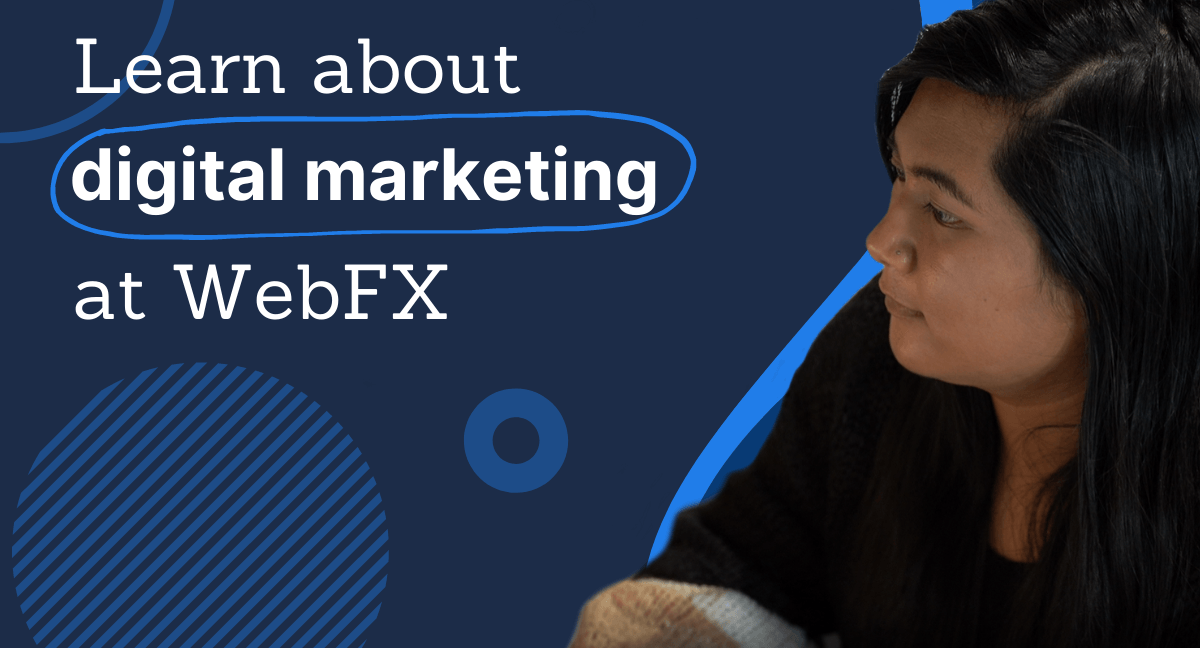 Looking to build your business with construction marketing? At WebFX, our experienced online marketing agency offers a turnkey solution to marketing construction companies. Browse our services below and see how our award-winning team can help yours!
If you have questions about our online marketing services for construction, contact us online or call us at 888-601-5359 to chat with an experienced strategist about your company and goals for marketing and advertising online.
Get started with marketing your construction company
At WebFX, we know how competitive the construction industry is. That's why we have a whole team of Internet marketers that have the tools and knowledge to create the best online marketing construction strategy for you.
Contact us today for more information and a free quote for marketing your construction company!
Earn a 20% greater ROI with WebFX